It's episode 47 of The Block 2023 and it's a flurry of chaos for almost all of the contestants.
Steph and Gian faced a major dilemma as their scaffolding couldn't be moved, which held up work on their front yard. Gian left the site to attend his grandfather's funeral and Steph tried to deal with the problem alone.
Leslie and Kyle offered their landscaper Troy to new pals Kristy and Brett, who fired their landscaper last week. Troy had to remove his team from Kyle and Leslie's site while they figured out a way to come up with some extra money to pay for the job
Meanwhile, Liberty and Eliza had a miscommunication with their builder about budgets and were left in the red with limited money left over for their front yard.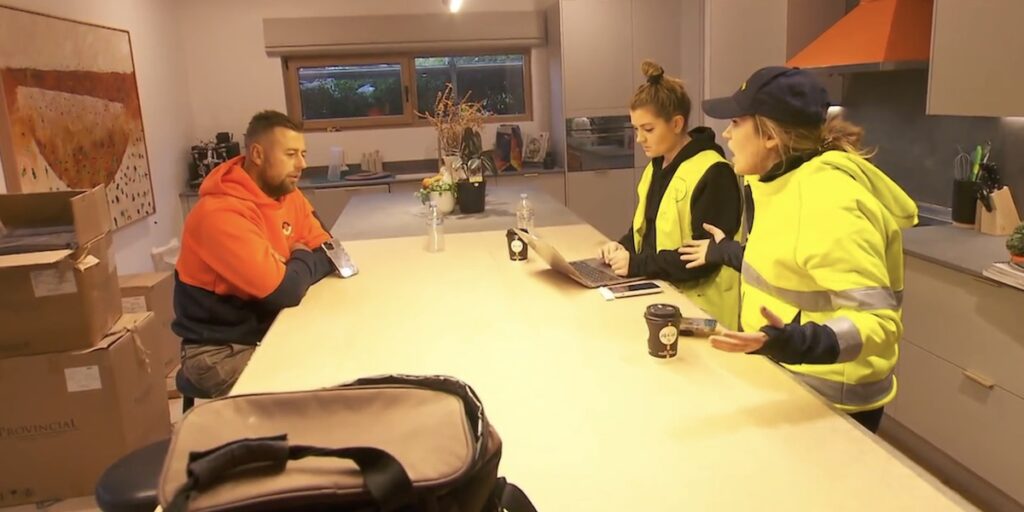 The Gnome sale
The stakes were absolutely massive for Leah and Ash this week because they had their heart on driving home the Ford Mustang. To do so, they needed to win the reveals this week. Luckily for them, they had a Gnome which could give them a bonus point in their final score.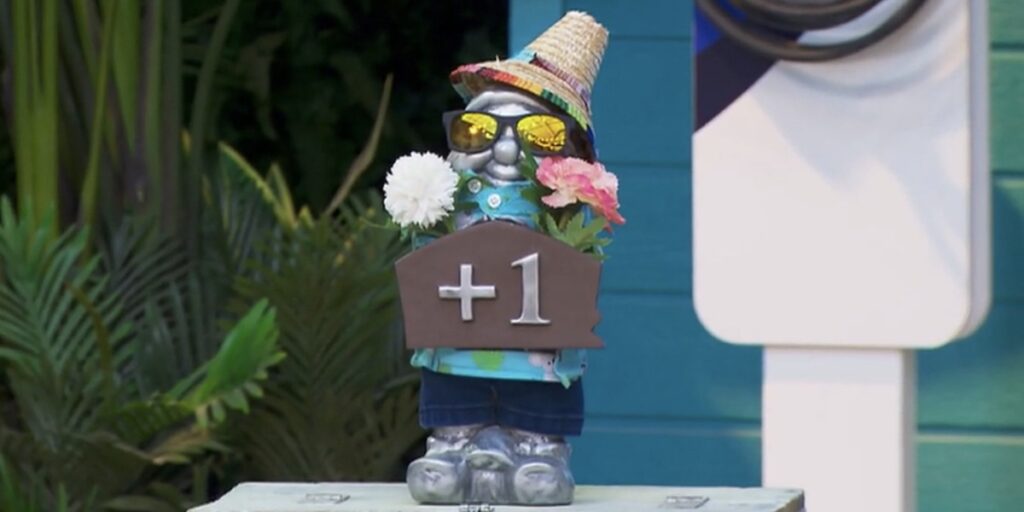 However, not so luckily for them, Kyle and Leslie had a Gnome too, and they'd asked Steph and Gian if they'd like to buy it from them, which could throw a spanner in the works for Leah and Ash.
"Why not help [Steph and Gian] win a car as well, and then maybe someone else won't be able to win it," Kyle pondered.
Kyle and Leslie were gunning for a $10,000 return on their Gnome. But, Steph and Gian pushed for a cheaper price and the couples agreed on $5,000 and a few Block Bucks.
By that point, all of the other Blockheads knew about the Gnome sale except for Leah and Ash.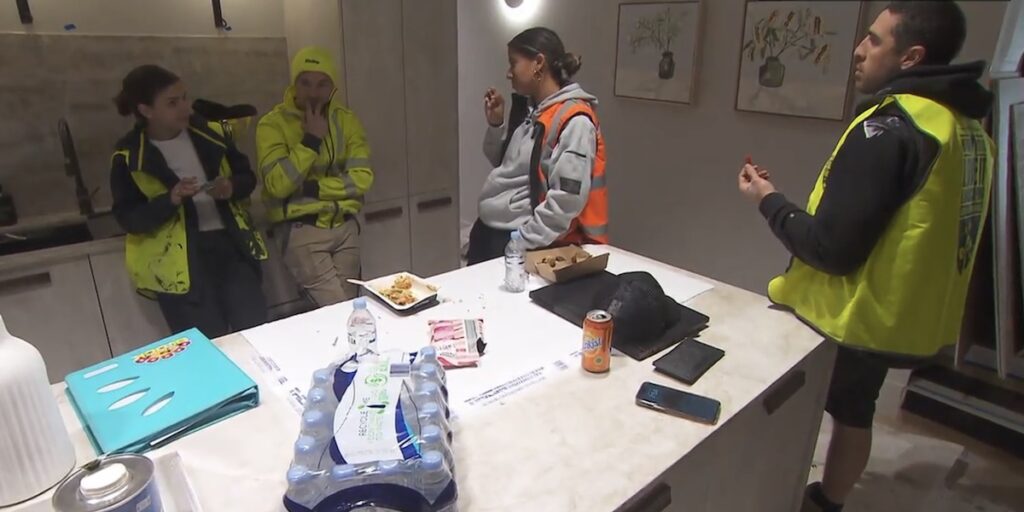 Eliza and Liberty faced problem after problem
The contestants steadily working their way through their front yards, but because it's The Block, a number of problems arise – especially for Eliza and Liberty.
Although they'd managed to sort out the budgeting problem from earlier, Scotty Cam pointed out that Eliza and Liberty's deck support stumps weren't to standard, so he made their team re-do the holes a massive seven times.
On top of that, he later broke the news to them that their deck was 1cm too high, and they wouldn't be able to sell the house. After fixing both problems, Eliza and Liberty were up against the clock to finish their front yard before the end of the week.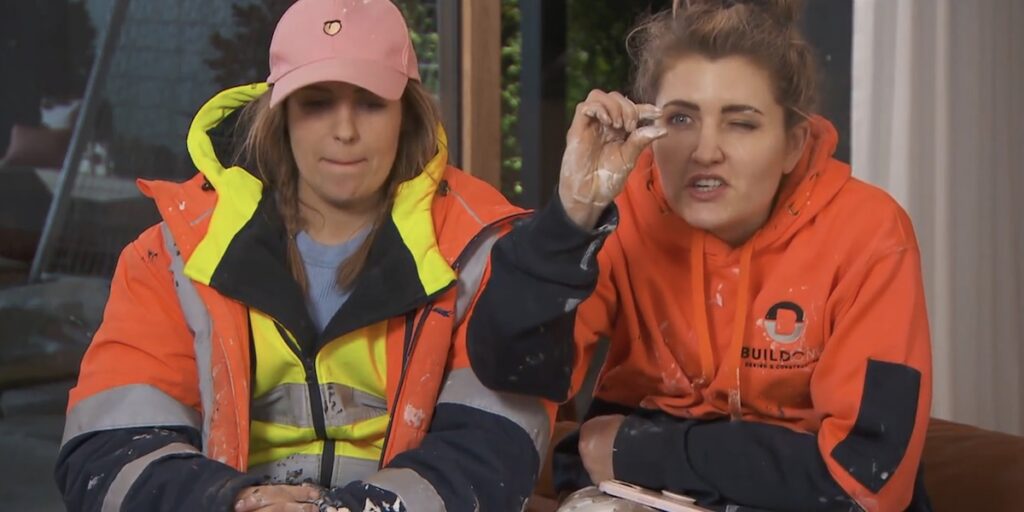 At the end of the episode, Ash received a call from Leah's dad who had some horrible news. Her father accidentally ran over their beloved dog Ollie, and he's sadly passed away.
While Ash is trying to process the news, Leah arrives happily back to the site with a bag of fish for the pond. Ash pulls her into the bathroom and tells her the horrible news before breaking down.
Want more recaps? Check out our The Block 2023 recaps below!
Episode 1 / Episode 2 / Episode 3 / Episode 4 / Episode 5 / Episode 6 / Episode 7 / Episode 8 / Episode 9 / Episode 10 / Episode 11 / Episode 12 / Episode 13 / Episode 14 / Episode 15 / Episode 16 / Episode 17 / Episode 18 / Episode 19 / Episode 20 / Episode 21 / Episode 22 / Episode 23 / Episode 24 / Episode 25 / Episode 26 / Episode 27 / Episode 28 / Episode 29 / Episode 30 / Episode 31 / Episode 32 / Episode 33 / Episode 34 / Episode 35 / Episode 36 / Episode 37 / Episode 38 / Episode 39 / Episode 40 / Episode 41 / Episode 42 / Episode 43 / Episode 44 / Episode 45 / Episode 46
The Block airs on Sunday at 7:00 p.m. and continues on Monday, Tuesday and Wednesday at 7:30 p.m. on Channel 9 and 9Now.
Want to CHATTR with us? Follow us on Instagram and Facebook for more entertainment news.