It's episode 10 and the start of WFH week on The Block and Leah is struggling to not take the judge's feedback from the August 20 episode personally.
In case you missed it, Darren had said that the studio gave him "display home vibes" and that the Murphy pull-down bed was the wrong choice, as was the placement of the furniture while Shaynna thought their design had no connection to their "bold and risky" bathroom.
Meanwhile, Liberty from House Five 5 was also devastated after new judge Marty Fox said he thought they would have been better off presenting their room with nothing in it. Ouch.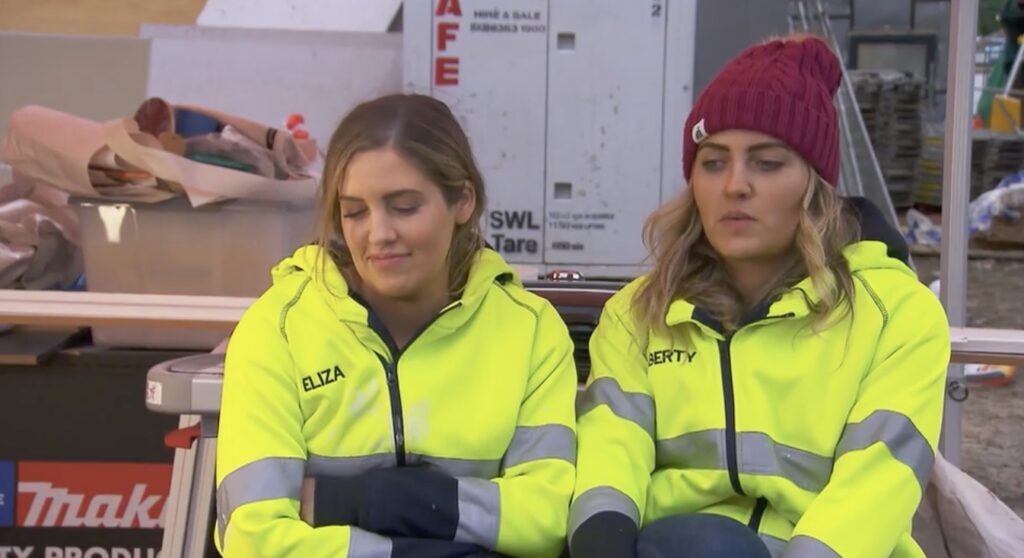 Over in House Four, Steph and Gian were on cloud nine after their win which included a vintage Hermes bag, which Steph proudly paraded around at the Open For Inspections. Lol. Relatable!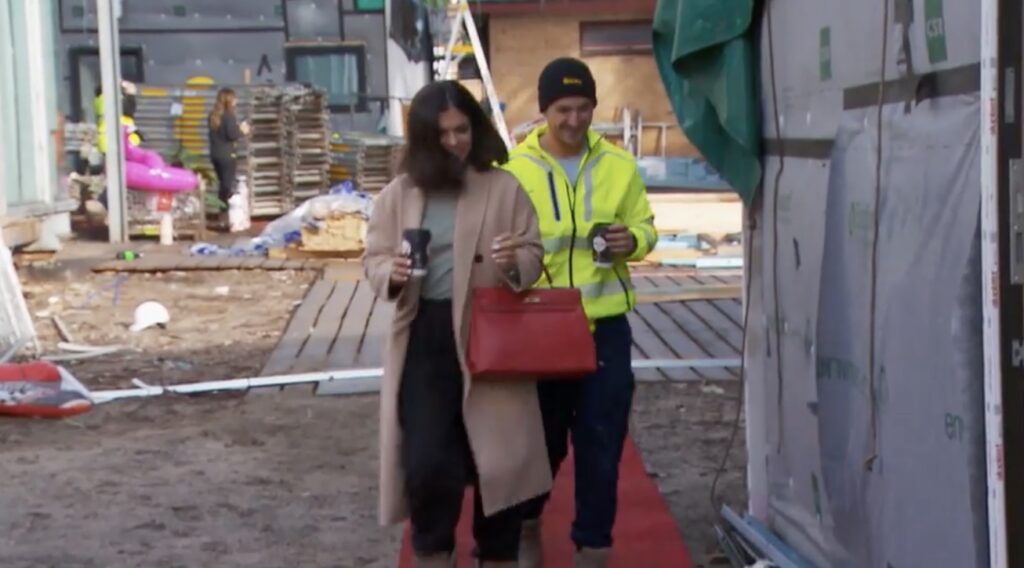 During the same inspections, Leah struggled to understand why what they had done was "so so bad" and came last, when Eliza and Liberty were told their styling was sh**.
Now that she's a winner, baby! Steph was not backwards in coming forwards and sharing her opinions on what the other Blockheads could have done better.
Telling Eliza and Liberty they could have made it more "cabanery".
"Being an architect, I'm able to visualise the spaces around and how they influence that space, and that's how we design," she said in a piece-to-camera.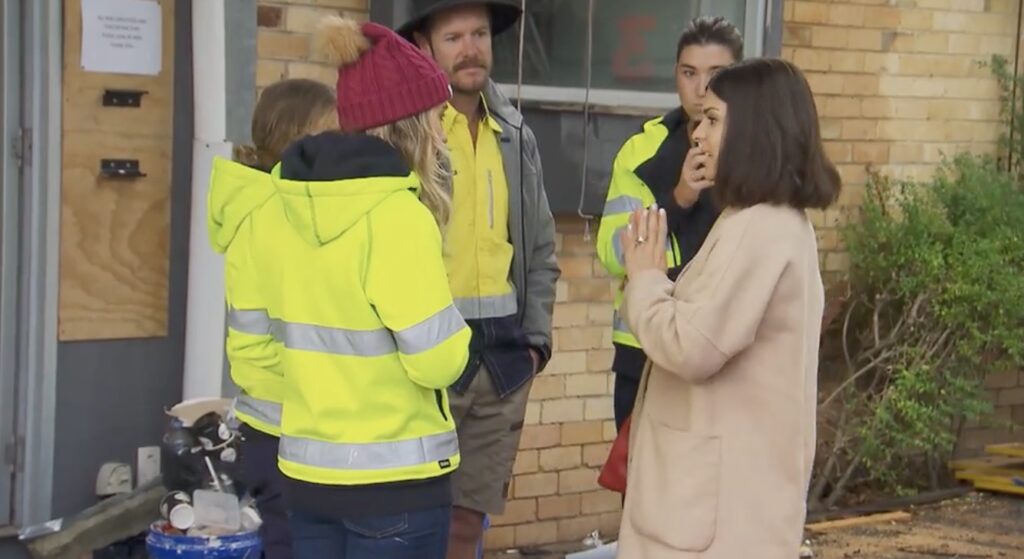 "Maybe they don't want the advice, I'm just happy to give it…" she added. LOL.
Steph then sets her sights on arch-nemesis Leah, who afterwards, became very emotional, crying on the shoulders of everyone including Foreman Keith.
"I don't know how I can continue," she said before later adding, "I just feel like I'm going in the wrong direction."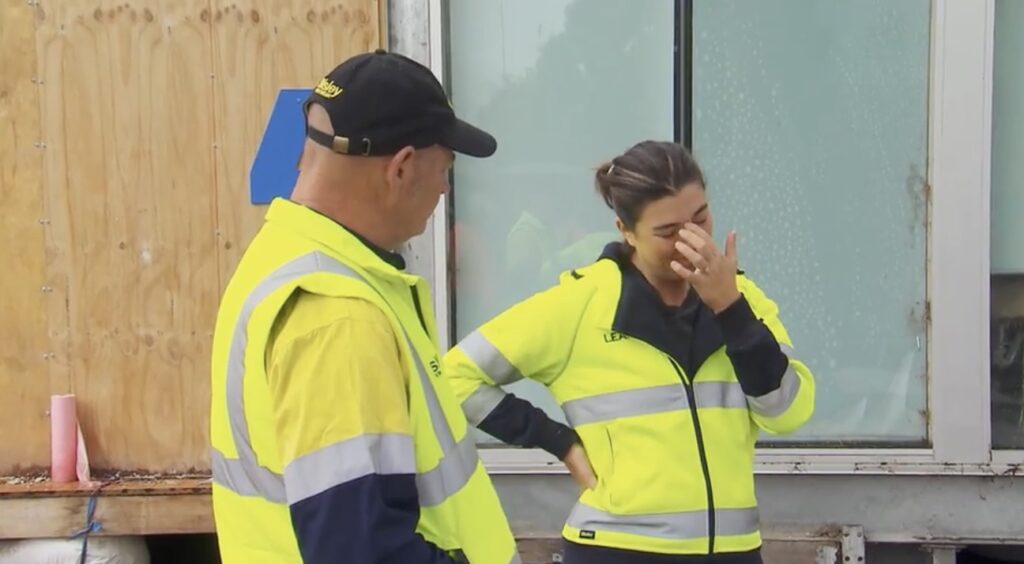 Work from Home spaces begin
This week, our Blockheads are renovating a work-from-home space which means more demolition and hard work….except for Steph and Gian, who have won one challenge and now are invincible! Plus, they have an advantage as they have been in the old house all along, so know what it takes to get it done.
Luckily for them, they also got a nice little road trip to the Yarra Valley for the weekly Ford Getaway, spending the night at the Blairgownie Estate winery and a one-on-one dinner with Scotty.
Meanwhile, Kristy and Brett are on the brink of disaster after an inspection finds their house stumps are old-fashioned pine timber and not compliant with the modern age.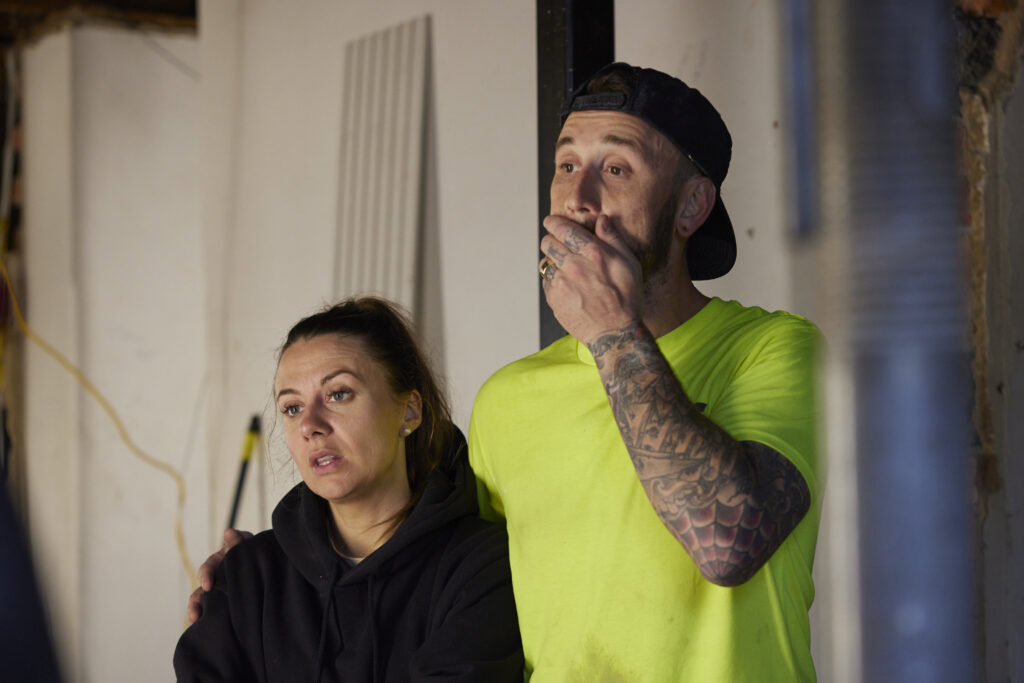 Over in House Four; however, it's more good luck for our Highschool sweethearts as Gian puts the spa in his backyard on Facebook marketplace, hoping to make an extra $15k.
The Blockheads then received a visit from Alice Stolz from Domain who reveals to the contestants that the Domain Listings are already live!
But it's this lil' titbit that really makes us question whether the teams know what they're in for when Eliza asks Foreman Dan: "What's the difference between a nail and a screw?!" LOL!
Elsewhere, Liberty is still reeling from Marty's comments, and phones her mum.
Want more recaps? Check out our The Block 2023 recaps below!
Episode 1 / Episode 2 / Episode 3 / Episode 4 / Episode 5 / Episode 6 / Episode 7 / Episode 8 / Episode 9
The Block airs on Sunday at 7:00pm and continues Monday, Tuesday and Wednesday at 7:30pm on Channel 9 and 9Now.
Want to CHATTR with us? Follow us on Instagram and Facebook for more entertainment news.