It's episode 15 of My Kitchen Rules 2023 and time for a Grand Finale of epic proportions! As was expected, Nigella Lawson was on hand to help Manu Feildel and Colin Fassnidge name this year's winners!
Competing in the pièce de résistance were "Twindians" Radha and Prabha opposite bestie hospo mates, Nick and Christian — two men who had rather yuge shoes to fill after banging on about their experience.
"Tonight, one team will step back into the world with the title of MKR Champions," Manu said. "And $100,000!"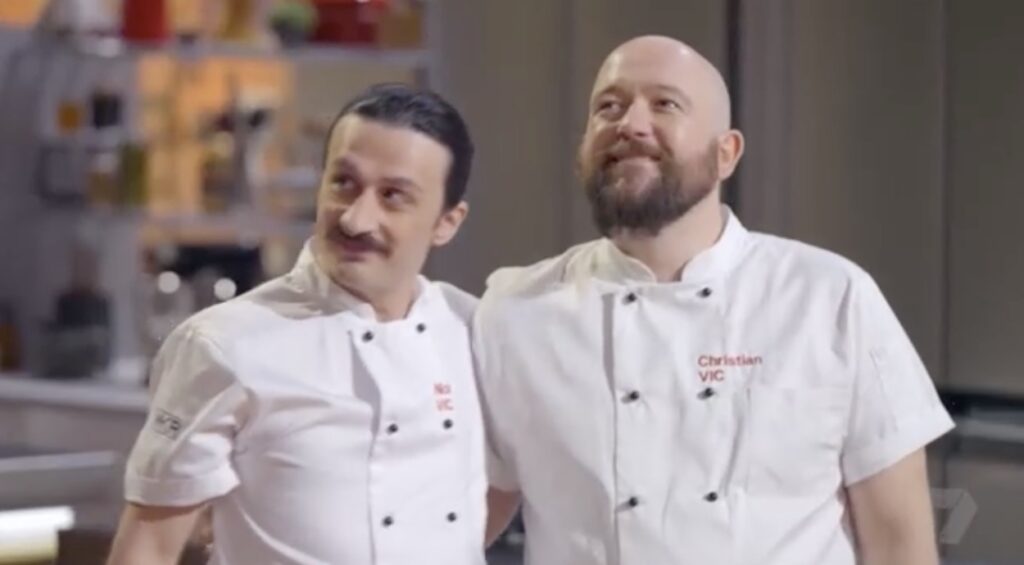 An honourable mention must go out to Christian, who yelled up to the gantry: "Rach, meet Chris, Nick's mum!" A nod to Nick's MAHOOSIVE crush on Semi-Finalist, Rachel.
Course One – Entrée
The first course had to be served within two hours.
Radha and Prabha
Spicy Fish Fry with Yellow Dhal and Tomato Chutney
After a little help from their mum in the gantry (which hilariously got the twins arguing), Colin said that it was "vibrant" before pulling a face because the "chilli was hot". Manu said the "fish itself is melting in your mouth", while Colin called it "moist". Nigella added that it was "perfectly" cooked.
Colin said the Dhal needed more salt but wasn't a "deal breaker" and Nigella liked "the gentleness of the Dhal".
As for their mum? "Very, very proud!"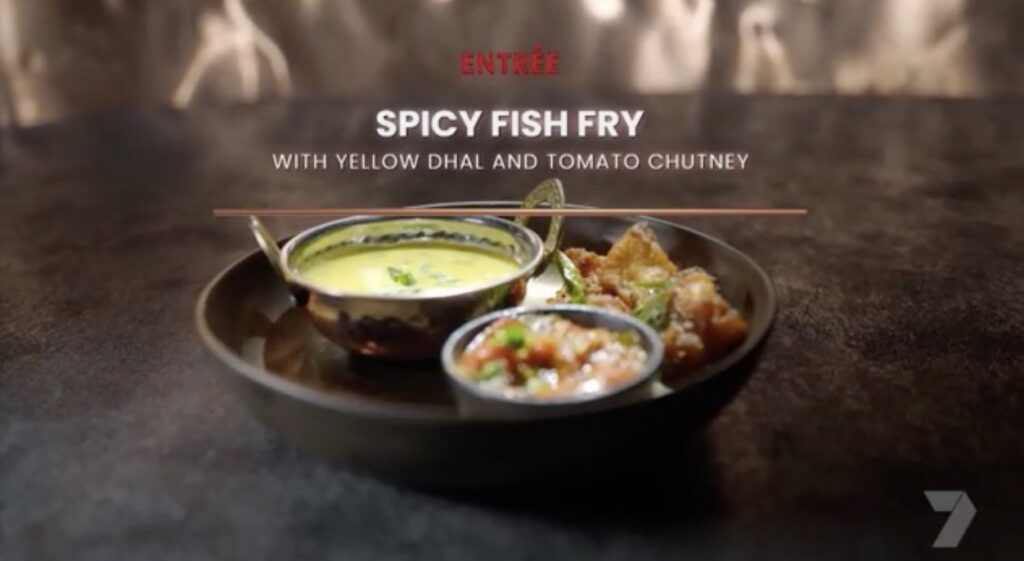 Nick and Christian
Scallops with Black Pudding and Bloody Mary Butter
Colin's first critique was that they didn't loosen the scallops from the shell with Nigella calling it a "rookie error"; however, it was "cooked perfectly", while Manu really enjoyed the Bloody Mary component.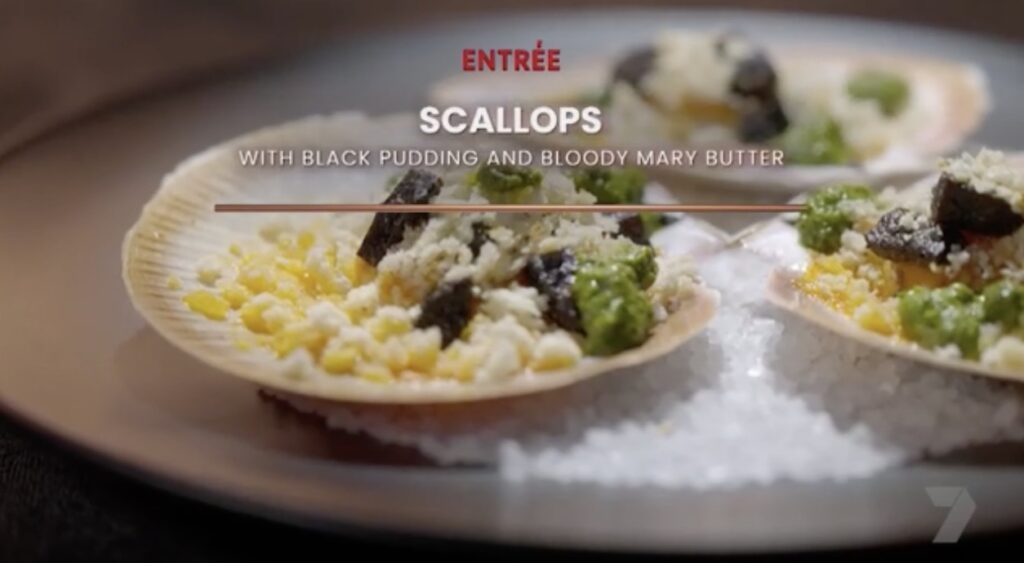 At the end of the first round, Manu said he "put Radha and Prabha ahead".
Course Two — Seafood Course
The teams had 90 minutes to dish up their Seafood Course.
Nick and Christian
Crayfish with Vadouvan Butter and Witlof Salad
It was a stressful cook for Nick and Christian, who weren't overly happy with how they plated their dish.
Thankfully, the judges said the Crayfish were cooked "perfectly" and "melted in your mouth".
"It's a winning dish," Sonia from the guest teams said.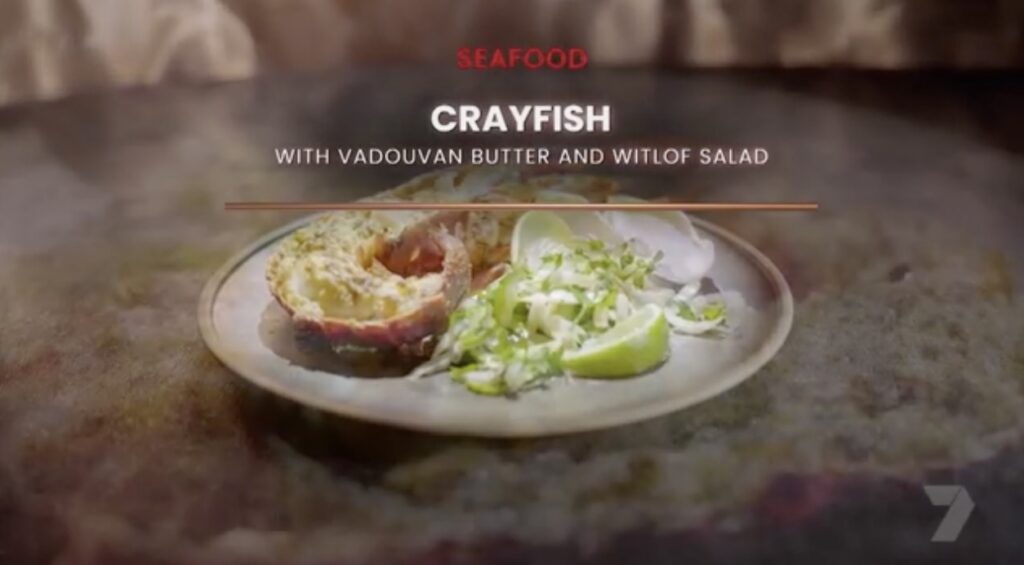 Radha and Prabha
Kerala Prawn Curry with Roti and Spiced Potato and Eggplant
Radha and Prabha were concerned they had overcooked their prawns, but Nigella said they were "good". LOL. Manu said, "Frankly, I'm really enjoying it".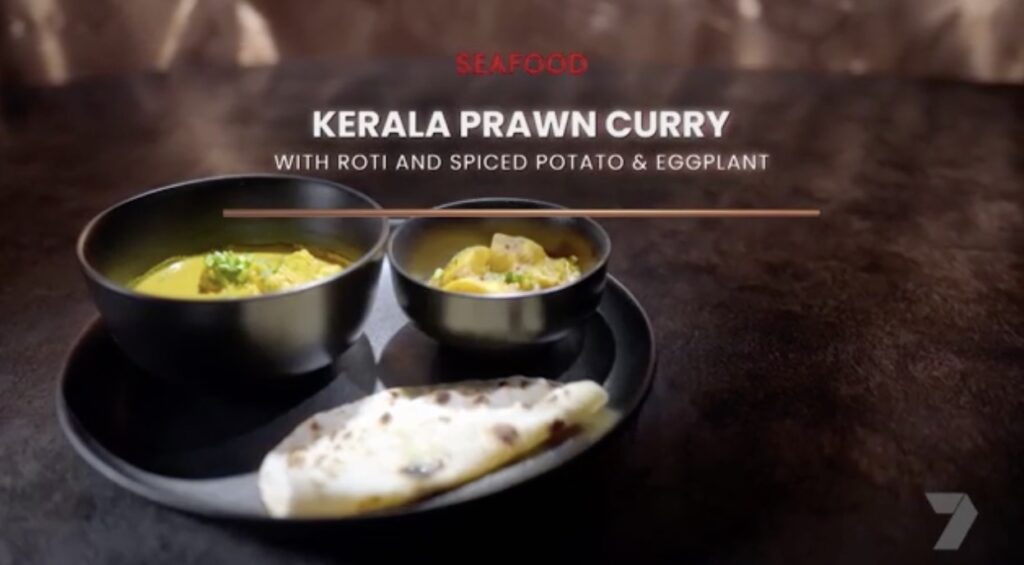 This time round, Colin said the boys were ahead.
Course Three – Meat Course
There was 90 minutes on the clock for the Meat Course.
Nick and Christian
Bavette with Red Wine Jus and Truffle
Colin said the meat was cooked well but it needed more crust; however, loved the red wine jus and horse radish, while Nigella said "It works, but it doesn't make your heart sing".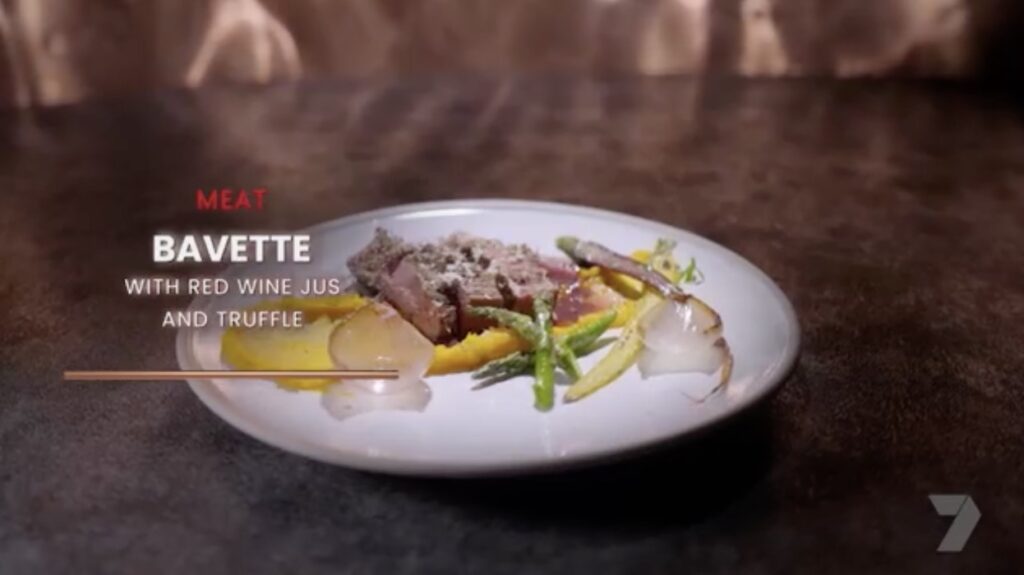 Radha and Prabha
Chicken Biryani with Cucumber Raita and Pickled Onion
Throughout the cook, Nigella went over to Radha who was having "a slight panic".
"It's very important, but it's not life or death," she said.
During judging, Colin said: "I think this might be seasoned with tears!" LOL before Nigella said the chicken was "cooked well". Manu loved the "fragrant spicy Biryani with the cool of the Raita".
Their mum's verdict? "They've done great!"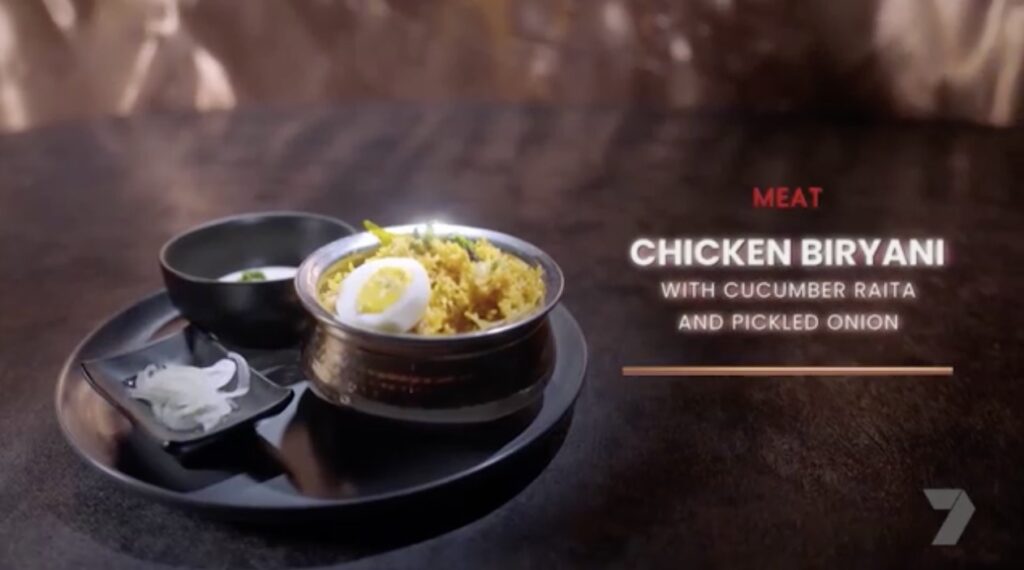 Course Four – Dessert
With one hour on the clock, their last cook in the MKR kitchen was underway!
Radha and Prabha
Pistachio Ice Cream Chocolate Dome with Almond and Orange Zest Crumb
After cracking their chocolate domes, Nigella was impressed by the "beautifully smooth" ice cream and loved the crumb. The "flavours balanced the rumbunctiousness" of what has come before.
Colin said it was their best dessert of the competition.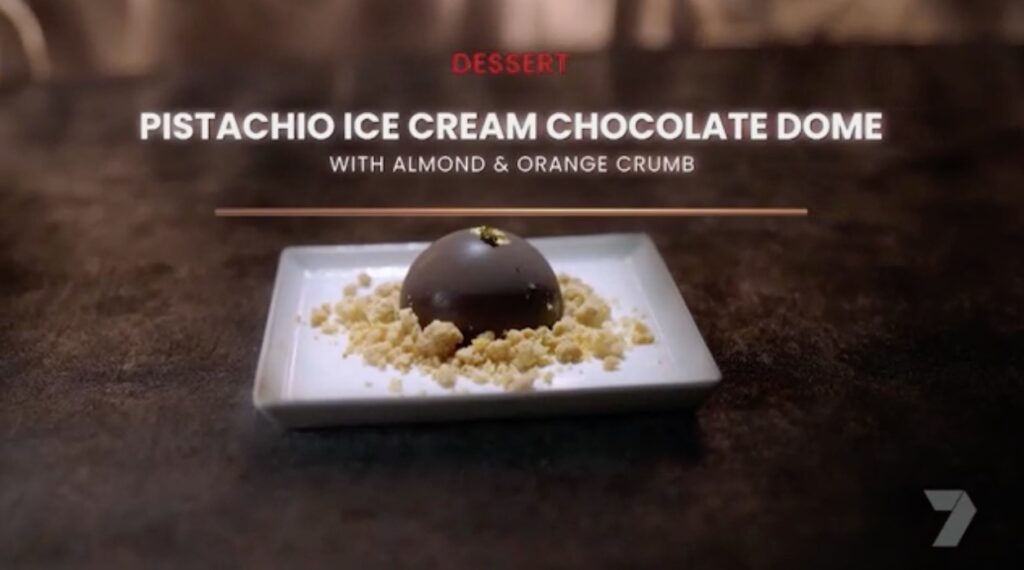 Nick and Christian
3181 Mess (a.k.a an Eton Mess)
With Christian backing himself that they had the win in the bag, Colin said. "You could hang it on the wall". The judges thought they could have had more cream but loved the Yuzu Curd and said they were "ending on a high"!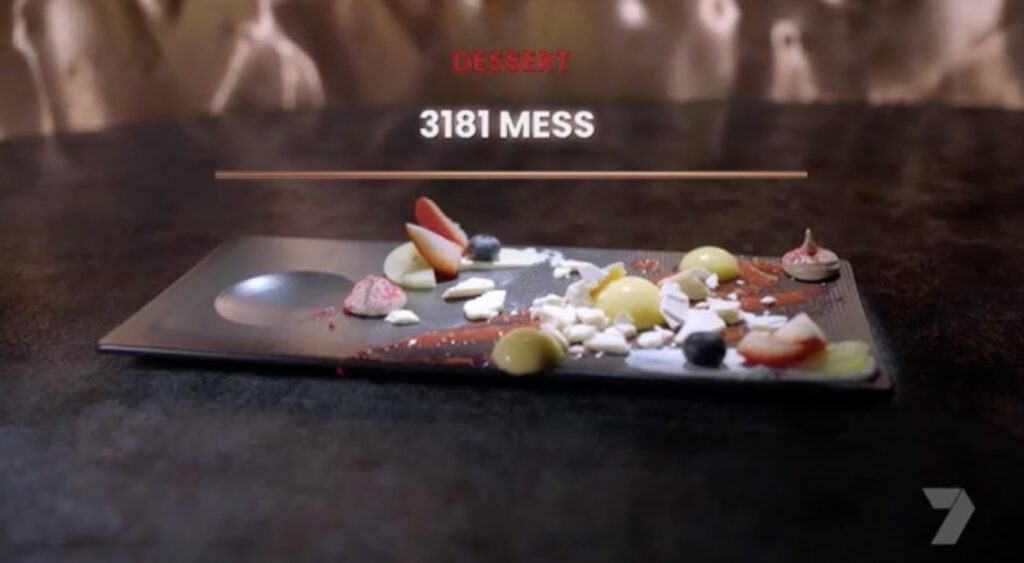 The Judging
| | | |
| --- | --- | --- |
| | Nick and Christian | Radha and Prabha |
| Nigella | 8 | 9 |
| Colin | 8 | 9 |
| Manu | 9 | 9 |
| Overall Score | 25 | 27 |
The Winners
Radha and Prabha are the My Kitchen Rules 2023 Champions!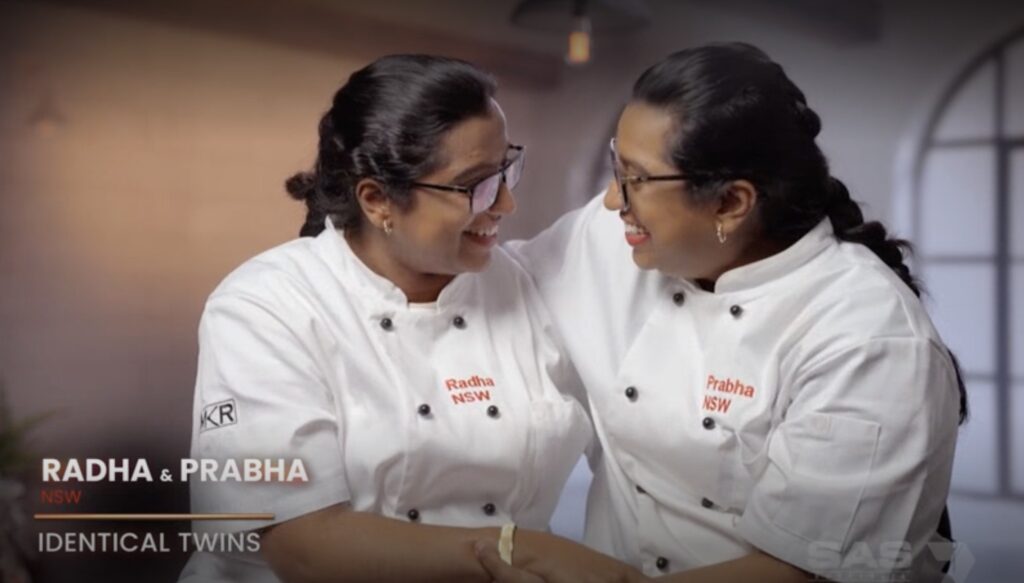 Want more MKR 2023 Recaps? See below:
Episode 1 / Episode 2 / Episode 3 / Episode 4 / Episode 5 / Episode 6 / Episode 7 / Episode 8 / Episode 9 / Episode 10 / Episode 11 / Episode 12 / Episode 13 / Episode 14
Stream all episodes of My Kitchen Rules Australia 2023 on 7Plus.
Want to CHATTR with us? Follow us on Instagram and Facebook for more entertainment news.