It's episode five of Love Island Australia 2023 and "TOOOONIGHT" Nakia and Tyra compete over Kale a.k.a Pete Gun Kelly (PGK), before a Recoupling ceremony shakes up the villa and someone gets dumped!
Here's everything that happened!
After their date during episode four, Tyra tells Nakia that she's gonna let her do her thing with Pete Gun Kelly because she doesn't know if he just has a really "good energy" or if there's something there.
Nakia is concerned but is keen to pull him for a chat to get the "411".
Meanwhile, PGK is chatting to all the boys and admits for Ben's sake that he wished it hadn't gone so well with Tyra and that originally, Nakia caught his eye before anyone else.
Once again, Tyra says PGK has absolutely "thrown" her because she definitely had a better convo with him than she's had with Ben. And Nakia was…less than happy about it.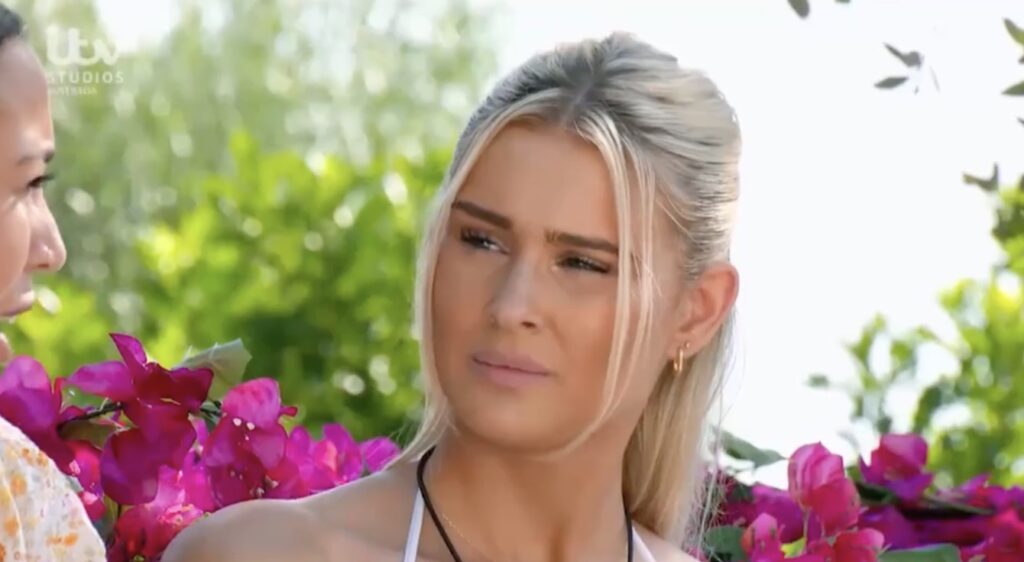 Tyra then calls Ben a "sweet angel boy" and Lucinda plays the devil's advocate, saying that maybe a "sweet angel boy" isn't what she wants. Confused, Tyra decides she needs some serious time in her "mind palace" to figure s–t out.
Ben disappoints Tyra and Kale reveals debriefs with Sav
After the girls debrief, Sav tells PGK that Tyra is confuzzled because she's had better chats with him in one hour than she has had with Ben the entire time.
Meanwhile, literally 30cm away, Ben plants the seed in Tyra's mind that PGK is actually more into Nakia… do we spot another snake in the grass?? Tyra is disappointed AF but pretends she's not.
"Do you want to walk with me to the toilet," she asks Ben sadly.
"Yeh, sure," he says.
And that my friends, is their relo in a nutshell.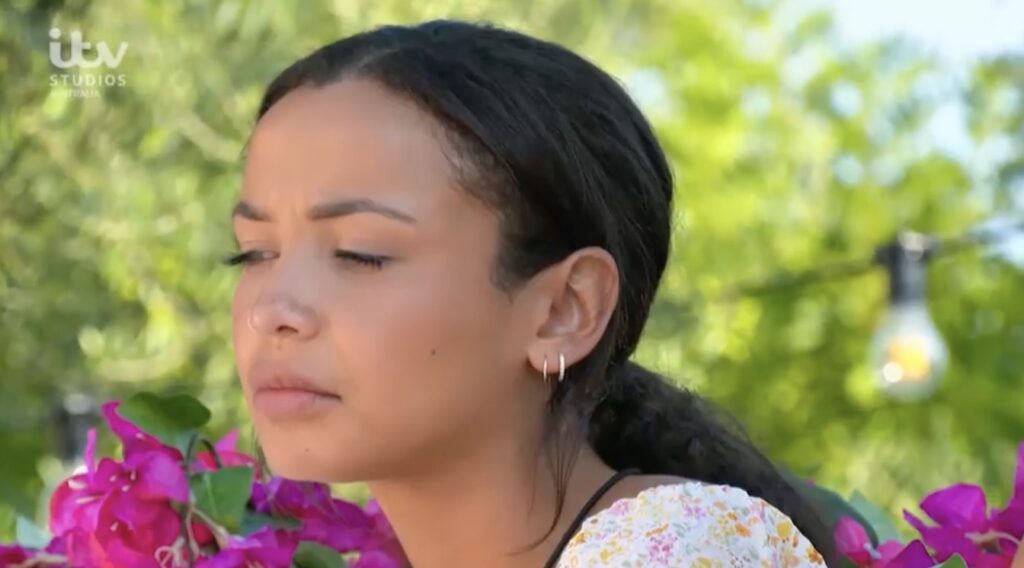 In other disappointing news, Tia told Reid she's actually feeling Nate, and Reid — who chose her when he entered the Villa — is not surprised, given she can't even look at him longer than 2.5 seconds…
Nate is thrilled by the news. Lucinda who?!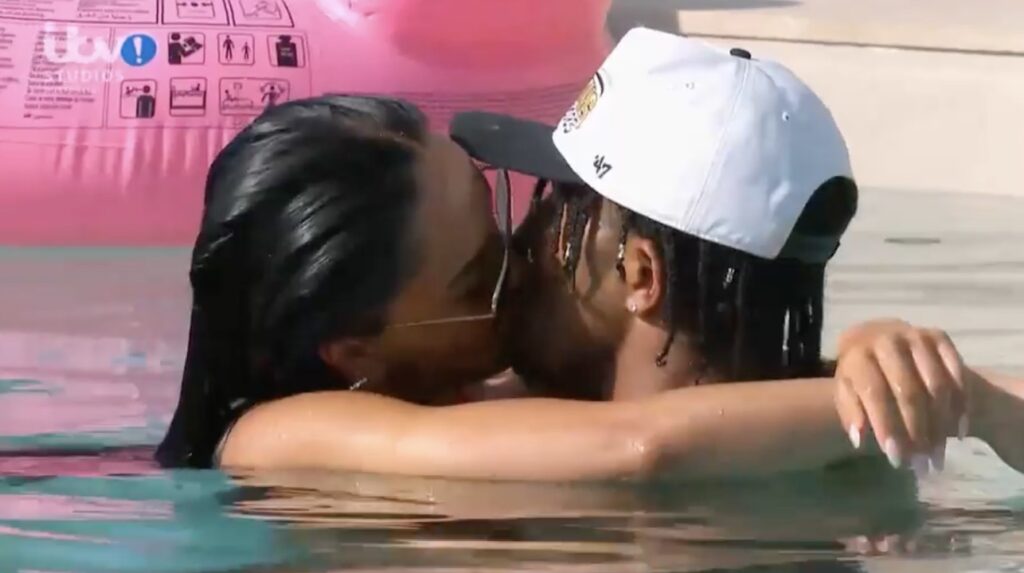 Nakia and Kale kiss and Tyra pretends to be happy for her
Nakia and PGK head off for a chat and she admits in a confessional that she "low-key wished" his date with Tyra had sucked. Luckily for her, while his conversation flowed better with Tyra, with Nakia, he just "wanted to rip" her clothes off. How romantic!
They kiss and he comments on her cherry chewie. I cannot with these people.
In the glam room, Sav is shocked to hear that Ben told Tyra that PGK wasn't that into her given her earlier conversation with him, before Nakia tells the girls she and PGK "had a little kiss".
Tyra — although dying a sad, heartbroken death inside — is happy for Nakia… and basically, we know that someone is going to hurt at the end of this…and her name is NAKIA.
Meanwhile, the boys are doing this: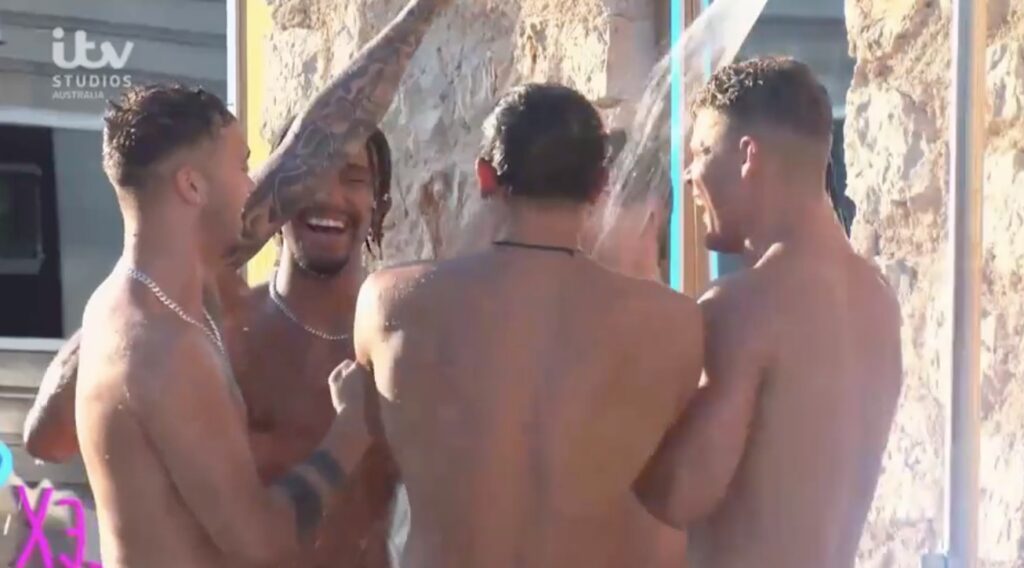 Kale and Tyra chat and are relieved they're on the same page
Later that evening, PGK and Tyra leave the group to have a chat and Nakia looks like this: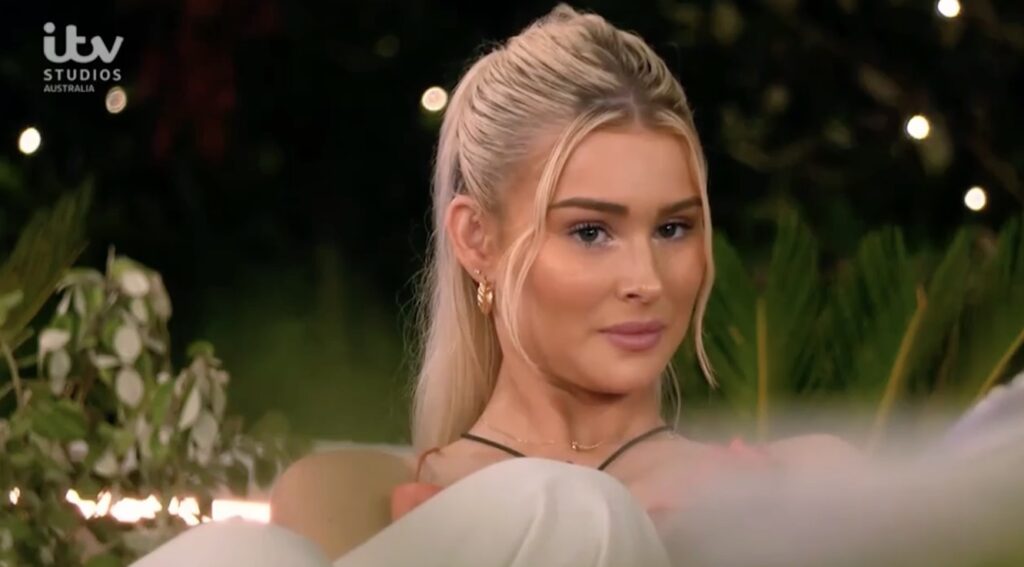 Tyra tells…nay dobs… on the boys a.k.a Ben who told her that PGK only likes her as a friend.
"That's bulls–t," he tells her before admitting the he feels they're "aligned" and that they finish each other's…sandwiches.
She then tells him that if Nakia wasn't in the picture, she'd pursue him, but since she is, she's gonna take a "big ol' step back".
He is gutted.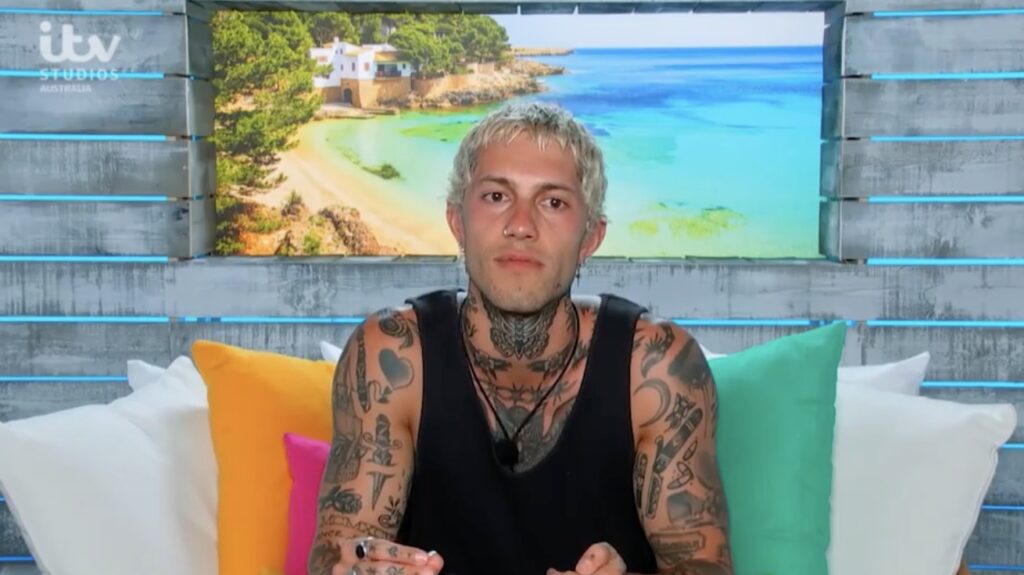 Ben drops a bombshell on Tyra
Back with the group, Tyra asks Ben how he's feeling and he says everything is "chill".
"I feel like you're just waiting for a bombshell to come in," she says to him.
Ben's response: "Well, yeh. Because I don't have any options. I feel like it's important to have options, if…" IF WHAT, BEN?! IF WHAT?!
"Do you think you actually like me, or do you think I'm the best option out of what you've got?" she asks him.
"I wanna try and stay open because it's so early," he says.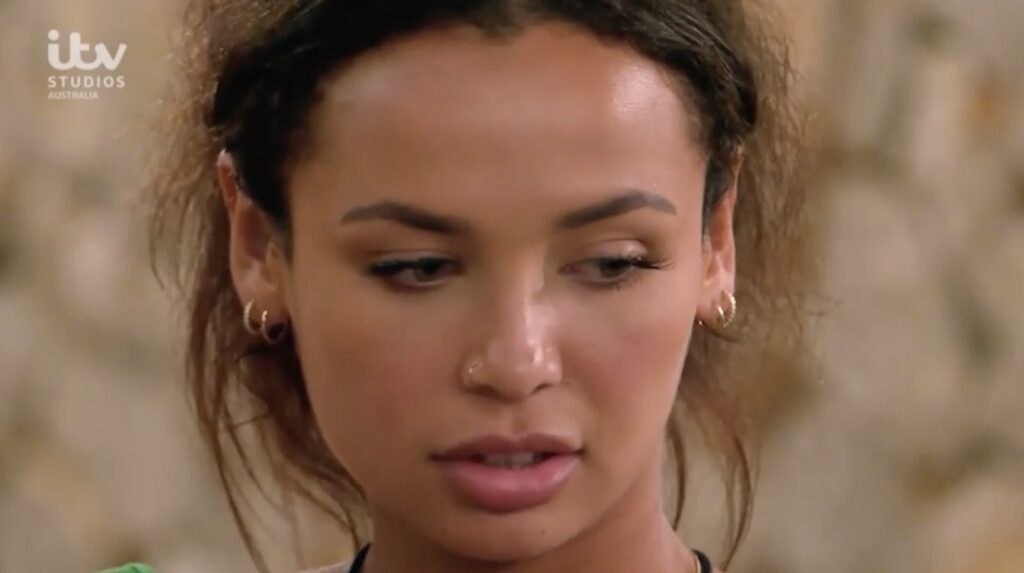 The next morning, Reid makes Tyra a coffee (C'moooon, Reid!) and she continues to be p–sed at Ben.
Meanwhile, Kirra — who we legitimately forgot was here — is in the friend zone with Ollie — who we also forgot existed — and she's like: "Mama didn't raise a quitter…or a b–ch". And damn straight she didn't!
Unfortunately, we're then subjected to a montage of the guys working out. What. a. shame.
Reid gives Kirra false hope
Reid and Tyra realise they're kinda sorta into each other which works out well because Kirra gets a TEXXXXXT!
Tonight, the girls will have the power to choose during a Recoupling Ceremony and whoever is left single will be dumped from le Villa.
Reid gets to work "conversating" with Tyra — who actually couldn't look any less interested — but says she wants to get to know him.
Over in the "bros to bros" neck of the woods, Master Zac a.k.a Snakerton, is telling Ben what he's heard through the grapevine but Ben already knows he is useless, so it is pretty pointless.
Reid then hatches a plan to save himself, in case Tyra chooses Ben, and speaks to Kirra about coupling up. He gives her some serious false hope, saying he would be open to getting to know her if she was "comfortable with it" given he'd already hooked up with her sister.
"Really?" Kirra asks him. And yes, Reid. Really?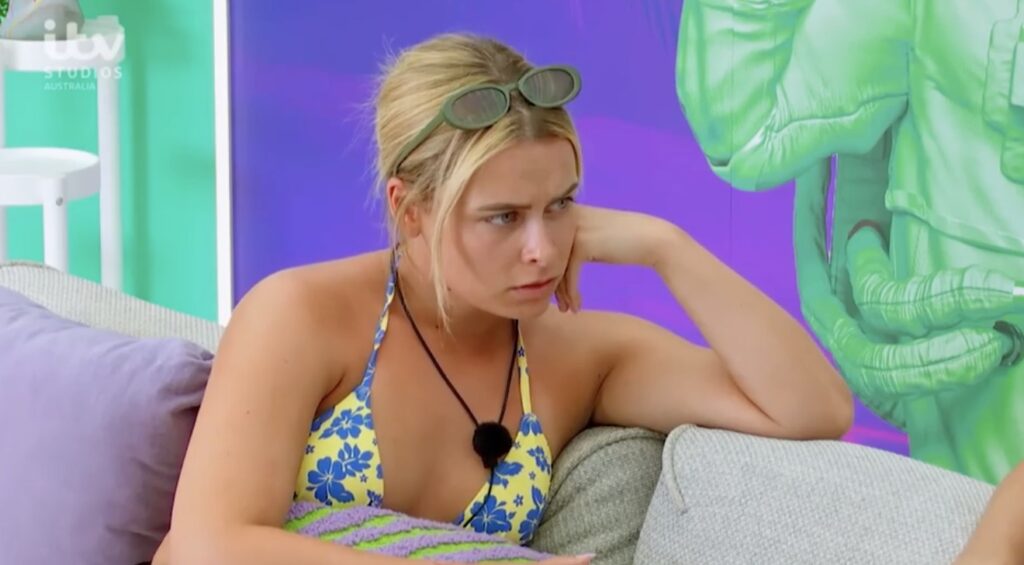 He tells her that he'd be keen to see what they could "blossom into" which is absolute bulls–t since only five minutes ago, he was just going to use her to stay.
Naturally, he becomes the talk of the town and the boys are all like:
Ollie then pulls Kirra aside and tells her what he's heard aka that Reid wouldn't get with her and Kirra is like: "Ah well, I'll try anyway." F–K ME. Kirra, NO!!
Shaking his damn head, Ollie is miffed that these guys would prey on a vulnerable girl and says he won't be doing any of that s–t, even to stay in the villa.
Recoupling Ceremony
The new couples are as follows:
Kale is the first cab off the rank given he was a Bombshell and chooses Nakia
Sav and Trent
Tia and Nate
Lucinda and Master Snakerton (Zac)
Tyra and Ben!!!!!
Kirra and Reid
Well, f–k.
Ollie is dumped from the island and as a parting gift, he gives Reid AND Kirra an absolute spray.
"I'm not naive," Kirra says. "I can't be emotionally manipulated. So please don't stand up there and tarnish my character."
Reid tries to defend himself but Ollie says: "It's a last-minute scramble, that's what it is. It's a f–king s–t-show!"
It sure is! And we can't get enough!
Want more Love Island Australia 2023 recaps? See below!
Episode 1 / Episode 2 / Episode 3 / Episode 4
Love Island Australia Season 5 episodes drop daily from Monday to Thursday at 6pm AEDT on 9Now.
Want to CHATTR with us? Follow us on Instagram and Facebook for more entertainment news.