It's episode four of Love Island Australia 2023 and a tatted-up Bombshell arrives to shake things up at the villa. Plus there's more boy drama after Zac's snakey lies come to light!
Here's everything that happened!
Nate asks Lucinda for "a bit of Nate time"
Ok. So, remember during episode two when Zac the Snake struck "while the iron was hot", lying to Lucinda about Nate's intentions and kissing her?! Well, s–t is about to get REAL!
The episode begins with Lucinda saying she needs to talk to Nate about the aforementioned kiss before Nate asks her if she has "a bit of time for Nate", pulling her away for a chat.
"Basically, me and Zac kissed up there," Lucinda tells him.
Nate: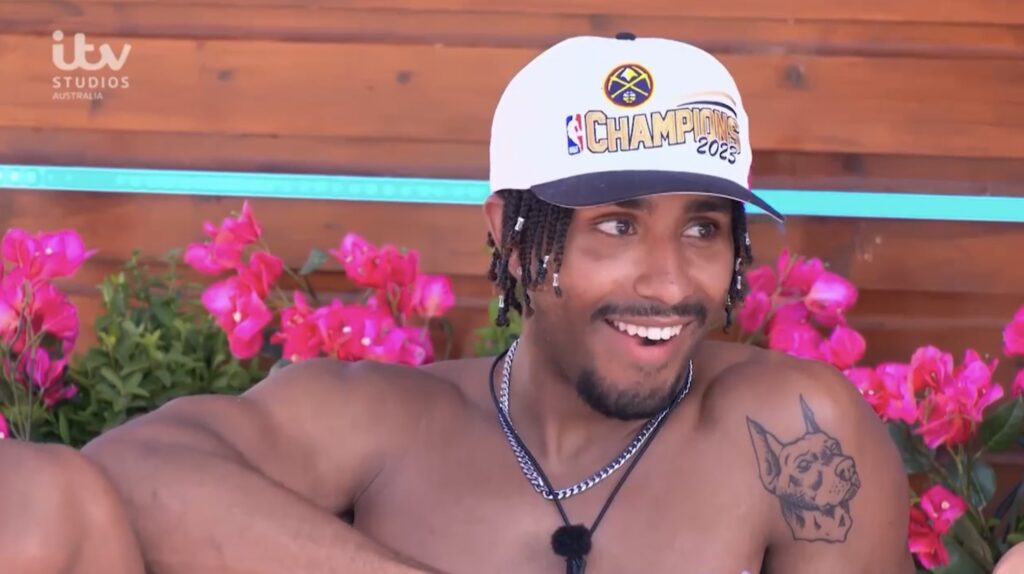 "Obviously, the entire thing is confusing because I was like all for you yesterday," she says.
"What's changed?" he asks her.
"He said to me about the Tia situation, I think you and her are going to get to know each other a bit more."
Nate: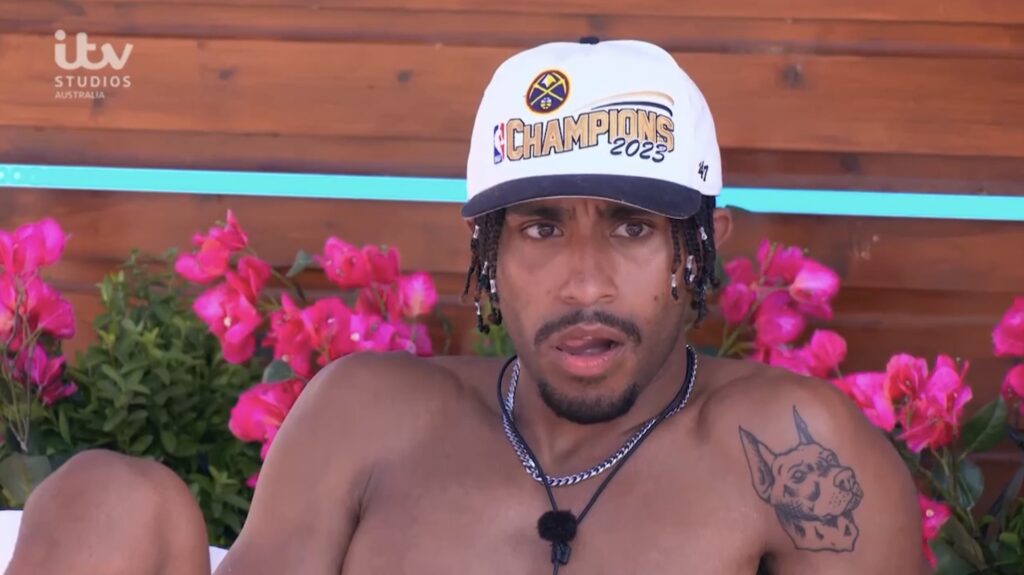 Nate denies everything and Lucinda throws old mate Zac under the bus even further. Nate then tells Lucinda she is his "number one option" and tells her that Zac is making it all up.
While this is all very, very s–t, to add to this, Lucinda doesn't think her "vibe" with Nate is "as strong" as what she has with Zac the Snake and so now, it's even more s–t.
During a confessional, Lucinda says she wished she had picked differently when she first arrived because she feels like "Zac is telling me the truth" which is both concerning and absolutely mental.
Nate confronts Zac the Snake
Two point five seconds later, Nate is FUMING and pulls Ollie aside to talk about what happened. Ollie is all like: "That's a dog move".
Meanwhile, ol' Snake Eyes tells his BFFL Trent (right next to where Ben is showering in the nud) that he got together with Lucinda. Trent… applauds him. Jeezus christ.
Nate then decides he wants to confront Zac straight away, who says, "Yeh, I need to chat to you". 🙄
"Zac thinks because he's on Love Island and because he's known me for four days, it's OK to disrespect me," Nate says during a confessional.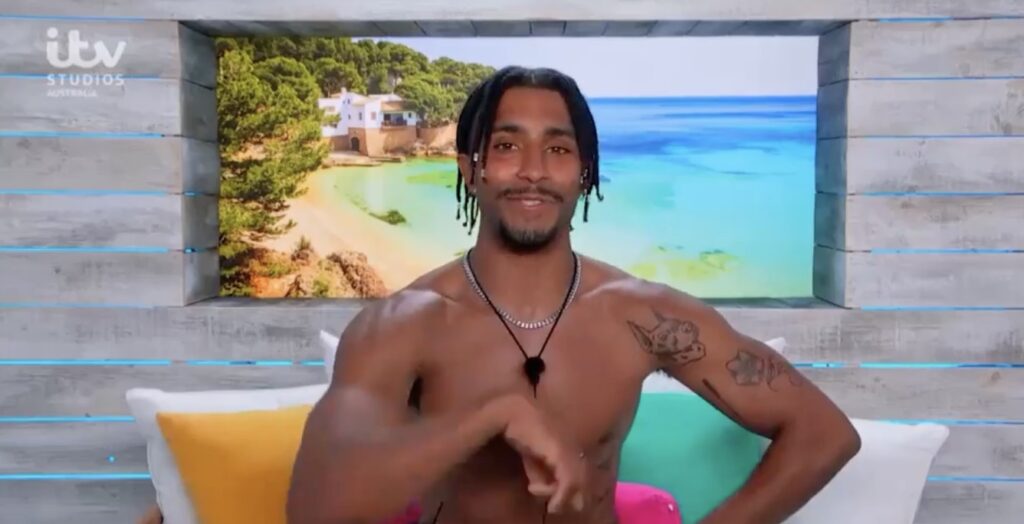 During their chat, Nate tells him that it's OK that Zac is taking a shot at Lucinda, but definitely not by throwing him "underneath the bus".
"Why don't you just go out of your way to show her who you are rather than try to bring me down. That's disrespect," he says. "I don't f–k with that."
When Nate says that Zac was there when he said he was into Lucinda, Zac says he thought Nate was "bullsh–ting me".
"That's crazy, you're wild," Nate snaps.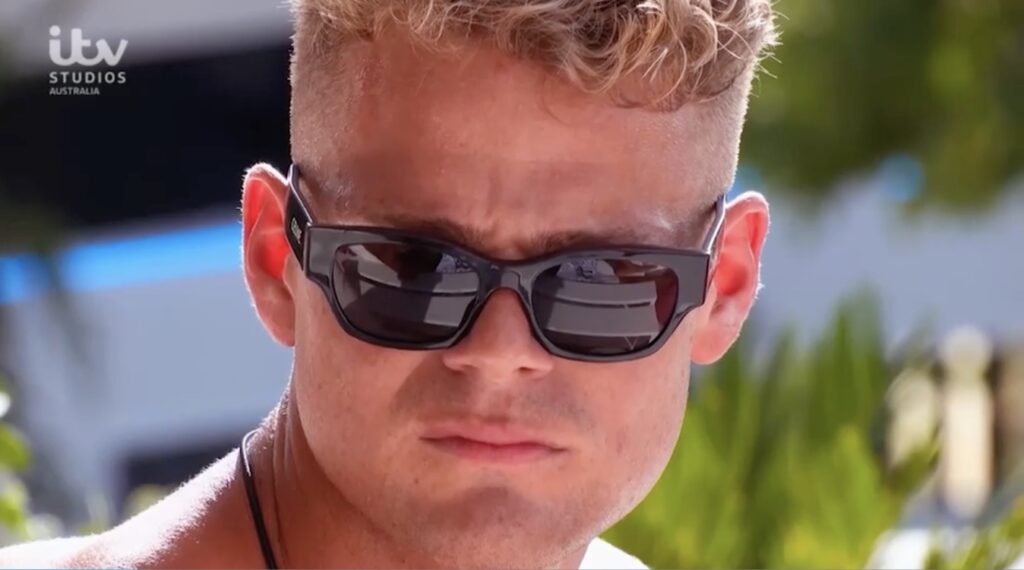 "He will do whatever he can to get the girl that he wants even if it means putting down another human being with feelings and emotions," Nate then says during a confessional.
Zac calls himself a "snake" and things escalate
Zac doesn't deny his s–tty behaviour, instead says: "I'm a bit of a snake in the grass sometimes" and that in his friend circle, that's "normal" behaviour. Excellent.
While they ended on "Good chat," things escalated when Nate overhears Zac talking to Reid, Trent, Ollie and Ben about the situation.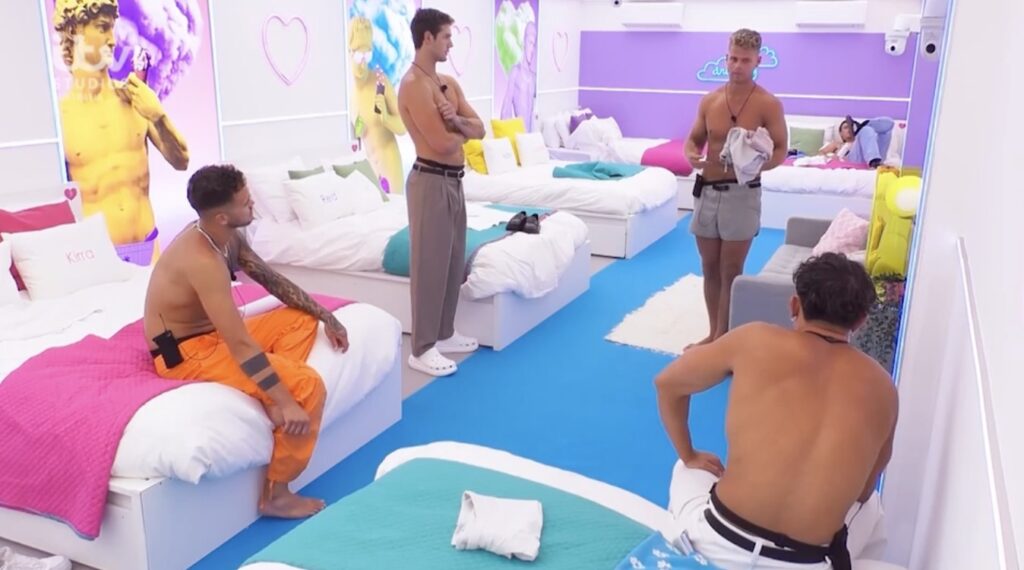 "He thought he was all good snuggling her in bed while I was looking into her eyes while he was cuddling her," Zac says. F–K ME.
And then Nate walks in…
Nate then reiterates that he feels "disrespected", but is now grateful he's seen Zac's "true colours".
"If you're not ready to come out and play with the big boys, then don't come out and play with the big boys," Zac tells the cameras in the Beach Hut.
The confrontation between the pair continues, and Snakey Snake does not apologise.
"I don't think I did anything wrong, in like the eyes of like, the world," he says. Well, you're wrong.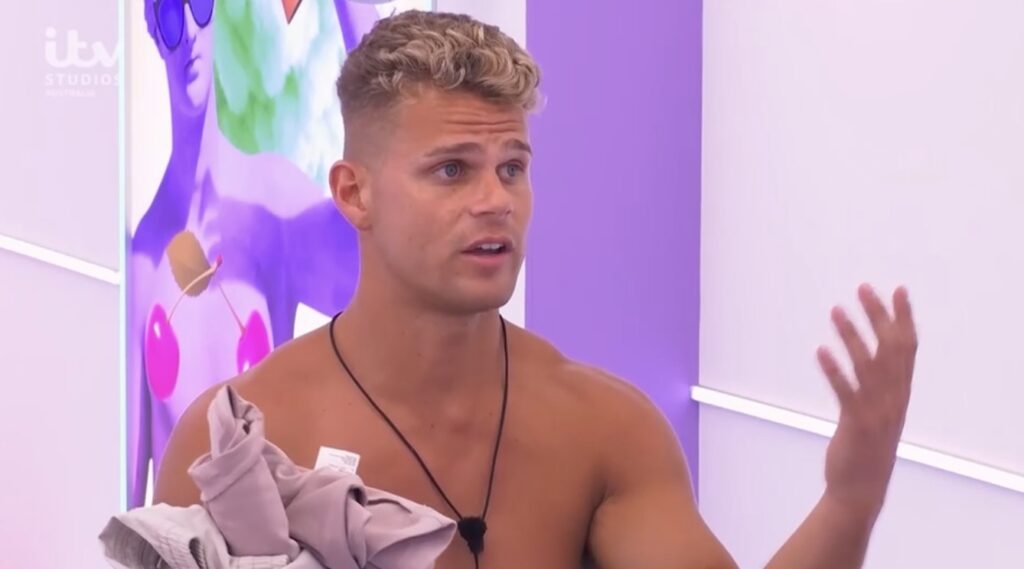 Savanah and T-Dawg cozy up
Afterwards, all of the Islanders — including the girls, who we completely forgot existed up until this point — drink during sunset.
Savanah tells "T-Dawg" (Trent) that she's not wearing any undies while they cozy up on a bean bag.
"You can see them through [the dress], so I just thought I'd have my clackers out," she says. LAWL.
T-Dawg then admits it feels like they've known each other "since they were born".
"Who knows? It could get quite spicy between us. There's nothing off-limits."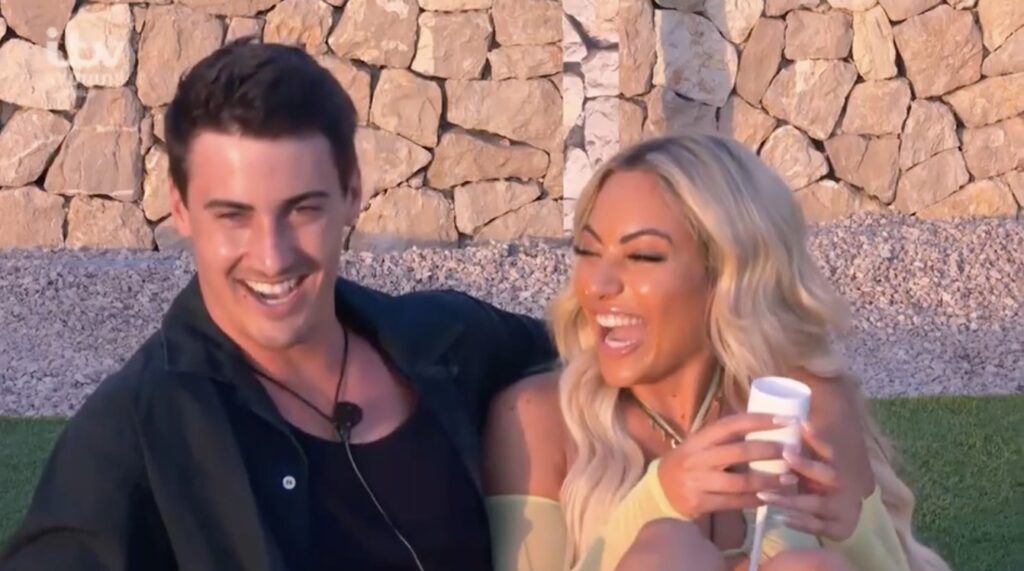 "Sav" says it's feeling "pretty good outside the friend zone" and while we think T-Dawg is completely complicit in Snakey Snakerton's behaviour, we kinda love this for them.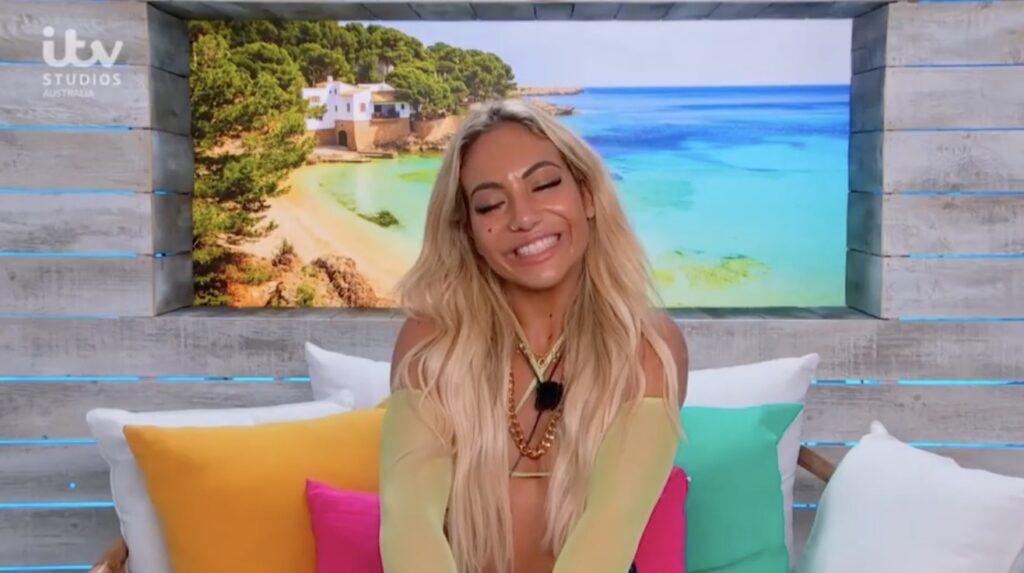 Meanwhile, Tia chats to Reid, saying that she's done with T-Dawg and won't speak to him for the rest of their time in the villa and Master Snakerton continues to stir s–t, talking to Lucinda about Nate.
He tells her that Nate got really angry for confronting him about his "lies", "which is such a f–king load".
"He's being way too sensitive," she says and frankly, we can't wait to see what she thinks now she's watched it back.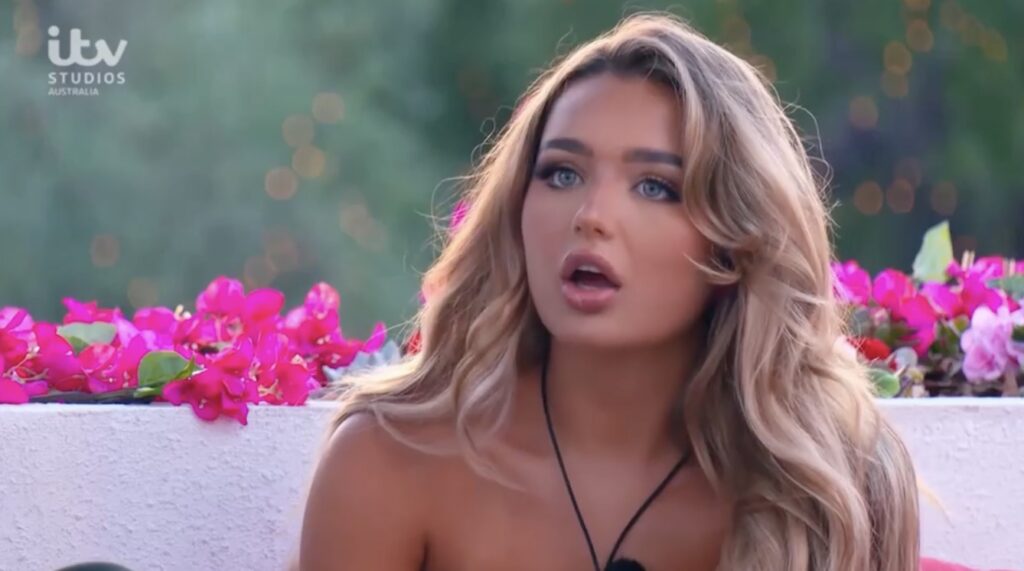 Sophie's 80's Playlist is interrupted by a BOMBSHELL
The Islanders then play "Sophie's 80's Playlist", where they need to grab a cassette (Yup, we had those) and put it in the boom box (Yes, we had these also).
Each cassette has a recording of host Kween Sophie Monk's voice and they have to act out what she says accordingly.
However, the crew are in for a delightful surprise, when our Kween announces the arrival of a new bombshell, Kale. A person. Not the vegetable.
According to Tyra, he's the perfect mix between Pete Davidson and Machine Gun Kelly. Sav on the other hand is THIRSTY.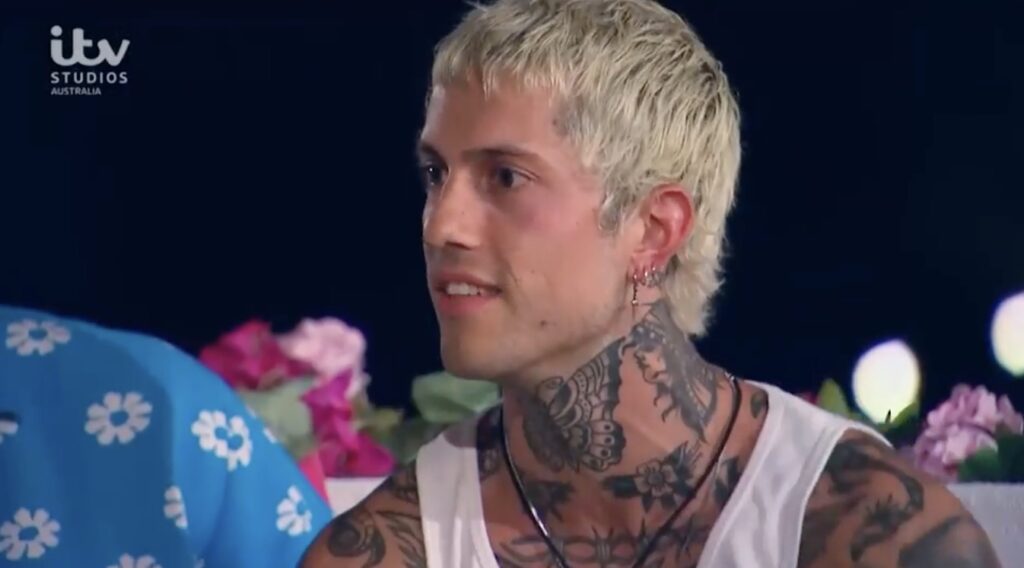 Straight up, Kale is asked to kiss three islanders he finds the most attractive.
Unfortunately for our girl Sav, he goes for Nakia, Tyra and Kirra.
The girls then pull Kale for a chat — which is a good time as any to remind you of the actual hot mess that is the existing couples:
Sav and Snake Eyes
Lucinda and Nate
Tia and Reid
Tyra and Ben
Kirra and Ollie
Singles – Nakia, T-Dawg and Bombshell Kale
Kale gives Nakia butterflies and Tyra is thrown
Kale then takes two ladies of his choice on a date. He picks Nakia and Tyra — which makes Kirra cry.
After her one-on-one, Nakia has butterflies and love heart eyes for the newcomer, relieved that she has a connection with someone.
However, Tyra — who has been coupled up with Ben — returns holding hands with Kale, after they hit things off over their "emotional intelligence". Prior to this, Ben had been sitting pretty, thinking it would be "hard to get in between what [they] have".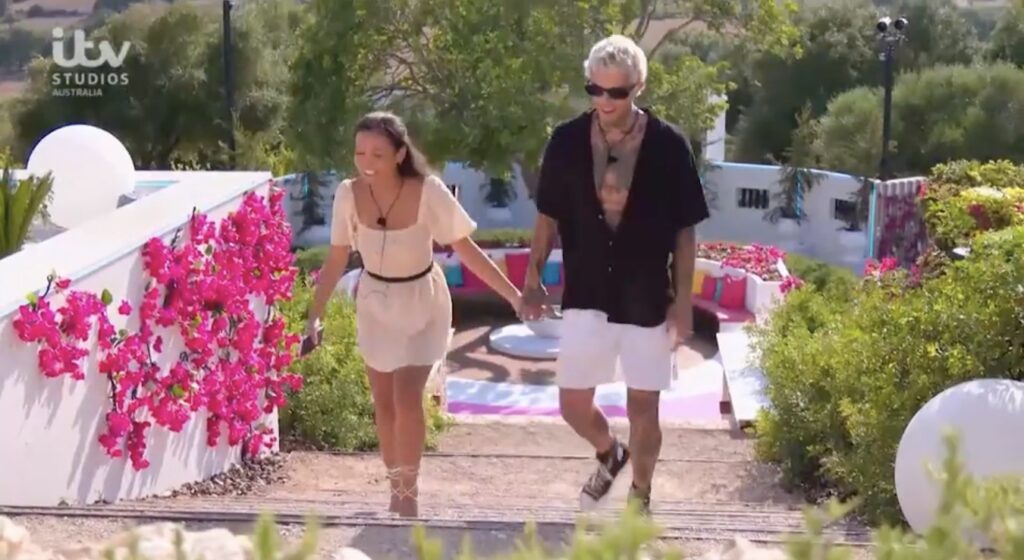 Admitting she is in "deep trouble", Tyra feels "thrown" by the Bombshell, saying she hadn't felt this feeling in the Villa yet.
"I'm in deep, deep trouble here," she says.
UH-OH!
Want more Love Island Australia 2023 recaps? See below!
Episode 1 / Episode 2 / Episode 3
Love Island Australia Season 5 episodes drop daily from Monday to Thursday at 6pm AEDT, exclusively on 9Now and airs most days at 8.30 pm on Nine.
Want to CHATTR with us? Follow us on Instagram and Facebook for more entertainment news.