It's episode 19 of MasterChef Australia 2023 and the contestants certainly felt the heat during the Immunity Challenge.
The winning team from the May 31 Service Challenge was the Red team, meaning they would be vying for a chance to Beat the Chef against much-loved guest chef, Gabriel Gaté.
Cooks Theo, Brent, Cath, Declan, Robbie, Malissa, Adi (who picked out the white apron and chose to back those in red) learned how to flambé from Shannon Bennett, putting their new skills to work over two rounds.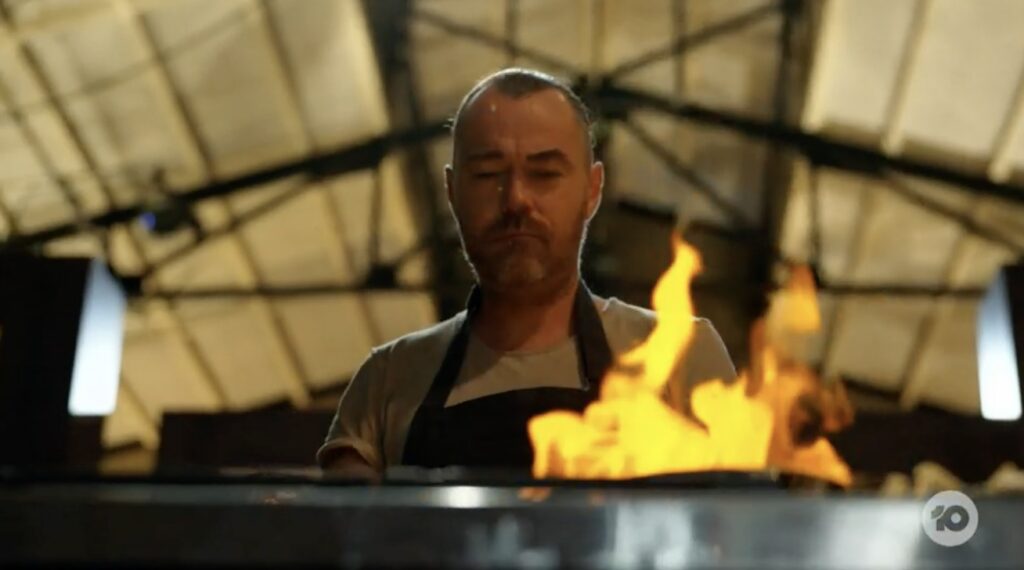 "There's nothing more nostalgic than flambéing," Shannon said before sweet Declan looked to the side, obviously confused.
"Always done intentional flom-boys," he said. LOVE HIM.
In round one, the contestants had 75 minutes to cook a dish featuring a flambé element. The cook with the best dish would then win guaranteed Immunity from this Sunday's elimination and go through to round two to take on Gabriel.
It's about to get hot in the kitchen, so let's get cooking!
Round One – The Cook
Cath, a nostalgic cook, decided to base her dish on a Pimms cocktail with orange frozen yoghurt mousse, orange and sweet syrup while Adi decided to take on smores.
There was an orange jam layer with chocolate Cremeux and homemade marshmallows and while they loved the concept, Shannon and Judge Jock Zonfrillo were concerned she was going to serve it on a stick.
Robbie began creating a duck mushroom puree, Malissa flambé Prawns with a Fresh Mango Salad and Theo, whose partner is French, decided to make crepes.
Meanwhile…
"Never done a flam-boy before," Declan said, before telling Jock Zonfrillo and Shannon he was creating the classic "meat and two veg".
When visited by Jock and Shannon, Brent revealed he was making Bourbon BBQ Chicken Skewers with Charred Corn; however, when Shannon said it needed "more depth", he decided to add Mexican chilli with help from Antonio in the gantry.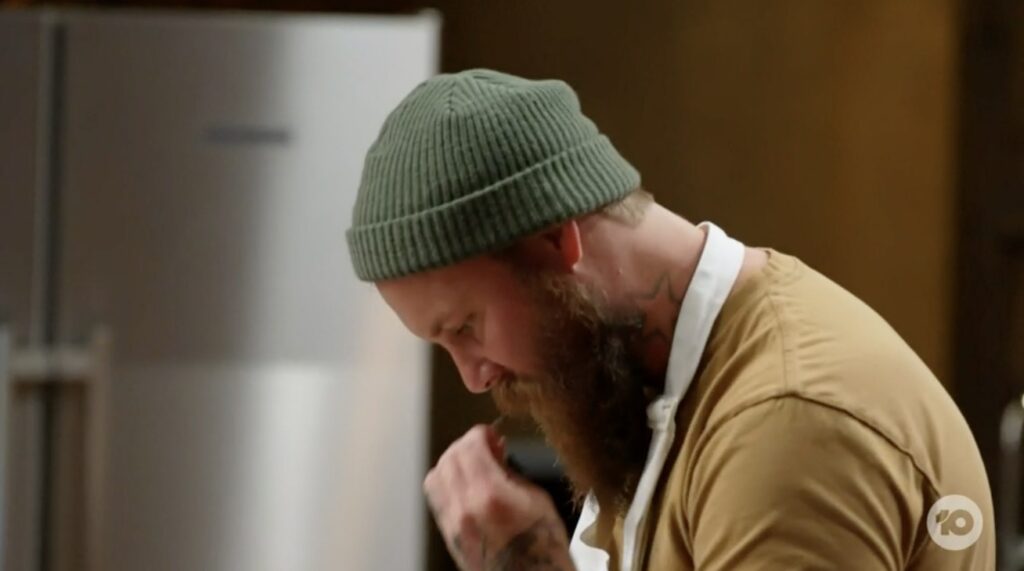 With 45 minutes to go, Cath was in a great place, "ready to flambé"; however, since she couldn't get her blowtorch lit, she had to start her strawberry and Pimms all over again because the alcohol had reduced.
"Going rogue", Cath decided to add straight vodka without measuring. Finally, she was able to flambé!!
"Third time lucky, that's what it is!" she said.
With only 10 minutes to go, Declan was ready to set his steak on fire…and coincidentally, almost his face!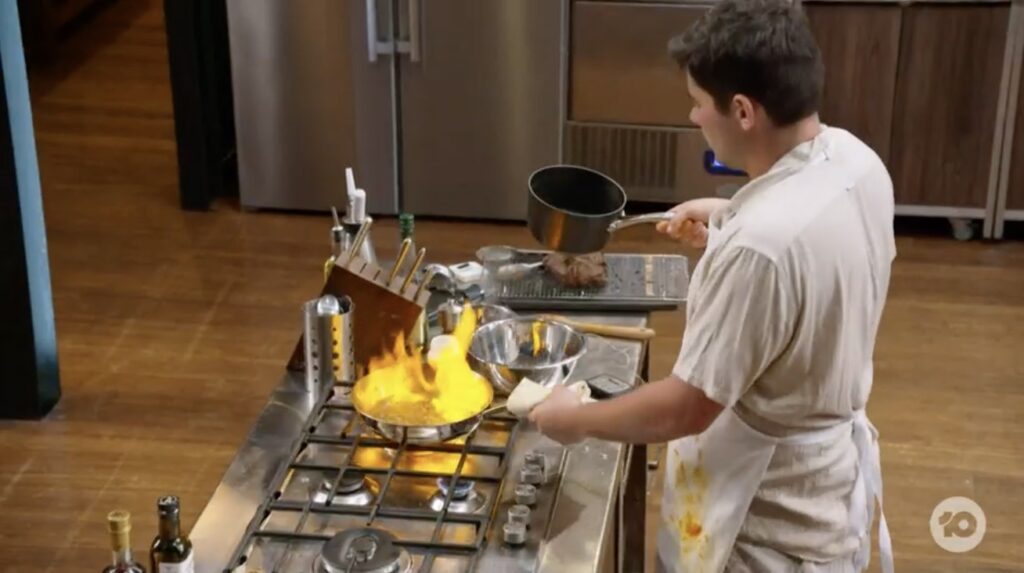 Adi's edible campfire was set to be "crunchy and creamy" and was really happy with her result, deciding to use Grand Marnier to set it alight.
Theo was "really happy" with his crepes, saying his "partner's mum would be over the moon" at the result!
Round One – Judging
Cath was up first calling her dish "Pimms with the Girls", which judge Mel Leong called "Cath and Pimms".
The Frozen Yoghurt Mousse with Pimms Sauce was "pretty as a picture" according to Mel, and "the sauce was really vibrant."
"That could be a winning dish!" Shannon said.
Declan was up next with his Beef Chateaubriand with Mashed Potato, Carrot and Brandy Sauce.
"Eyebrows still intact," Mel laughed.
"Saved me going to the beautician," he said.
"Declan, it's pretty bloody good…well seasoned," Judge Andy Allen said while Shannon agreed it was "really good restaurant food".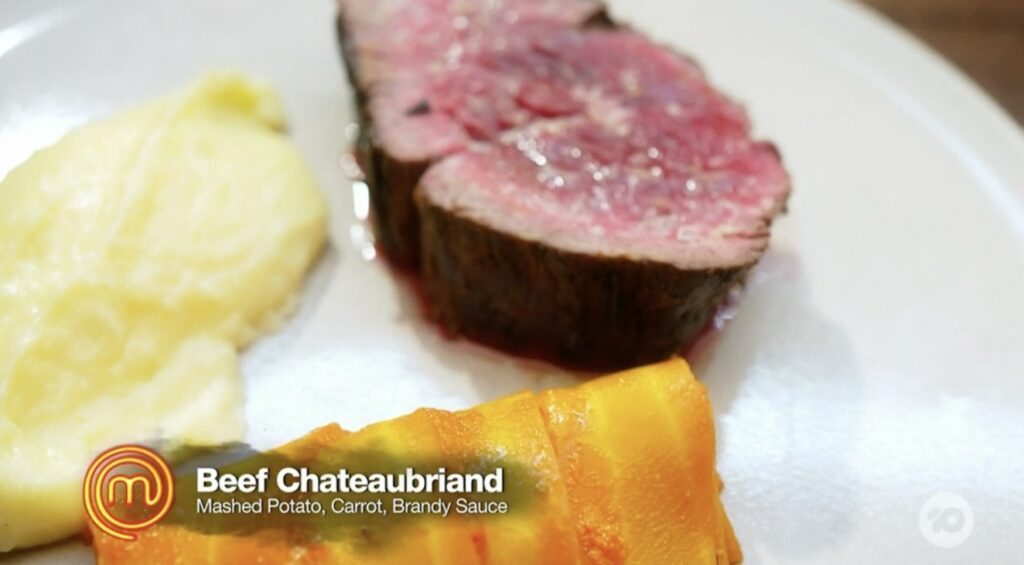 We raced through the next few dishes, with Robbie, Malissa and Theo getting good critiques before it was Adi's turn.
After Jock made Adi use an American accent to present her Chocolate Cremeux with Graham Crackers, Orange Jam and Marshmallow, which she managed to flambé.
"Marshmellow was great, a really successful one for you today and I really liked the creativity," Andy told her.
"You're pushing and challenging yourself," Jock said.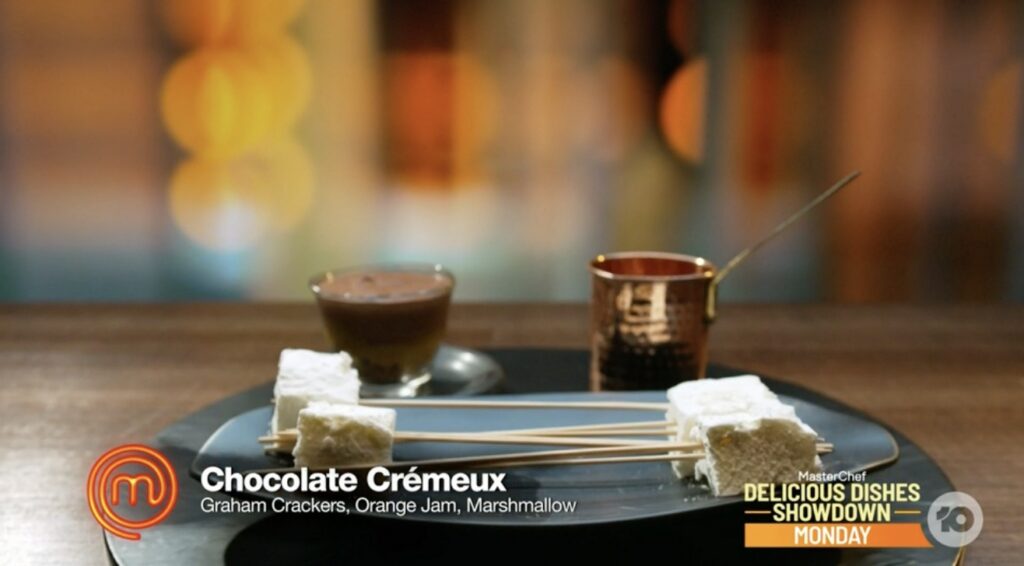 Finally, Brent delivered his Bourbon Chicken Skewers.
After tasting the dish, Jock gave him an infamous clap and praised him, saying it was "a really interesting take on a BBQ sauce" while Mel called it "succulent smoky chicken."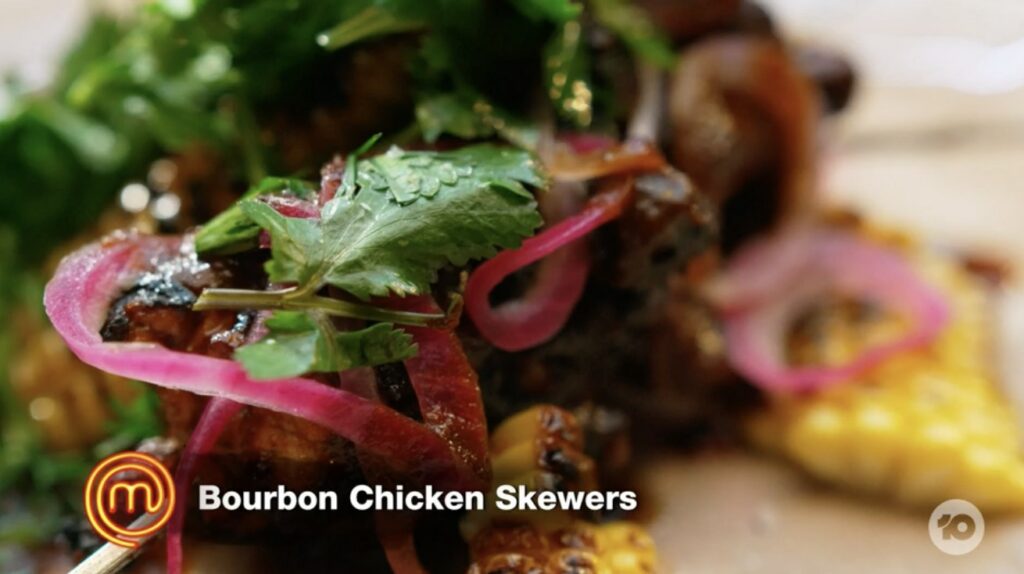 Round One – Verdict
Brent was named the winner for "setting the MC kitchen on fire"! He was now safe from Sunday's Elimination and about to play Beat the Chef against Gabriel.
Round Two – The Cook
Round Two's Immunity challenge featured a mixed range of beverages. While Chef Gabriel stood in the pantry and the judges left Brent with Shannon, he chose his "poison", which he had to feature prominently in the dish. He chose orange juice.
For the cook, Chef Gabriel had 60 minutes on the clock while Brent had 75 minutes.
Brent decided to create an Orange Glaze Duck with a Nam Jin Salad and Duck Glaze Sauce. He began prepping the duck to cook in the pressure cooker adding ingredients such as garlic, star anise and cinnamon, ones he would also use in the sauce.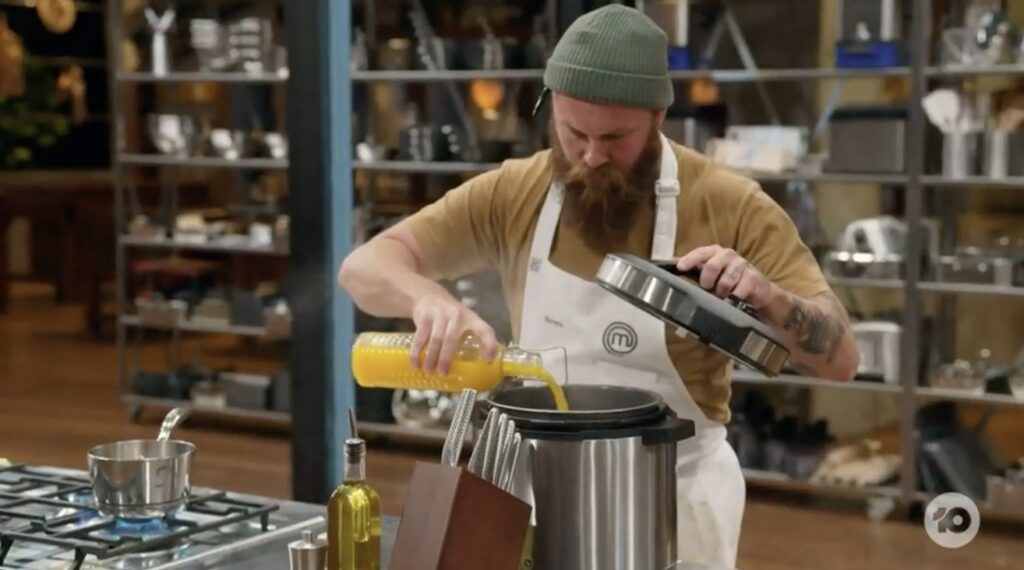 Then, it was time for Chef Gabriel to pick his beverage. He chose Champagne, of course!
"When you are French you cook a lot with champagne so I am going to do a mix of Australian and French," he said.
He decided to cook seafood with prawns and mussels and vegetables with a Champagne sauce.
"Let's go, Gabriel, you're a bloody legend mate," Declan yelled from the gantry.
Brent then snuck over to take a look at Gabriel's julienne carrots and was shocked to see they were all the same size!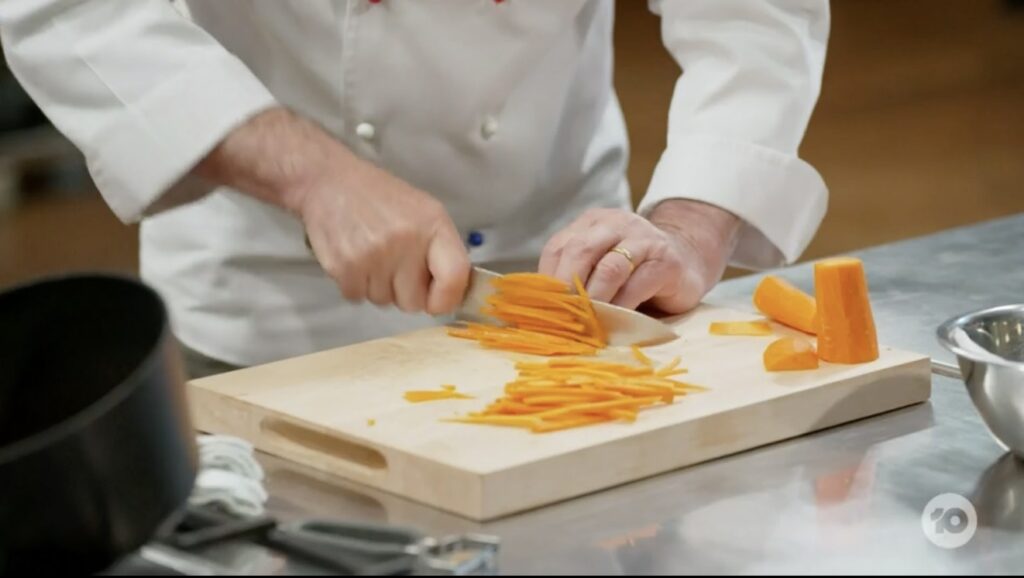 With 30 minutes left on the clock, up in the gantry Rhiannon was "fangirling"; however, down below, both Gabriel and Brent seemed super relaxed, which was a nice change from our beloved Cath's chaotic cooking!
"Do you know what bearnaise is?" Robbie then asked Declan.
"I thought he said mayonnaise!"
Brent was in a "good position" to serve up something really "yummy", while Shannon said his duck was perfectly cooked.
"I'm multi-tasking like my wife," Brent said before disaster struck and he burned his glaze. "If I can't fix it, I'm done."
He stripped the burnt bits of the duck and was able to pour on more glaze.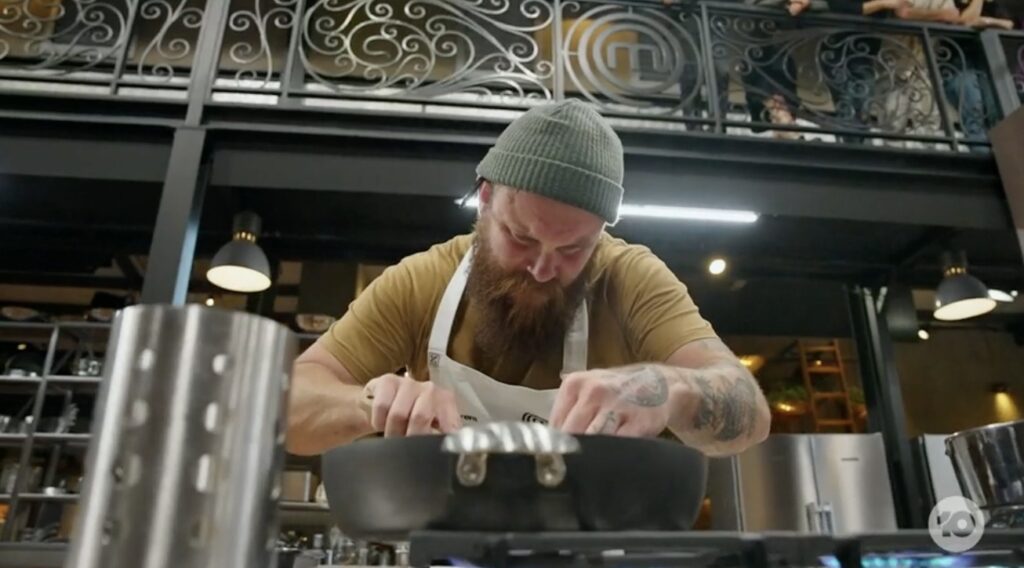 Meanwhile, Chef Gabriel had already completed his dish.
After a cheeky glass of champagne, they were done!
Round Two – The Judging
First up was Brent's dish Orange Duck with Nam Jin Salad and Crispy Duck Pancakes.
"Smells amazing," Mel said while Jock said it was "nicely cooked".
"Very happy boy over here," Andy said calling it "delicious" and that the use of orange juice was "smart".
"It was so good!" he added while Mel called it "masterful" and Jock was in doubt about who cooked it.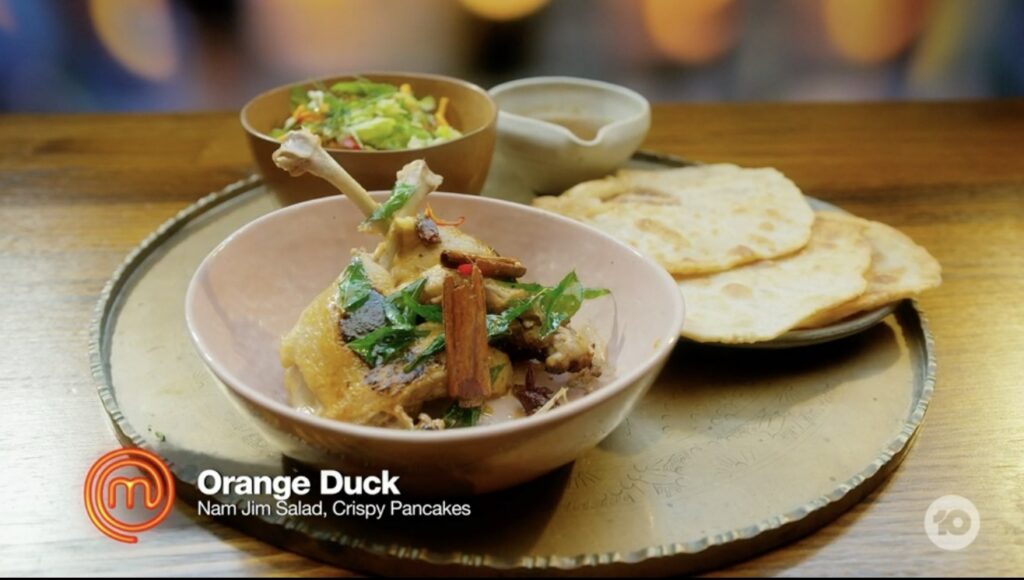 Next up was Chef Gabriel's dish of Prawn and Mussel Casserole with Julienne Vegetables and Champagne sauce.
While the judges thought it looked incredible, Andy stopped to say: "Ummm… my prawn," before an ad break stopped everything.
Back from the agonising break, it turned out the prawn wasn't raw but a little "undercooked".
"The mussel was perfectly cooked," Jock said while Mel said "It was a wonderful display of technique" and Andy admitted it was a "smart way to use Champagne".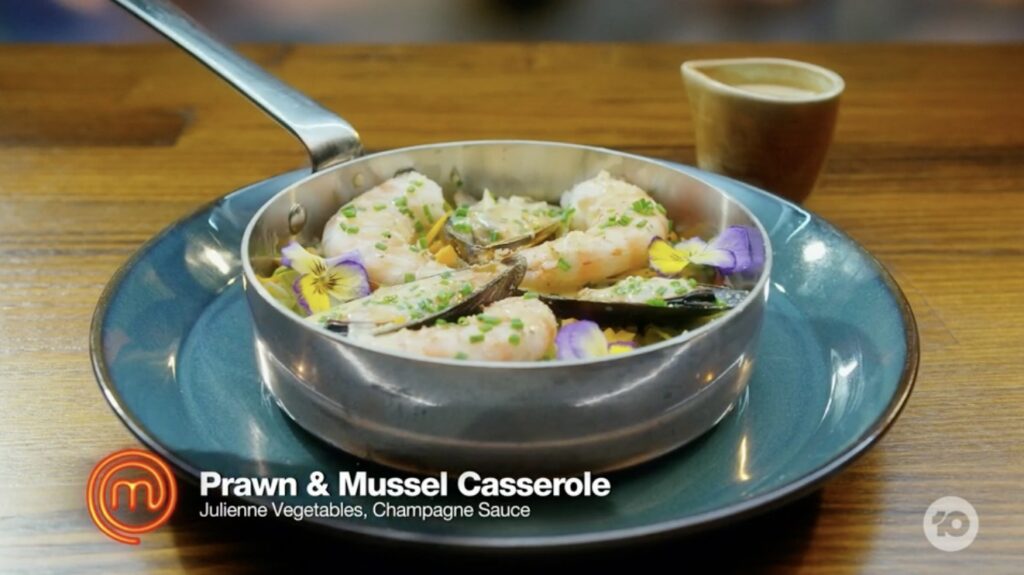 Round Two — The Verdict
"Starting with Flambé and ending with Gaté," Jock said, before the final verdict.
"Touché!" Chef Gabriel responded!
Chef Gabriel's dish:
Mel: 9/10
Andy: 8/10
Jock: 8/10
Total: 25/30
Brent's dish:
Mel: 10/10
Andy: 10/10
Jock: 10/10
Total: 30/30
Brent, with tens across the board, came out victorious, earning himself an Immunity Pin!
MasterChef Australia 2023 continues on Sunday, June 4 at 7.30 pm on 10 and 10Play.
Want to CHATTR with us? Follow us on Instagram and Facebook for more entertainment news.