It's episode 18 of MasterChef Australia 2023 and Nostalgia Week continues.
During the May 31 episode, it was all about evoking childhood memories with dinner from a Chinese restaurant and the home cooks were delivering just that. Literally.
For this week's Service Challenge, the contestants took over a suburban Melbourne Chinese restaurant, Mei Jing, where, in two teams, they were required to create "everything we love about Aussie Chinese restaurants in a three-course meal". I.e. A menu of entrée, main plus a side and dessert.
Tasked with feeding 50 diners, there were 2.5 hours of prep and cooking on the clock, before the first meals needed to be served!. Plus whoever took out the sweet (and sour) win would be placed in June 1's Immunity Challenge for a shot at a coveted Immunity Pin.
Now you're all caught up, it's time for SERVICE!
The Teams
After judges Jock Zonfrillo, Melissa Leong and Andy Allen announced the task at hand, it was revealed that Theo had been to Mei Jing at least "100 times", given that he used to live across the road.
"Technically, you have an advantage tonight, you're playing at home!" Jock said.
Choosing randomly from the apron bag, the teams were set as follows:
Red Team: Theo (Team Captain), Brent, Cath, Declan, Robbie, Malissa
Purple Team: Rue (Team Captain), Grace, Rhiannon, Ralph, Antonio, Phil
White Apron: Adi (she chose the red team to back)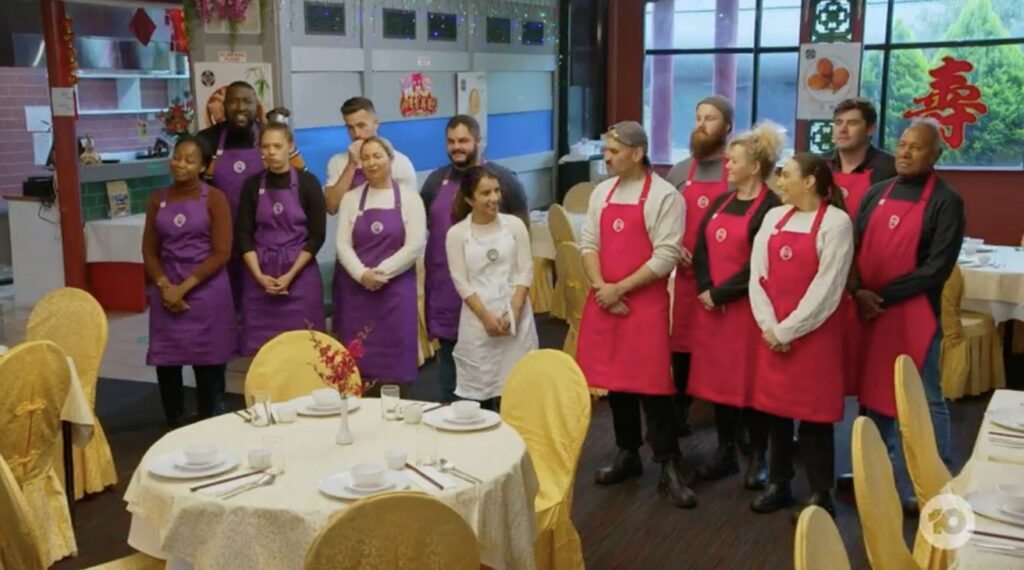 Prep and Cook Time
The Red team chose to recreate San Choy Bow, Beef and Black Bean and Lychee and Ice Cream, while the Purple team chose Pork and Prawn Spring Rolls, Lemon Chicken with Fried Rice and Pineapple Fritters with Ice Cream.
In the perfect product placement, both Theo and Rue then legged it to Coles to pick up their proteins. Rue grabbed the Black Tiger Prawns while Theo grabbed the Pork Mince.
On the Red team, Declan was in charge of slicing meat, Robbie began chopping veggies and Brent began to prep peanuts, ginger, garlic and Sichuan chilli oil for the San Choy Bow.
On the Purple team, Rhiannon took charge of the Spring Rolls, mentoring Grace.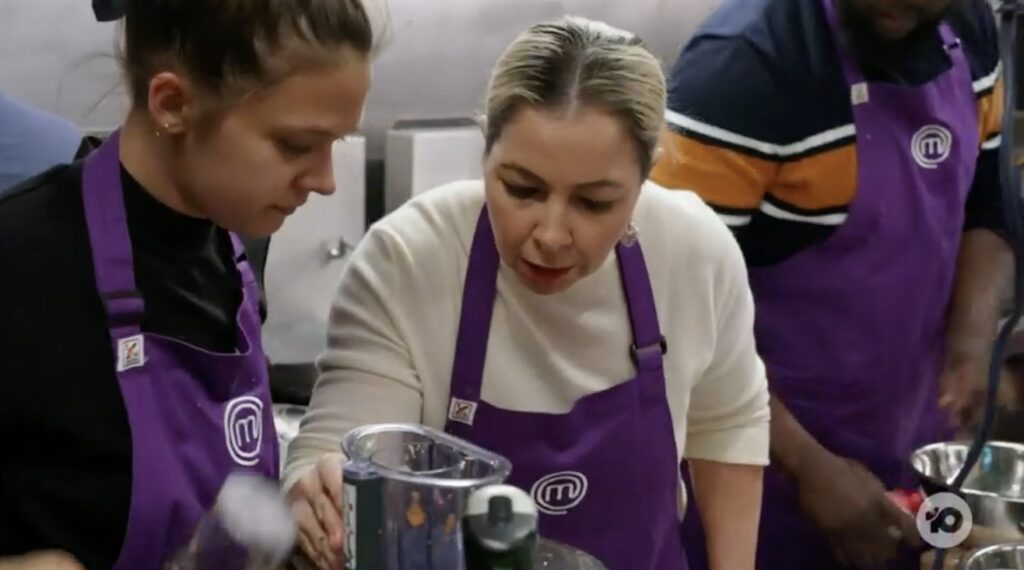 The judges were concerned by Rue's choice to grill the Lemon Chicken and serve it with steamed rice as the classic is all fried, baby!
Rue began feeling "stressed", deciding to go back to the classic, complete with Fried Rice.
With only two hours to go, Brent reveals he's been cutting garlic for half-an-hour, while Declan continued slicing the meat before getting onto the Black Bean Sauce, which he was feeling confident about.
"I'm with my number one teammate, Robbie," he said. "We work well together."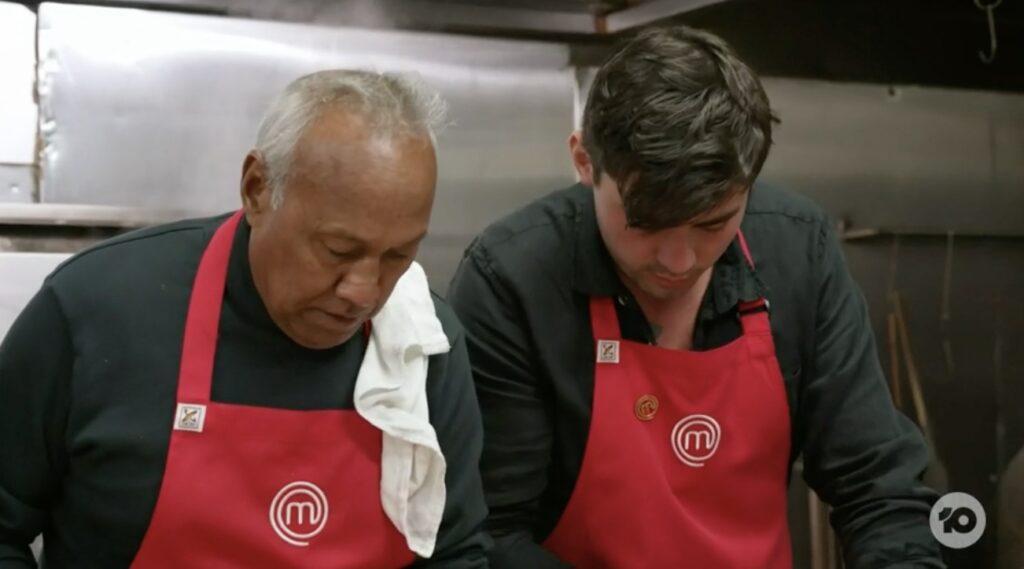 While Antonio was in a good place with his ice cream with only one hour left until service, Cath began stressing out, particularly because she forgot about the cream.
Crisis averted! Cath and Theo were able to save the dish by adding the component, with Theo remaining calm under pressure.
"We're a team, that's what it's all about," he said.
Over on the Purple team, Phil began to worry that Ralph hadn't made the lemon sauce for the Lemon Chicken and the entire group began to freak out.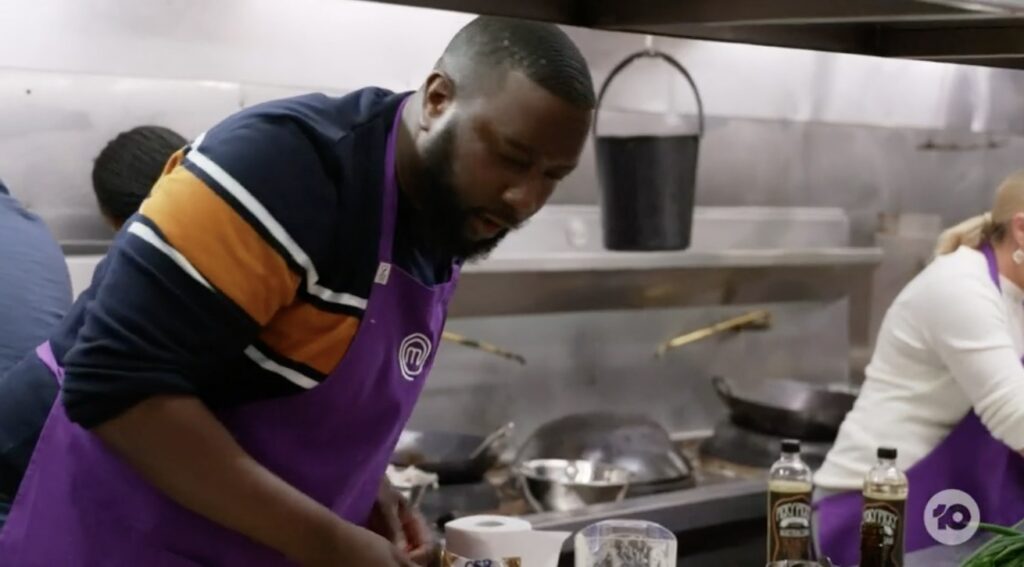 It was "all hands on deck" for the Red team as they began to create their "elevated" San Choy Bow, before Cath realised they'd be feeding "real people"! LOL!
Rhiannon then took charge of the chaotic Purple team, feeling that they were "in trouble" before Mel came over with under 30 minutes to go, and was shocked to see not one Spring Roll had been rolled.
"It's just a matter of charging ahead," Rhiannon said, while admitting she's never been more stressed in her life.
Meanwhile, Theo was thrilled by their San Choy Bow.
The Judging — Entree
The Red team were up first with their Pork San Choy Bow.
"[It's a] Nice generous portion," Jock said while saying it was "packed" full of flavour. Andy said it was "nice juicy pork", while Jock and Mel liked the addition of "duck fat".
While the judges were being served, the Purple team struggled to get their Spring Rolls out; however, managed to serve the dish.
"I'm so happy for them," Mel said, adding that it was a "miracle" they got something on the plate.
Mel also said they had a "nice golden fry" and that the filling "contained a nice perfume of ginger", while Andy said he was: "Happy on the fry, super crispy and delicious."
The Judging — Mains
Back in the kitchen, sweet Declan was "bloody happy" with his Beef and Black Bean Sauce, which was then sent to the judges.
"They've done a pretty good job," Jock said of the beef, "That's Declan. I'm telling you."
Andy then said that the velveting on the meat was "epic" plus there was a great amount of black beans in the sauce.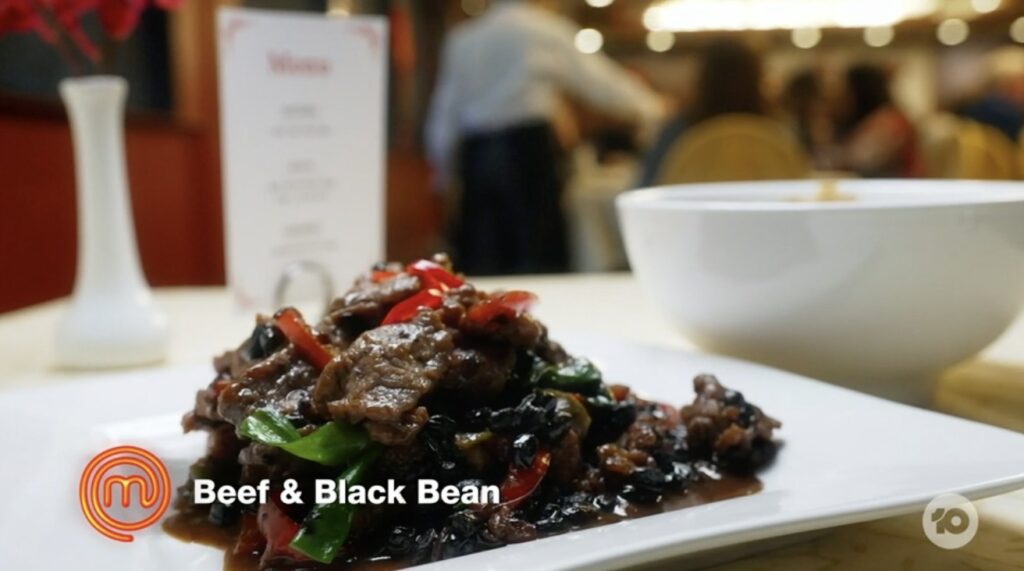 Over on the Purple team, stress levels were at an all-time high because the lemon sauce still hadn't been completed.
"The sauce is going to need a hell of a lot of work and no time to do it," Phil said. After an ad break, they were still going until finally it was served to the judges.
"Nice marination on it, good fry on it," Andy said, but added that there wasn't enough lemon in the sauce.
Mel said it was "ok but not quite there", while Jock said it "didn't live up to its namesake".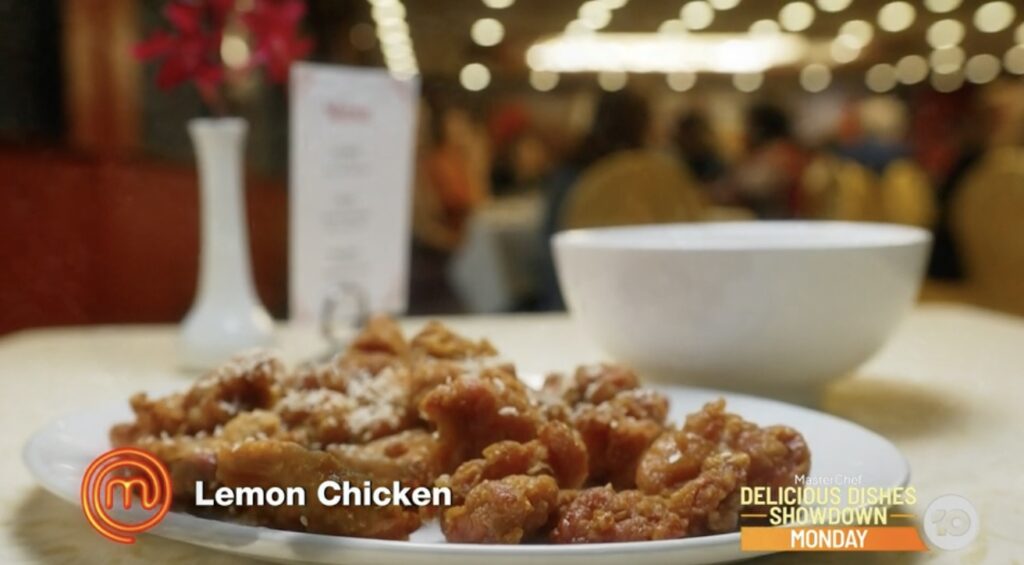 The Judging — Dessert
The Red team was in trouble with their dessert, with Cath "snowballing" and the lychee syrup sauce not even completed, while some of the ice creams weren't even in the freezer.
Antonio then checked the Purple team's ice cream, which…did not look like ice cream.
When placed in front of the judges, they were disappointed.
"The ice cream is not set," Andy said before Jock said that the "organisation" was the most challenging thing for the team.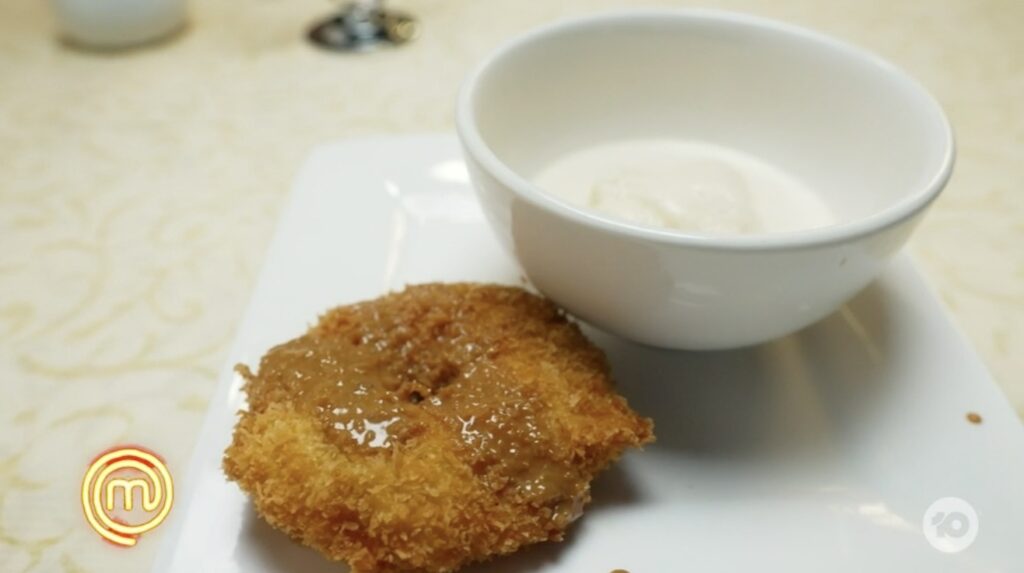 Cath was "really worried" about their dessert, given that their ice cream also failed miserably; however, they just had to serve it.
"What happened? The ice cream is not set," Jock said before Andy called Cath "chaotic and frantic", before Mel said she was "disappointed" for them.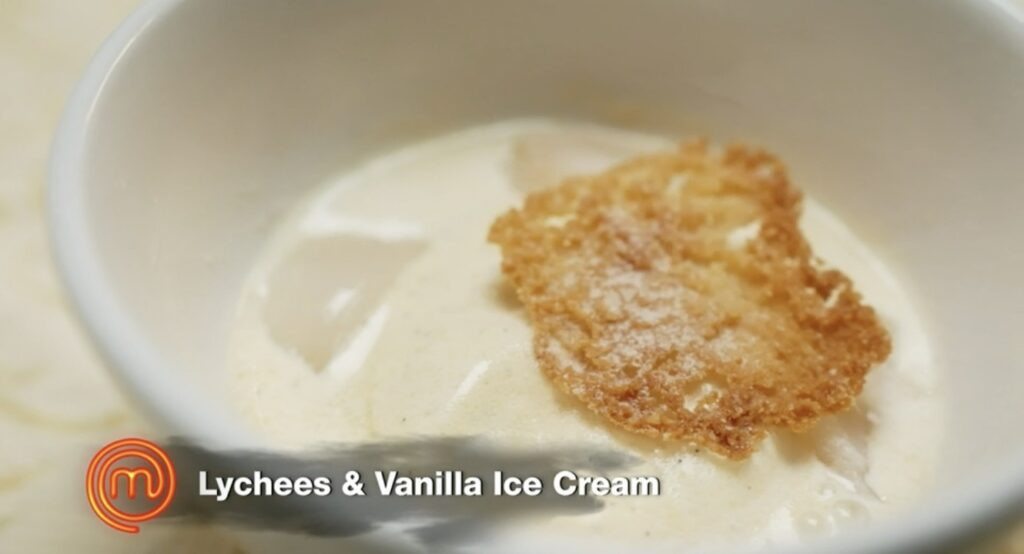 The Verdict
The judges revealed that neither of the desserts was executed well, so they were taking them off the table.
The Red team won the entree with their delicious filling while also winning the main, meaning that they were heading into the Immunity Challenge (alongside Adi) on Thursday!
Want to CHATTR with us? Follow us on Instagram and Facebook for more entertainment news.