Class is in session and the gang is back together as filming has officially kicked off on season two of Netflix's Heartbreak High.
Ayesha Madon, James Majoos, Chloe Hayden, and the rest of the cast began filming for the next instalment this month, beginning with a table read which you can watch below.
The first season of the classic reboot dropped last October and went on to become such a success that the second season was confirmed just a month after its release.
It also reached the top 10 Netflix shows in over 43 countries around the world, including Australia, USA and countries across Europe, Africa and Asia.
Now, with filming officially underway, we thought we'd take a trip down memory lane to get you up to speed with everything you need to know before the new season is released.
Who's in the Heartbreak High season 2 cast?
Fans of season one will be happy to know it looks as though most of the original cast will be returning for the second season of Heartbreak High.
Madon and Asher Yasbincek will reprise their roles as Amerie and Harper, while Majoos (Darren) and Hayden (Quinni) are also expected to return as Amerie's best friends.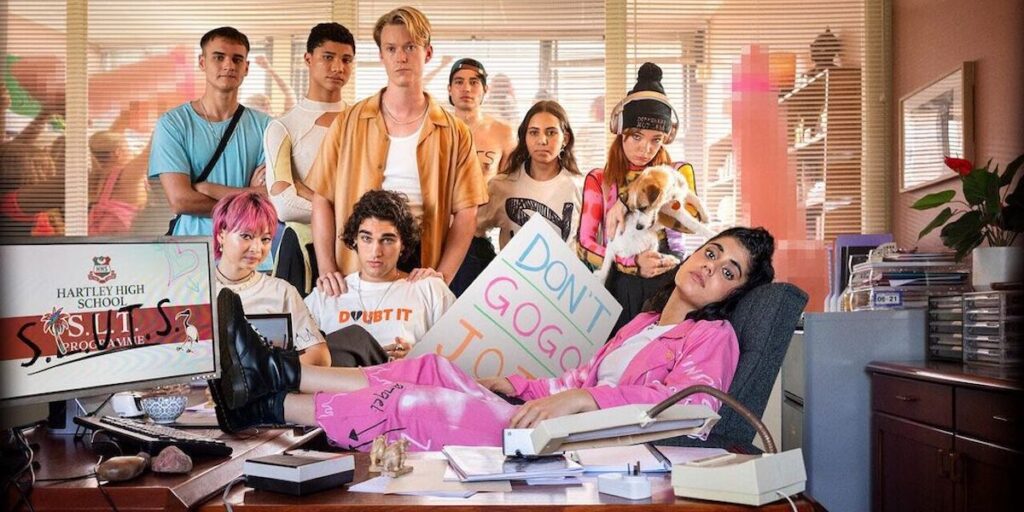 Other expected actors returning for season two include:
Thomas Weatherall as Malakai
Bryn Chapman-Parish as Spencer/Spider
Sherry-Lee Watson as Missy
Chika Ikogwe as Ms. Obah/Jojo
Scott Major as Peter (Darren's father)
Rachel House as Principal Woods
What happened in season one?
Season one of the Heartbreak High reboot saw a new generation of students attend Hartley High and followed their dramas, heartbreaks, and friendships. Amerie found herself in a sticky situation when she took the blame when the school staff found a map detailing all of the student's sexual escapades at the school. As punishment, the students are forced to take a Sexual Literacy Tutorial, which leaves many of them resenting Amerie.
The instalment also showed Amerie's battle with being a social outcast and followed her as she grows and builds new friendships and relationships.
When does season two air?
An air date for season two of Heartbreak High hasn't been released yet, but the show is expected to drop in the latter half of this year.
Where can I watch it?
Heartbreak High is a Netflix Original, so it's exclusively available to watch on the streaming platform.
Want to CHATTR with us? Follow us on Instagram and Facebook for more entertainment news.