A Friend of the Family is based on the harrowing true story of the Broberg family, the jaw-dropping, stranger-than-fiction story has stunned true crime fans for decades.
The chilling nine-episode drama, which premieres on October 25 on 7plus, explores how one family's lives were forever altered when they meet a married father, whose interest in their eldest daughter becomes dire.
Here's everything we know.
What is Friend of the Family about?
Over several years, the Brobergs' eldest daughter Jan was kidnapped multiple times by a charismatic, obsessed family "friend".
Devoted to their faith, family, and community, the Brobergs were utterly unprepared for the sophisticated tactics their manipulative neighbour used to exploit their vulnerabilities, drive them apart, and turn their daughter against them.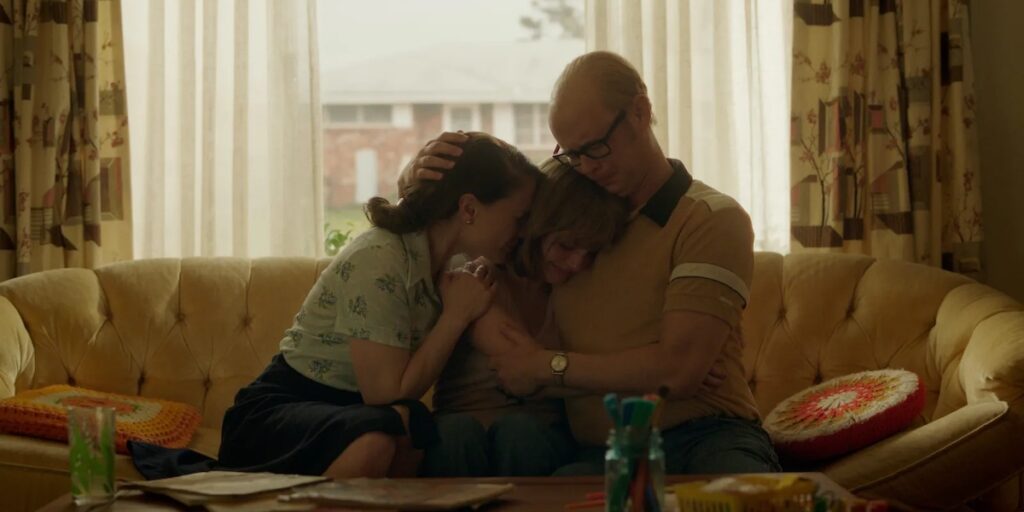 Who is in the cast?
The cast has some seriously big names on the bill, including Oscar Award-winner Anna Paquin (Flack, The Irishman, True Blood) and Emmy Award-nominees Jake Lacy (The White Lotus, Being the Ricardos),
It also includes Colin Hanks (The Offer, Impeachment: American Crime Story) and Mckenna Grace (Ghostbusters: Afterlife, The Handmaid's Tale).
Lio Tipton (The Edge of Sleep, Why Women Kill), Hendrix Yancey (George & Tammy, Unbelievable), Austin Stowell (The Hating Game, Three Women), Patrick Fischler (American Crime Story: Impeachment, The Right Stuff), Bree Elrod (Red Rocket) and Philip Ettinger (First Reformed, Angelyne) also star.
Is there a trailer?
There sure is! You can watch it below.
What has Jan Broberg said about the series?
Jan told TIME that while it was hard to relive her trauma, she and her family decided to go ahead with the show in the hope that they could help others.
"The ugly and bitter truth of insidious and pervasive child sexual abuse (1 in 4 girls, 1 in 6 boys), and the grooming tactics used by predators, is hard to talk about," she told the publication.
"But my family and I decided to expose every awful detail, every mistake made, every subtle sign missed, in order to help even one person see what we did not. Complete transparency and vulnerability left us exposed to harsh criticism and scrutiny. I now see the bravery, honesty, vulnerability and commitment it takes to pry open the proverbial can of worms."
A Friend of the Family airs on October 25 on 7plus.
Want to CHATTR with us? Follow us on Instagram and Facebook for more entertainment news.