It's MasterChef Australia 2023 episode 21 and things have been switched. Rather than heading into a challenge that will see one contestant sent to a Pressure Cook Elimination, every remaining competitor will face off against a professional chef.
MasterChef judges Jock Zonfrillo, Melissa Leong and Andy Allen informed the contestants that they will be split into teams of three, and those teams will battle it out in the kitchen with a trio of pros.
The new challenge is called Home Cooks vs Pro Cooks challenge and the cook-offs will play out all week.
The contestants pick tokens from a bag, and Grace, Rhiannon and Antonio all pull out a green one, meaning that they'll be up to cook today.
The Cook
The first Home Cooks vs Pro Cooks challenge saw the cooks face off against Jacqui Challinor and her team from hatted Sydney restaurant Nomad. All six chefs were tasked with cooking dishes using only ingredients from a mystery box.
If a home cook wins the best dish of the day, then they will all be safe from elimination. However, the judges point out that even if Grace earns immunity, she will still need to take part in Sunday's elimination because she skipped last week due to being sick.
When the six competitors lift the lids on their mystery boxes, they discover they have sand crab, a pork chop, pineapple, fennel, jerk beans, Rossella, watercress, betel leaves and Hello Panda biscuits.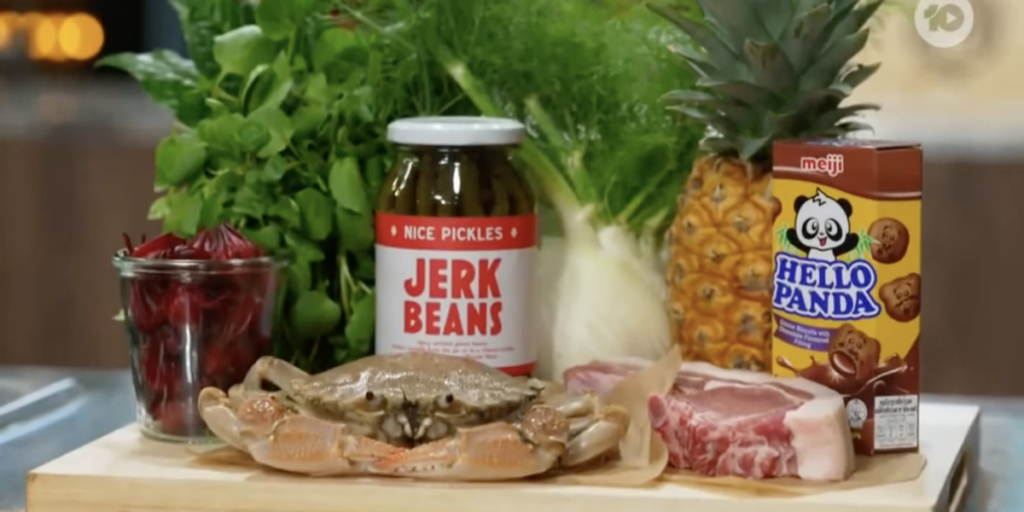 Nomad's Sous Chef Lakhan originally decided to make an olive oil and betel leaf parfait, but his nerves quickly got the better of him.
"I am a bit nervous. It's just the pressure of working in a new place. I can really feel the pressure, I can feel it in me now," he told the camera.
Later in the cook, he neared disaster when his cream split.
"I put betel leaves into my cream so it was a bit hot and then I had to chill it down completely but it's still a bit warm. I'm a bit stressed, the creams not whipping fast enough. I need to crank the speed up, I feel my heart sinking a bit," he said.
Thinking on the spot, he decided to pivot and switched his dish slightly to make a Parfait with Rosella and Pineapple. Meanwhile, the judges were perplexed over Grace's choice to make a betel leaf tempura to hold her pork.
"Is it going to be stable enough? You're going to have to get it suuuper crispy," Andy said.
But, Grace wasn't intimidated. She knew that she was going to elimination on Sunday regardless, so she figured she might as well give today's cook her all.
"Either way I'm going to be in the elimination cook so it's an all-or-nothing day for me," she explained.
Meanwhile, Rhiannon was busy making a Fennel Icecream and Upside Down Caramelised Pineapple Cake with Candied Fennel and Fresh Pineapple and Nomad's head chef Brendan chose a BBQ Pork Chop with Burnt Pineapple Salsa dish.
During the cook, we didn't see much of Antonio or Jacqui, but as the latter plated up her beautiful Crab Salad at the end of the challenge, it looked as though she could be the one to beat.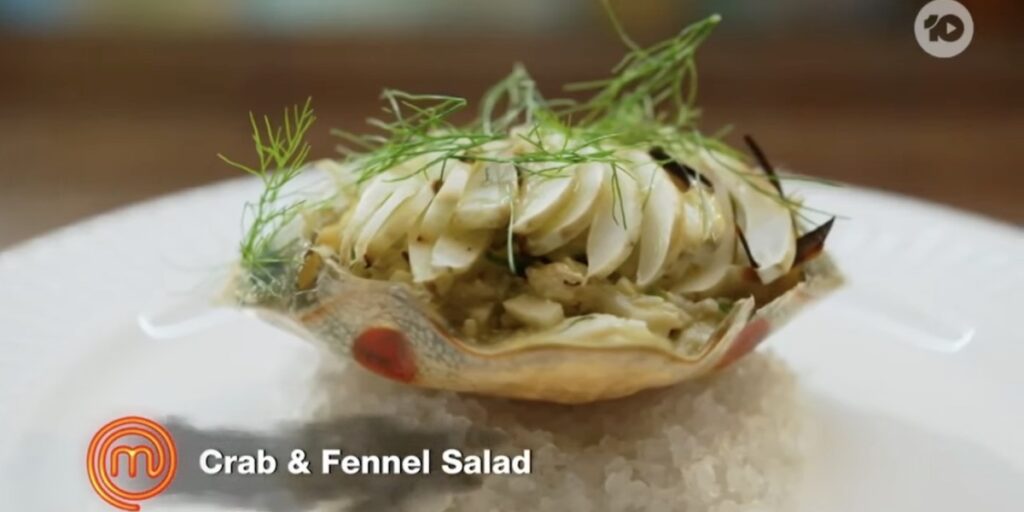 The Judging
Time was up and all six cooks were ready to be judged. First up was Rhiannon with her dessert and Andy was over the moon with her dish.
"Oh my god, flavour," he exclaimed and Melissa agreed. "You're a master of flavour."
Lakan was concerned that his pivot from his original dish of Olive Oil and Betel Leaf Parfait may have hurt his chances. However, his worries were unfounded as all three judges loved his dish, with Jock's only note that a "touch more of acidity" could have boosted his dish.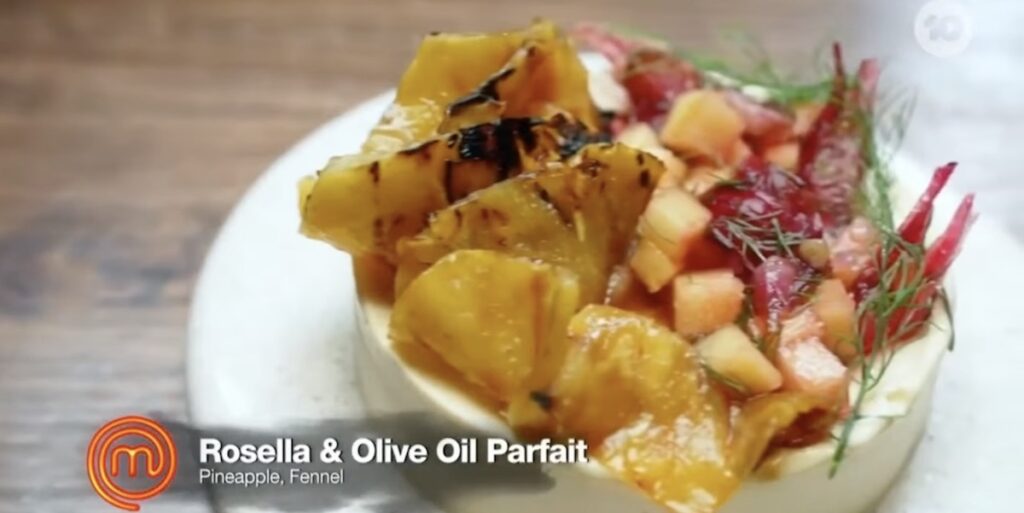 Antonio presented his Pineapple and Fennel Sorbet with Rosella Jam and Watercress Crumble. According to Jock, his dish wasn't up to scratch with the judging calling the texture of the jam "terrible".
Jacqui's Crab Salad was stunning, and the judges agreed that the taste was as good as the visual.
"I think the delicious part here is making it somewhere between rich and decadent with the brown butter and zingy and sharp with the vinegar from the jerk beans," he said. "I think you've made a serious play for the win today."
Brendan's BBQ Pork Chop with Burnt Pineapple Salsa and Fennel Puree also received great feedback from the judges, and with three rave reviews, it looked like it would be hard for the contestants to beat Team Nomad.
However, Grace's Tempura Betel Leaf with Pork, Pineapple and Rosella Sauce and Salsa threw things into disarray.
"Oh my god, you've nailed it," Jock told her. Mellisa added: "You are on fire. Absolutely amazing."
Andy said that the Tempura Betel Leaf choice was the "second faultless dish that we've got today". Which was a comment that Jacqui from Nomad didn't look too happy about.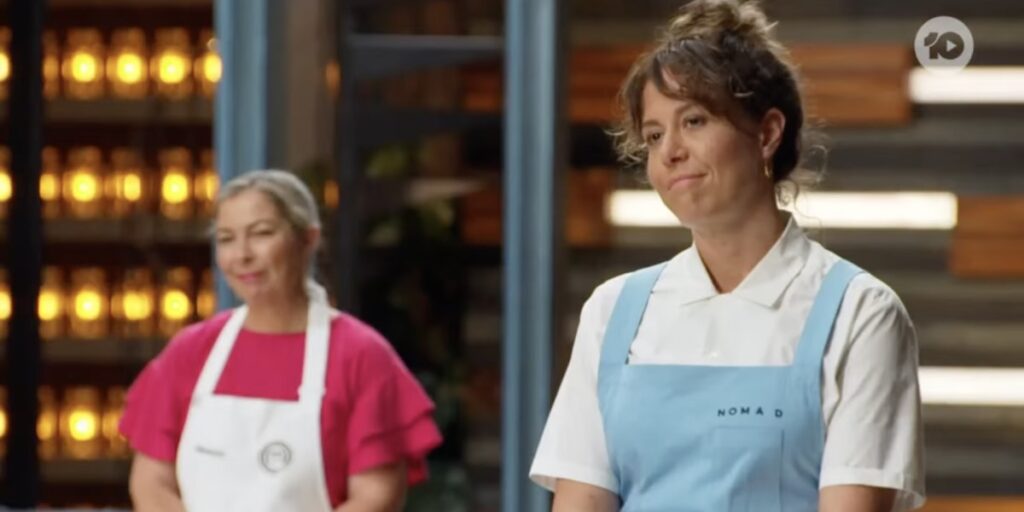 The Verdict
The judges narrowed down their favourite dish from each team. For the MC cooks, it was Grace's Tempura Betel Leaf with Pork and Jacqui's Crab Salad.
Jock said that while both dishes were "technically flawless", Grace's dish excited the judges more, and awarded her the win.
That meant that her teammates, Antonio and Rhiannon were saved from Sunday's elimination. But, despite winning the challenge, Grace would still have to compete on Sunday because she was sick last elimination.
MasterChef Australia 2023 continues at 7.30pm on Tuesday, June 6 on 10 and 10Play.
Want to CHATTR with us? Follow us on Instagram and Facebook for more entertainment news.