It's MasterChef Australia 2023 episode 16 and this week the contestants are transported back in time with Nostalgia Week.
Each cook is presented with a Mystery Box which contains five different – noticeably unbranded – cereals, one of which they must include in their dish of choice.
We've got choc pops instead of Coco Pops, weetbrix instead of Weetbix, rice puffs instead of Rice Bubbles and some vaguely branded cornflakes and fruit loops.
Before diving into the cook, the contestants reminisce on the memories the cereals bring back for them.
"Every now and again this was our treat, and honestly, I would eat the whole box," Rhiannon said about the choc pops/Coco Pops.
The revelation leaves Judge Andy Allen fairly shocked.
"No wonder you weren't allowed it," he laughed.
Like the other Mystery Box tasks, the contestants were informed that the cooks of the bottom three dishes will find themselves in the elimination Pressure Test on May 30.
The Cook
As the contestants rack their brains about what to make with their unbranded cereals, a heartwrenching moment is shown as the late Jock Zonfrillo tenderly shares an anecdote about his now five-year-old son.
"If I was in this challenge today, I think [I'd choose] Weetbix [because they are] big with my son Alfie. He's not five yet and he's already on four Weetbix [a day]. As a little tribute to my son, I would make an Onion Tatin, but I would use the Weetbix to make flour to make a rough puff," he told fellow judges Melissa Leong and Andy.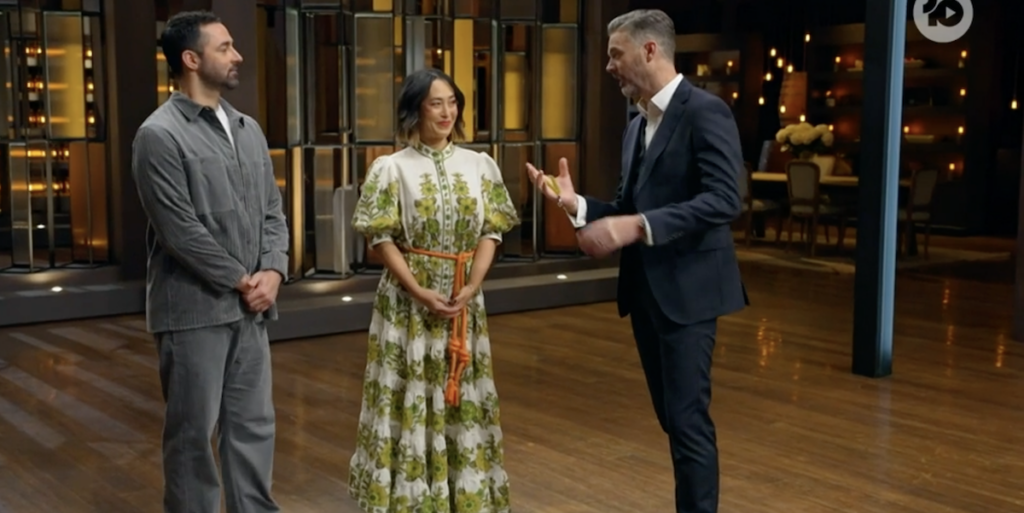 Back on the cooking side of things, Antonio picked coco puffs as his cereal of choice, for his Coco Pop Eclair.
"That's my childhood in a bowl," he said.
As has been made abundantly clear in previous weeks, Cath was stoked about the nostalgic challenge, as she likes to focus on past experiences when it comes to her cooking. She chose to do a Cornflake-infused ice cream dessert with a salted caramel element.
The cook continues
Everyone's favourite jokester Declan pointed out that at age 24 he's still a "spring chicken" and that he doesn't have to think too far back for a nostalgic dish. He picks Weetbix – a product he says he still eats for dinner today.
When Declan revealed that he planned to make three different types of muffins; a banoffee cornflake muffin, a chocolate coco pops muffin with berry compote and a weetbrix raising muffin, the judges are questioning if they might be a bit dry because of the cereal element. When they share their concern with Declan, he looks equally as baffled.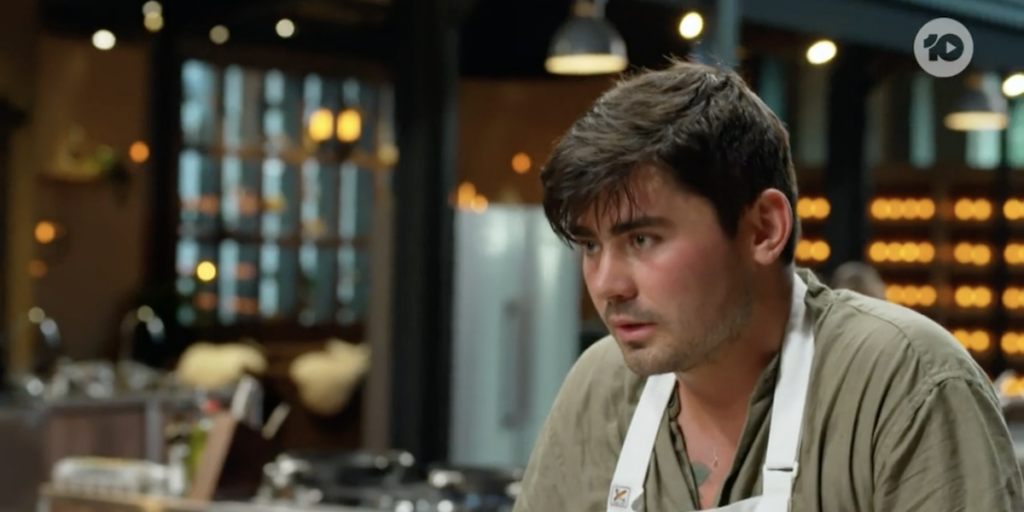 It appears as though ice cream is the dish of choice for Nostalgia Week. Cath, Rhiannon, Brent and Theo all decided to make some variation of the frozen dessert.
On the savoury side of things, we had Melissa with Spicy Fried Chicken Crumbed in Rice Puffs, and Ralph with a Cornflake Pork Chop with Mashed Potato and Mint Sauce.
While the cook looked to be going quite smoothly for most contestants, Robbie couldn't find a potato masher which he called "that thing you push potatoes with".
Thankfully, Declan headed to the utensil room to help him find it.
Grace seemed quite confident about her choice to create a cereal with a bunch of tiny pop tarts with froot loops in them, which she called a "bowl of fun". However, the judges were very confused about her dish and their faces truly say what words can't.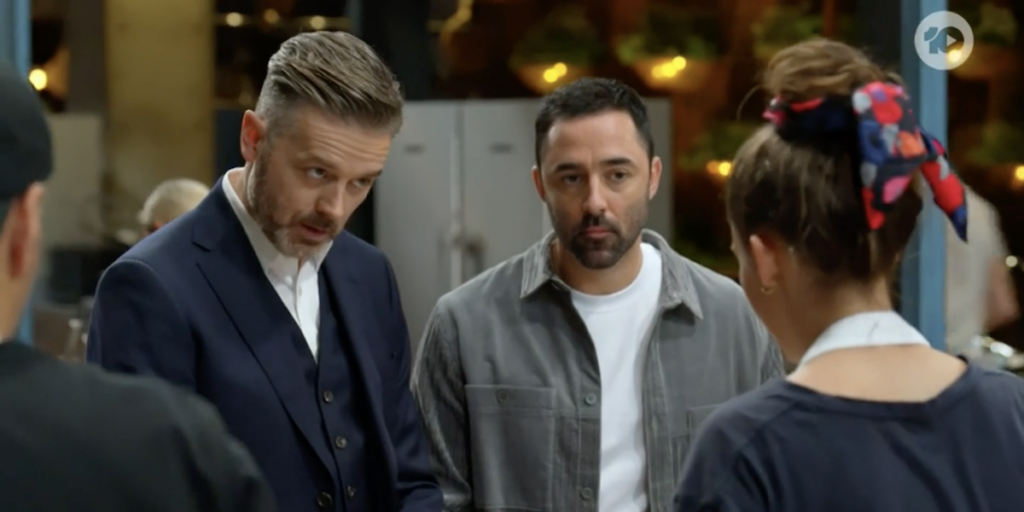 The first – and only – major cooking disaster hit when Adi realised that she forgot to steep her cake in milk "which was the whole point of this bloody cake" so she had to scrape the creme off and pour the milk on with a spoon.
"I just hope the flavour of the Froot Loop milk is strong enough," she said.
The Judging
First up was Antonio with his Coco Pops Eclair. TBH, it was one of the most attractive-looking dishes and the judges d-eclaired (pun intended) that it tasted as good as it looked, with Jock giving it a round of applause.
"That's flawless mate. It's really good," he told him.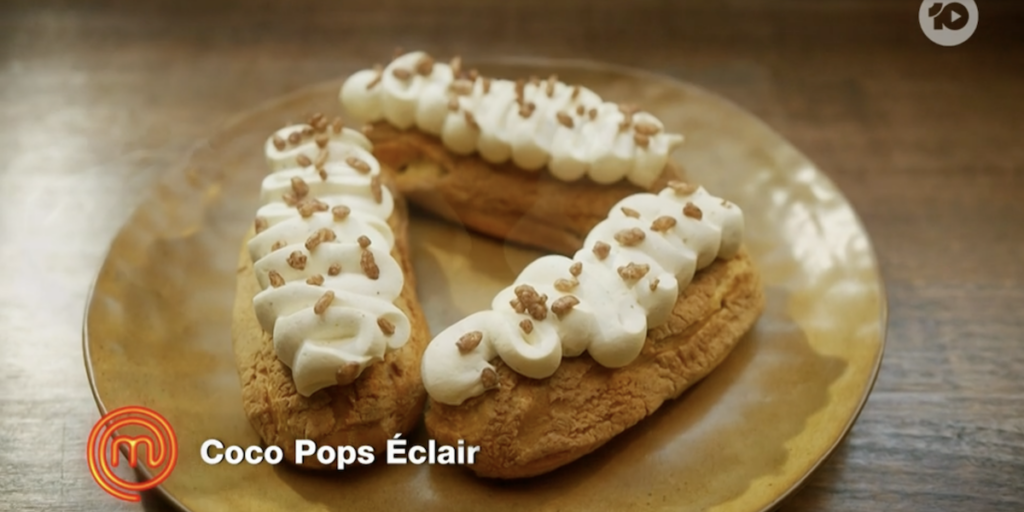 Next up was Cath with her Corn Flake Icecream with Salted Caramel and Strawberry Pickle. She received good feedback from the judges, and Jock said that he can see her progression.
Malissa headed to the judging bench with her Rice Bubble Fried Chicken. The response from the judges was lukewarm, and Andy told her that the chicken was "really oily".
Alice's (giant) Tropical Fruit Loop Parfait with Passionfruit Caramel looked and sounded amazing, but did the taste stack up? According to the judges, it, unfortunately, didn't.
"Your parfait is split, it might have been too much-powdered fruit loop in there," Andy said.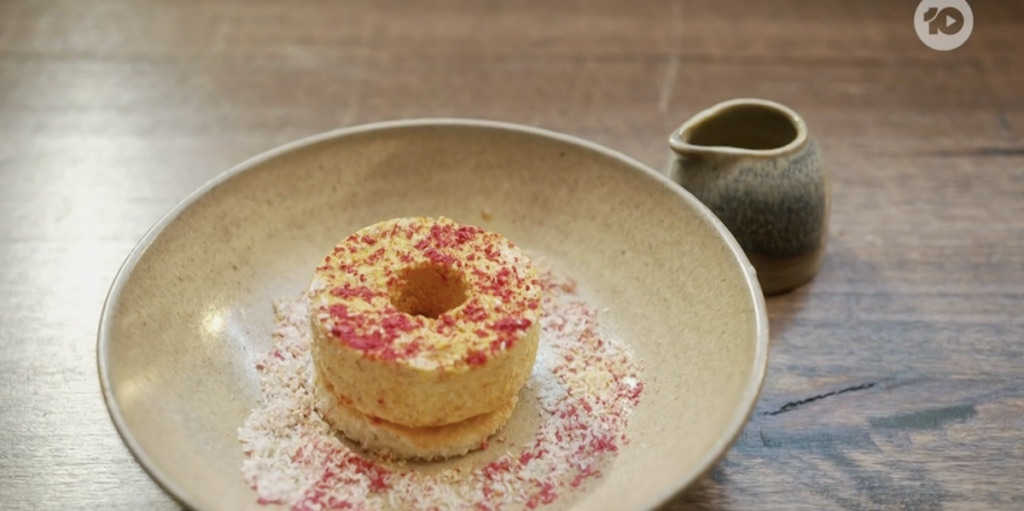 Grace headed up to the bench with her bowl of Pop-Tart Cereal and, erm, an entire plastic jug of milk which is… questionable. Rather than popping it in a pouring jug, Grace glugged the dairy into the homemade cereal herself at the judge's table.
"I think this is what happens when you have too much sugar… it just tastes like shortbread that's been soaked in milk," Jock told Grace with a grimace. Andy agreed, "Sometimes it just doesn't work out."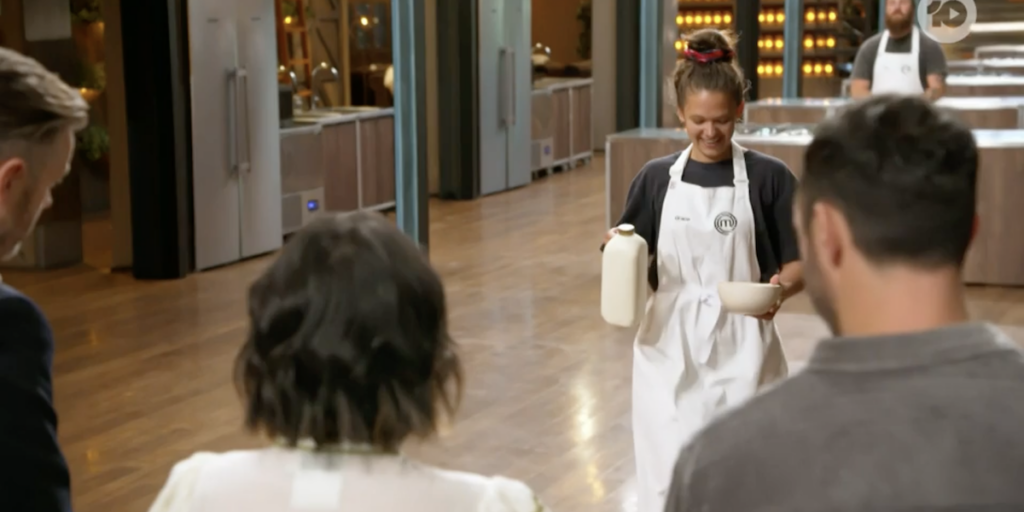 Theo's "Mum-I-Dropped-My-Ice-Cream-Sandwich" description of his dish was on point, as he presented a plateful of ice cream with thin cookie cakes on top. The cake and ice cream concoction won glowing reviews from the judges.
Despite Adi's milk-steeping cake troubles, the judges loved her Froot Loop Cake and Jock called it "genius".
Declan – who had dubbed himself "the muffin man" – had a fall from grace when the judges said that his dish had the exact problem they were worried about; his muffins were dry.
"Not excited about your muffin mix," Jock told him.
Last up was Ralph, who had made a Cornflake Pork chop with Mashed Potato and Mint sauce. He was worried that the pork wasn't cooked fully through. Turns out, he needn't be. "The pork is cooked beautifully mate," Jock told him.
The Verdict
Antonio and Ralph were congratulated for having the two best dishes in the episode and, Grace, Declan and Alice were declared the bottom three.
MasterChef Australia continues on Tuesday, May 30 at 7.30 pm.
Want to CHATTR with us? Follow us on Instagram and Facebook for more entertainment news.