Below Deck Sailing Yacht veteran Gary King has shared a post about daisies (the flower) which look suspiciously like a reference to (his ex) Daisy Kelliher.
Gary and Daisy have famously had an on-again-off-again relationship throughout the three seasons of the BD franchise which they've appeared on together.
In season four, Daisy was caught up in a love triangle with Gary and Below Deck engineer Colin MacRae, and her off-screen hookups with the former came to light.
The (possible?) couple have stayed mum about their relationship since filming wrapped. However, Gary's latest post may have just confirmed their romance.
"It's sad that people will do anything in their power to bring you down. It's not about how you fall but how you get up. Luckily for me the fall was into a sea of daisies," he wrote alongside a photo of himself lying in a field of daisies.
What else is Gary referencing in the post?
In the post, Gary mentions an incident about someone doing something "in their power" to bring him down.
While the South African is vague about what exactly that is, it could be recent sexual assault accusations about him that came to light.
A Rolling Stone expose interviewed Former production assistant Samantha Suarez who accused Gary of making unwanted advances towards her while filming season 4 of Below Deck Sailing Yacht.
Three other members of the production crew, who chose to remain anonymous backed Suarez's claims in the article and alleged that Bravo tried to cover up his behaviour.
"It was insane. There were multiple incidents of sexual harassment in front of multiple producers after this person had been given verbal warnings multiple times," one of the sources claimed.
"I had to promote and make this guy who just assaulted someone look awesome. That was my job, to make this person look cool, capable, and exciting."
Gary was quietly removed from the Bravocon lineup following the release of the article.
Has Daisy responded to the post?
Nope! Daisy's been posting multiple stories about her arrival to Las Vegas for Bravocon, but she's noticeably avoided any mention of the post.
That being said, Daisy and Gary's castmates Captain Glenn Shepherd and Chef Ilesha Dell both commented on the pic. Glenn simply wrote two emojis; a thumbs up and a smiley face with sunglasses, while Ilesha said she "loved this".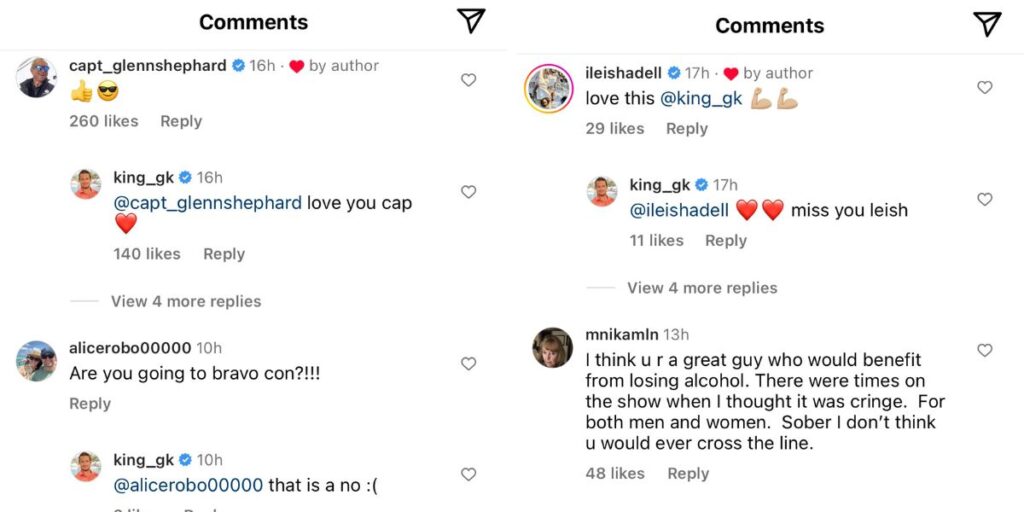 Stream Below Deck SailIng Yacht seasons one to four on Hayu.
Want to CHATTR with us? Follow us on Instagram and Facebook for more entertainment news.