Have You Been Paying Attention's Sam Pang has opened the 63rd Annual TV Week Logie Awards with a bang!
Sam Pang opened the show, joined by previous Logie's hosts Steve Vizard, Wendy Harmer, Shaun Micallef, Rove McManus and a beautiful tribute to Bert Newton.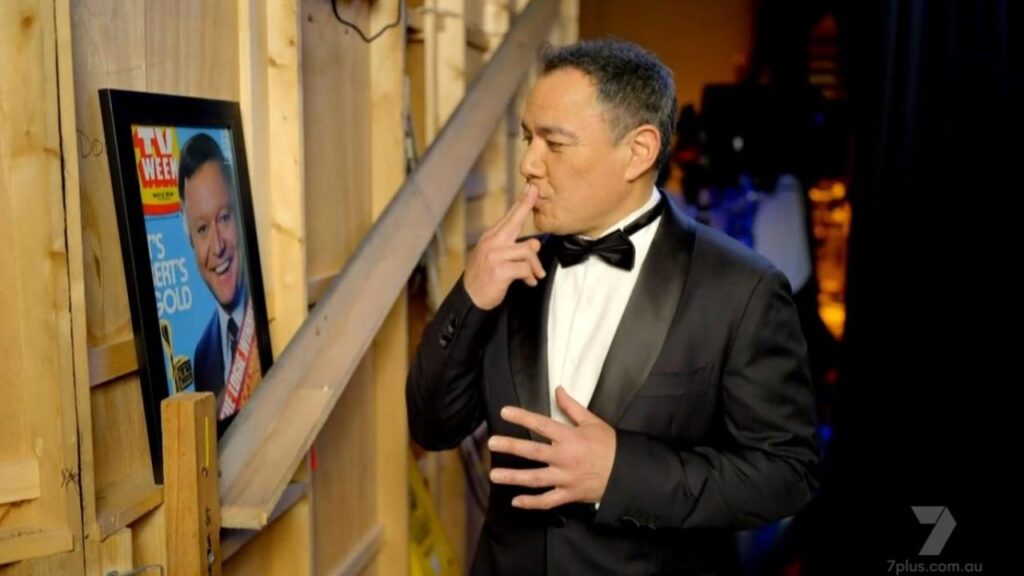 Then it was the most fabulous monologue full of jibes at everyone in the room.
"I would like to acknowledge a win for diversity tonight. I am the first host in the history of the Logies to be half and half – half Channel 7 and half Channel 10.
"Let's be honest, it's just great to have an Asian on Channel 7 who isn't trying to smuggle live birds through border security," Pang said.
He then thanked those who "turned down the hosting gig", including Hamish Blake.
"I appreciate it, mate, some of us have a mortgage," he said. "By the way, a mortgage is when the bank loans… Don't worry about it."
"Karl Stefanovic said yes, as long the show was held in a park in Noosa," referring to Stefanovic's very public feud with Michael Clarke.
"Rolf Harris said no, so here we are," he said.
Sam Pang's rapid-fire jibes at the industry
"The Voice is nominated tonight, despite Peter Dutton's strong opposition to the nomination…"
"The Block shows Australians what it is like to own their own home, making it the greatest fantasy series since Game of Thrones."
"I'm a Celebrity…Get Me Out of Here! is "a wonderful show where we find out which Australian celebrities haven't been adding to their super. Hi Kerri-Anne!"
He noted Blake was up for a Gold Logie, who was joined by Andy Lee "who is mates with Hamish"
Paid homage to Sunrise host David Koch, who "changed breakfast television forever. Warmth, humour, personality… you needed none of those."
Taking aim at Karl Stefanovic — "Sitting next to your cohost – who do you have this year, Karl?" He then said Stefanovic's table would only be more fun if "Michael Clarke was on it."
"The last thing Australians who fought for this country want to see when they turn on the television is an Asian emerging from the jungle," Pang said in reference to rumours about replacing Dr Chris Brown on I'm a Celebrity…Get Me Out of Here.
Watch our coverage of the 63rd Annual Logie Awards red carpet below:
Want to CHATTR with us? Follow us on Instagram and Facebook for more entertainment news.