I'm a Celebrity…Get Me Out of Here Australia 2023 is fast approaching, and with it, one of our fave parts of the process — deciphering the cryptic celeb clues.
On February 19, Ten released the air date of the highly anticipated ninth season alongside a trailer that revealed hints about who will be entering the African wilderness.
In the clip, Brown and Morris recreated an in-flight video down to a hilarious quip about "excess baggage".
"We know there are celebrities with excess baggage," Morris says over a loud speaker. "Please share it live on National Television." LOL!
So far, we know that an Olympic Medallist, a Radio Host, a UK TV Star, a Queen of the Court, an AFL Star, an Outspoken TV Host, TV Royalty, a Reality Star, a TV Personality, a Logie Winning Actress, a Celebrity Chef, a former International Wallaby, a Comedian and a TV Presenter are headed in!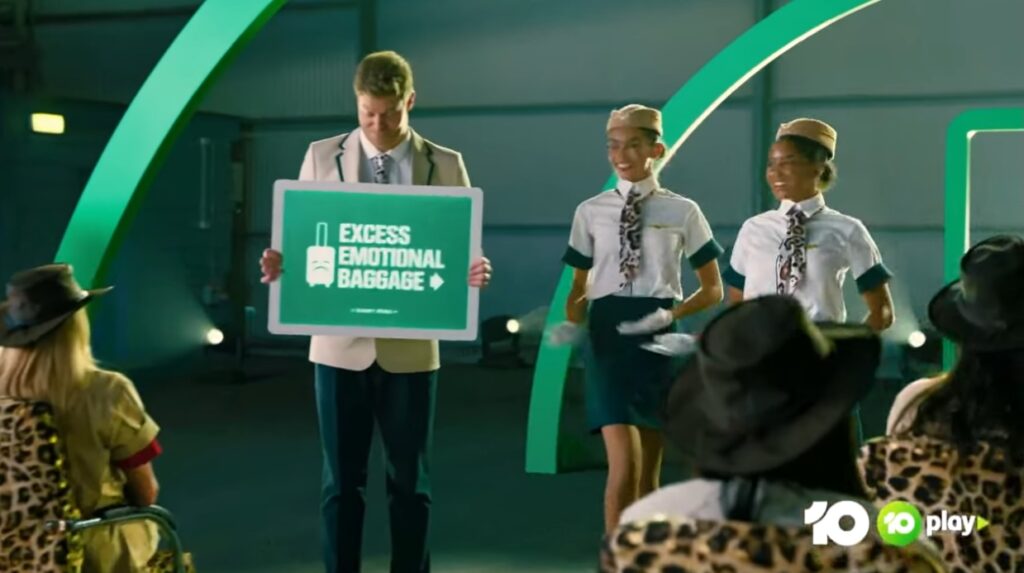 The network's staple series, which has been throwing stars out of their comfort zone since 2015, will premiere on April 2 at 7.30 pm, once again hosted by Dr Chris Brown and Julia Morris.
So, what are the clues we have so far?
Scroll through to see all the clues from I'm a Celebrity…Get Me Out of Here Australia 2023.
March 27 clue
"Ready to put up a fight for the jungle crown, this Olympic medallist is South Africa bound! Need a little something extra to help you solve this one? Well, when it comes to stereotypes, he won't be boxed in."
GUESS:
Well, obviously, this is an Aussie boxer! We're thinking of Harry Garside! Given that the gorilla in the promo has a Bronze medal around his neck, Garside is a sure bet, winning third place in the Lightweight M in 2020!
March 26 Clue
"This footy host with a killer kick will be looking for an advantage. With an infectious laugh, they're bound to have the camp in stitches without even trying!"
March 23 clue
"A comedian walks into the jungle and is sure to share more than a tight five. Will it be all laughs, or will he end up being the punchline? One thing's certain, he'll understand the phrase "comedy hell!"
GUESS:
Will this comedian see the jungle's funny side?
Rumour has it that Tommy Little is headed to the jungle but Pete Helliar and Dave "Hughesy" Hughes are also a good option!
March 21 clue
"This former international Wallaby is no stranger to South Africa but how will he tackle the critters in the jungle over Springboks on the field? Will other campmates get him offside or will he be crowned jungle king?"
GUESS:
For reality TV fans, Nick "Honeybadger" Cummins seems like the obvious choice here, given his turn on The Bachelor; however, is it a little too obvious? Thanks to his stint on the series, he is the more mainstream guess — BUT it also could be Ten sports broadcaster Matt Burke.
March 20 clue
"We all know food makes friends, and this chef will surely be the heart and soul of the jungle," the official clue read.
"Mastering the art of the exotic snack in the real world, the food challenges are bound to be a breeze. Or not. Used to whipping up a frenzy, will they walk away with the crown like chefs before them?"
GUESS:
Firstly, please be MasterChef Australia's Jock Zonfrillo, and secondly, could it be Jock?
The Daily Mail thinks it's Madeleine West's ex-husband Shannon Bennett, but with so many guest judges and contestants, it could be anyone!
March 19 clue
"There's no doubt this celebrity will put on a show or two, a star of both the stage and screen, they're no stranger to drama away from home.
"Question is, how will they handle the insects?"
GUESS:
Since it's a Gold Logie-winning actress with a clue about "drama away from home", we're putting our money on Georgie Parker — who has just recently left Home and Away and is also a stage performer.
March 16 clue
"Celebrity flight 2023 to the African jungle is now boarding with a TV Personality in tow…It'll be all hands-on deck when they go from the high seas to the Africa jungle.
"Will they be the perfect campmate, or will they go overboard at the first big swell?"
GUESS:
Our money is on The Real Love Boat's Darren McMullen or Hannah Ferrier, but fingers crossed it's actually the nicest guy on TV, Doody a.k.a Daniel Doody.
March 14 clue
"Which reality star will get a fright at first sight? This celebrity has their bags packed and ready for some drama in the jungle. No stranger to dinner parties, they have a lot of baggage on board. Or is it a lot of carry on?"
GUESS:
This is clearly a past Married at First Sight Australia participant, and judging by the female shoe — it's gotta be a Bride!
But WHO is it? Our money is on Olivia Frazer due to the "carry on" and "drama" clue… but TBH, it could be any of them!
March 13 clue
"Making a grand entrance in the African jungle is none other than TV Royalty…They may not be used to the camp conditions, but will they tough it out to raise the crown?"
GUESS:
Could this be Sarah Ferguson, the Duchess of York? The 63-year-old previously said she had pushed back her planned speaking tour of Australia, citing a "schedule clash".
Given that Mike Tindall appeared on the UK version, it could well be that "Fergie" is making an appearance on I'm a Celeb.
March 12 clue
"Known for their successful talent spotting, this outspoken TV host will be lost for words when they eat fisheyes in a Tucker Trial!"
"Will they be heading for the exit or push through to win the jungle crown?"
GUESS:
Could this be former Australian Idol judges Mark Holden or Ian "Dicko" Dickson?
Others say Carrie Bickmore, but we're unsure about the "outspoken" clue!
March 9 clue
"We're hoping this Brownlow Medallist isn't a nervous flyer", the official clue read. "[They're] Used to making their mark on the field, will they kick goals in the jungle and be crowned the winner?
"One thing's for sure, the creepy crawlies are at the ready to welcome him into camp!"
GUESS:
With references to "mark", could it be 2003 Brownlow winner Mark Ricciuto? But the reference to "flyer"… we're not so sure!
According to the Herald Sun, Adam Cooney is tipped to join the all-star cast according to reports made by the Herald Sun.
March 7 clue
"With her competitive streak, this queen is in it to win it and will take on any opponent that stands in her way," an official clue was revealed. "But we all know the only thing she'll be courting in the jungle is the creepy crawlies!"
GUESS:
Could this be Margaret Court?! She's an Australian retired former world No. 1 tennis player and a Christian minister. She's also considered one of the greatest tennis players of all time, with 24 major singles titles and a total of 64 major titles!
March 6 clues
Clue one:
"We all know radio hosts are known for their gift of the gab and we're sure this one won't disappoint," an official statement for the network read.
"The jungle will be all ears as they spill the beans and command your full attention with the yarns they're set to spin."
But the most telling clues?
"A radio host who loves to kiss and tell" and "I can't wait to get a kiss from them!"
REVEALED
During March 20's Will and Woody radio show, Dr Chris announced that ONE of the pair would be headed to the jungle.
Then on March 29, it was announced that Woody Whitelaw would be facing his biggest fears on I'm a Celeb.
Clue two:
Drama in the jungle? It's a shore thing!
"Settling in with their inflight entertainment is a UK TV Star that's shore to bring the drama to the jungle," the clue package read.
"But how will they go without their creature comforts? Not to mention the creepy crawlies. And will they bring sayings that will leave everyone scratching their heads like previous fellow Brit campmates?"
The obvious clue here is "shore" and UK TV star — so it's someone from Geordie Shore.
GUESS:
We're banking on Vicki Pattinson since she's already appeared in the UK version.
February 19 clues
While there isn't much to report as yet, we do know this.
Heading into Africa on April 2 will be:
a Brownlow Medal-winning "famous footballer"
a "comedian"
a "TV host"
a "boxing lightweight"
a "famous chef"
More as we get them!
I'm a Celebrity…Get Me Out of Here airs from Sunday, April 2 at 7.30 pm on Ten.
Want to CHATTR with us? Follow us on Instagram and Facebook for more entertainment news.