It's MasterChef Australia 2023 episode 36 and it's Mystery Box time.
This week's Mystery Box has a twist, and it's one that the contestants know well, as it's featured in previous seasons of MasterChef; it's the Everything Mystery Box.
The home cooks have to use all the ingredients that are in the box in their final dish. Those ingredients? Lamb, sugar snap peas, labneh, Pedro Ximénez sherry, fenugreek, parsley, bacon, and garlic. Is it just me or do these ingredients scream pasta?
The bottom three dishes from the challenge will head into the upcoming elimination round.
The Cook
Brent was a huge fan of all the ingredients in the Everything Mystery Box and said they're "screaming to be cooked together". He decided to make a "lamb kofta sort of vibe" with a "pancake thing".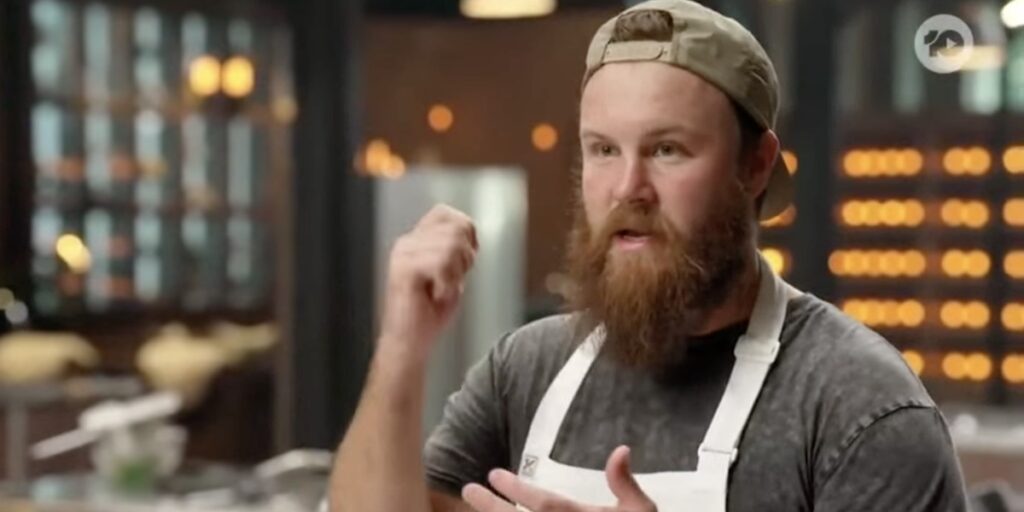 Theo was equally as excited about the ingredients and said that they "play to his strength". He chose to cook lamb skewers marinated in labneh, a flatbread marinated in bacon fat and a parsley sauce.
The Everything Mystery Box was certainly well received, as Declan said it's "his kind of mystery box" before he opted for a lamb rosetta.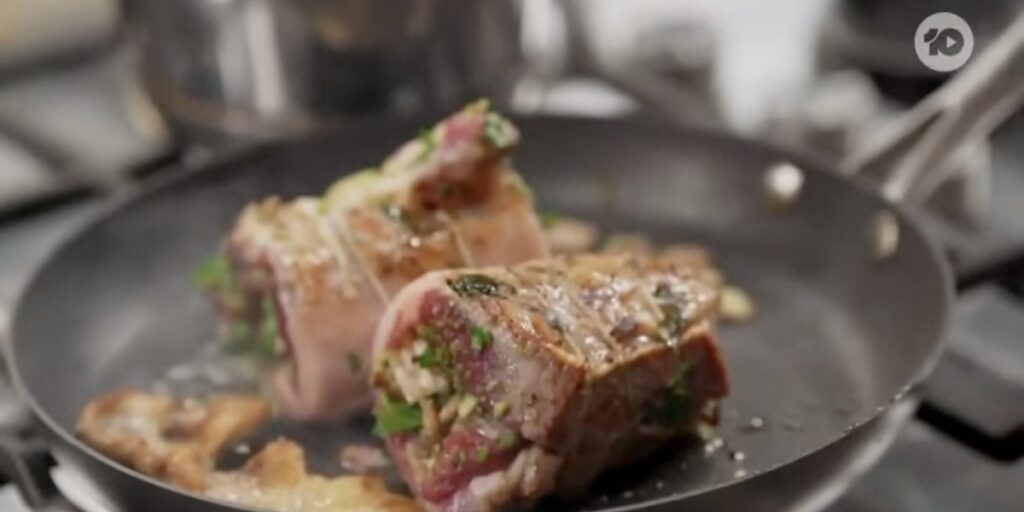 However, not all of the everything mystery box reviews were glowing. "This has to be the hardest mystery box in MasterChef history," Rue said.
She started preparing her dish before she confessed to the judges at the twenty-five minute mark that she had no idea what she will make.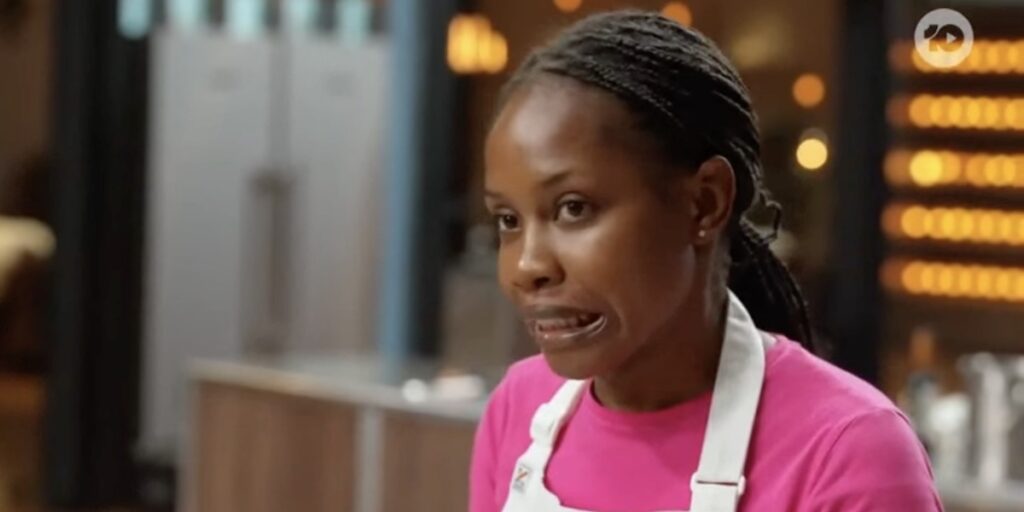 Rhiannon decided to make Empanadas with Bacon Jam, Malinda decided on an "epic salad" and Kat cooked Grilled Lamb with Sugar Snap Peas Three Ways.
The Judging
Theo was the first to the judges' bench and he served up a Lamb Skewer with Green Sauce. All three judges gave his plate a round of applause and agreed that it was excellent.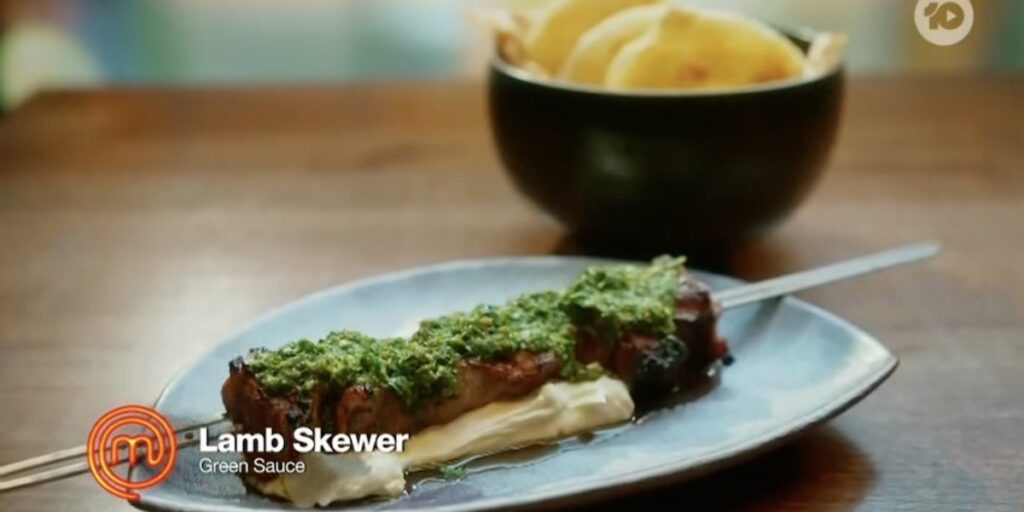 As Kat headed up to the bench she revealed that she was disappointed in her jus, which reduced too much because she mistakenly put it back on the heat after it was ready.
Judge Andy Allen said that while the lamb and the sugar snap peas were "nice", the lamb wasn't her "best work".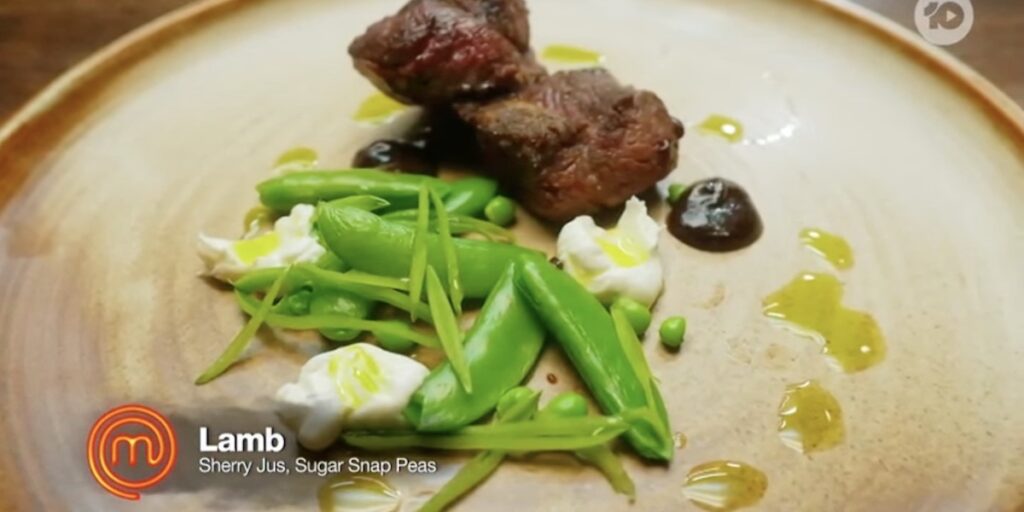 Next, Declan stepped up to the judges' table and presented his dish of Lamb Rosettes with Pork Fat Bacon and Parsley Labneh. Which looks absolutely delicious btw, see below: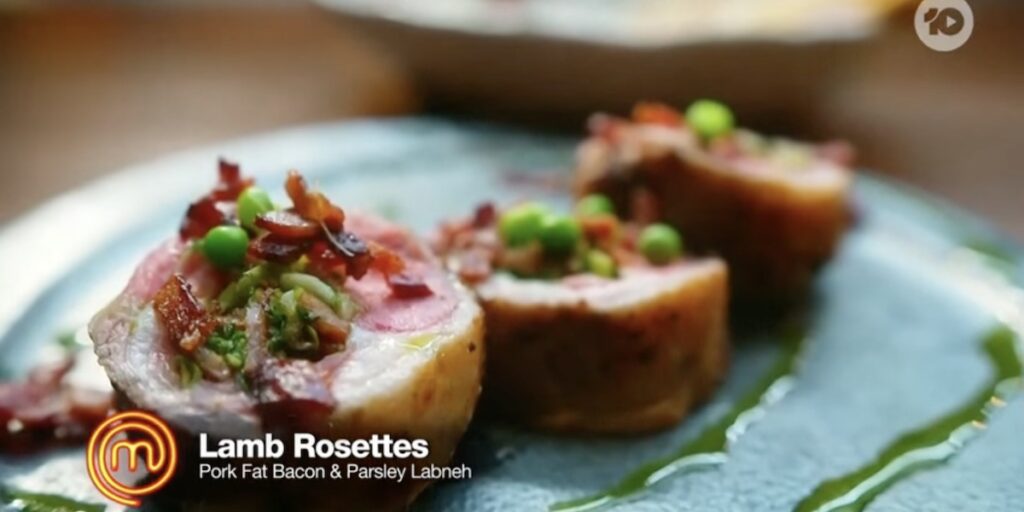 And, apparently, Declan's dish tasted as good as it looked because the judges L-O-V-E-D it.
Rhiannon's Lamb Empanadas with Bacon Relish didn't get much screentime, but judge Jock Zonfrillo declared that they were "gold".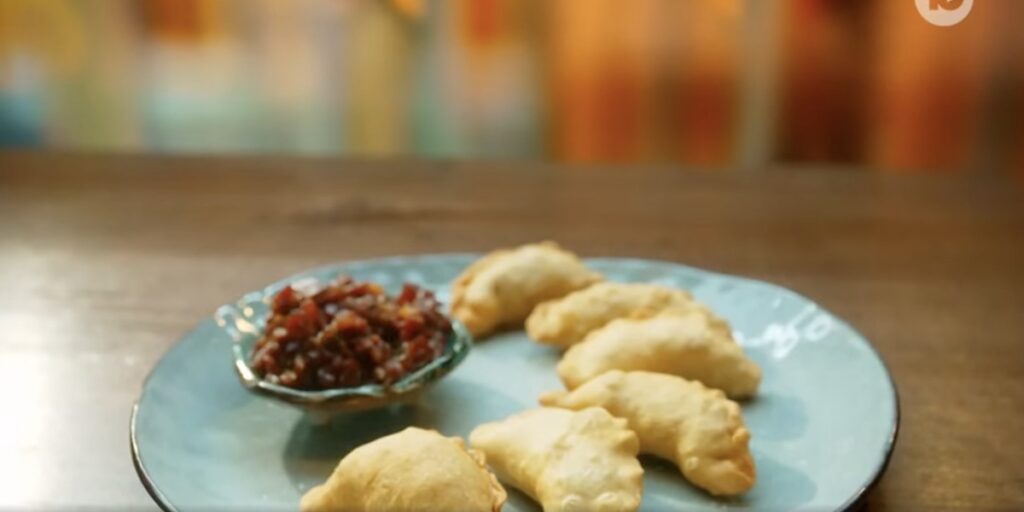 Malissa made a Lamb Spring Salad with a Labneh Puree, which Andy said was "perfectly cooked" and "beautifully seasoned". However, he pointed out that there was too much whipped labneh, which took away from the rest of the dish.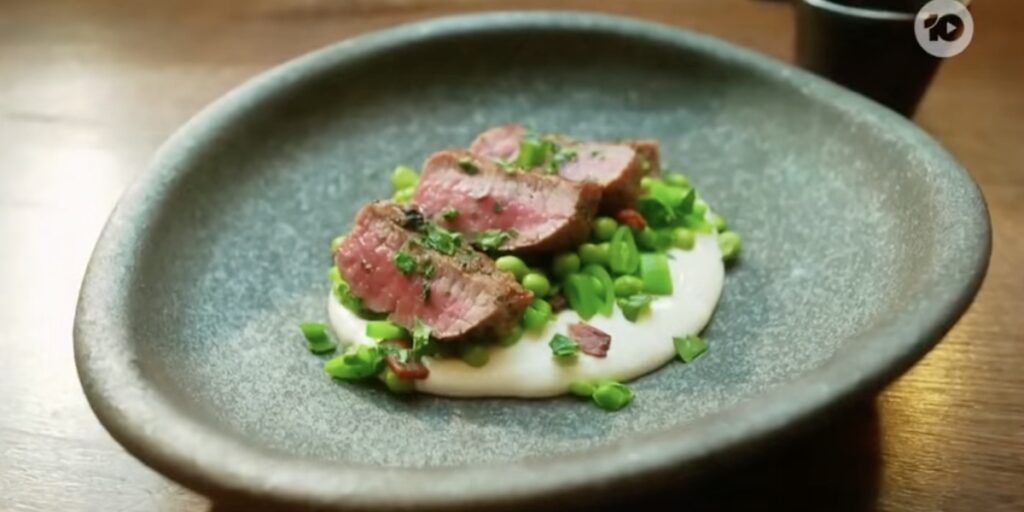 The next dish the judges tasted was Rue, who fortunately finally decided what she was cooking before time ran out. She chose to make Seared Lamb Loin with Labneh, Sugar Snap Peas and Fenugreek Sauce.
Although judge Melissa Leong tried to comfort her before trying the dish, the feedback was bad. Jock said the sauce was unbalanced, and Andy said he wanted something more interesting from her. Maybe she should have attempted my pasta idea? Just saying.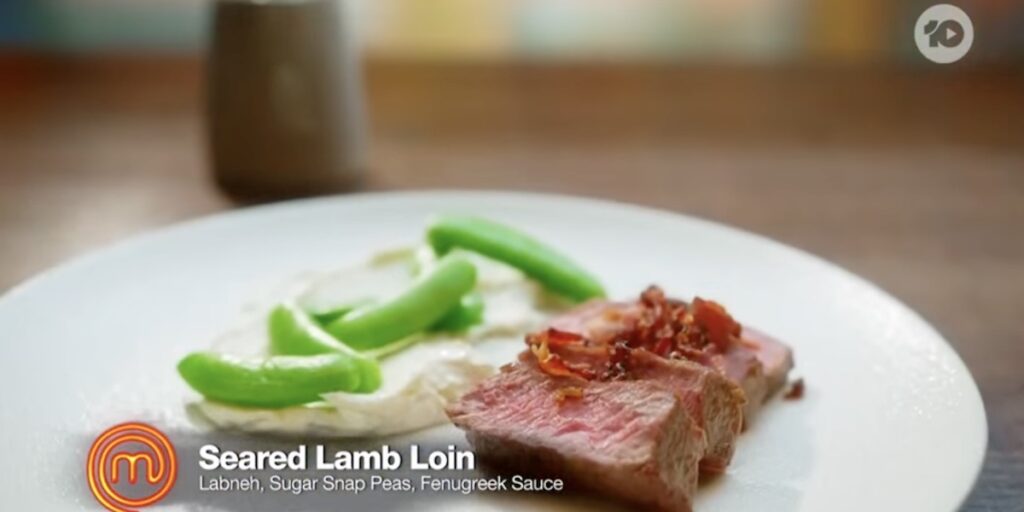 Brent was the last to be judged and as he approached with his Lamb Koftas with Labnah, Sherry Glaze, and Garlic Pancakes, he voiced his worries about the Koftas being too dry.
However, he needn't have worried as Andy went back for seconds of the lamb and all three judges were blown away by Brent's dish.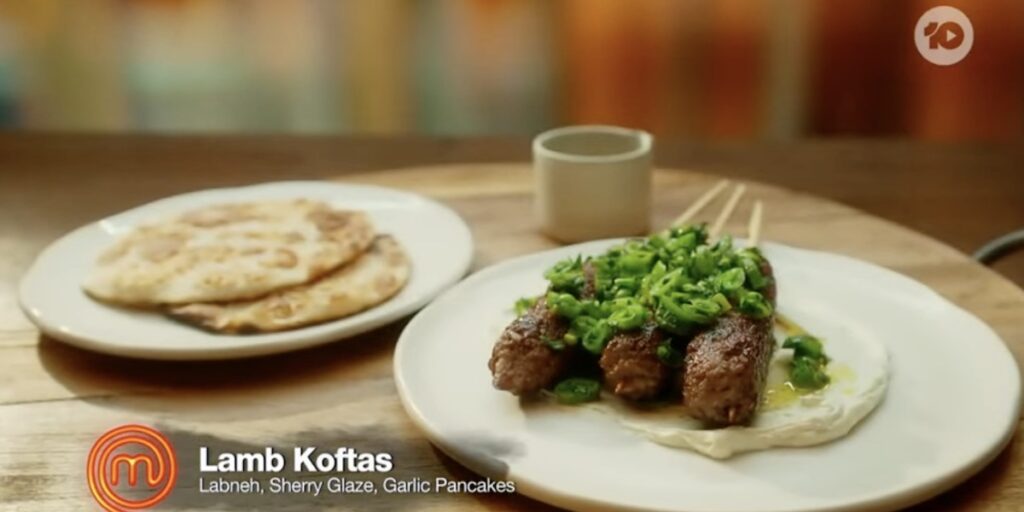 The judging
Rue, Kath, and Malissa had the judge's least favourite dishes, and they will be cooking in the Pressure Cook, where they will compete in a challenge set by Michelin-star chef Clare Smyth.

MasterChef Australia airs Sunday – Thursday at 7.30pm on 10 and 10Play.
Want to CHATTR with us? Follow us on Instagram and Facebook for more entertainment news.