The Upload trailer has dropped and we're (hopefully) going to finally find out if Nora and Nathan are really meant to be together.
The trailer sees Nathan being uploaded to a virtual reality afterlife, with a few problems along the way. Firstly, his upload faces initial teething problems with stomach issues and nose bleeds. They also face the problem of a clone that threatens the future of afterlives.
See for yourself:
Who's in Upload?
The show's three lead actors Robbie Amell (The Tomorrow People), Andy Allo (Chicago Fire) and Allegra Edwards (Briarpatch) will all be back for season three.
The cast also includes Kevin Bigley (Sirens), Zainab Johnson (American Koko), Owen Daniels (Space Force), Andrea Rosen (Episodes) and Josh Banday.
What's Upload season two about?
Season Three of Upload continues the story of Nora and Nathan as they navigate their relationship and race against time to uncover a mysterious conspiracy that threatens countless lives.
Will they succeed in stopping Freeyond and finally find happiness together? Or is Nathan's fate sealed, with his head ready to explode? Meanwhile, in Lakeview, a backup copy of Nathan is activated, presenting Ingrid with a second chance at love she won't let slip away.
In the real world, Aleesha climbs the ranks of Horizen, managing AI education, and finding a new romance. As for Luke, stranded in Lakeview, he must find a way to fund his stay in paradise, leading him to work in The Grey Zone.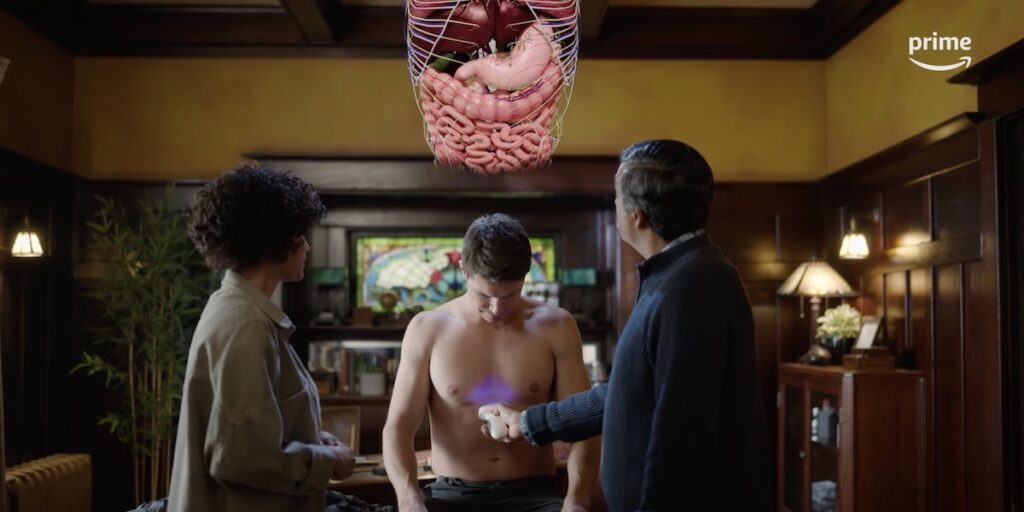 Upload airs exclusively on Prime Video on October 20.
Want to CHATTR with us? Follow us on Instagram and Facebook for more entertainment news.