It's episode 11 of MasterChef Australia and Big Week lives up to its name as the contents of the biggest-ever Mystery Box are revealed!
Contestants must think outside the box and up the flavour to avoid tomorrow's Pressure Test.
Inside the large wooden crate was their pantry for the day and everything was supersized including Yellow Fin Tuna, barrels of wine, a planter box full of mint, cassia (similar but stronger than cinnamon), some huge pumpkins, a "regular Jock size" Toblerone, parmesan, a leg of prosciutto and bags of peanuts.
With 75 minutes on the clock, it was time to cook one delicious plate of food!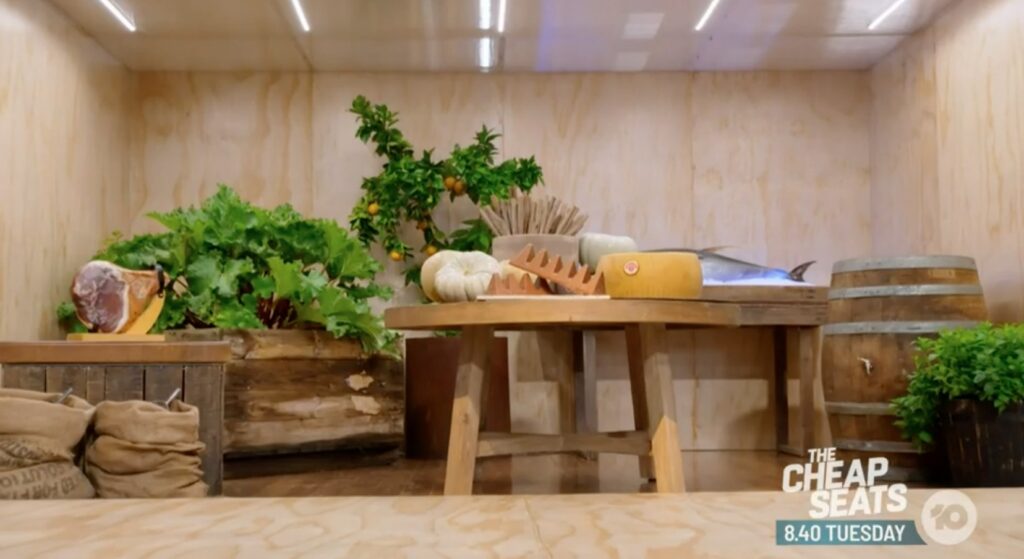 The Cook
As the cook began, we checked in with what the contestants were making.
Rhiannon decided on pumpkin, prosciutto and parmesan to create a mouth-watering Gozleme while Rue chose peanuts and Toblerone, to make a Snickers-inspired Tart with peanut butter ice cream.
Brent also went the sweet route, creating a Salted Caramel Ice Cream with peanuts and Cath, a caramelised Cassia Ice cream Sandwich.
Declan was originally going to do sweet out of the "behemoth of a mystery box", but the Yellow Fin Tuna was calling his name and he decided on Peanut-crusted Seared Tuna Loin with Pumpkin Puree.
Antonio also chose to create an Ice Cream Sandwich — however, we later learned, it had a delish molten core!
"There's something about today, I think it's going to be a good day," he said.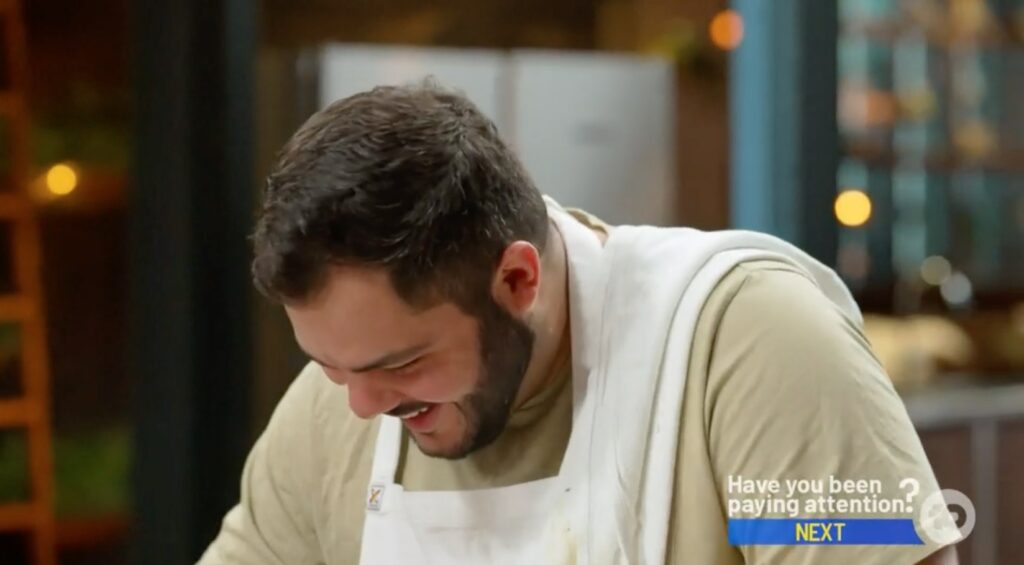 Ralph picked cassia and orange to make a South African Dessert Milk Tart, while Theo grabbed cassia, rhubarb and oranges to make a Puff Pastry with Rhubarb and Cream a.k.a Milfoil.
"Should get three folds…to create super nice buttery layers," he said.
Larissa, who won a second chance to come back to the kitchen during last night's elimination, decided to make her "first pasta dish in the kitchen" — Doppio Ravioli with Roasted Pumpkin and Burnt Butter sauce.
"I've never made it before", she said. Great time to start!
"Focus on the sauce, make it blow our minds," Judge Andy told her, and Larissa stressed about what she could do instead.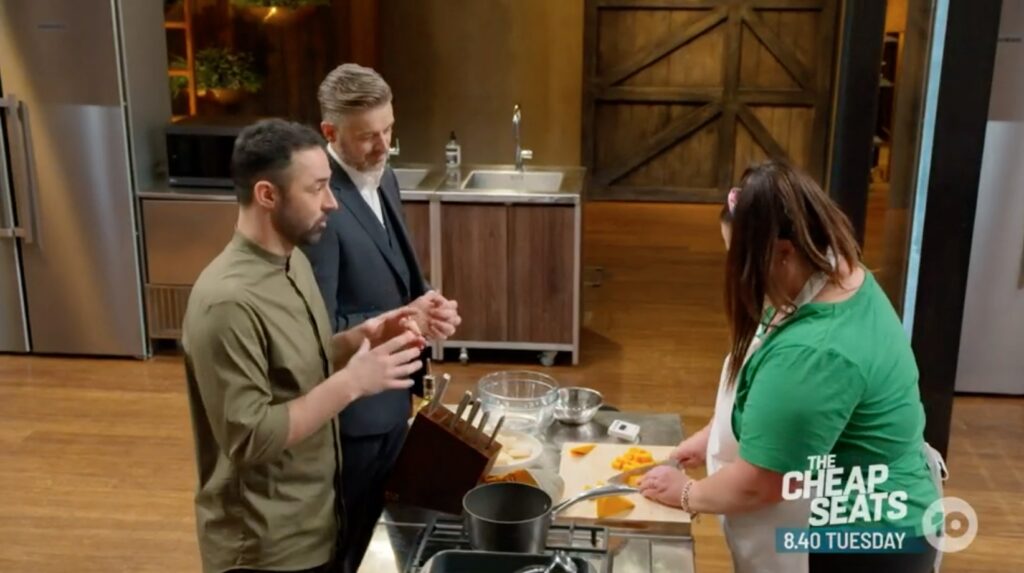 Phil also went sweet, making Ice cream with an Orange Tuile and a Chocolate Biscuit base, inspired by Terry's Chocolate Orange from his childhood.
Then disaster struck.
Theo had overworked his pastry but with half an hour to go, just had to "go with it" before Declan was told by Judge Mel that she was worried about the textures of his dish.
"I just have to back myself and keep going," he said.
Rhiannon said her Gozleme was "me on a plate" and decided to bulk them up with lots of filling.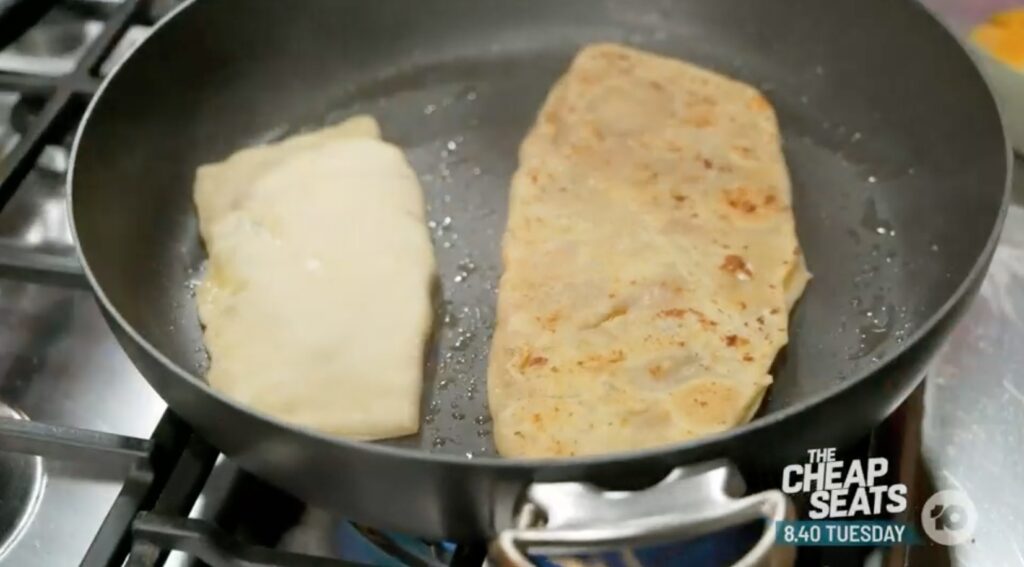 Theo took his pastry out of the oven and said they looked "sub-par", disappointed by his effort, while Larissa still hadn't decided on her sauce. Instead, she decided to do the Doppio pasted against her "better judgement". She then decided to make a Burnt Butter Whey Parmigiano sauce to accompany it.
Even though his tarts were "epic" (according to Andy), Ralph's tarts cracked during plating, so he had to pivot to create a deconstructed version.
The judging
It was judging time and time to impress the judges. The bottom three would be heading to tomorrow's Pressure Test!
Phil presented his Toblerone Ice Cream Sandwich with Orange Sugar Tuile.
"Nicely done," Mel said while also saying it was the "best thing" he'd cooked, yet!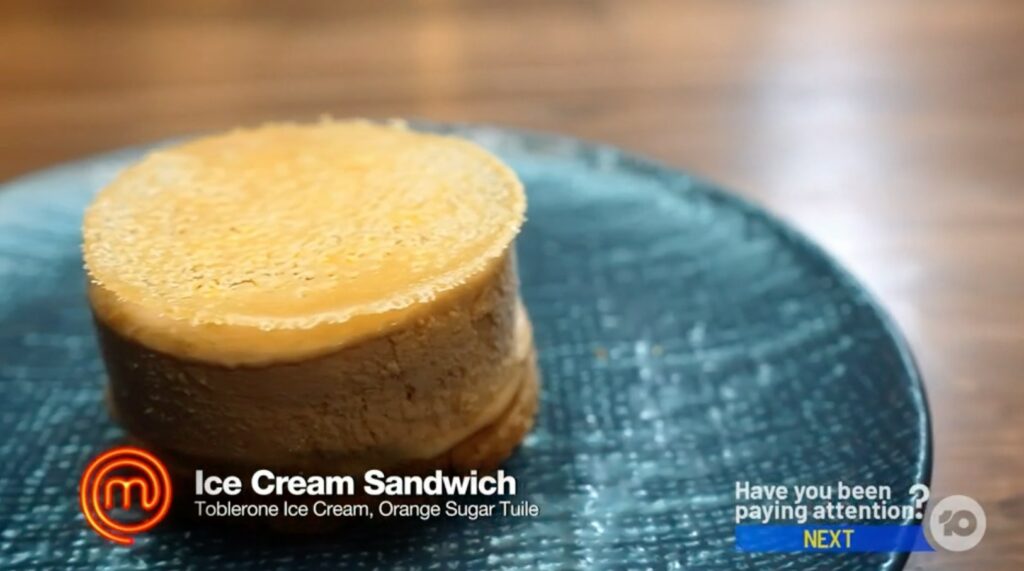 "Great texture and good flavour," Jock said. "Triumph!"
Cath, Rue and Brent all served their dishes with high praise, while Rhiannon's Gozleme had a "good amount of filling".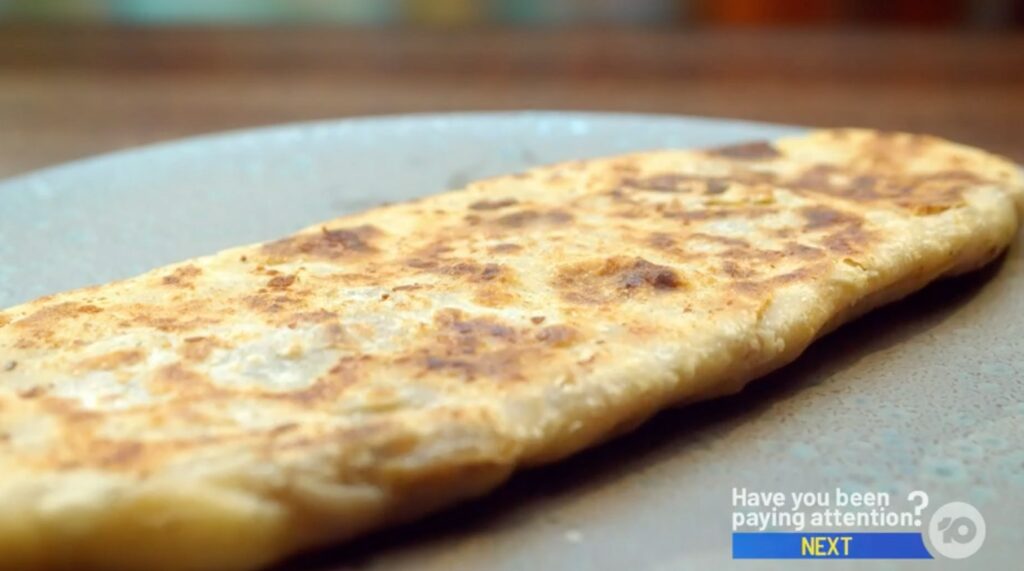 Then it was time for Larissa's dish and unlike Rhiannon, her dish was lacking in filling.
"Good work on the pasta," Jock said before calling the Doppio "poor" with Andy saying the sauce "didn't quite get there".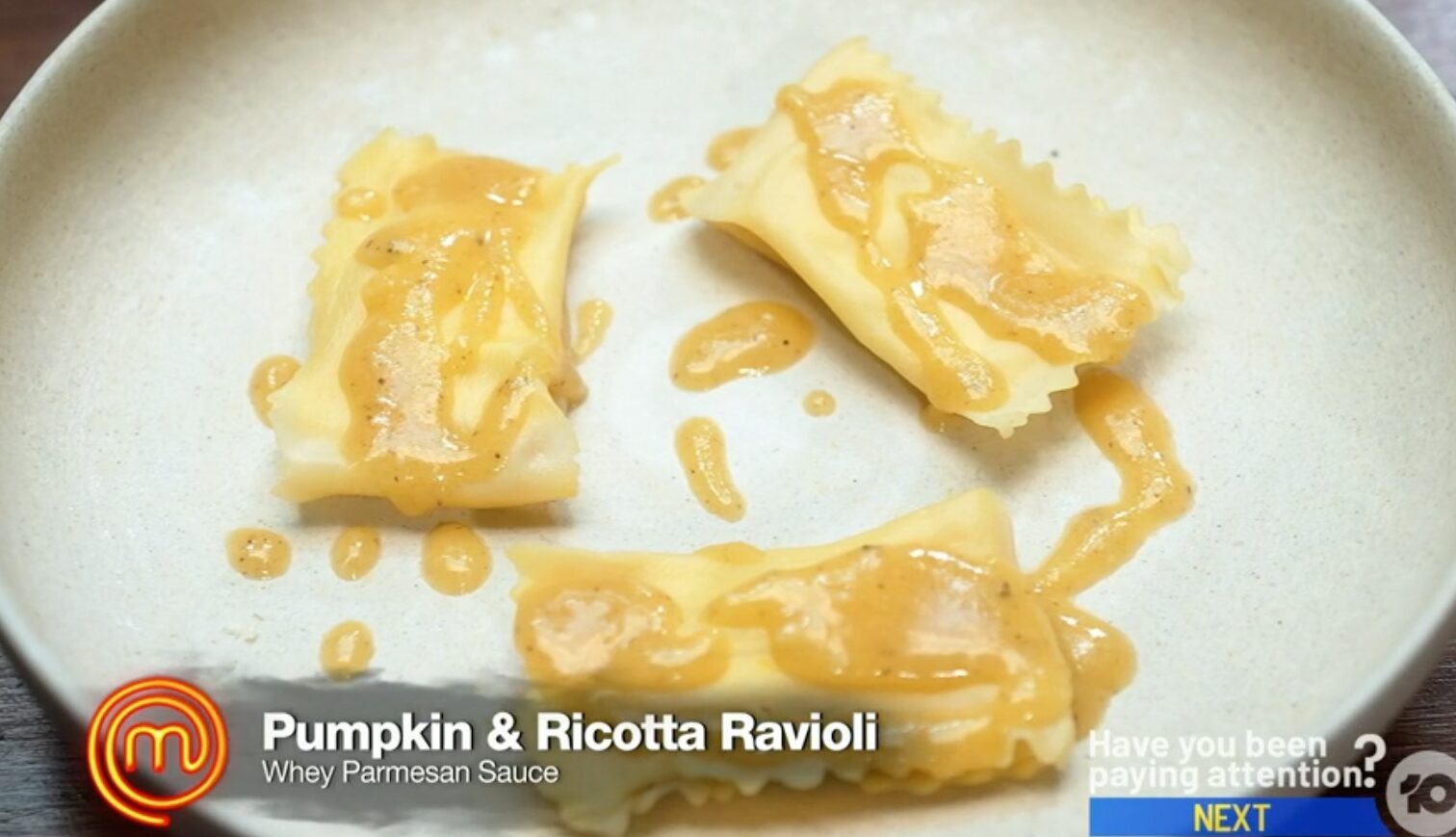 Declan was next up with his Peanut Crusted Tuna.
"Declan, it eats exactly how it sounds," Jock said, "But all you can taste is peanuts. It's an odd combo." Mel then said it wasn't "cohesive".
Antonio presented his Toblerone and Ice Cream sandwich.
"Great," Jock said. "Nutty, delicious" before Andy called the biscuit "perfect".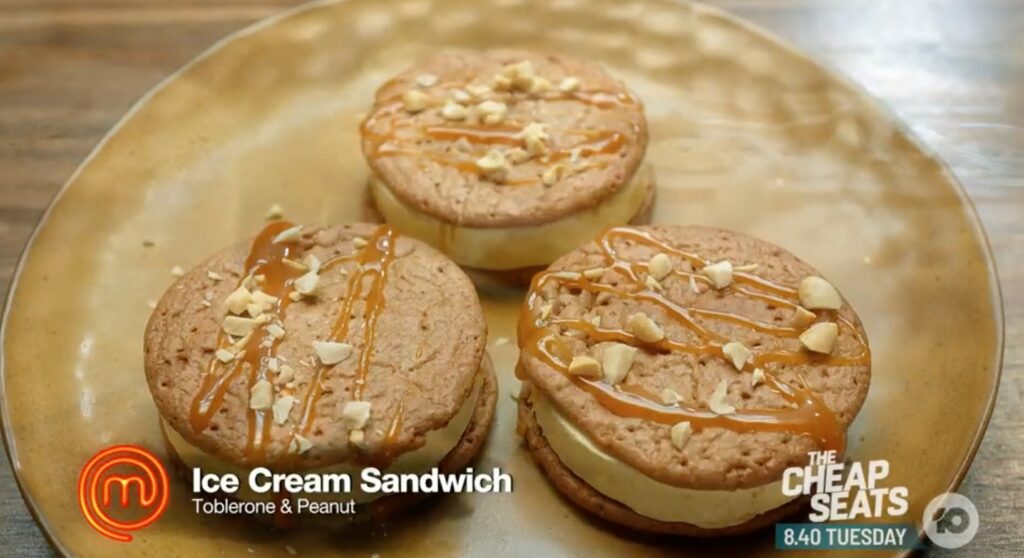 Amy, Melissa and Adi all presented their dishes with the judges calling Adi's a "good weeknight meal", before it was Theo's turn.
"You can tell you're not overly stoked," Andy said before Theo said he "overworked it".
"Unlucky today, mate," Jock said of his Milfoil with Rhubarb and Chantilly Cream.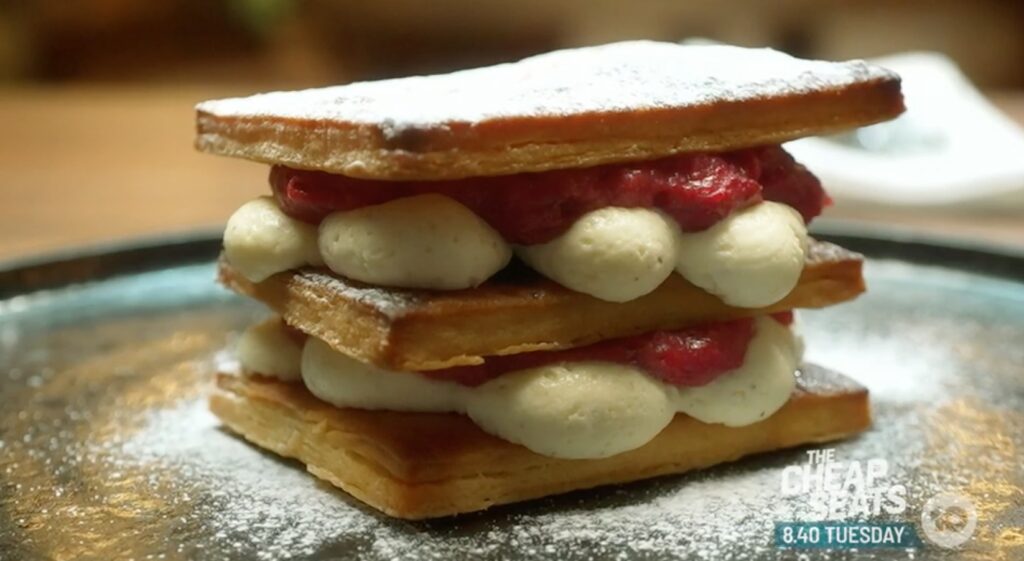 Ralph then delivered his "deconstructed" South African Milk Tart.
While it didn't present well, Jock clapped him and said "It was so good. When it's that good…your custard is epic!"
"There's nothing about that I don't like," he said before Mel called it "sublime".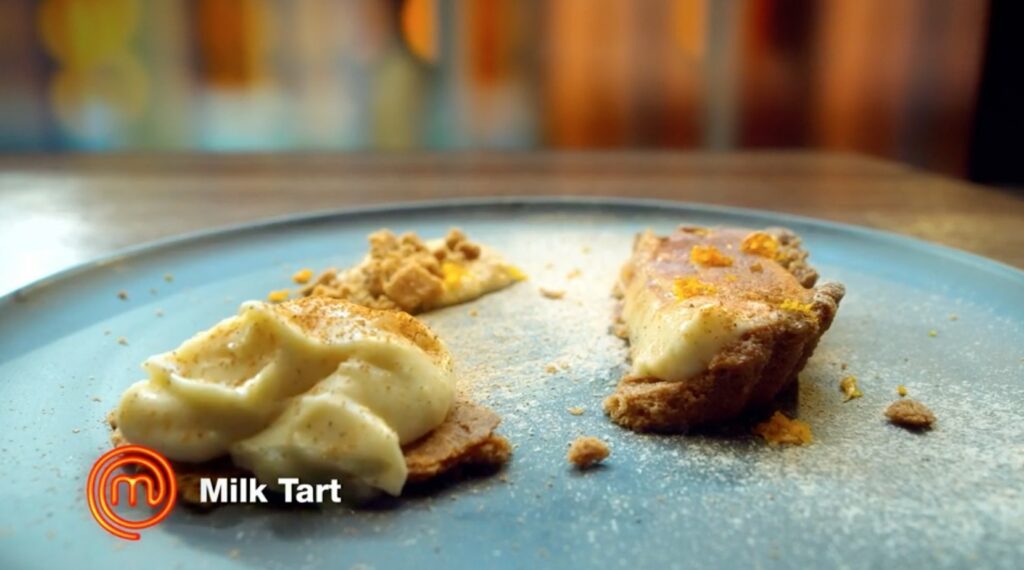 The Verdict
Antonio, Phil and Ralph had the best dishes of the day while Theo, Declan and Larissa were going into the "biggest pressure test we've ever set in this competition".
MasterChef continues on Tuesday, May 23 at 7.30 pm.
Want to CHATTR with us? Follow us on Instagram and Facebook for more entertainment news.