Married at First Sight 2023's Evelyn Ellis has a "no bulls**t" policy, and frankly, we love this for her.
No stranger to being a star, the model amassed over 65.3k followers — and this was before her stint on MAFS!
Hailing from New South Wales, the 26-year-old is also a marketing manager and is no stranger to people assuming she has her s**t together.
While she may seem confident, she can also be vulnerable in love and, lately, prefers the company of her two adorable dachshunds, Pickles and Mustard.
According to her 9Now bio, Evelyn was "devastated" by an ex who also applied for a dating show… while they were together is this revenge?!
Since that fateful relationship, she has been guarded ever since and believes her Chinese-Australian upbringing and being a child of divorce is the reason she struggles to show affection.
In fact, Evelyn struggles to say "I love you", because she rarely saw the words — or sentiment — used when growing up.
Even though she's diving headfirst into the experiment, she's cautious about starting a new relationship. She also wants marriage and kids; however, she's never been the stay-at-home type.
Married at First Sight's Evelyn Ellis was on Big Brother UK
In 2016, the stunning MAFS Bride was on Big Brother in the UK. At the time, she worked in London as a hostess and described herself as "the most indecisive person you would have ever met."
She was only ever nominated twice and ultimately placed fifth on the show. She was also the highest-ranking female during the season.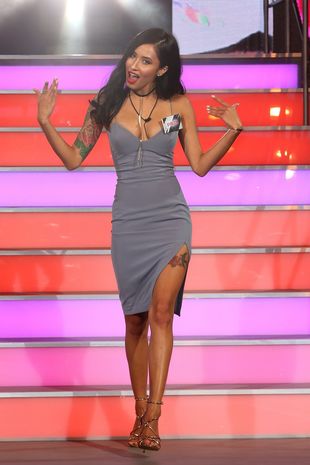 You can follow Evelyn on Instagram here.
Watch Married At First Sight on Sundays at 7.00 pm and Monday – Wednesday at 7.30 pm on Nine and 9Now.
Want to CHATTR with us? Follow us on Instagram and Facebook for more entertainment news.