She's done a great busting out some of the best female power ballads in history on The Masked Singer Australia 2023, but who is behind the Cowgirl mask?
Most fans are in two minds when it comes to Cowgirl's identity – and both are big Aussie names.
Read on to find out who Cowgirl could be!
Who do fans think it is?
Social media users seem to be split between Courtney Act and Domenica Calarco from MAFS, with the odds skewed slightly in the drag queen's favour.
"1000% Courtney Act! This song had notes that reminded me of her solo from the Rusical on [RuPaul's] Drag Race [season] 6 when she was Good Penn," one person wrote.
Another commented, "Clues definitely match to Domenica Calarco."
The judge's guesses so far
Episode One
Jessica Origliasso, Kimbra, Pamela Anderson and Shania Twain.
Episode Three
Kristin Chenoweth, Denise Drysdale, Sarah McLeod and Jessica Simpson.
Episode Five
Courtney Act, Hilary Duff, Toni Pearen and Lindsay Lohan.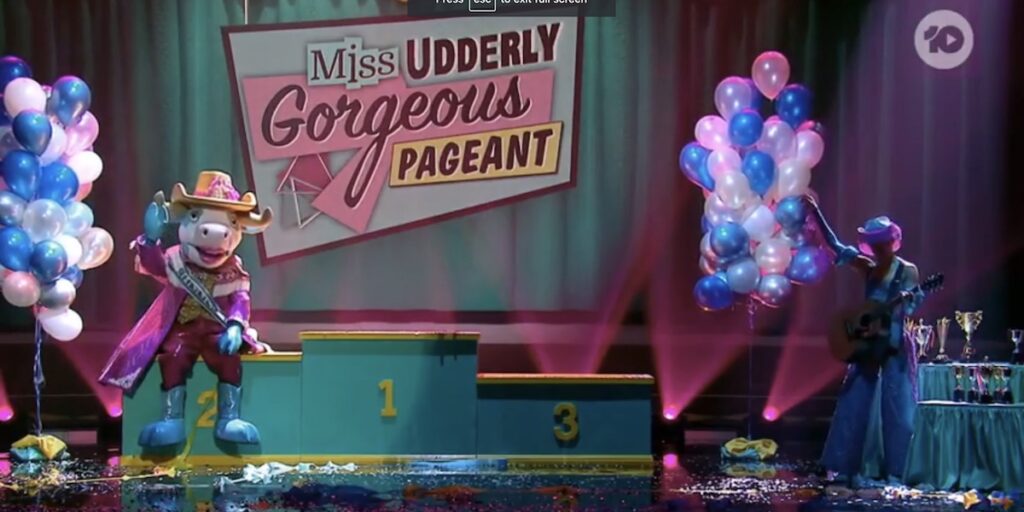 Cowgirl's clues so far
Episode One
The one thing everyone believes about cows is that we're vegan – you'd think we'd leave certain foods untouched. Course, what you might not know about a Cow Girl is that we don't like staying in one place, even when young. Obviously, I'm not in the same place I was born. Do I have a favourite location? Anywhere free! You know, pro bono! There anything else you need to know about me? Only that you don't have to come first, but it's nice when you do!
Episode Three
Cow Girl is really milking some of these clues, and we think she might be trying to lead us down the garden path. Once again Cow Girl made a few references to spices, this time Ground Ginger, but Mel B wasn't sold on it being one of her former bandmates. And that wouldn't explain why Cow Girl was also seen holding a picture of cricketer Ian Healy.
Episode Five
Last time I put on a bloomin' brilliant performance, the panel had a field day with their guesses.
I haven't always wanted to be a Cow Girl, in a dream I would be a doctor. From an early age a Cow Girl wants to escape. Of course life doesn't go where you want it to. I fell about 400 meters short. Never mind, that doesn't mean you should be agro. Okay, I'm the first to say I'm no lady, but I'm no mean girl either, it's the other girls who were mean to me on screen. I'm just happy to be who I am, and anyone else I choose to be.
Want to CHATTR with us? Follow us on Instagram and Facebook for more entertainment news.