In Australia we have uni, but in the US they have college and Binge's newest doco Bama Rush is about to give us the inside scoop on what it's really like.
While we've been fascinated by the red cup culture, beer pong and frat houses these movies have afforded us, over in America, it's part and parcel of college life and so is "rushing" for a sorority.
For Gen Z, TikTok has provided a glimpse at this phenomenon, thanks to #BamaRush Tok, but now there's a whole goddamn documentary for us to sink our teeth into.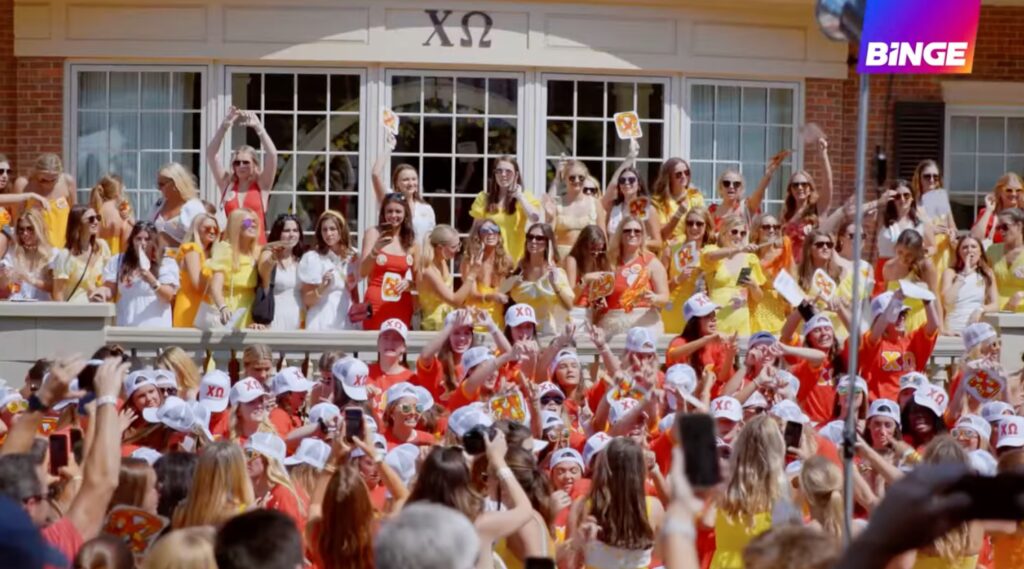 What is Bama Rush?
According to Teen Vogue and the official synopsis of the film, in August 2021, a few thousand "freshmen" entered the Tuscaloosa, Alabama heat house-to-house as millions of TikTok users watched for the coveted bid many of these young girls were vying to receive.
Becoming a viral sensation and cultural phenomenon using the hash tag "Bama Rush," to date more than 2 billion people have watched the clips that followed. 
In the upcoming feature documentary Bama Rush, Fleit follows four young women as they prepare to rush at the university in 2022 exploring the emotional complexities and stakes of belonging in this crucial window into womanhood.
"Let's be honest, I probably wouldn't be going to Alabama if it didn't blow up on TikTok," one girl says in the trailer.
Landing on to Binge on May 23, the doco will explore college life, sisterhood, and all the joys and complexities of what it means to be a young woman today.
"This film is a thoughtful and compassionate portrayal of young women in 2022 as they rush the sorority system at the University of Alabama," director Rachel Fleit wrote in a statement provided to The New York Times.
What did we learn from the trailer?
While thousands apply, only few get in and unfortunately, this age-old institution is seeped in misogyny.
"The rankings come from fraternity boys, so the top house has the hottest girls," one girl says while another admits that she would never have had an eating disorder growing up if the "boys didn't say what they said to me." WOW.
There's also the addition of "racial segregation" which thankfully ended in 2013, but it was a huge part of the Greek sorority culture.
"The culture at Alabama is f**king weird," another girl says.
And then this: "Not to be dramatic, but this documentary could be an end to Greek life as we know it."
*Insert side-eye emoji here!*
Stream Bama Rush on May 23 only on Binge.
Want to CHATTR with us? Follow us on Instagram and Facebook for more entertainment news.