It's about time Celeste Barber helmed her own scripted TV series and now, she's coming outta the gate strong with a brand new scripted comedy, Wellmania.
Streaming on Netflix, Barber stars as Liv, a "human tornado" and "food critic", who is sent on a wellness journey in order to keep her new TV gig in New York.
Co-created by Australian Survivor's Benjamin Law, the eight-episode series — which is based on the novel Wellmania: Misadventures in the Search for Wellness by author and journalist Brigid Delaney — will follow Liv as she rethinks her life choices, particularly her "live fast, die young" attitude.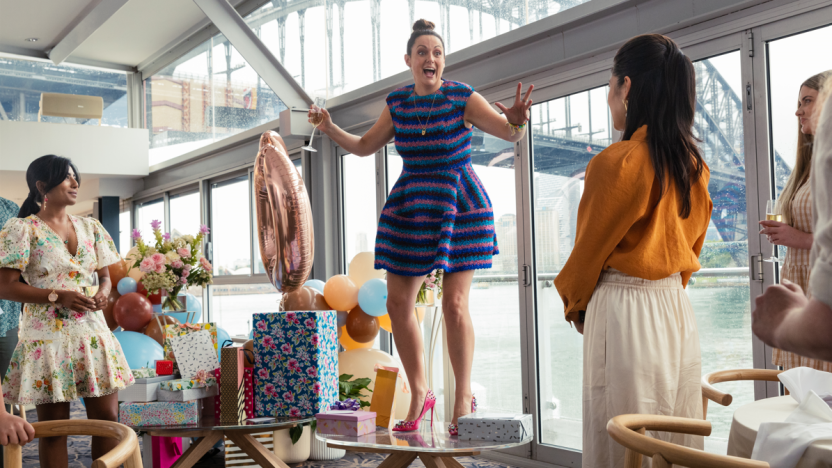 What is Wellmania about?
After a routine check-up back in Oz, Liv is diagnosed with "catastrophic health" and finds herself trapped in her hometown. In order to return to the Big Apple, she throws herself body-first into a radical wellness journey, hell-bent on getting well, well.
From colonics to cupping, she'll try ANYTHING to get back to her lavish life!
When does Wellmania launch?
You can binge the entire series from March 29, 2023.
Who is in the cast of Wellmania?
Alongside Barber is a host of Aussie stars including Miranda Otto, JJ Fong, Genevieve Mooy, Lachlan Buchanan, Remy Hii, Alexander Hodge, Simone Kessell, Virginie Laverdure and UK comedian Johnny Carr.
Who is the creative team by Wellmania?
The series is produced by Fremantle Australia, Barber and Warren Clarke (The Heights) are Wellmania's executive producers.
Bree-Anne Sykes (Here Out West) will serve as producer, while Law and Belinda King (Cleopatra in Space) are co-executive producers.
The series is written by Romina Accurso (Class of '07), Rachel Laverty (Home and Away), Nick Coyle (Sarah's Channel) and Amy Stewart (Hardball).
Stream Wellmania from March 29 on Netflix.
Want to CHATTR with us? Follow us on Instagram and Facebook for more entertainment news.