Producers certainly weren't playing when they picked the cast of Desserts Masters 2023.
Among the ten contestants are some of the best pastry chefs, chocolate connoisseurs and baking experts in the country. Many of them even own their own restaurants and pastry shops.
Out of this year's cast, Kirsten Tibballs, Anna Polyviou and Rhiann Mead are the only contestants who don't own a restaurant or pastry shop. However, Kristen owns an online cooking school called Savour School, Anna has her cookie dough brand and Rhiann is the head pastry chef at The Charles Grand Brasserie & Bar in Sydney.
Keen to check out the establishments that have been opened by the Dessert Masters cast? Read on to find out if there's one in your city.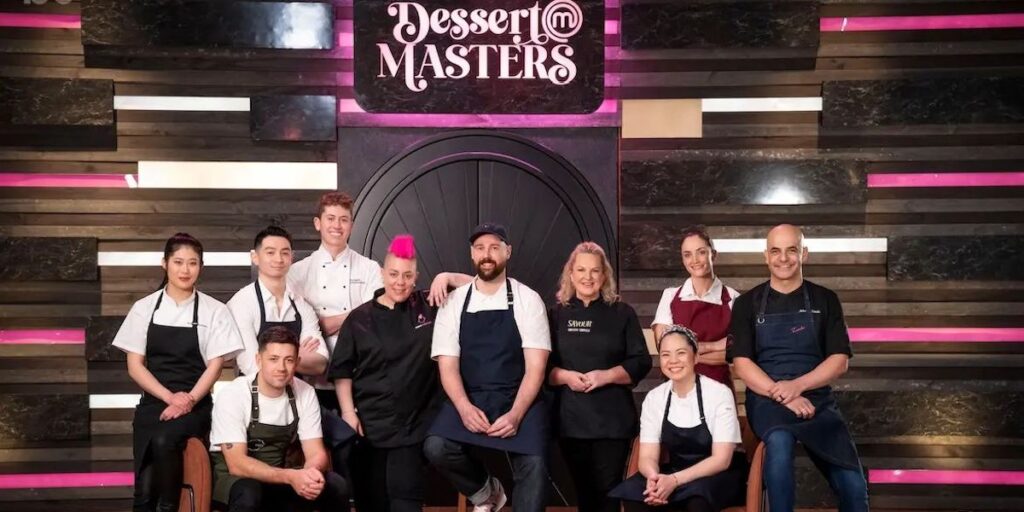 Reynold Poernomo
Reynold is perhaps the most established amongst the cast when it comes to restaurants. He and his brothers Ronald and Arnold Poernomo founded KOI Dessert Bar and have since opened KOI Experimental.
They also own a small bar called Monkey's Corner which sits in Sydney's Chippendale.
Where is it?
KOI Dessert Bar: 6 Central Park Ave, Chippendale NSW.
KOI Experimental: 6 Central Park Ave, Chippendale NSW.
Monkey's Corner: 6 Central Park Ave, Chippendale NSW.
Adriano Zumbo
The King of Macaroons Adriano Zumbo is a well-known chef of sweets. He has a collab with QT hotel called QT by Zumbo where his delicate pastries and desserts are sold.
Where is it?
QT by Zumbo: 49 Market St, Sydney NSW.
Jess Liemantara
Post-MasterChef, Jess Liemantara opened two establishments; a dessert shop named Esme and a Roti shop called Roarti. However, both are currently temporarily closed.
Where is it?
Esme: 272A La Trobe Street, Melbourne, VIC.
Roarti: 270 La Trobe Street, Melbourne, VIC.
Morgan Hipworth
Like Reynold, Morgan Hipworth is another leader amongst the cast in regard to eateries. He owns Bistro Morgan which is a bakery & cafe spotlighting handcrafted doughnuts & baked delicacies.
He is also slated to open an all day eatery on Brunswick St, Fitzroy this year called Maven Melbourne.
Where is it?
Bistro Morgan: 190 High St, Windsor VIC.
Maven Melbourne: TBC.
Kay-Lene Tan
Kay-Lene Tan appears to have something in the works. While it's not known that she owns any (open) restaurants just yet, she does have a link to one called 'Decca Restaurant' in her Instagram bio. The page has no posts yet but simply says Q1 2024, suggesting it wil be open early next year.
Where is it?
Decca Restaurant: TBC.
Andy Bowdy
Andy Bowdy recently closed his cult sweet spot Saga in Enmore. He's since gone into business with Chef and restaurateurs Michael Rantissi, Kristy Frawley and Maddison Howes and opened Salma's Canteen.
Where is it?
Salma's Canteen: 797 Botany Road, Rosebery, Sydney.
Gareth Whitton
Gareth Whitton and his partner and Catherine Way own not one, but two patisserie shops. Tarts Anon is open in Cremorne and Collingwood, Melbourne.
Where is it?
Tarts Anon: 29a Gwynne Street Cremorne, VIC.
Tarts Anon: 44 Sackville St, Collingwood, VIC.
Special addition: Amaury Guichon
Superstar chocolatier judge Amaury Guichon owns an online baking shop called Sweet Shop, as well as his own cooking school, The Pastry Academy.
Dessert Masters 2023 continues at 7.30 pm, Sunday – Tuesday on 10 and 10Play.
Want to CHATTR with us? Follow us on Instagram and Facebook for more entertainment news.