It's episode 6 of My Mum Your Dad, and it's been quite a dramatic 24 hours on the show.
The Boss chose to leave which meant there were eleven parents remaining who were looking for love. In order to even out the numbers, at least one mum had to pack her bags and leave the show.
In tonight's episode, the five remaining couples had to decide whether to continue their connection or leave after the Blessing Ceremony.
The Eviction
In a debatably cruel twist, the parents were told they'd attending a toga party for the eviction. They dolled themselves up and made their grand entrance, but twins Jasmine and Jaxon weren't a fan of Ben's look.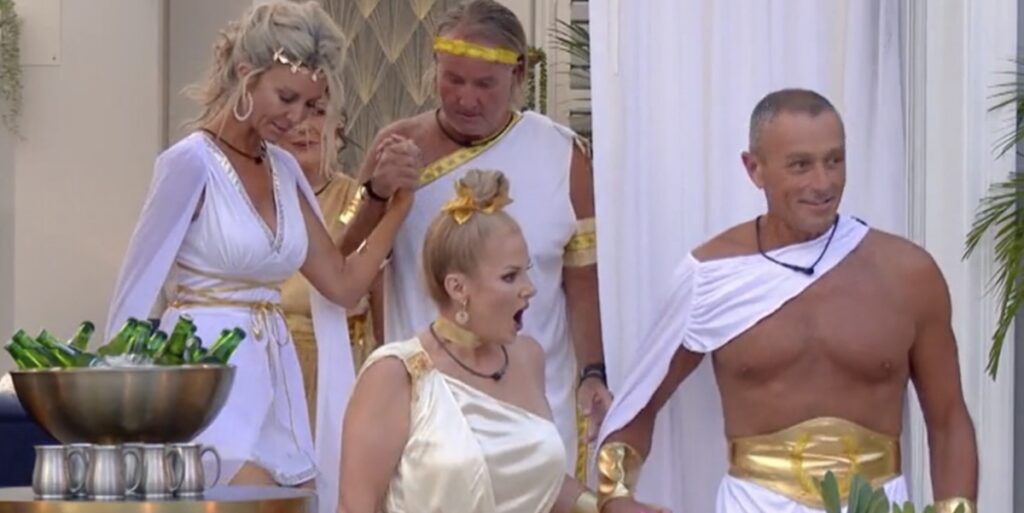 "Dad looks like a princess, oh no," Jaxon said.
Before long, host Kate Langbroek told the mums and dads that it was the end of the road for one of them.
"Tonight, one of you will have to say goodbye to the dream of finding love in the Retreat," she said.
That person turned out to be 51-year-old physiotherapist receptionist and mother of four Donna.
"I was really proud of my mum for putting herself out there," Steph told the cameras before their reunion. "It's okay to be vulnerable and show emotions."
Donna and Wes hit it off
Once Donna had left, the party really got started. Both Wes and Dani have their sights set firmly on one another.
"I'm actually really attracted to Wes," Dani revealed. "But he's really, really shy… I'll just see if I can do anything to bring him out of his shell."
Dani came on strong with Wes, and he definitely wasn't complaining.
"I'm tired of waiting," she told him before leaning in for a kiss.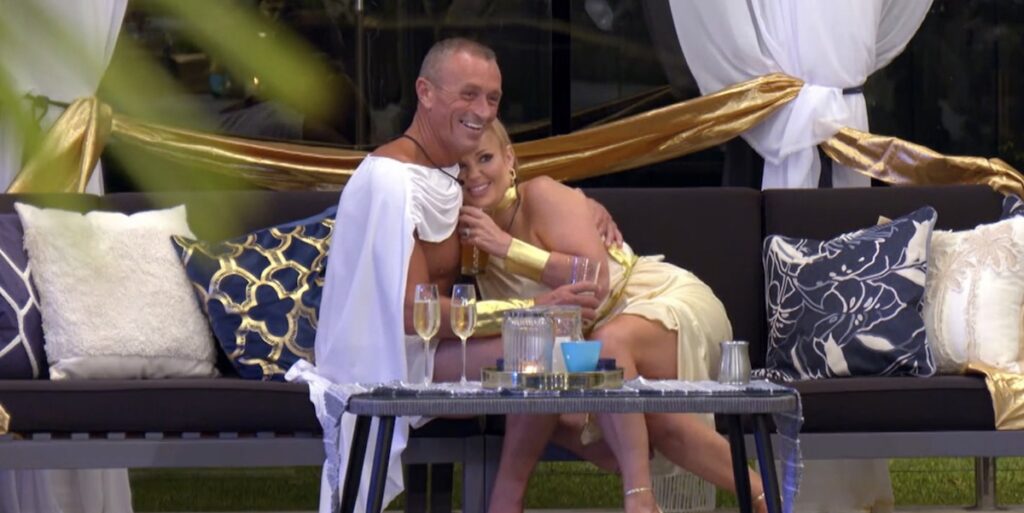 "I haven't kissed anybody in a long, long time, and he just makes me feel so good," Dani said in a producer-led interview.
Later in the episode, the kids have the chance to give one couple a special date to deepen their connection.
They decide it's time for Wes and Dani to take their relationship to the next level and set up a Ghost-inspired pottery date. The date goes great and the new couple hit it off.
"I'm finally back to being Dani, without the widow tag," the mum beams.
Back at the Retreat, Wes had a heart-to-heart with the dads and revealed that he felt strongly about Dani, too.
Masi and Nadia hit the brakes
As the night came to an end, Masi and Nadia said their goodnights. However, Masi's affectionate behaviour with Nadia had her daughter Mona concerned.
"My mother has always been quite conservative due to her Muslim background, so I understand her worries. That's all I have to say," she explained to the cameras.
As if on cue, Nadia expresses her discomfort with the pace of their relationship the following morning.
"This morning, I noticed other couples getting intimate and excited," Nadia told the cameras.
"But personally, I don't want that to happen here and now. I prefer to take things slowly."
The two had a mature conversation about how she was feeling and their great communication spelled potential for the couple in the future.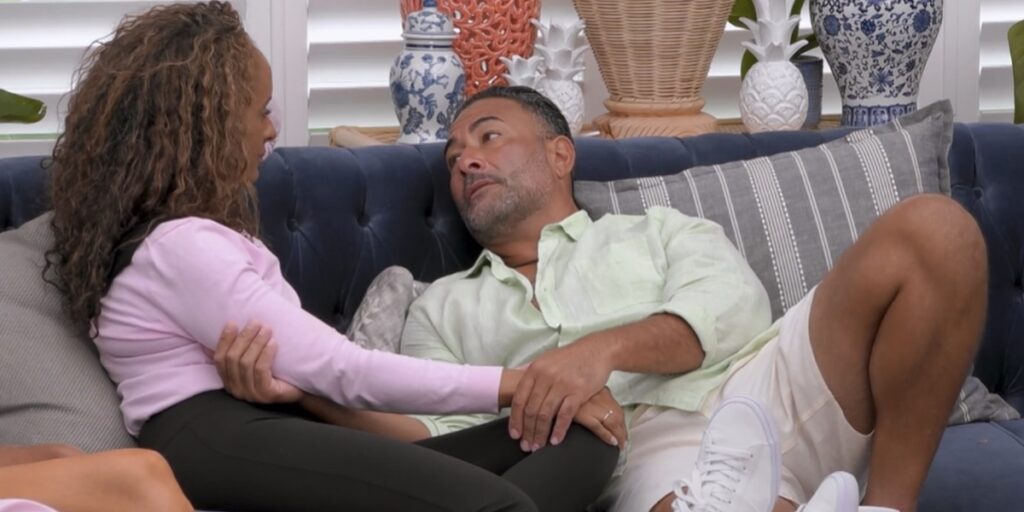 The Commitment Ceremony
Eight of the remaining ten parents chose to stay and continued their connections. The partnerships were as follows
Wes and Dani
Simmo and Janine
Masi and Nadia
Rebecca and Ben
As for Shannon and Kim, we're left with a cliffhanger and will have to wait until the next episode to find out if they'll continue on.
My Mum, Your Dad airs on Mondays, Tuesdays and Wednesdays at 7:30pm on Nine and 9Now.
Want to CHATTR with us? Follow us on Instagram and Facebook for more entertainment news.