It's episode four of Parental Guidance, and Dr Justin Coulson and Ally Langdon are continuing their quest to find Australia's best parenting style.
Like in episode three, the Influencer, Spiritual, Team, and Stage parenting styles are being put through their paces, delving into the importance of setting a good example, teaching vital life skills, and handling emergency situations.
Challenge One — Parents Off Duty
Testing: Life Skills
Spiritual and Stage Families
The episode kicks off with a dream scenario for every parent – a well-earned night off! But the kids (and their parents) are put to the test to see if they've been taught about healthy eating.
The Spiritual Family kids Krishna, 13 and Mridula, 7, decide to make pasta, helping each other out in the kitchen. Mridula who is usually a fussy eater, explored a new type of food because she got involved.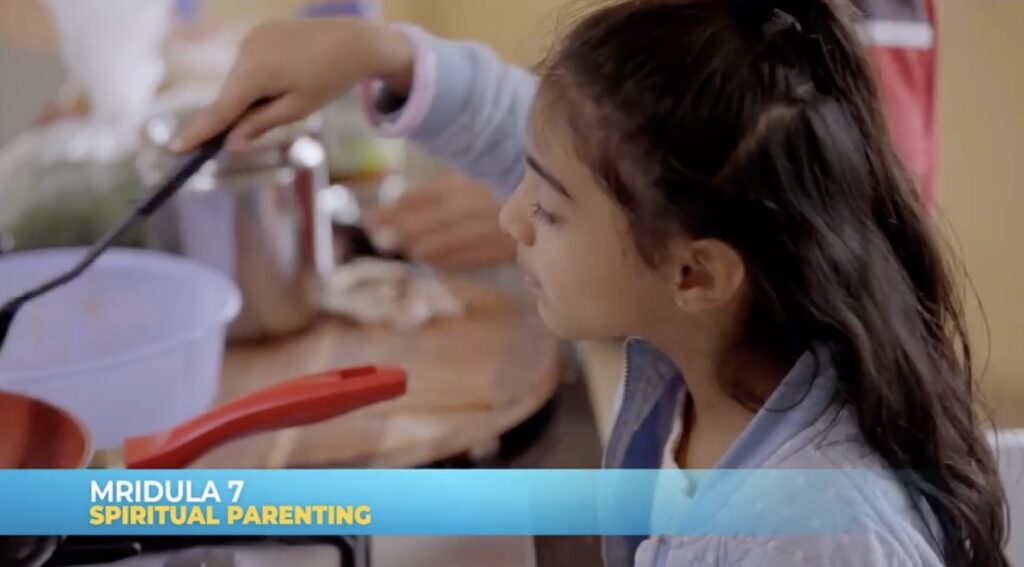 The Stage Parents were up next, adding an additional course for their kids to cook.
While mum Sarah struggled to take a hands-off approach, she also made a comment that "Don't forget, neither of us eats carbs".
Xion, a rice lover, decided to use put a cup of it on the plate; however, Sarah's comments about it became concerning.
"We think it's important to make them aware, without shaming them, that if you want to be a Hollywood actor and buff, you need to watch what you eat."
Sarah then picked the meal apart, which Xion noticed before Alaska served them Steak and Vegetables.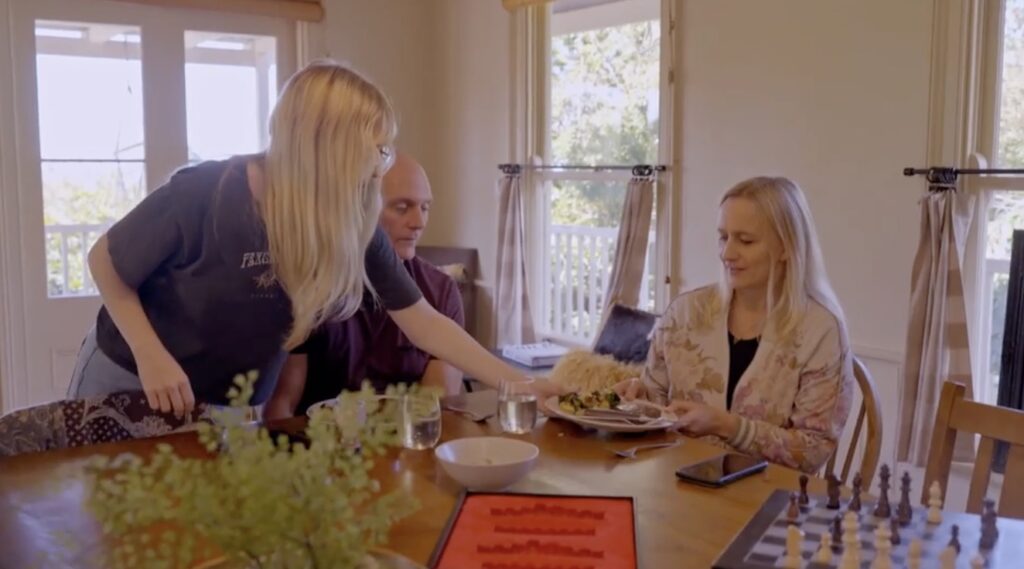 Challenge One – The Parent Lounge
While the Spiritual parents, Deepak and Kajal took a lot from the challenge and were commended on their parenting skills, the same couldn't be said for Stage Parents Mark and Sarah.
Slow Parent Philippa liked how they gave their children a course each to do and Gentle Parent Larissa loved how confident the kids were. However, Unstructured Parent Melody was concerned by Sarah's Hollywood comment with Mark saying that it's a "personal goal" that his son Xion had expressed.
Lighthouse Parent Sammy asked where that "belief system" came from, and Sarah said it was because he's "been around it a lot", especially with the dancers in musicals who "have amazing bodies".
"We all have amazing bodies regardless of how they look on the outside," Melody said.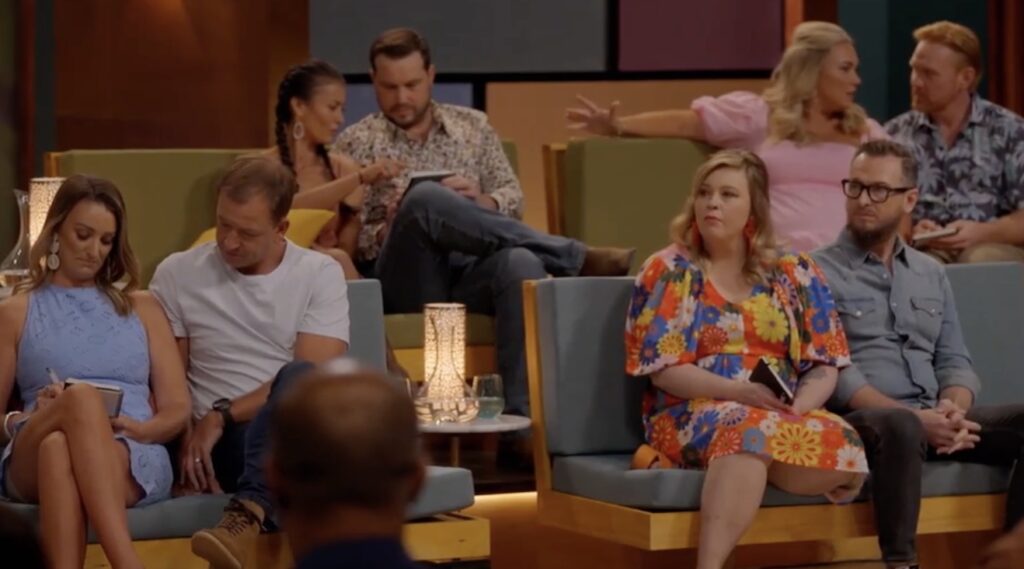 Road Trip Parent Amy didn't have a problem with what Sarah expressed, given they were in the "entertainment industry".
Challenge One — Parents Off Duty Continued
Team and Influencer Families
The Team family decided on takeaway instead of cooking and although they didn't make the meal themselves, they worked really well together ordering.
The Influencer kids also decided to bring food in. They chose healthy options rather than going for fast food.
Challenge One – The Parent Lounge Continued
The Team parents were praised for their kids working together and the Influencer Parents then spoke about their "party animal" lifestyles, with Road Trip parent Amy saying they need to change their language with how honest they are with their kids.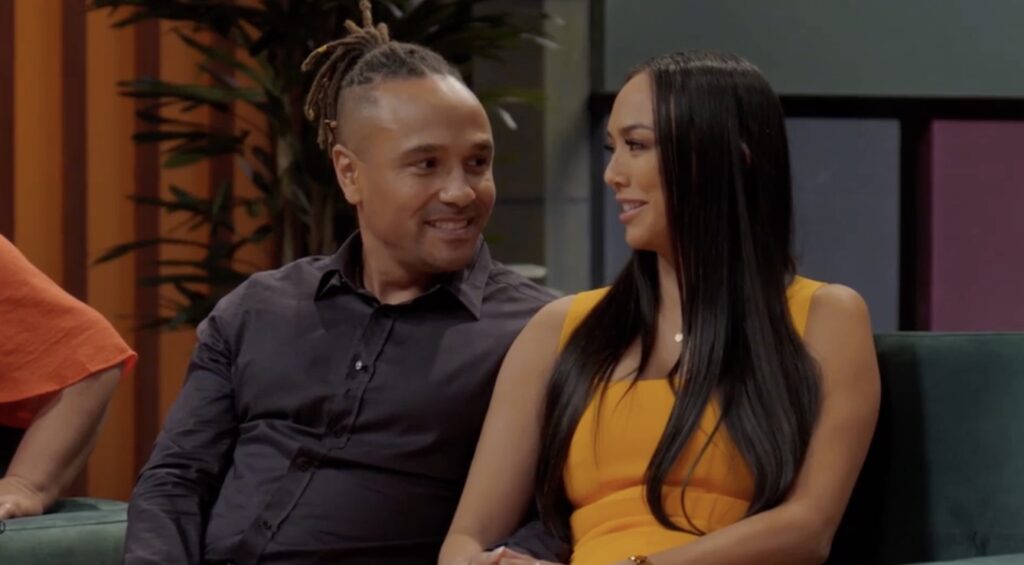 Dr Justin then said that parents need to be "open" and educate their kids on healthier options.
Spotlight — Team Parenting
In this parenting style, everyone is expected to work together, with Mark and Leanne's motto being: "One in, all in".
It turns out, Mark is the son of NRL great Arthur Beetson, the first Indigenous captain of any sporting team in Australia and regarded as a Rugby League immortal.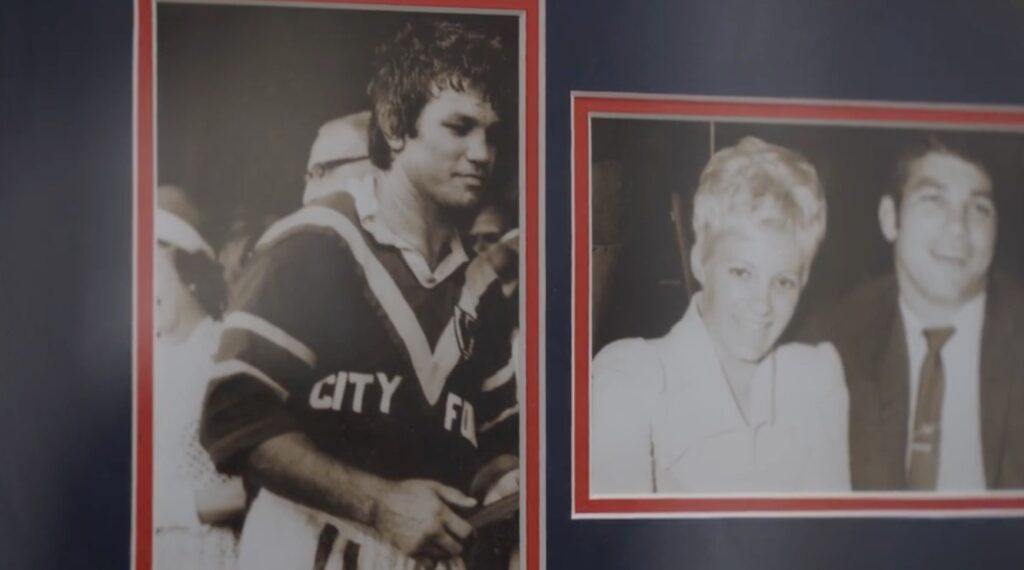 Arthur was a hugely influential person in Mark's life and has a huge impact on the way they parent.
As a couple, they believe in "repetition, respect and discipline, all the fundamentals that make our team what we are."
Parent's Lounge — Feedback
Gentle mum Larissa loved that they said "Everything works better when you do it together", while Slow Parent Philippa was concerned the kids have too much on.
"Our kids thrive off it," Leanne assured her.
Challenge — Home Alone — Team and Influencers
Testing: Independence under pressure
With a fire simulation blowing smoke into the room, Influencer Family's Deja is taken aback. Mum Kat reveals that she hasn't actually spoken to her kids about what to do if there is an emergency, instead, saying she is capable of making the right decision.
Deja decides to go next door for help.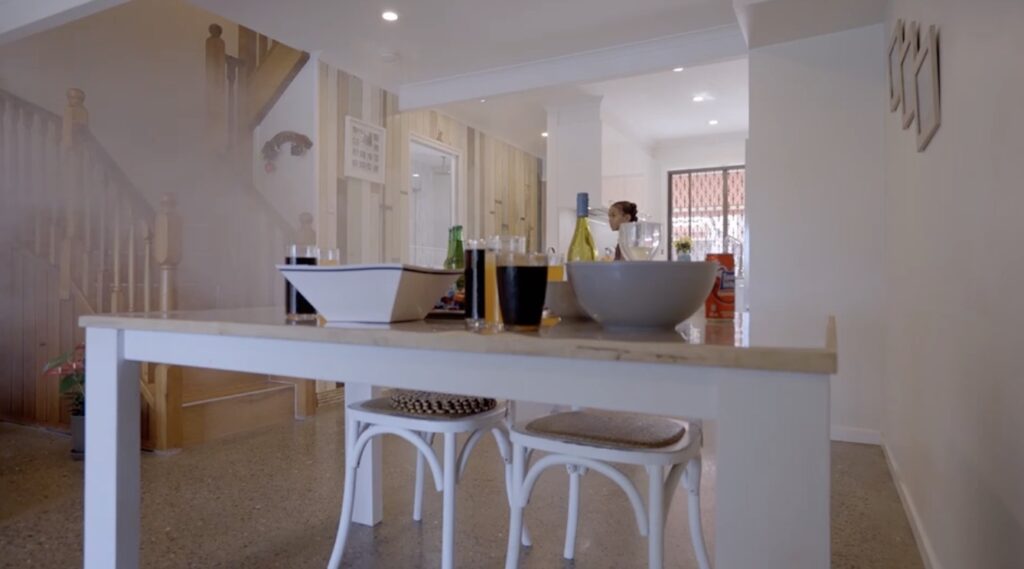 Over in the Team Parent's house, Brooklyn takes control of his little sisters, calling Mark for help.
Parents Lounge — Feedback
Unstructured Parent Melody praised the "team" aspect of how they listened to one another and also told the Influencer family it was great that Deja remained calm and listened to her neighbour.
Challenge — Home Alone — Stage and Spiritual
Xion and River were home alone when the "fire" broke out with Xion telling his brother "It's not a fire". They waited for their parents to come back instead of asking for help.
In the Spiritual Home, Krishna and Mridula called their parents. Instead of using a phone, Mridula yelled outside, while Krishna opened windows.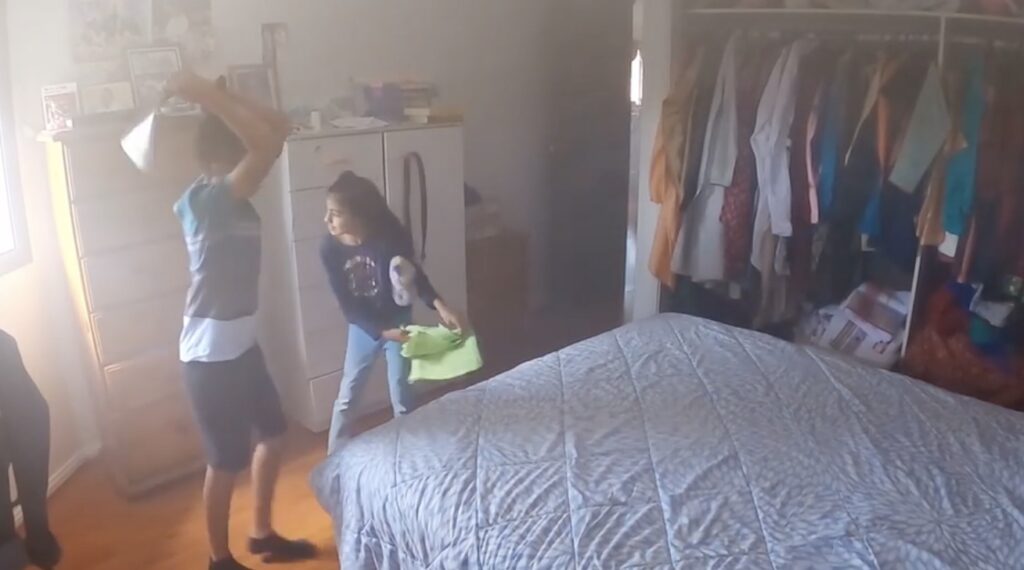 Parents Lounge — Feedback
Lighthouse mum Sammy suggested that being more assertive would be better in this situation and the kids needed to get out, rather than investigate.
Spotlight — Stage Parents
Given they are teachers of performing arts, the Stage Parent's children have been exposed to the industry all of their life.
River plays Jai on Home and Away and gets stopped on the street a lot, which according to Sarah, "he does not like". She believes in having respect for others and forces him to have his picture taken by strangers who approach him.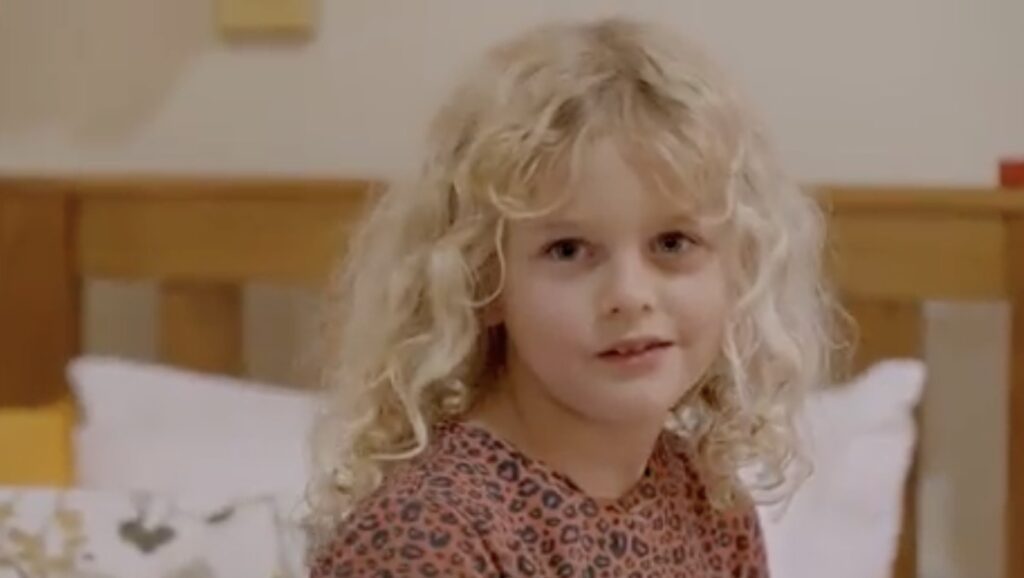 Parents Lounge — Feedback
Gentle Parent Larissa loved how confident her kids were, but questioned whether it was appropriate to force him to take a photo. Sarah said that it probably made that person's day, which he likes.
Slow Parent Philippa asked about the sacrifices they make as parents and Sarah said she wanted to make sure her kids have those opportunities before Lighthouse Parent Melody also questioned whether they were forcing their children to be in the industry; however, Sarah reassured them that they like it.
Challenge Three — Snake Alert Challenge
Testing: Facing your fears
The next challenge is to see how parents handle when their child is confronted by fear.
Krishna from the Spiritual Family was excited by the prospect of holding a snake but Deja was "not a fan of any type of creature."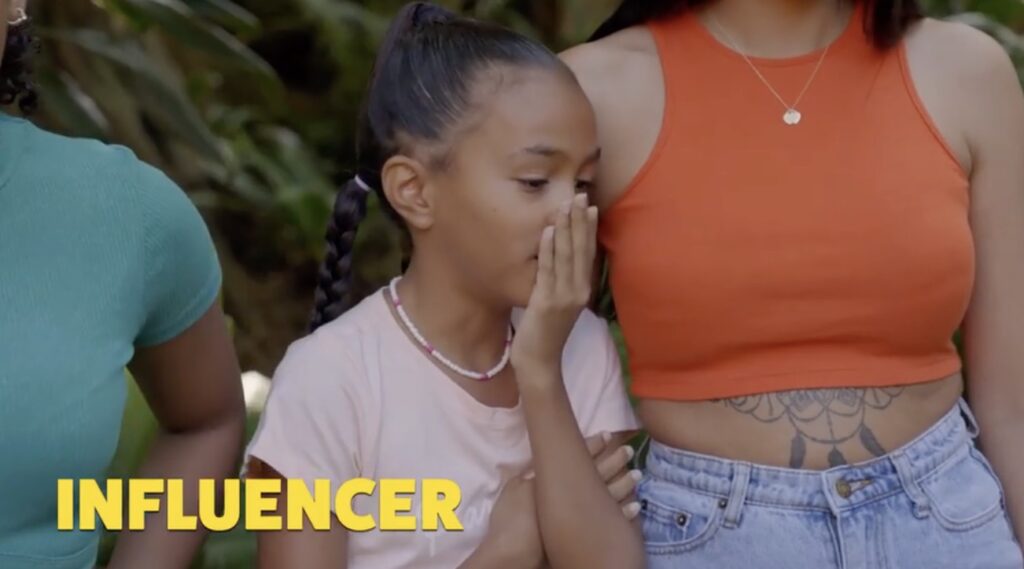 Kat talked Deja through the process and she was able to overcome her fear!
Stage Parents' River had zero fear and handled it like a pro while Mridula was able to hold onto the snake with the support of the Spiritual Family.
When it was time for the Team Family, there was a lot of hesitation from Baylee, and after some beautiful coaxing from Mark, Leanne jumped in there and did it too, and there was not a dry eye!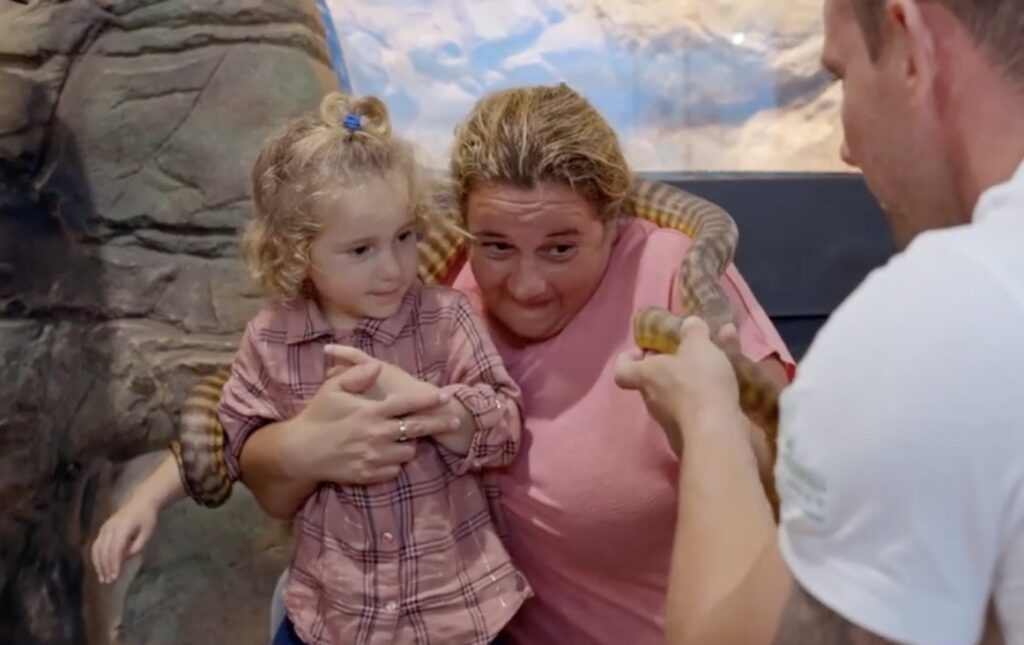 The Verdict
Team Parents Mark and Leanne were chosen as the couple with the best Parental Guidance and would be joining Honest mum Kat in the finals.
Parental Guidance airs Monday and Tuesday at 7.30pm on 9 and 9Now.
Want to CHATTR with us? Follow us on Instagram and Facebook for more entertainment news.