It's episode one of The Masked Singer Australia 2023 and our guessing panel — Abbie Chatfield, Chrissie Swan, Dave Hughes and Mel B — were back with their detective hats on!
Cow Girl
Song: Wannabe by the Spice Girls — with a back-up performance from Mel B.
Guesses: Jessica Origliasso, Kimbra, Pamela Anderson and Shania Twain
Clues: "The one thing everyone believes about cows is that we're vegan – you'd think we'd leave certain foods untouched. Of course, what you might not know about a Cow Girl is that we don't like staying in one place, even when young. Obviously, I'm not in the same place I was born. Do I have a favourite location? Anywhere free! You know, pro bono! Is there anything else you need to know about me? Only that you don't have to come first, but it's nice when you do!"
Crash Test Dummy
Song: Stitches by Sean Mendes
Guesses: Niall Horan, Nick Carter, John Steffensen, Donnie Wahlberg
Clues: "As a Crash Test Dummy I'm used to being slammed… a lot! Of course, it could make you angry, make you burst into flames! But not me, I always manage. That's because I'm always being watched intensely, there are cameras in every direction and when you live like I do you can have countless lives. In my life, I've learned everyone wants to take the gold but from the start, I was one step behind that. But I'm close to other colours too! Let me say one last thing, a Crash Test Dummy doesn't travel far each time but it adds up to nearly a hundred thou and I like the sound of that!"
Space Fairy
Song: Hit 'Em Up Style – Blu Cantrell
Guesses: Grimes, Raven-Symoné, Joss Stone, Sza
Clues: "I'm the Space Fairy! Am I from a different planet? I'm certainly from a different world. Landing in Australia, was it love at first sight? There's no drama in that, but it's too much having a life dissected in minute detail. Hear that? The pitter-patter of tiny feet! You can probably tell this isn't really my space, I prefer the sun. Somewhere filled with light! There's no shame in that. Either way, there are so many lessons to be learned on earth, and if we learn from our mistakes I'm the smartest Fairy there is! Nowadays I'm always on."
Q&A: Were you born overseas?
"I'm a Space Fairy, I was born and live in the waves travelling around the Earth."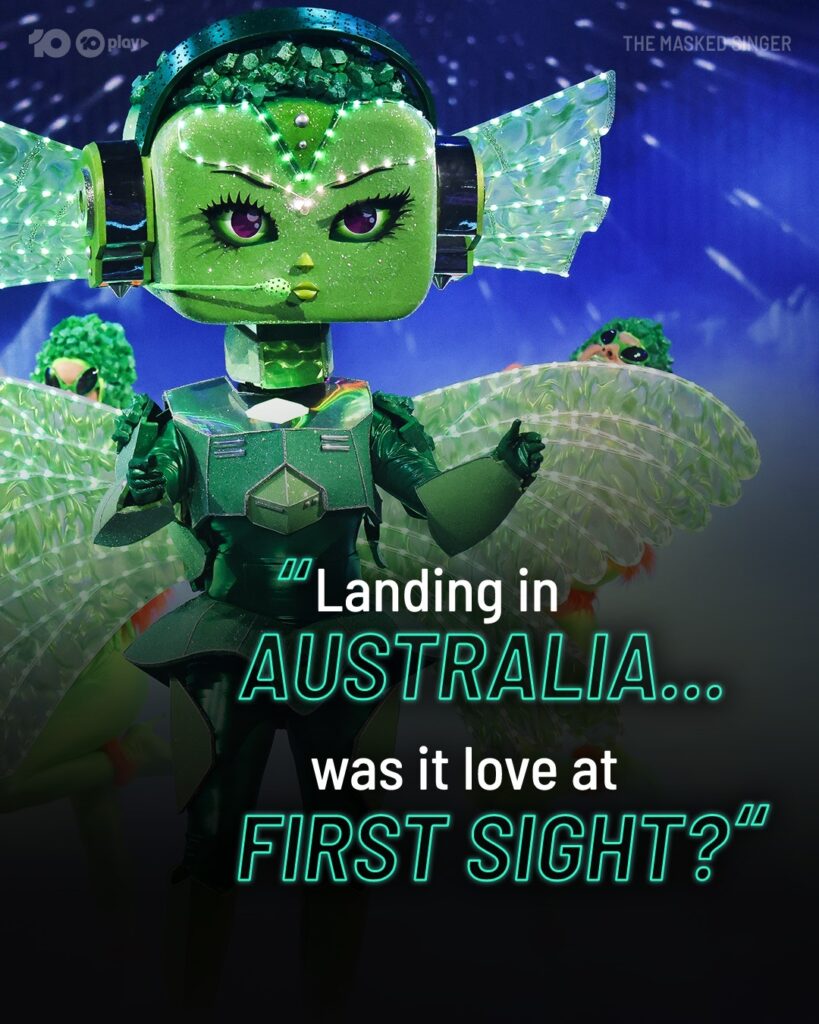 Bad Avocado
Song: Better Days – Neiked & Mae Muller
Guesses: Martha Kalifatidis, Olivia Molly Rogers, Bindi Irwin, Ash Barty
Clues: " I'm a Bad Avocado, so what? People treat me like they know me, that's enough to brown off anyone! Y'know, most Avocados grew up with a lot of warmth and heat, I was a bit green when I came to attention. You'd think that would make me highly strung, but I know when to call it quits and just let it slide. Would you like a slice? Just look at it through my eyes, there's a lot to unpack in someone's life, so quit the judgment, okay? They reckon that time heals, we'll see about that!"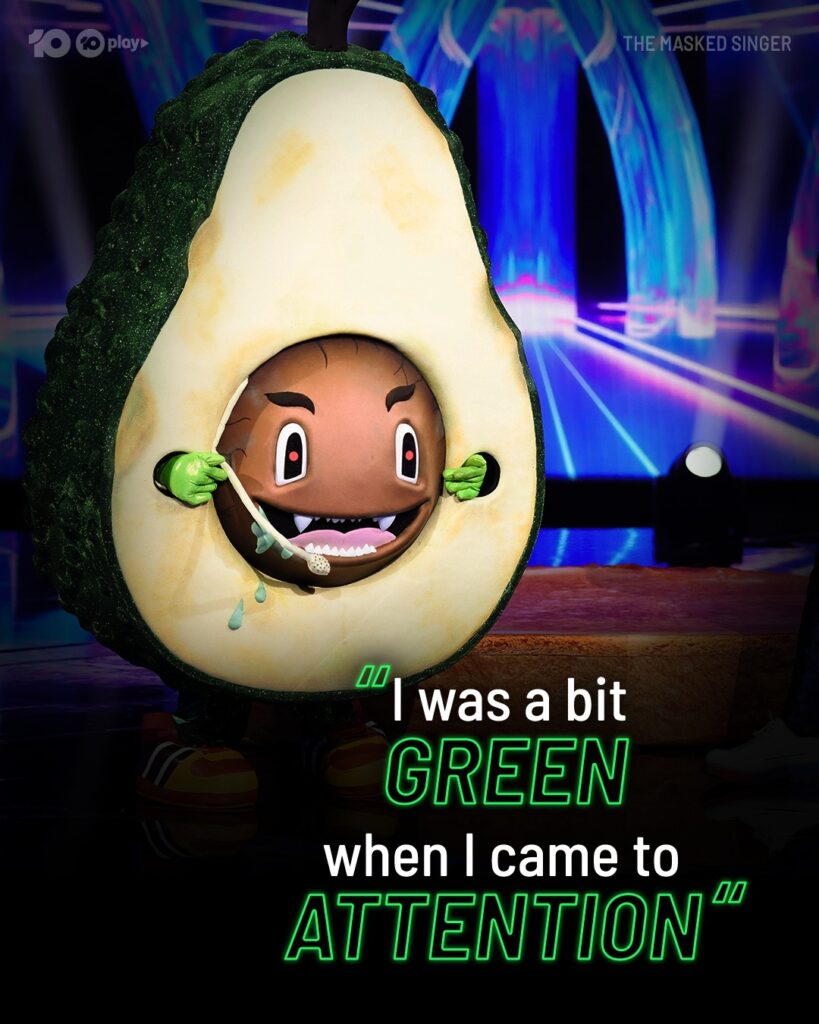 Grim Reaper
Song: when the party's over – Billie Eilish
Guesses: Ruel, Darren Hayes, Luke Steele, Conrad Sewell
Clues: "You call me the Grim Reaper… okay, maybe I started out Grim but now I actually enjoy life, it's quite beautiful! Being the Grim Reaper has sudden highs and lows, for all of you of course. I come to lead your soul so you step into the light. My job never stops, no time off but millions of happy customers. It's just about all I know! Being the Grim Reaper is a good life, it's not bliss but it's close to it."
The Reveal
Hollywood heart-throb Brian Austin Green was revealed as Crash Test Dummy.
"You guys aren't cut out for this job!" he joked after his unveiling.
"I'm turning 50 this year, I've had 50 years so far of an incredible life. I took a lot for granted though. I had a neurological issue come up in my life," he said. "I couldn't speak, I couldn't say more than one word every 30 seconds. So, I'm at a place in my life where I'm just trying to say yes to everything and experience things. I really feel like this is the second part of my life."
The Masked Singer Australia continues Monday at 7.30pm on 10 And 10 Play.
Want to CHATTR with us? Follow us on Instagram and Facebook for more entertainment news.