Between October 6 – 8, the halls of the Melbourne Convention Centre were abuzz as PAX Australia 2023, Australia's biggest gaming convention, celebrated 10 years of games, panels, meet-and-greets and cosplay.
Chattr was on the ground at the event, testing out unreleased games, speaking to Aussie indie developers and pin-traded as no one has ever pin-traded before!
Here's a rundown of what happened during the weekend.
The Nintendo Booth
Nintendo had a roaring presence at PAX AUS 2023, and with the biggest booth at the convention, it was hard to miss all the Mario paraphernalia that lined not only the booth on the ground but the roof above it as well.
Headlined by Super Mario Bros. Wonder, the brand-new 2D Mario game set to be released on October 20, gamers were treated to a demo.
While a delight to play, it wasn't representative of how most people will likely play the game as the sneak peek held four players on one screen. Even though it was a great way to see how the new game would handle four-player co-op, unfortunately, it was chaos!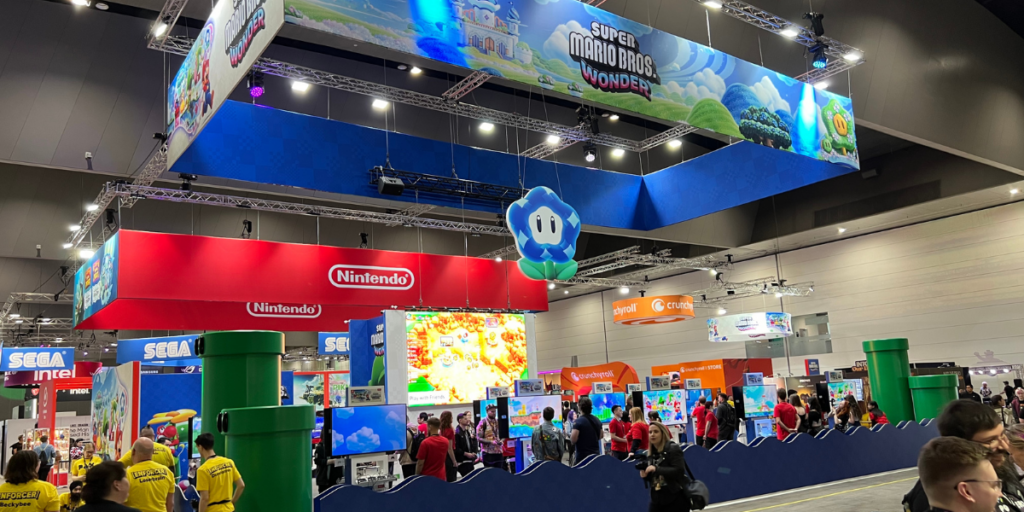 Rest easy though, because while absolute chaos, it was an epic run with Mario characters flying all over the screen trying to jump to the new power-ups that turned all of the players into elephants!
Yes, elephants and these power-ups were a standout! Being able to attack goombas with your snout is objectively hilarious, and there were even some surprise power-ups such as a drill power-up that channelled the spirit of a mole trying not to get whacked.
Also, the changes in the actual levels through the new Wonder Flowers were a treat to see, with green pipes coming to life that you'll have to ride like a wave to progress.
The demo showed how remarkable Nintendo is, still finding ways to keep the 2D Mario formula fresh, without losing the essence of the classic feel of past 2D Mario adventures.
Overall, it was a great taste of the full game that I'm sure long-time Nintendo and Mario fans will eat up.
Prince of Persia: The Lost Crown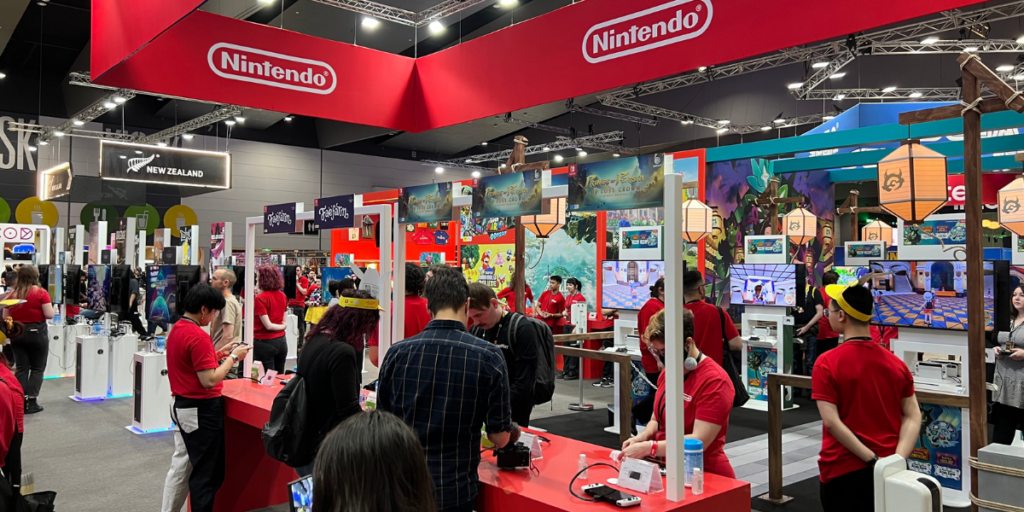 Ubisoft's new Prince of Persia experience was also available to demo at the booth.
Sub-titled, "The Lost Crown", it comes as the first new major instalment in the Prince of Persia franchise since 2010's Prince of Persia: The Forgotten Sands.
A 2D side-scrolling game, this one was a bit different to your standard Mario adventure. The demo offered around 15 minutes of playtime, which was enough to get a grasp of what the full game would offer.
Right off the bat, the combat feels great for a platformer, with amazing combo chains available from a base sword attack that can be chained with a devastating bow attack that feels wholly satisfying. And speaking of satisfaction, the game also features a parry mechanic, which when timed correctly, deals a devastating blow to enemies.
It's one to keep an eye out for when it launches in January 2024, especially if you're a fan of Prince of Persia games of the past.
Skate Bums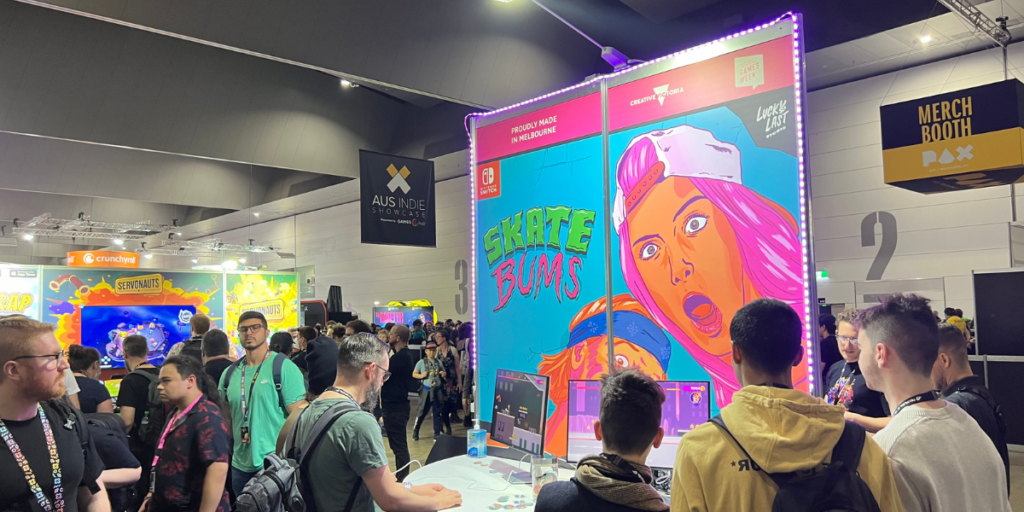 The PAX Rising section at the convention was designed specifically to create a platform for the best of the indie development scene locally and internationally, highlighting a selection of exciting independent games, some coming straight out of Melbourne itself.
Enter Skate Bums, developed by Lucky Last Studio. The studio consists of the two-man team of Jono Yuen, Creative Director and Danny Masalkovski, Lead Programmer.
Skate Bums is a skateboarding platformer that combines high-speed action with a quirky storyline. The game features very simple controls that reward players for their creativity and exploration, offering endless replayability.
The demo that was available to play was addictive, to say the least, channelling the frustratingly fun repetitiveness seen in titles such as Geometry Dash, Skate Bums allows players to create their own path through levels to find their flow, maximise combos, and discover secrets.
Speaking to Yeun and Masalkovski, they revealed that the title has been in development over the course of seven years, and it hasn't been all sunshine and rainbows.
"Since starting development on the game, I've had two kids in between then and now, it's safe to say it's been a long time," Yuen said, while Masalkovski added: "Skate Bums has kind of been our side hustle for all this time, we both have full-time jobs and it's just a super strong passion project for us both, we are super excited to now be so close to releasing in early 2024."
The passion that oozes from the two-man development team is seen evidently in the game, with handcrafted, original artwork and contemporary gameplay mechanics, it was a beautiful thing to see and physically play something that had been worked on for close to a decade.
Skate Bums is set to release in early 2024 on Nintendo Switch.
Letters to Arralla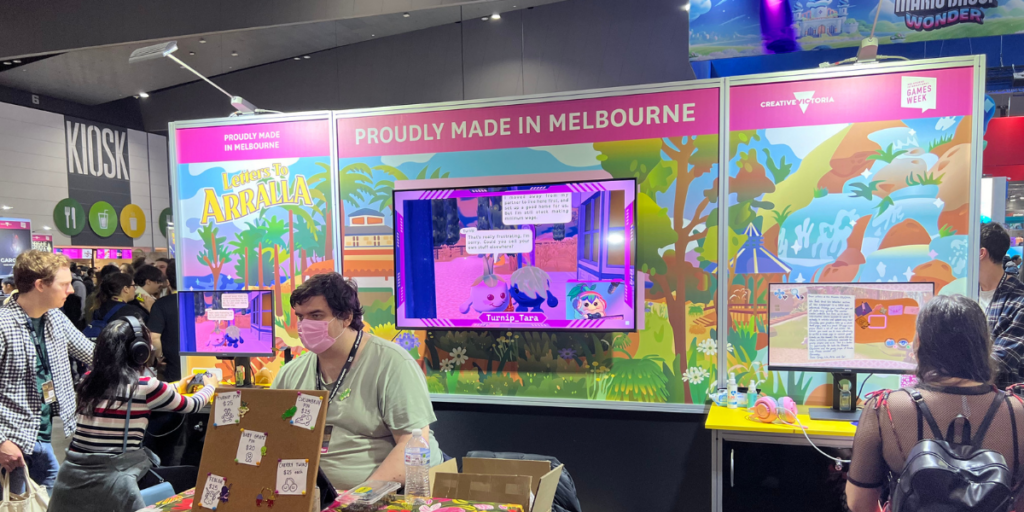 Another home-grown indie, Letters to Arralla is a wholesome, exploration RPG set on a small fictional island off the coast of Victoria.
Players play as a newly recruited mail turnip delivering letters, parcels and packages to the island's residents.
The game is super laid-back, designed to play without much worry, and was born out of the perils of COVID lockdowns. As players meet the interesting townsfolk, they will begin to inadvertently help and heal them through the process of kindness, friendship and express delivery.
Letters to Arralla received investment from Vicscreen, Victoria's creative and economic screen development agency.
Vicscreen has invested in digital games for more than 25 years, backing Victorian developers in their ambition to push boundaries and create some of Australia's most well-known games.
Their variety of programs supports projects, businesses and talent to grow their capability and capacity, as well as build sustainable and globally competitive businesses.
Director/Lead 3D Artist, Chantel Eagle revealed that the investment from Vicscreen really boosted their team's capacity to continue development of the game as well as gave the team motivation.
"Without the investment from Vicscreen, the team and I would never be where we are now. Their help in getting our vision off the ground has been critical," she said.
"Although our team is small, this game comes from a place of true passion from all of us. Development started in 2021 when most of our team was finishing uni and looking to put their creative minds into something that wasn't COVID-related, and from that, our game was born."
Eagle stressed that the game is still quite not ready to be released but she hopes to get the game out sometime in 2025.
Killbug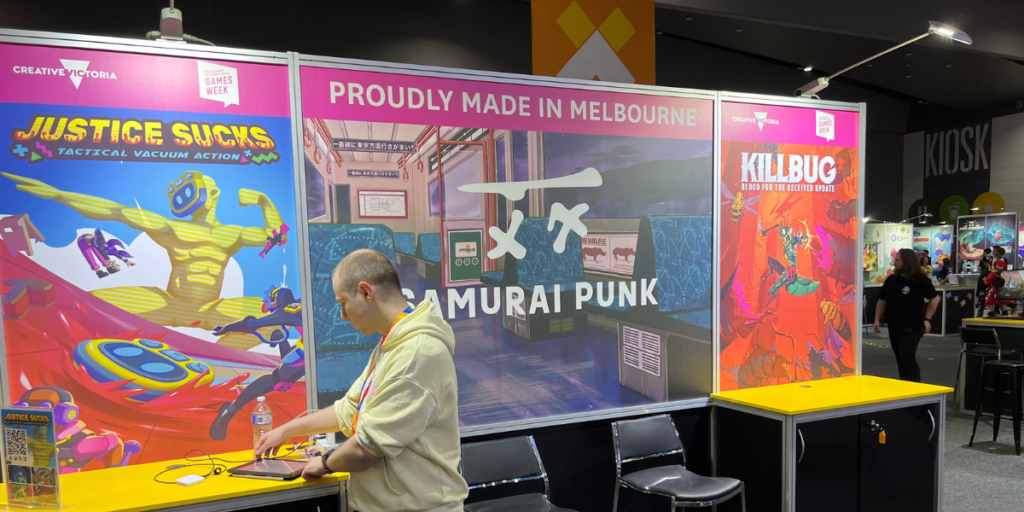 Developed by Melbourne-based studio, Samurai Punk, Killbug is a fast-paced, first-person movement shooter set in an endless arena. Players slash and shoot their way through hordes of ravenous insects, and master fluid aerial movement mechanics to fight for a place on the leaderboards. It's a great play, and quite challenging the further you get.
It's available on Steam now.
Diets and Deities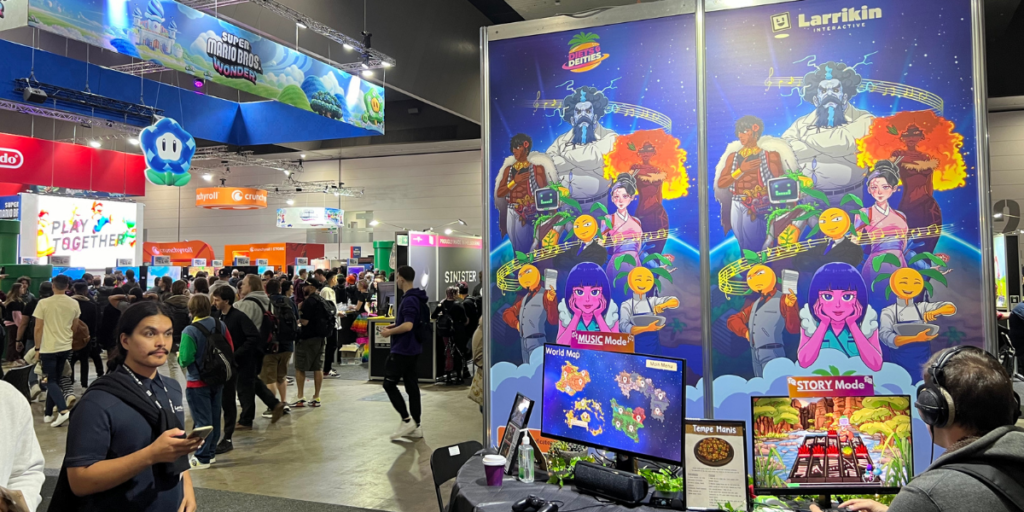 Diets and Deities combines music and recipes from diverse cultures as players dodge to the beat and uncover the flavours of the universe.
Developed by Larrikin Interactive in Darwin, NT, the game is a unique rhythm-cooking game that guides players to discover recipes from different Deities, different cultures and mythologies around the world, with every recipe made in the game also available to make in your own kitchen.
Featuring original music and recipes from Australian Indigenous musicians and chefs and the same from Balinese culture, the game is a wholly unique experience and one that is supremely original.
The release window is currently sometime in 2024.
Want to CHATTR with us? Follow us on Instagram and Facebook for more entertainment news.