A romance could be in the waters for Below Deck captain Jason Chambers and Vanderpump Rule's Lala Kent after a run-in at BravoCon.
It all kicked off during an interview panel when a fan asked Captain Jason, Captain Glenn Shepherd and Captain Kerry Titheradge who their dream Bravo charter guest would be.
"Lala Kent," Jason quickly responded, which was met with screaming and cheers from the audience.
The potential of the power couple had fans shipping them, and a Page Six reporter later asked Below Deck Down Under chief stew Aesha Scott about the possibility of a romance between the reality stars.
"He would la la love some Lala," she responded.
Jason was slightly more coy when pressed about it, but he did confirm the two had caught up at the event.
"We have met. We have exchanged … we have communicated," he said with a smile.
Lala Kent shared a cheeky post with Jason Chambers
Lala fuelled the rumours by sharing a photo of her cuddled up with Jason with her 2.3 million Instagram followers.
She also shared a video of her spotting Jason in a foyer and calling out to him for a photo.
"You… come!" she can be heard saying in the vid which she captioned, "I always get what I want".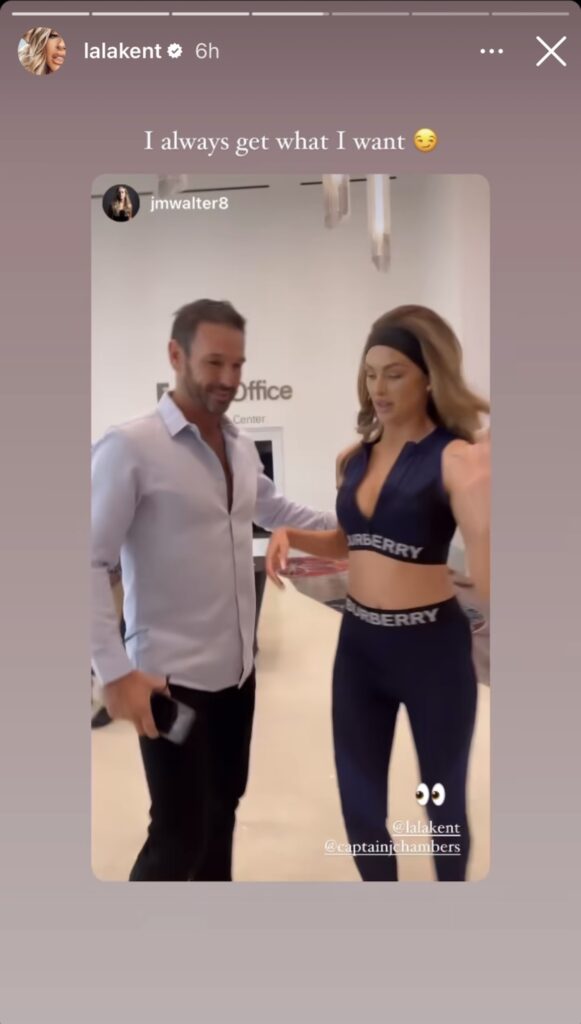 Bravo celebrities are here for a romance between Jason and Lala
Just hours after Lala shared the photo, it had more than one hundred thousand likes.
"POWER COUPLE," former Below Deck chief stew Kate Chastain wrote. Real Housewives of The OC star Emily Simpson also approved, commenting a bunch of fire emojis on the pic.
And, it's not just reality stars who are here for the crossover, thousands of fans voiced their support in the comments section.
"Now this is the man you deserve," one wrote, while another penned: "This is gonna break Instagram." A third commented, "VPR Cast trip on below Deck Down Under, PLEASE!!!!"
Stream Below Deck Down Under and Vanderpump Rules on Hayu.
Want to CHATTR with us? Follow us on Instagram and Facebook for more entertainment news.