The new season of Parental Guidance is here, and this year, we have been introduced to twelve different sets of parents with dramatically different approaches when it comes to raising their kids.
Amongst the parenting styles, we have everything from 'Lighthouse' – which is a method where kids are observed from afar – to Influencer and spiritual-led approaches.
Like season one, the new instalment will follow the parents as they showcase their individual parenting approaches and undertake challenges with their families.
The adults will have their styles reviewed, reacted to and discussed in the Parents' Lounge, which will ultimately lead to a vote for Australia's best parenting approach.
So, who will be under the microscope this year?
Meet the cast of Parental Guidance Australia, season two.
Parental Guidance Australia cast
Parenting style: Gentle
Parents: Larissa (33) and Marcus (34)
Children: Levi (8) Seanna (6) Amos (4) Caleb (2)
Hometown: Adelaide, SA
With four high-energy kids under nine, Larissa, a stay-at-home mum, and Marcus, the owner of a lawn mowing business, adopt gentle parenting – guided by their Christian faith.
They believe in patiently approaching parenting with kindness and calmness, despite the noise that inevitably fills their home. They say that their kids' loving nature is proof of their successful parenting approach. To avoid explosive emotions, they communicate with their kids up close in quiet and gentle tones.
Parenting style: Lighthouse
Parents: Sammy (Samantha) (41) and Jason (41)
Children: Pepper (10) Jude (6) Rory (3) Lottie (2)
Hometown: Gold Coast, QLD
During the COVID pandemic, Sammy (a psychology student) and Jason (a business analyst) made a drastic sea change decision to live by the beach. The move is on brand, as they consider themselves Lighthouse Parents. If you're not familiar with the concept, it means that they monitor their kids from a distance while still giving them the freedom to make choices and explore.
Their kids are allowed to do their own thing. The older two can go swimming in the ocean while their parents watch from the balcony and Pepper is permitted to ride her bike to school on her own. Her parents say that their style has helped their children to become driven and develop a competitive spirit.
Parenting style: Outback
Parents: Tency (32) and David (39)
Children: Vance (10) Wyatt (9) Clancy (7)
Hometown: Mareeba, QLD
Tency and David are the charismatic parents of three wild children in tropical North Queensland. They have kick-started a rustic life on the farm, where their boys are free to shoot guns, ride horses and dirt bikes, and explore the land on their own, all the while gaining valuable experience from trial and error.
The couple places a strong emphasis on nurturing their children's life skills through practical teaching methods, like repairing motorbikes, feeding animals, and even casting a line at the river.
Parenting style: Honest
Parent: Kat (49)
Children: Billy (female, 10) Jesse (male, 10) fraternal twins
Hometown: Adelaide, SA
Kat is a Gen X educator and single mum who doesn't put up with BS. She's not into traditional Boomer parenting and won't coddle her kids like they're "special snowflakes".
Kat's love language includes at least 20 random "I love yous" and lots of affectionate cuddles. She says that her kiddos know to pay attention to her discerning side-eye, keeping the balance between playfulness and clear boundaries.
Parenting style: Spiritual
Parents: Kajal (37) and Deepak (45)
Children: Krishna (13) Mridula (mri-DUEL-ah) (7)
Hometown: Sydney, NSW
The Vinod family is a multi-generational household of six, who are rooted in Hindu practices. Deepak works in IT, while Kajal is an early childhood education professional. Together, they're raising their two little ones, Krishna and Mridula, under a disciplined, spiritual lifestyle.
With hectic schedules, the Vinods make sure to prioritise family time, embarking on a daily spiritual journey of meditation, chanting, and reading.
As devout believers in reincarnation, the family sees their children as spiritual beings, who often show remarkable wisdom. No shaming or judgment is allowed in the Vinod household, where negative behavior is addressed through open communication.
Parenting style: Stage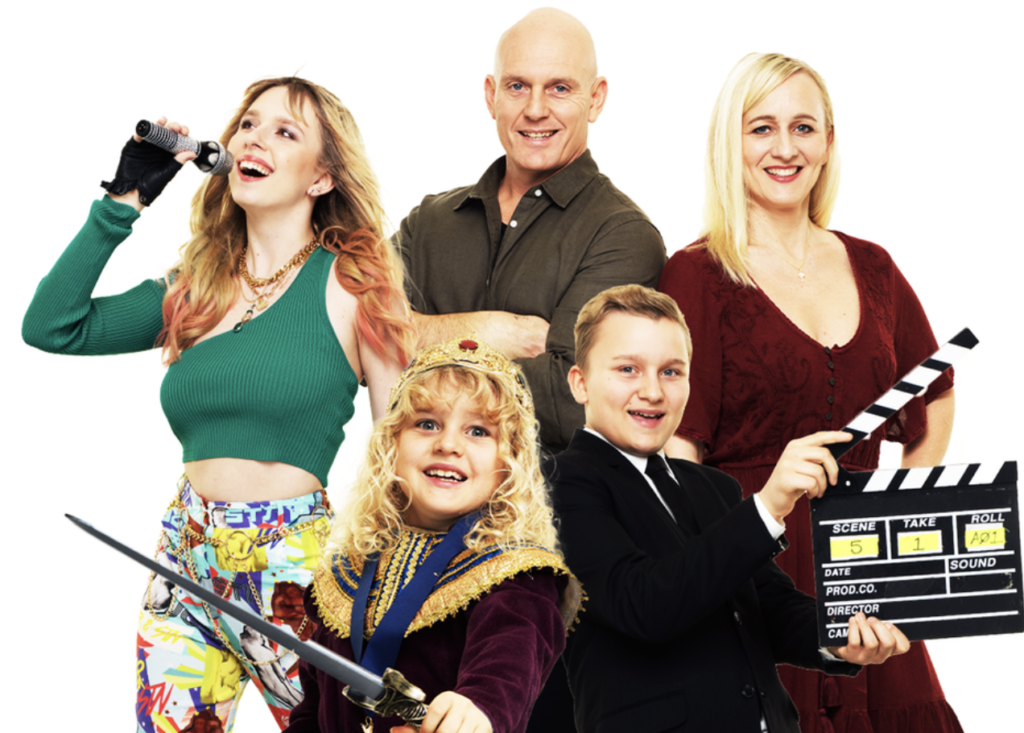 Parents: Sarah (47) and Shane (51)
Children: Alaska (17) Xion (13) River (8)
Hometown: Sydney, NSW
Sarah, Shane, and their three kids Alaska, Xion, and River don't believe in the ordinary. They've settled in a spacious Hawkesbury, NSW property, far from their neighbors' prying eyes, where they can let their "loud and crazy" personalities run wild.
Sarah runs a theatre company, sharing her love for singing, dancing, and acting while Shane teaches drama. With their kids already accomplished performers, Sarah and Shane encourage their self-expression, free from the shackles of enforced homework or screen time.
However, Sarah tightens the screws when it comes to learning lines and performing. They don't settle for anything less than the best, and their chill "stage parenting" style instills a rock-solid confidence in their kids.
Parenting style: Team
Parents: Mark (46) and Leanne (42)
Children: Matthew (16) Billy (11) Ella (8) Brooklyn (6) Bobbi (4) Baylee (3)
Hometown: Sydney, NSW
Leanne and Mark have got their hands full with six kids to raise. But with a love for rugby league, they run their family like a tight footy team, filled with team-spirit and unwavering support for one another.
Their parenting style centers on being great coaches by teaching their kids respect, discipline, and teamwork. To keep everyone engaged and active, the family hits the field often.
By promoting open communication and strengthening family bonds through sports and dinner time, Leanne and Mark believe they are raising a team that knows how to win on and off the field!
Parenting style: Influencer
Parents: Kat (36) and Jonathan (40)
Children: Latisha (18) Deja (11)
Hometown: Gold Coast, QLD
Meet Kat and Jonathan – a social media influencer and mortgage broker respectively. After becoming a mother at the age of 17, Kat left an abusive relationship and has since carved out a career on social media. They prioritise their online presence while raising their daughters, who are already building their own online brand.
Rather than imposing strict rules on their daughters, Kat and Jonathan emphasise positive influence through open communication and respectful behavior. Their nontraditional parenting style is influenced by their own experiences of being raised in strict households due to their South African and Filipino backgrounds. Despite the challenges, they continue to strive towards building a positive future.
Parenting style: Slow
Parents: Philippa (40) and Chris (39)
Children: Peyton (9) Briar (7) Avery (4)
Hometown: Cairns, QLD
Philippa is a women's health and fitness coach, while Chris is a corporate well-being specialist. They believe in slow parenting to create strong family bonds, taking time to appreciate life and nature with their children.
Rather than fearing boredom, they embrace it. Their children have the freedom to experience boredom to inspire creativity and social interaction with siblings. Without television, they instead take quality time in nature to nurture personal growth.
Their parenting philosophy is based on attachment parenting, prioritising emotional security and crafting a safe environment for their children to express themselves.
Parenting style: American
Parents: Kim (51) and Nick (52)
Child: Pia (10)
Hometown: Brisbane, QLD
Kim, a part-time teacher and girls' empowerment educator, and Nick, VP of an international recycling company, embrace American parenting—with a focus on confidence and success.
Their daughter Pia was born in Hong Kong. She started school at two and has excelled in all sorts of activities, from public speaking and Chinese fluency to rhythmic gymnastics, cross-country running, and soccer.
Through constant praise and encouragement, the American parenting style gives Pia rock-solid self-confidence. Kim and Nick believe this approach leads to well-mannered, independent children and enables Pia to tackle anything with a can-do attitude.
Parenting Style — Road School Parenting
Parents: Amy (39) and John (39)
Children: Jimmy (12) Gus (10) Skipper (6)
Hometown: Echuca, VIC; filmed on location in Perth, WA
Amy and John ditched their conventional lives in Echuca, Victoria, packed everything they owned, and now live in their caravan for 18 months.
Before their adventure, Amy worked in hospital theatre and John was an operations manager in his brother's family business. The change allowed them to reconnect with family on a deeper level.
Parenting Style — Unstructured Parenting
Parents: Melody (34) and Michael (37)
Children: Miller (8) Magnolia (4) Maisy (1)
Hometown: Brisbane, QLD
Melody and Michael are professional musicians who specialise in Americana music and lead a bohemian lifestyle. As a family, they cherish the joy of playing music together.
Melody and Michael adopt a child-led approach that prioritises mental well-being over conventional measures of success. They actively involve their children in decision-making processes, allowing them to have a say in matters such as bedtimes, routines, and food choices. Rules are flexible and negotiable, granting the children autonomy in deciding what they eat, watch, and how they spend their time. The family opt to sleep together in the same bed, and screen-time restrictions do not exist.
Parental Guidance airs Mondays at 7:30 pm on Nine and 9Now.
Want to CHATTR with us? Follow us on Instagram and Facebook for more entertainment news.