Throughout the FWAW 2023 season, Brenton Kuch and Sophie Holcombe had a very clear connection, so it wasn't too much of a surprise to viewers when she was his final pick.
However, the two reality stars weren't destined to have their fairy tale ending, with Sophie revealing the news on Instagram that they've now broken up.
"With a heavy heart, I want to let everyone know Brenton and I have gone our separate ways. Reg [her dog] and I loved our life in Darriman and have been missing the farm a lot," the Farmer Wants a Wife star wrote in an Instagram story posted on August 1.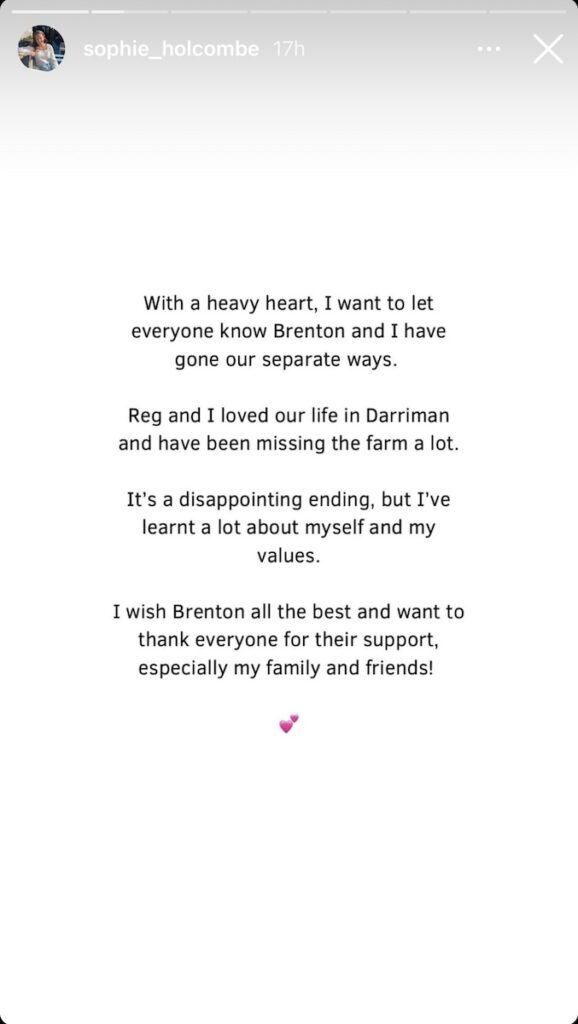 Sophie went on to hint that the breakup wasn't amicable.
"It's a disappointing ending but I've learnt a lot about myself and my values," she wrote. "I wish Brent all the best and want to thank everyone for their support, especially my family and friends!"
Meanwhile, Farmer Brenton posted his last photo with Sophie on July 31, just one day before her breakup announcement. However, the post is a gallery of photos and Sophie only features in one group shot. Their last individual photo together was posted on both accounts five weeks ago. Farmer Brenton is yet to comment on their split.
Another FWAW 2023 couple are having a baby!
On a happier note, Brad Jones and Clare Hocking, who took part in the same season of Farmer Wants a Wife as Brenton and Sophie, are expecting a baby.
The couple announced the exciting news during an interview with New Idea magazine in July and shared some sweet posts on Instagram.
"We're so excited to meet our newest little farm hand! Baby Jones due December," Clare captioned a photo of her, Brad and some tiny horseriding boots. Brad posted a pic of them both holding up a small baby onesie.
"Thanks to everyone who has taken the time to congratulate us on our exciting news. We can't wait to meet Baby Jones come December," he captioned the pic.
"We never would have met, let alone starting a family together if we didn't go on the Farmer Wants a Wife journey so if you're looking at finding your life partner why not put yourself out there look at us couldn't be happier so go on why not."
Clare has since shared an update on Instagram with a picture showing her growing baby bump.