Labelled by Triple J as "the golden boy who busked his way to success", Ziggy Alberts' live EP Postcards from an Australian Summer grants true Australian crooner status, with heartfelt lyrics sung through his husky voice.
At just 19 minutes, the EP boasts four songs old and new, collected from live shows from around the globe on his world tour. The smooth transition between tracks makes it sound like a natural one-take recording and proves the meaning of quality over quantity.
In what is described as closing the gap between stage and crowd, the muffled words sung by a passionate audience creates a real sense of unity for the listener. Whether you're listening on the train, in the shower or from your bedroom, you are sent into the thick of what a live Ziggy Alberts show could be.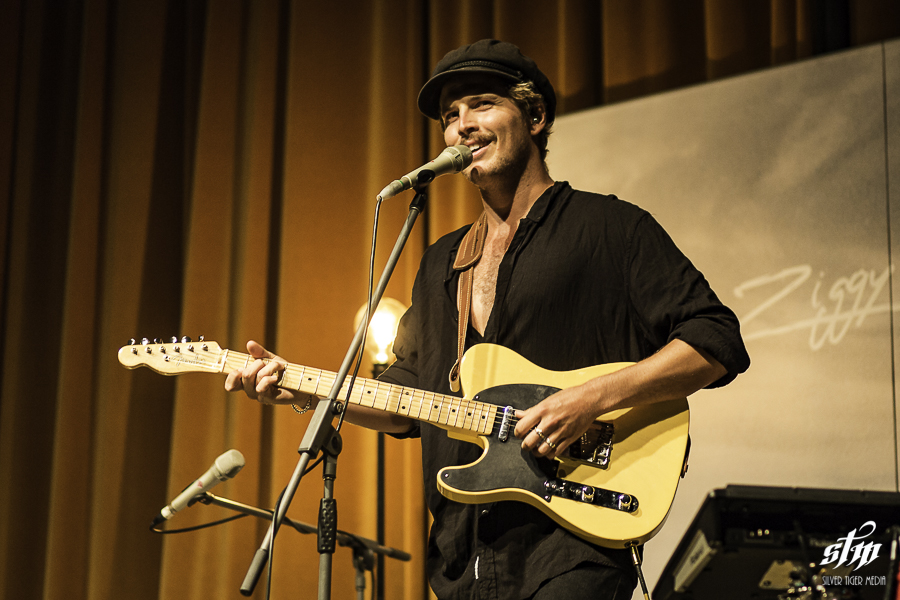 I'm convinced that Alberts and his entourage of producers listened through hours and hours of audio from different shows around the world to choose the perfect crowds to be featured in the background. Anyone who has seen my Snapchats or Insta stories knows that something in the air at live shows makes me – and everyone around me – completely tone-deaf while singing along. But the voices on this EP perfectly complement his songs and overall vibe. You can almost hear the smile on his face when the crowd takes over the chorus in the last track, 'Gone (The Pocahontas Song)'.
While Australia has no shortage of male singer-songwriters with boyish charms – Vance Joy and Dean Lewis have proven that there is room in all our hearts to laugh or cry while we reminisce over lost or found love – Ziggy Alberts offers something more.
At only 25, it's clear Alberts has wisdom beyond his years. He has a lot to say and a great platform to share it on. If the title track from his last album Laps Around the Sun taught us anything, it's that there's still a space in music to teach a lesson (and preach environmental awareness.)
He uses the interlude to get uncomfortably real with confronting statistics about suicide in Australia. He tells the audience that if they're going to film any of the set, use that time to call their mates instead and enjoy the experience together in real-time, instead of sharing footage on social media.
There's something to be said about a performer who can rely solely on their own voice, a guitar and minimal percussion to drive their entire career. While there are common themes throughout his songs – a connection to nature and a complete admiration and total affection for his muse – each song is still unique in its own right.
If I'm completely honest, I had no idea the depth of Ziggy Alberts' illustrious career. Other than singing along to 'Love Me Now' and 'Laps Around the Sun' as they come on the radio while I drive, I hadn't been exposed to much of his music. As a lover of acoustic, folk and male singers who make me cry, I'm sad that there is six years-worth of music that I'm only just discovering now.
This EP has taught me that I will not be missing his next live show under any circumstances. And if it's taught boys anything, it's to remind your girl every day about every little perfect quality she has and compare her to the ocean and angels – otherwise, Ziggy Alberts will.