That's right. There's a new Christmas treat on the market and it's black edible coal. It might not sound like your ideal go-to sweet snack in the festive season, but it's packed with some wicked flavours. The Kraken rum-infused chocolate-crunch-coated honeycomb creation has been created by celebrity baker Katherine Sabbath partnering with The Kraken Black Spiced Rum. I know I've been a little bad this year, so I don't mind if Santa puts some of this 'coal' in my stocking this Christmas!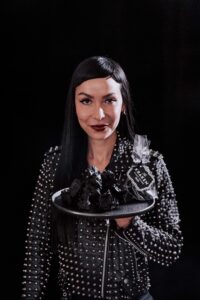 Katherine's unique style is perfectly paired with the unconventional spirit that is The Kraken Black Spiced Rum—famous for its distinctive flavour, imported from the Caribbean and carefully blended with a range of spices. The Kraken Black Spiced Rum is bold, rich and black, but this time not so smooth, introducing a coal-inspired crunch crafted for your not-so-loved-ones this Christmas. Who knew dark edible coal would be the latest Christmas treat trend?
Katherine spoke to Chattr about the new sinister collaboration.
When and/or how did you realise baking was your calling?

I've always LOVED chocolate and when I was in highschool I could never find a chocolate brownie that was chocolatey enough, so I began to learn how to make my own! Not only did I give myself lots of delicious joy, but the pleasure of sharing baked goods with the people I love was addictive—it's such an enjoyable way to show someone you're thinking about them.
How would you describe your personal style (with both fashion and food)?

I would describe my food and fashion style as bold, high-quality (food ingredients and ethical fashion), and carefully considered, but lots of fun!
What are some of your most popular and interesting cakes? 
My Upside Down Ice Cream Cake, my Great Barrier Reef Cake,  and my own chocolate spiked Wedding Cake!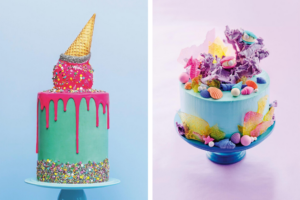 You've now collaborated with Kraken. How do you like to drink your Kraken?

On the rocks, or with a good splash of milk and honey!
Tell us a bit about the Christmas coal creation and the collaboration?

In collaboration with Kraken Black Spiced Rum, I've crafted something sinister for all of the souls consumed by the Kraken! Taste always comes first for me, so the deliciously dark 'edible coal' comes in the form of a chocolate-crunch-coated honeycomb creation, infused with The Kraken Black Spiced Rum to form the perfect stocking filler.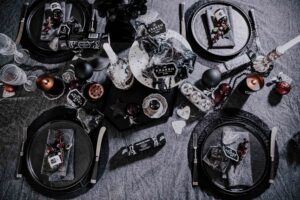 Can you suggest any other devilishly delicious fusions of food that you think could pair well with Kraken during the Christmas season? 
Kraken can be added to bring a delicious kick and spice to so many desserts! A personal favourite is Kraken rum mixed through custard or pudding, freshly whipped cream, chocolate ganache, or added as a secret ingredient to homemade ice cream.
How do you celebrate Christmas?

I spend Christmas with my own family, as well as with my husband and his beautiful family. We use this time to cook for each other, celebrate all of the good things that have happened during the year, and connect over nourishing food, cheeky drinks, and good conversation. I also love to rest in my blissful state of a food coma over the Christmas period—ha!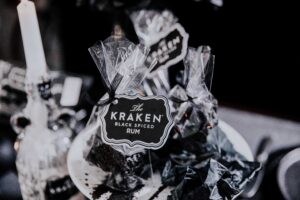 In true Sabbath style, the blackened bites are available exclusively via social media—where Katherine's baking empire began—and are for those who follow the darkness and believe in the mythical beast. To get your hands on The Kraken's Christmas Coal baked by Katherine Sabbath keep one eye open for the 12 days of Christmas social giveaway and nominate a friend who is not-so-deserving. The beast will be giving hunters the chance to get their hands on the deliciously-dark 'edible coal' via Facebook @TheKrakenRumAU.