Warning: this article contains spoilers for the second season of Thirteen Reasons Why 
"Thirteen Reasons Why has been a catalyst for conversation ever since its explosive debut", said Executive Producer, Selena Gomez in the opening credits of Beyond the Reasons: Season 2. The talk show, available on Netflix, features the cast of the show, script writers, showrunner Brian Yorkey, and various psychologists and legal experts.
Gomez continues to proclaim that "parents, educators and young adults have begun a new dialogue". The subsequent social media trending conversations have certainly been proof of this – but what is the cost of this dialogue?
The second season of Thirteen Reasons Why is as graphic and controversial as the last.
Given the widespread controversy of the graphic nature of season 1, I'll admit I was surprised to see such similar graphic content in season 2. A variety of scenes are downright painful to watch. They're brutal, scary and uncomfortable and this made me really angry. Aside from the confronting visuals, the emotional journeys of Jessica, who is still dealing with her rape, and Alex, dealing with his failed suicide and the events leading up to it, make 13 Reasons Why: Season 2 a hard and heavy viewing.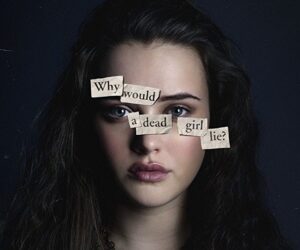 Almost a week after having viewed the finale and having seen arguments unfold from both sides on social media, I've come around to the value of this heaviness. I'm also strongly aware that the line between romanticising an issue and raising awareness of it tends to blur in the best of situations, and it casts a different shadow depending on where you're standing. Therefore I still appreciate the opinions of those who say the creators of this show went too far – particularly with Tyler's sexual assault scene.
This scene is arguably the most controversial of the season, akin to Hannah's suicide in the first season. Tyler is cornered in the bathroom by Monty and is bashed against the sink and mirror, before having his head forced into a toilet bowl and then being sodomised by the handle of a mop. It's a severe and bloody representation of violent sexual assault. It's been widely criticised by viewers, who question the necessity of including such a graphic scene in the series.
Brian Yorkey spoke about the nature of the scene in Beyond the Reasons: Season 2:
               "Most crimes of sexual assault are not sex crimes. They're acts of violence."
One in ten rape victims are male, yet this is rarely discussed, let alone represented in popular culture and mainstream media. As a result of this, we don't always realise how prominent male sexual assault victims are, particularly in American high schools. Yorkey referred to the frequency of these occurrences as being "almost on epidemic levels." These are hardly ever reported. Of those that are, minimal prosecutions take place.
College hazing culture in the US is inseparable from this issue. Men who attend college (aged between 18 and 24) are five times more likely to be sexually assaulted than men the same age who do not attend college.
Miles Heizer, who plays Alex, hopes the scene will help to open conversations for victims of sexual assault:
               "People are terrified to open up about (sexual assault). I think if (the scene) can help open up that conversation for someone, that's really valuable."
Yorkey goes on to describe the scene as a means for the audience to connect with Tyler, who, for most of the series, has been a distant loner. After all, when we first met Tyler he was a voyeuristic stalker. "It was important for us to try to bring the audience over to Tyler's side a little bit . . . as brutal as this scene was to watch, I defy anyone to watch it and not feel pain for Tyler."
Dylan Minnette, who plays Clay on the show, commented on the graphic nature of the scene:
               "There's no way to prepare yourself for that kind of scene. I'm at a loss for words because it was extremely difficult for me to watch and I knew it was coming. I'm sure it's going to affect people in many different ways."
The assault scene was followed by a very distressed Tyler approaching the school with a gun – uncomfortably reminiscent of recent news.
Clay confronts Tyler, in an act that Dr Rebecca Hedrick, the series' psych consultant, acknowledges was not the safest route:
               "The safest choice would've been to go behind the doors and lock himself in with the rest of the kids and help everyone get to safety and hide . . . and make sure that someone has called 911. Certainly we would never advise someone who is exposed to an active shooter to confront them, even if it's a loved one."
But they stop that conversation there. I was admittedly disappointed with this – if Clay's choice was so unsafe, there should have been repercussions in the episode to demonstrate this. Alternatively, he should have followed the "safest choice" proposed by Hedrick.
Yorkey spoke about the decision behind the gun plot. He defended the storyline, insisting that not showing guns on television doesn't make them go away in real life.
"There's a tremendous amount of damage in the life stories of those who commit these atrocities (school shootings). That doesn't excuse what they do for a millisecond – but long before a gun gets into anyone's hands, we need to be taking care of each other and looking out for people who are hurting."
To discredit this production for so crudely presenting violent sexual assault is to discredit the real-life victims of high school sexual assault – some one-in-three to four girls and one in five-to-seven boys in the United States, according to a 2015 study.
Though I was thoroughly disturbed in viewing this season of Thirteen Reasons Why, that's exactly what I needed to feel. If it was possible to ignite the same kind of fury at the issue of sexual violence in schools without such a graphic scene, it probably would have been done already. Even the less physical issues explored, like Jessica moving past her rape and Alex coming to terms with his suicide attempt, are portrayed with realness and justice.
It's important to remember that Thirteen Reasons Why is absolutely not a show for everybody. If it's likely to trigger you, it's definitely something to avoid.