For those of you who follow me on social media or have come to see me recently, you'll know I've been working at Temple 22 – Sydney's finest BDSM establishment – for the past several months. I first began working privately as a Mistress specialising in psychological forms of play, namely erotic humiliation, as well as financial domination. After a year of this I wanted to learn more and expand on what I could offer as a dominatrix, so I began working at Temple 22. I have learned many things here, such as proper and safe discipline techniques, and discovered a love for medical role play and procedures. I have learned and grown so much from this experience and from working with my peers. Sadly though, nothing lasts forever and as of the 8th of February, Temple 22 will be closing its doors.
Temple 22 has not just been a workplace for me.­­ It has been a school where I've gained an education and a home where I've gained a family. I have loved my time here and while I am excited to move on to other ventures, I am saddened that I, and others who work here or visit as clients, will no longer have this place to come to. I feel that the closure of Temple 22 is going to leave a big hole in Sydney's BDSM world that may not adequately be replaced for some time. BDSM houses such as Temple 22 provide a service that private practitioners alone cannot offer:
A place to gain knowledge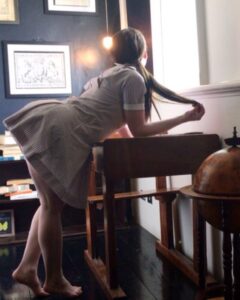 Established BDSM houses, such as Temple 22, give those wanting to learn how to become a professional BDSM practitioner a place to do so. Yes, there are some well-established professionals who work privately that take on apprentices, however not all do. Of those who do take on apprentices, they generally only take on one at a time. However, a BDSM house can take on multiple apprentices at one time. This allows each apprentice to learn from multiple practitioners rather than just one. This provides more opportunities to delve into different methods and styles and build up a multi-faceted skillset.
A place to be safe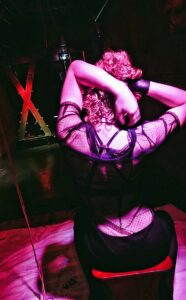 It's pretty common knowledge that sex workers are marginalised and do not have the same working rights as employees in any other industry. Because sex work is wildly unregulated, sex workers in any environment are at a great risk of sexual assault and other violent acts. Working privately, our clients have to go through a rigorous screening to determine their identity in case anything goes awry. Despite this screening, risks remain. A big bonus to working at a registered DA approved establishment is security. Being in a secure building with CCTV inside and out, having a receptionist doing the initial screening when clients come in, and having multiple other workers in the building at the same time makes things safer. It's not only the workers who are safer and have less to worry about, but the clients too. I know there are many who have been to a private dominatrix or other sex worker and have been unsure of whether they are being scammed out of a deposit or if they'll turn up to the premises to find themselves in a dangerous situation.
A place where you know what you're getting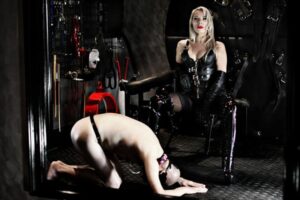 Although there is an abundance of incredible professional dominants who work privately, there are just as many who have no clue what they're doing and practise in ways that blur the boundaries of consent and safe practices. I have had countless clients tell me stories of paying for sessions with unqualified pro-dommes (professional dominants). These clients ended up not getting what they asked for, were coerced into doing things past their limits, or were even badly hurt by dominants who were not properly trained. An established house with dominants contracted to work on premises is responsible for making sure that everyone in the house knows the correct techniques and skills for a session, and abides by laws, regulations and policies on safe and clean practices. When you come into a BDSM house as a client you can be sure you will get the service you want and pay for.
A place where you can have a choice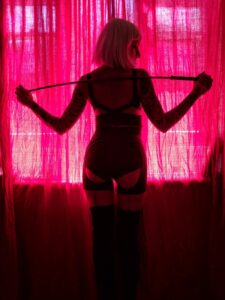 When you come into a BDSM house, you have the opportunity to meet all the dominants available on shift. You can have a brief chat with each of them to really get a feel for who is right for you. There is much more guess work going into meeting a private dominant for the first time, as much of the discussion prior to a session is via email or a quick phone call, and you only meet them when you turn up for your session that you have already paid a deposit on. In an establishment with multiple professionals working, you can meet multiple dominants face-to-face and pay for your session upon making a well-informed decision.
A place you can come to whenever you want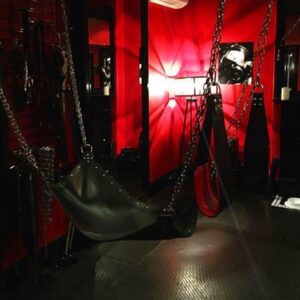 When you go to see a private dominant, you must book in a session for a particular day and time and pay a deposit to secure your booking. But what about those who want to engage in a session on a whim? Just like a brothel, at an established BDSM house you can go in whenever the mood strikes (within opening hours, of course) and have a session with any of the available dominants without having to book in prior. Of course, it is still preferable to book in a date and time if you want to be sure you'll see your preferred dominant, or at least call when you're on your way to give those on shift a heads up to be ready for you.
So what next?
Well, for those of you who haven't experienced the wondrous haven that is Temple 22, but have thought about it at all, I recommend you visit before we close in February. Upon its closure you will be able to still see any of the professionals that have been working at Temple 22, as we will be going into private work. As many of us have grown quite close, you will still have the opportunity to see us together if a session with more than one person is what you desire. You can find many other private dominants by searching various social media platforms, such as Twitter and FetLife, or by browsing ads on places like Crockor, Locanto and Scarlet Blue.
Sydney's other BDSM establishment, The Kastle, will still be open, but one house in Sydney does not feel like enough to me. I would love to see many more popping up and giving seasoned kinksters – as well as those with a curiosity about it – more places to go and feel satisfied without judgement. A 2015 parliamentary inquiry into sex work determined there are at least 101 brothels operating within 20km of the Sydney CBD. Other reports have estimated the number of legal brothels in Sydney to be more than double this figure, and when we count illegal brothels and massage parlours, the number more than triples. Other studies have noted that there is at least one brothel in every suburb of Sydney, more if you count the 'happy-ending' massage parlours. The way I see it, the Sydney market has been flooded with brothels and thus going to a brothel has become normalised, which is great. Also it means everyone knows where to go if they want to see a brothel worker and they don't have to travel far out of their way to do so.
Unfortunately though, kinksters have been left in the dark a little, with barely a handful of places to choose from (and now some of that choice being taken away). Many people who would benefit from the services that a legal BDSM house can offer may not be able to do so because of the hours they work, where they live, ease of transport etc. Also, they may not be fond of the small selection of professionals that 1-2 houses have to offer.
We can only hope that as we grow as a society and start embracing these once-taboo practices, people will see the benefits of opening up more BDSM houses in Sydney and more will pop up, and we will see Sydney becoming a more sex-positive, vibrant place to be.
If you want to discuss more about this topic, please find Mistress Ava and Temple 22 on twitter. Remember to tag #DesireIntoDiscourse in your tweets.
Featured image via Pinterest