3 minutes to read
Misty Sinclair, whose career as a sex worker involves exchanging online erotic services for money, spoke to Chattr about finding a balance between being a strong feminist and a collared submissive.
Q: What is a typical day in the life at work for you?
A: I make an unhealthy amount of coffee and then I begin going over my messages on social media. Many receive no answer from me because they didn't give me enough conversation to work with. But many I reach out to and see if they are interested in purchasing access to my Snapchat or booking a Skype session with me.
It's amazing how many guys get mad at the idea of paying for their porn and aggressively demand I send them free content. But I also have amazing clients who came to me through social media and asked how they could support me and buy my content. I then spend my afternoons trying to shoot content (videos) to sell on ManyVids. I spend my early evenings uploading that day's content. Then later before bed I get started on xxx rated Snapchat Stories that everyone with a membership can watch. If I have booked any Skype sessions, this is also the time I will attend to those.
Q: How did you find your way into the sex work industry?
A: It's sort of a bitter sweet story. When I was 20 I found myself in an abusive marriage that I needed to leave. The only thing trapping me was the money I needed to leave. I began searching high and low for a way to make extra money from home. Then one day I was watching Desperate Housewives and one of the characters, Susan, turned to webcam modelling to pay her bills. I was young and amazed, so I immediately jumped on the internet to see if it was a real job. Within 24 hours I was signed up as a webcam model. And yes, I safely left my marriage just 6 months later. It was so liberating!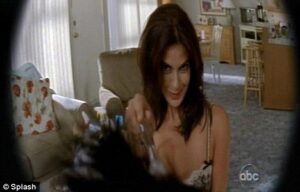 Q: What is your favourite, and least favourite, part of your job?
A: My favorite part of my job is the way it makes me feel beautiful and desirable. It is empowering. It's no secret that I am a thicker girl. Society often says we are unwanted. But that is so far from the truth. My clients love my body as it is and make it very clear how wanted I am. My least favorite part are the people who expect (and even demand) my services for free. It's so annoying. You wouldn't eat at a restaurant and expect your meal to be free. I am providing an intimate and special service. It takes hard work.
Q: You regularly use the hashtags "ownedandcollared" and "submissive" whilst maintaining a real feminine strength and positivity throughout your social media accounts –