Earlier this week, America made global headlines yet again for two horrific mass shootings in one weekend, in Ohio and Texas. 31 people were killed, and some truly tragic tales of the event have surfaced, including a man and a woman who died sheltering their young baby from the gunfire.
The weekend's gun violence has reignited the debate on America's second amendment. Despite pleads from the likes of Barack Obama and other public figures for stricter gun laws, given that mass shootings in the country are literally a consistent force, there's a bizarre cohort of American citizens who are convinced that stringent gun laws are a bad idea – because guns don't cause gun violence, video games do (cringe). Let's forget systemic racism, white supremism and toxic masculinity exist, shall we?
Twitter's "feral hog" trend began when Jason Isbell, a country music singer, tweeted in support of enacting stronger gun control legislation: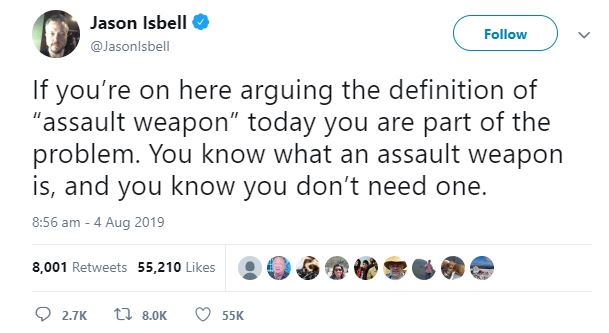 A classic American dad joined the debate, responding to Jason Isbell with a "legit question" (and I really, really wish this was a joke):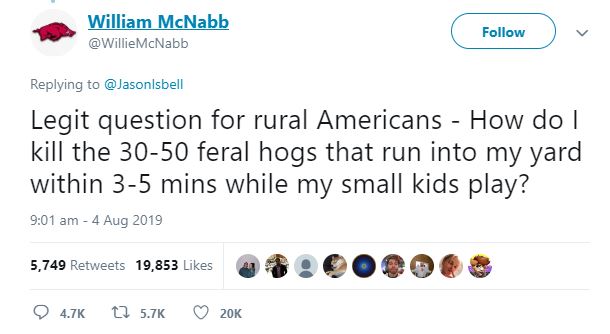 This has got to be the strangest argument we've heard against gun control, and yet it's spawned the 'feral hog trend', generating some 50 000 posts on Twitter containing the term.
Owing to the ridiculousness of the Tweet and the bizarre mental image of a flock of '30-50 feral hogs' lopping into a yard where a couple of toddlers are eating dirt beside a sandpit for '3-5 mins', and an all-American white dad chasing after the pigs with a shotgun (dude, invest in a good fence or take your tots inside and call officials – which is the recommended course of action), the Tweet has taken off. It's been reiterated into some juicy memes, and we've compiled some of the best.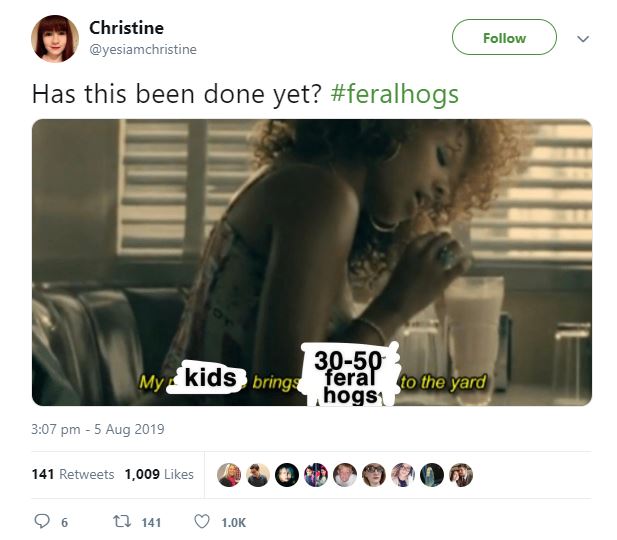 It turns out that feral hogs are a genuine cause for concern in parts of the United States. They're said to be a "destructive" and "invasive animal" that cost the US some $1.5 billion each year. The question is, which is more of a threat to American civilians, Mr McNabb – feral hogs, or gun violence?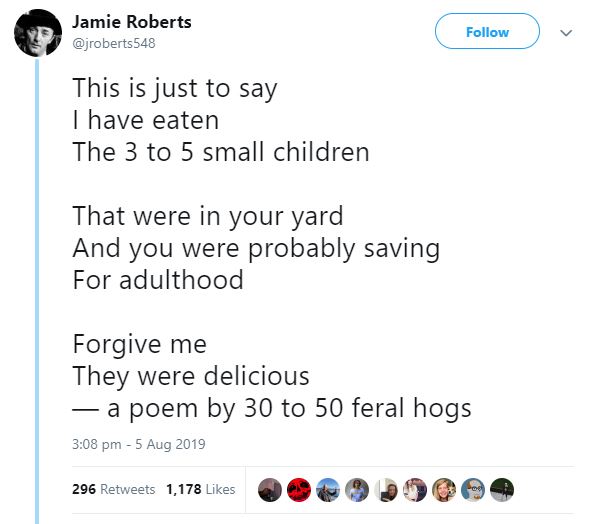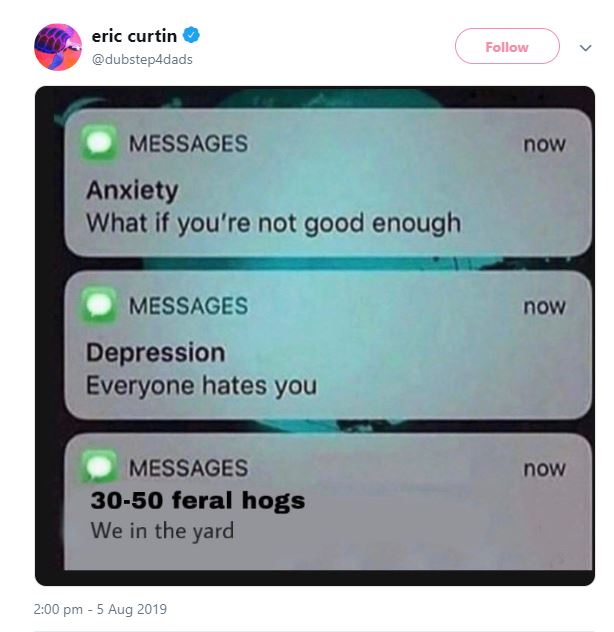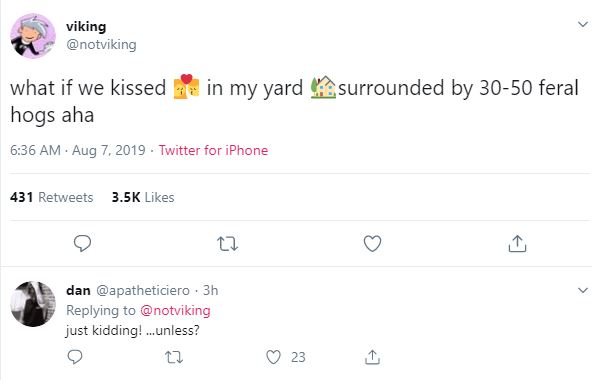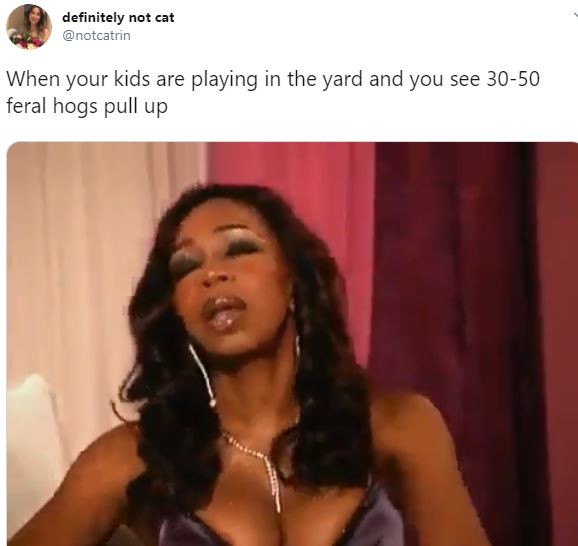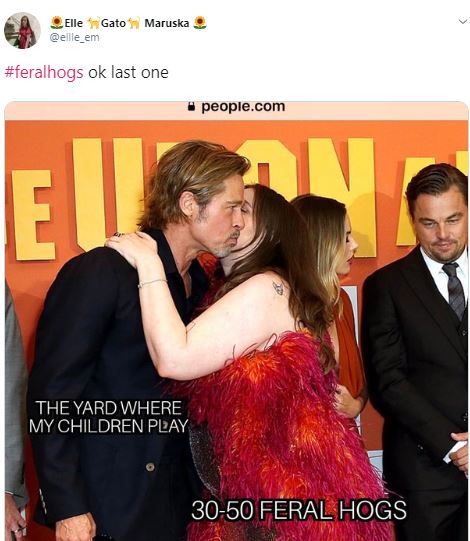 McNabb, a self-proclaimed libertarian according to his Twitter bio, has received some sassy replies to his original tweet in addition to the memes that do nothing less than mock the shit out of him: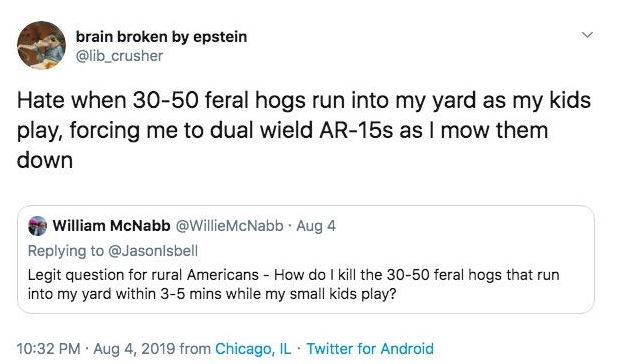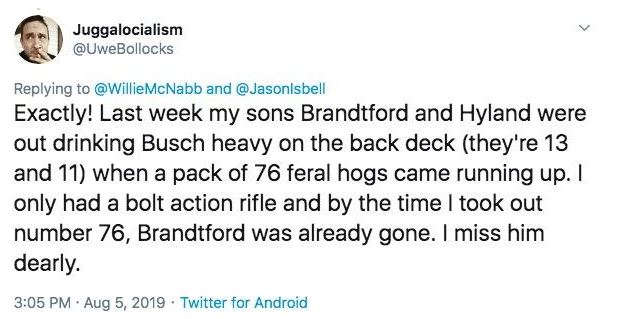 While the hashtag is a fun way to mock those who fight against gun control to protect actual people, we must remember the context behind it, and not forget those innocent people so violently killed at the hands of a shooter, and continue pushing for the positive change America needs: effective gun control legislation.
Featured image via Twitter