Unless you were under a rock during the late 90s and 2000s, you will certainly remember Sabrina The Teenage Witch. Ah yes, sweet ol' Sabrina; her mono-myth struggles with high school, her human/witch duality, her pursuit of the school hottie Harvey Kinkle and who could forget our her feline life coach, Salem Saberhagen? Good news for all you nineties kids, because the CW channel just announced that it will be rebooting Sabrina as a spin-off of the hit show, Riverdale, with the latter's show-runners having a hand in the reboot's development.
But wait a minute. What does a nineties sitcom have to do with Riverdale?
It turns out that the two have far more in common than people think. No doubt most people know that Riverdale is based on the Archie comics, but what many don't realize is that Sabrina had her own comic book series, which itself was a spin-off of Archie! That's right, Sabrina made her debut in Archie: Mad House #22 way back in October 1962 and after numerous crossovers (Archie VS Predator and Afterlife with Archie) she got her own comic book series Sabrina: The Teen-Age Witch that ran alongside Archie until it was rebooted in 2014.
Here lies the catch. This will not be an actual reboot of the original show, nor will it retain the whimsical tone we remember. Instead it will be a new show, far grittier than the original sitcom. Remember that bit about Sabrina: The Teen-Age Witch being rebooted? Unlike the original series, the reboot is much darker and contains many psychological and religious themes and will be "tonally in vein with Rosemary's Baby and The Exorcist" according to Variety. The reboot will be called the Chilling Adventures of Sabrina
But the most important question still stands: Who will be playing Sabrina? According to rumours swirling around social media, it may be none other than Disney star, Dove Cameron. While nothing's been confirmed, Cameron being cast in the role wouldn't be a bad idea, for multiple reasons:
Her uncanny resemblance to the comics Sabrina; from the happy-go-lucky personality, light-blonde hair, all the way down to the mischievous smile.
She has been close to the Riverdale cast for a while now. According to an interview Cameron did with Shine Media, the show was being filmed very close to Disney's Descendants 2 – one of Cameron's most successful projects – and even lived in the same hotel and frequented the same gym!
Cameron admitted in the same interview that she's been a fan of the Archie comics since she was a little girl, especially Sabrina herself.
She has also been dropping a crap-ton of hints about the role, most recently a picture of Sabrina from the comics with only an old home phone in the caption.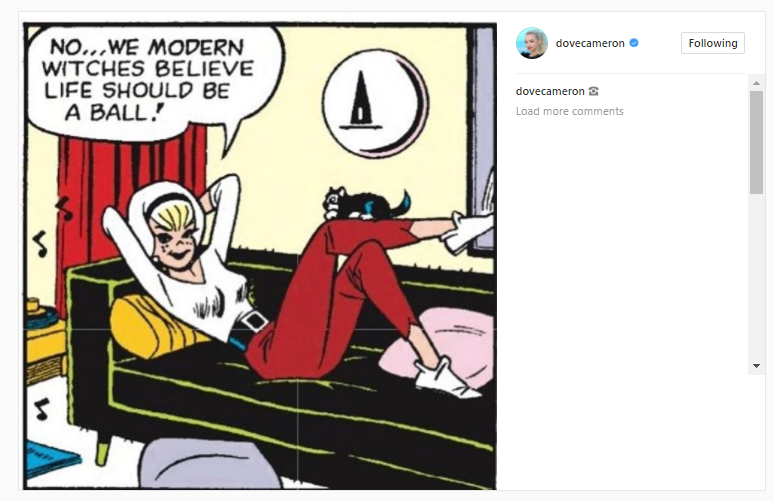 With all these rumours and millions of fans behind her, will Dove Cameron work her Hollywood magic and get herself cast as the Teenage Witch? Well either way, people are certainly hyped for the Sabrina revival and for the second season of Riverdale. But me? I'm just waiting for the banter between Jughead and Salem!
The Sabrina adaption is being made with a 2018-19 season release date and the hotly-anticipated season two of Riverdale airs on the CW on October 11th.