The Amazing Race Australia has unfortunately come to an end. Three teams were in the final leg and only one was victorious. In 2021 Cowboys Brendon & Jackson walked away with a cool $250,000. The Cowboys may have won the race, but it was Anurag and Jaskirat aka the Super Sikhs who won the hearts of Australia. Battling through the scorching heat to complete frustratingly difficult tasks. All while competing with a smile on their face.  
We recently got in touch with the Super Sikhs to discuss their experience on the show, as well as discuss how important it was to represent the Sikh community on such a grand stage.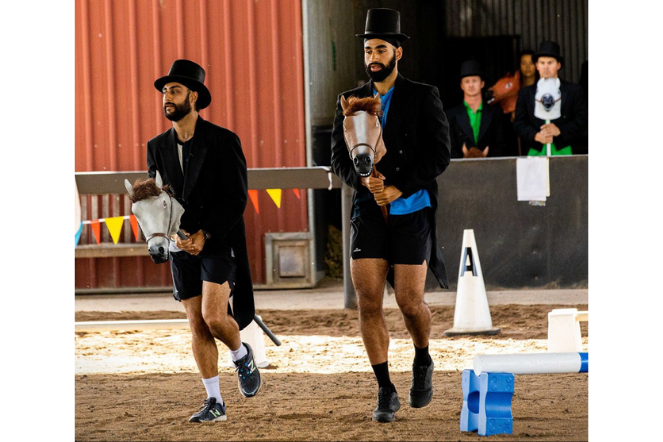 Before we get their insight on the overall experience, let's learn a little about Anurag and Jaskirat, the Super Sikhs: 
The pair met at a Sikh youth camp just over 10 years ago 

Jaskirat is the older of the pair at 30 while Anurag is 29. 

Anurag is a geotechnical engineer while Jaskirat is a strategy consultant
The pair were a force to be reckoned with. They undoubtedly deserved their place in the finale with The Cowboys and the Gold Coast Girls. Anurag and Jaskirat's race included the following highlights:
First place in four separate legs, two of those victories were consecutive

They were the first-ever team to be given a First Class Pass

They won a grand total of four all expenses paid holidays across Australia 
So now that you know a little bit about the pair and are up to date on their success while on The Amazing Race. Read more about their time on the show. 
How did it feel to have made it to the finals and be the first Indian team in the history of The Amazing Race Australia to do so?
Anurag: Incredible. We came into the race without any expectations, we told ourselves that we just want to give it all and have a lot of fun while racing. Making the finals and winning legs was just the cherry on the cake. 
Jaskirat: Proud. There are many things we do in life that make us happy, however very few that can genuinely come out of feeling proud. This is one of them. The immense level of support and words of wishes we have received from the community for showcasing Indians in a positive light on national TV is indescribable.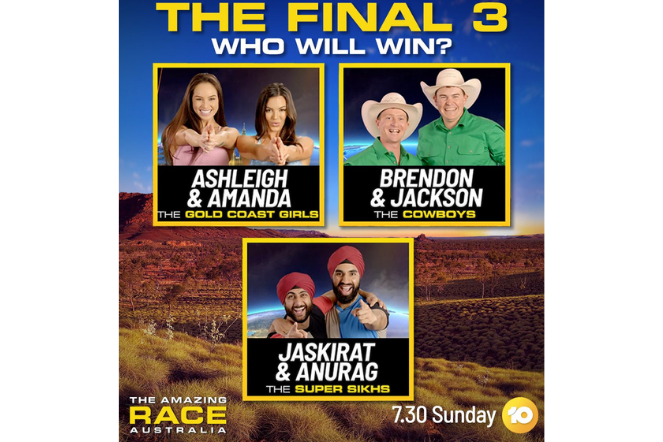 How important was it for you two to display your Sikh identity to Australian audiences?
Anurag: I am extremely proud of my identity. It was an honour to have the opportunity to display my identity to the Australian audiences, as it defines who I am as a person, it defines my values. It helped me showcase the core Sikh values of compassion, integrity, determination, and service.
Jaskirat: Being a Sikh is core to my identity. Many people will look at my teammate and me as Sikhs who are on the Amazing Race, I see us as Australians on the Amazing Race, who happen to be Sikh. This is an important point we wish to convey to the Australian audience. Religion for me sets the foundation for my values I live by every day, but it does by no means confine me in a path different to any other Australian. 
The Indian community within Australia, like most ethnic communities, are extremely tight-knit. Did your family or members of your community have any reservations when you signed up? 
Anurag: My family has always been supportive of everything that I have wanted to do. Coming into the race I knew it will be a great opportunity to challenge myself and raise awareness about Australian Sikhs at the same time. The support from family and the wider community from across the globe has been overwhelming. It's something money can't buy and is much bigger than the $250k prize money. 
Jaskirat: Not really. My family is very close and dear to me. Signing up for the race, they knew how much this opportunity would mean to me and supported it along every step. The only worries they had was, ensuring I was able to stay safe during COVID, and the fact that we wouldn't be in touch for almost 8 weeks during the race
View this post on Instagram
Was the introduction of 'stowaway' intruder teams something you two were against? 
Anurag: Yes, it was like new runners joining a marathon at half distance. The stowaway teams were absolutely lovely but just the way they were introduced in the race felt unfair. But both Jas and I thrive off competition, so the stowaways only meant one thing, that we were going to dig deeper and race harder. 
Jaskirat: Yes. I completely understand every show has twists and turns. However, what many viewers do not realise is that the 'stowaways' themselves did not know they were joining halfway through the race. Both the stowaway teams are such genuine people, we would've loved to race with them from the start
Power Couple, Holly and Dolor stated in a previous interview with Chattr that you two were the competitions biggest threats. Do you think that statement was correct? 
Anurag: We won the first two legs convincingly and got rewarded with a First Class Pass while others raced in the hot Australian Outback. We announced it to everyone that the Super Sikhs mean business and are going to give everyone a very tough competition. 
Jaskirat: The first leg of the race – won by the Super Sikhs. The second leg of the race – won by the Super Sikhs. The third leg of the race – The Super Sikhs have a day off. Anurag & I could not have asked for a better start. However, with this dream run, we understandably painted a large target on our backs.  So yes, I can see why people looked at us being threats – but we just took this as a compliment and used it as fuel to get us to the Finale
View this post on Instagram
Were you two ever worried this experience would negatively impact your friendship? 
Anurag: Not even for a second. Jas and I have known each other for years and have been on countless adventures all across the globe. We know each other inside out and that would be one of our biggest strengths. We never pointed finger or blamed each other. We just pushed each other through the highs and especially the lows. 
Jaskirat: Not at all. I've known Anurag for many years and travelled around the globe. Coming into the race we knew our communication and understanding of each other will be our strength. The race demonstrated this. Through all the highs and lows the race threw at us, we never pointed fingers at each other and just kept pushing each other forward.
What is next for the Super Sikhs? 
Anurag: Being on the show has allowed us to put Australian Sikhs on the map and helped showcase our Sikh values. We want to leverage off this and keep raising awareness about Sikhs. We would also like to empower all youth out there (be that Sikh or non-Sikh) and show them that looking different and your culture isn't an obstacle in life, it's actually your biggest strength. 
Jaskirat: For me, I would love to use this as a platform to motivate and encourage the youth of today to continue pushing to achieve anything they put their mind and heart to. 
The Super Sikhs are definitely looking to the future following their time on the race. Keep updated with their plans for the rest of 2021 and beyond by following their Instagram's, @beardedsingh & @jas_jd.