I have this theory that Bumble's the new Tinder, and Tinder guys have become more wholesome and serious. You get me? Everyone including your mum knows Tinder to be the 'swipe right and get into my pants' hook-up app. That's just the reputation Tinder has garnered whether our millennial brains care to accept it or not; and for some that's completely fine. There's nothing wrong with wanting a no strings attached relationship, but for those seeking something more it can totally dampen the mood.
I joined Bumble thinking okay, this can't be as bad as the Tinder hook-up culture right? Wrong. Oh, so wrong. I ended up with more dick pics in my inbox than ever before and lower expectations than when I started delving into the cringeworthy world of online dating. How are millennials meant to date anyone in 2019 without the other party expecting the "friends with benefits" culture before getting to the second date? Hell, even getting a first date.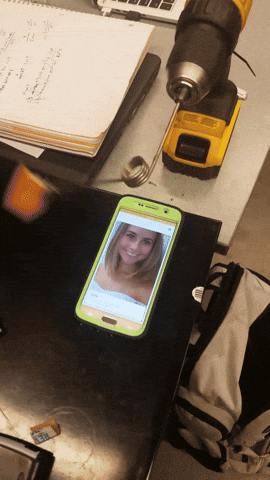 This could be an unpopular opinion, but when did Bumble become the new Tinder? If you're the rare unicorn of a millennial that has never stepped foot into the online dating world, then I'm here to lower your expectations. If I could describe dating apps in one word it would be 'toxic'. You start to feel very objectified while seeking the affection and acceptance of a guy you swiped right to after a two second glance. You ask yourself "will this person 'swipe right' on me?" Then you move on to the next. If you fall down the rabbit hole long enough, you can get swept away into self-wallowing and a desperation of craving acceptance from guys that don't give you a second thought. It's all very superficial and based on who you're DTF that night.  
I think one thing I immediately noticed is how you'll see the same guy on both apps with different intentions written in their bios. They'll save the kinky bio for Tinder and the more 'well-rounded' bio on Bumble; but when you actually speak to them, they're ultimately looking to hook up. How do you sifter them out?! It's like playing dick detective.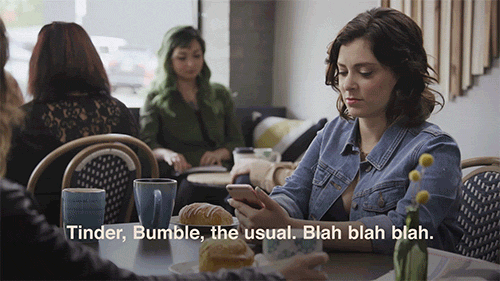 I've been on Tinder dates with guys that are genuinely lovely and interested. They're just looking to meet someone new and see where it progresses from there. If you don't have a connection, then move on. IT'S THAT EASY!  I have yet to go on a Bumble date, but I am getting sausage fest left and right. Never seen so many dicks in my life.
On Bumble, girls make the first move; otherwise the match disappears after 24 hours, adding to the sense of urgency. I open every conversation with a new match with, "Hey! What brings you to Bumble?". Straight to the point, no bullshit; I just want to know where you stand. Guys are surprisingly and painfully honest when I ask this. Here are classic examples from my personal experience on the app
Scared of Dicks: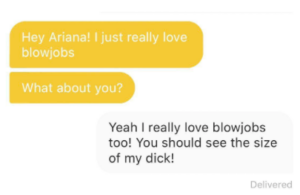 Not going to lie, it made me chuckle at how openly blunt he was. A stranger would never walk up to a girl in public and think 'oh yeah she's attractive, let me skip the small talk and get straight to telling her I want her to suck my dick.' Not exactly realistic. 
After my response, he deleted me, and I gained a small part of my self-respect back.
The Dick Compass: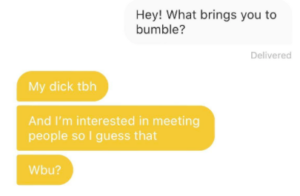 Did his dick actually lead him to Bumble like some sort of fun sausage compass? I love that he opened with "my dick", then said he's interested in meeting new people. Good on ya mate. I wish everyone opened with their dick…well they mostly do.
The Sweet Talker: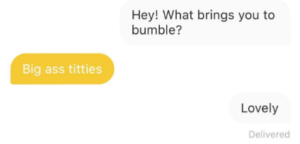 This one fizzled out as quickly as it started. I expected this from Tinder, but the guys there seem to be looking for more than "big ass titties".
Dick of all trades: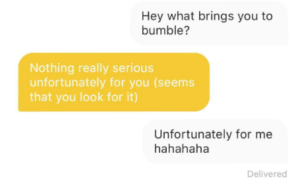 Let's call him Richard. Richard was pretty upset I was using this app seriously, because really everyone else is just swiping with their dicks.
Husband Material: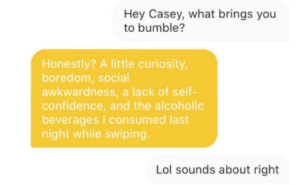 And this one here in the sad, sad world of online dating is a WINNER. Honest, funny, to the point, and a little insulting. Did he find me attractive or was he piss drunk swiping right on everyone for an ego boost? Either way, I'm ready to have his babies. Sign me up cause this is as good as it gets on Bumble.
I think the lesson learned here is I've been on plenty of Tinder dates with lovely guys, some who wanted to just hook up and others who wanted more, but I just didn't have a connection with any of them. The concepts of both apps suck when it comes down to it. You're only judging a person based on their appearance. How are millennials meant to date in 2019 with this kind of toxic shit floating around? It's all fun and games until you're alone in your apartment with chlamydia and your Uber Eats take away at the door wondering why you're still single in this shitty online dating world. *Swipes*.  
Do you prefer Tinder or Bumble? Tell us in the comments below: