A few days ago, I had the absolute amazeballs experience of attending Violent Soho's Waco show with supporting acts Gooch Palms, Dune Rats, and DZ Deathrays (yes, I can die happy now). As you would expect from an epic line up such as this, the crowd pretty much went off. Right from the first guitar strum the night fell into a drunken haze of sweat, energy and full bodily contact. The air was thick, the room was hot and the scent of weed lingered as you breathed in the pungent, wet carbon dioxide and felt the pulsating vibrations radiate through your body. These are the moments I live for: the tangible experience, the deep gritty feeling of music.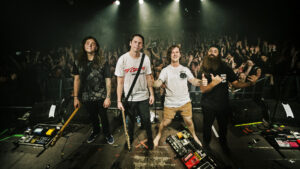 Before it all began, as you entered Enmore you could easily mistake the year for 1995 as everyone looked as though they were headed for an early Silverchair gig. It was a huddled collection of boys and girls alike, with long flowing hair, ripped jeans, tie-die shirts, high top Chucks, Docs and flanos. Everyone successfully pulling off that effortlessly cool grunge style. Like all good concerts, things started with a few bevvies (mmm canned beer, the taste of affordability), then it was into the hall for the shenanigans to unfold. Gooch Palms (love the name) set the tone for the evening with their perfectly disjointed 70's punk-esc sound. Dune Rats got us pumped with their upbeat, trashy garage tunes and then Deathrays took us deeper into the grunge pool, evoking them heavier feels.
After being intensely fired up by the supporting sets, the crowed was eager for Soho to bring it home. The curtain was up, the audience, hardly containing themselves, bustled back and forth, swaying on tip toes. Then it happened: the curtain fell and Soho didn't waste a second to slam straight into How to Taste. The mosh instantly erupted.
Now, I've been to a fair few shows in my time, but this was insane – your feet barely touched the ground as bodies flailed vigorously and pitts opened up all around.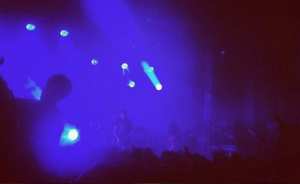 From the outside it looks aggressive and dangerous, but for those amongst it, it is pure freedom: the ultimate unleash of the musically driven build.
Being rather short and of the female persuasion, I have in my life experienced a lot of judgment (and targeting) for entering the pitt. There is nothing worse than when metal elitists with their 'no chicks in the pitt mentality' and drunken buffoons with their lack of understanding force you to subdue your innermost, primal desires. Some people need to know that the pitt is not about intentionally hurting each other, it is not about pushing other people to the ground but bouncing off of one another and lifting up those who have fallen. Generally I choose to stand on the outskirts to avoid injury, but last night was different. This crowd knew how
to mosh and there was this burning feeling of comradery you got just from being in it. Girls were in the pitt and hordes of people were surfing and standing on shoulders. Anyone would think you were crazy for going in, but on the inside everyone was looking out for each other. There was strangers holding strangers above their heads, people helping others off the ground and everyone watching out for anyone who looked too messed up.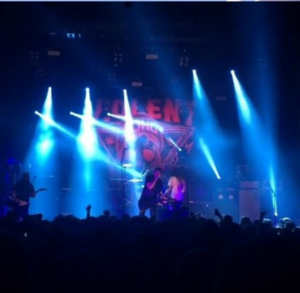 I think apart from the music itself, the pitt is my favourite part of any gig and or festival. There's an instant mate-ship that is created when you bond with people you don't know over music you both like. Violent Soho played awesomely and managed to keep up the intensity throughout the entire set.
The atmosphere was incredible and the vibe was passionate as we belted out the lyrics to Viceroy, Ok Cathedral, Dope Calypso and Son of Sam (amongst others). We were even treated to a surprise performance from Smith Street Band's Will Wagner. Soho ended on Like Soda and then everyone totally lost their shit when they encored with Covered in Chrome.
Towards the end, I copped an accidental, stray elbow to the face. But, as I stood there, blood pouring out my nose, I didn't regret any of it for a second. It was simply a battle scar reminding me of the epic night I had just experienced. Good show Soho, good show. I can't wait to see you again at Splendour.