Australian musicians are taking a stand against ticket scalpers and fraudulent resale websites, calling on the Australian Labor Party to shutdown notorious resale site, Viagogo.
In an Instagram post, Sydney rockers Gang of Youths, called upon the opposition and punters themselves to eradicate the site, labeling it as the most "disgraceful and disruptive" scam to affect the live music industry. It isn't just 'Gang of Youths' that's pissed off; a bunch of artists, including Melbourne singer-songwriter, Tash Sultana, has jumped on the bandwagon.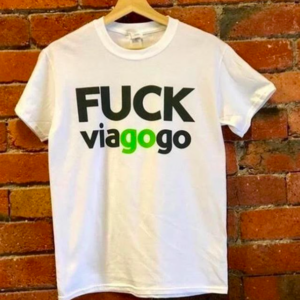 Cards on the table: I once paid almost $300 last year to attend 'Field Day' in Sydney. I believe the original price was around $130. The combination of peer pressure, intoxication and desperation (very on-brand for this time period) led to me pleading with a stranger on Facebook to sell it at cost price, yet I gave in and paid up.
I knew I wasn't the first to be scammed; and definitely not the last either.
Kameka told Chattr that she thinks it's fair only if the tickets weren't originally bought with the intention to resell.
"People who buy to resell are trash. But if I was in that situation, I wouldn't feel bad about making some extra cash if I couldn't attend."
Festival-goer, Madi, shared her opinion on making a profit from reselling.
"I'll admit that when I've had to resell a ticket I've definitely bumped up the price. That's normally because name change is about $20, which comes out of my pocket. Also, It sucks if you can't go to a festival you spent ages waiting in the Green Room for, so I feel like a little bonus to that sad moment makes you feel a bit better! But I've never made more than $50 off reselling a ticket."
New laws introduced to NSW in June 2018 meant that tickets can't be resold for more than a 10% mark up of their original value, and must provide the original price as well as row and seat number when advertising. Queensland has similar laws; sellers who disobey can cop a fine of more than $2000. Not only that, but buyers can also be slapped with a $600 fine.
Although, according to CHOICE, these measures don't work as there's no way to regulate national or international resale sites based on state laws.
Despite the efforts of law makers and ticket retailers alike to put quantity limits on purchases, there are people out there who are making proper bank by reselling tickets.
Lily shared with Chattr how she was pretty pissed off when her own friend jacked up the prices when reselling Spilt Milk tickets.
"A guy I'm close with purchased about six in order to 'make a profit', and when I asked him if I could buy one for my boyfriend, he made him pay $250… This made me pretty angry because as a friend he should just do us a favour, and it also pissed me off that others like my boyfriend had to potentially miss out because of him."
The OG price of Spilt Milk tickets were around $130…
Another respondent, Jaidyn, said he couldn't believe how Red Hot Chilli Peppers tickets quadrupled in price when being re-sold over the internet.
"Tickets were around $100 to $225. They were sold out within a minute, but were being resold in airline packages and hotel packages for more than what they were worth. I found a lot of tickets going for sale around $1000 on eBay, and other ticket companies selling them for more than their original price. People are reselling them for a profit, but chances are they are fake as well."
Belinda bought tickets off Facebook and lost about $360 when the seller never sent her tickets; blocked her on social media, and disconnected her phone number.
"It looked like a very legit profile. I gave the number to the police, contacted the bank and got the ATM number, and exact time the money was collected. ATMs have cameras, however the police wouldn't check the camera and track her down for $360. I realised she had conned many other people too after posting about her in the event on Facebook. She would've made a few thousand dollars. The cops were useless. Happy to strip search and harass people at festivals, but not help actual victims of crime."
It's quite obviously a dick move to deliberately buy and resell tickets for a profit. But if you're legitimately unable to attend a concert, you should sell it for the same price that you originally paid. Be kind to your fellow festival-heads; and for those buying, stay safe when surfing the net.