Boyfriends – behold! Gone are the days where you have to choose between buying your beloved flowers or lipsticks (I know, such a major struggle for your little heads).
In the same fashion as 'bigger is better', combining two beautiful things results in double the beauty, right? Lipstick lovers: rejoice! A Chinese brand called Kailijumei, recently expanded to the United States, has created lipsticks with actual little flowers trapped inside. Impractical? Unnecessary? Or totally awesome and I need one in my makeup bag ASAP?! I promise you'll fall in love with them too.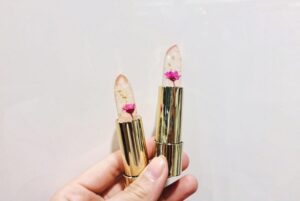 Although the lipsticks appear clear, when applied they leave colour based on your temperature and moisturise your lovely lips, smelling of sweet lavender. How does this work?
"When a dye in the lipstick called Red 27 hits your skin and comes into contact with moisture, the change in pH causes the dye to turn light pink. The dye itself is colorless, which is why the lipstick looks clear in the tube. The amount of Red 27 dye in a product, as well as the other dyes that are included, determine what the final shade will look like on your skin."
See, beautiful AND clever!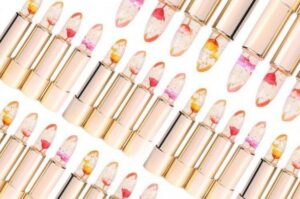 Although customers describe it as 'nonsensical' they still cannot resist purchasing the new little beauty buys that are selling faster than Kylie Cosmetics and Jeffree Star lipsticks. At only $4 shipping to Australia, you can have Minutemaid sent to you and not even feel guilty about it! Who needs money for bills anyway.
You guysss how gorgeous are these lipsticks!! They are from a China brand #kailijumei 😍😍 #beautyblogger pic.twitter.com/6mGomQ1XLq

— Sidrah!!! (@sidrahbeauty) June 24, 2016
Kailijumei lipstick 😳 pic.twitter.com/Y6n0YCkIk4

— Makeup 💋 (@MakeupIcon) May 18, 2016
Here are three reasons you need these lippies in your life.
They're totally adorable and would make a great Insta pic
The best things in life are combined (do we all remember the Big Mac Snack Wrap?!)
Based on customer swatches, they're gorgeous colours, making those lips look kissable even during the harsh Winter times
So what are you waiting for? I'm putting my order through for limited edition Barbie Doll Powder as we speak!