It's not just the same actor! You's Joe Goldberg, and Gossip Girl's Dan Humphrey share more in common than you might've thought.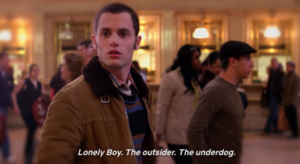 Teen drama Gossip Girl and psychological thriller You cleverly captivate and provide social commentary on elitist groups in society, and shed light on how the everyday Joe (pardon the pun) can work his way into exclusive or 'privileged' social groups.
While I'd personally not be as keen as Love or Serena to date them if they were real, the male protagonists are invaluable to each show in their own unique (yet scarily similar) ways. In different scenes and manifestations, I believe while Joe and Dan aren't by-the-book-sociopaths, they definitely exhibit similar sociopathic tendencies. Here's why:
Aside from their charm, love of literature, and 'outsider' personas, Dan and Joe engage in manipulative, secretive and deceptive behaviour. We've known this from the beginning of You via Joe's narration, and as the series progresses, I think we can all agree on just how sick his premeditated behaviour can be. Joe watches Beck… No wait. He stalks Beck, the object of his affection (more like infatuation) in Season 1, and then Love in season 2. At first, it's from a distance as he examines who he thinks they really are, then he strategically plans out how he can plant himself romantically into their lives.
In Gossip girl, protagonist Dan Humphrey tried to do a similar thing with love interest Serena in becoming part of her world.
"It was a birthright, a birthright I didn't have," admitted Dan in the final episode of Gossip Girl. "If I wasn't born into this world…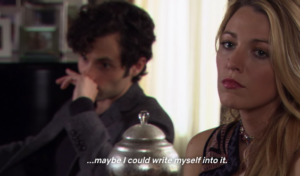 While it was not always Dan himself getting the dirt on people, he was fostering an online world which tracked Serena and her friends, even down to their exact location.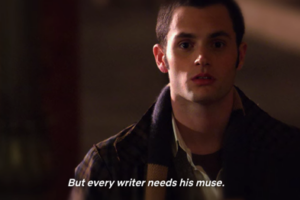 Which confirms…
They both stalk their love interests.
Both Joe and Dan have a woman they absolutely adore and – quite literally – follow closely in order to fulfil their larger agendas.
While for different reasons, both characters started to stalk their love interests at the very beginning, and continue to engage in some next level real-life and social media stalking as the shows progress.
As we found out in one of the final moments of the Gossip Girl series finale, Dan 'needed' Serena as a romantic, idolised figure in the 'Gossip Girl' world he fostered:
Then they began to date, and the two fell in and out of love as the seasons progressed.
While Joe does all the stalking himself (For example, in season 1 he stalked Beck by taking her phone and tracking her every call and text)…
…Dan would eventually leave the stalking up to others, who would send in their tips for him to post to the world.
Either way, I'm sure we can all agree: By no means are these normal, acceptable behaviours.
Which brings me to my next point…
They both rationalise their toxic behaviour, despite the consequences.
Joe's 'I did this for you' mentality shows just how irrational he really is.
And as for Dan, all he did was post what other's sent him online… Which makes it okay, right?
So Dan, being the omnipresent Gossip Girl, and Joe, killing off 'bad' people in Beck's social life, does make them seem different at the forefront. But really, the main difference between them is Dan doesn't actually kill anyone (although, his Gossip Girl secret did play a part in Serena turning back to drugs, Blair, Chuck AND Serena getting into car accidents, Blair losing her baby, and ultimately Jenny being so disturbed she had to leave town…. But minor details, right?).
Even though Dan shut down Gossip Girl after Blair and Chuck's car accident, it did end up back in his control later on in the series. AND, it seems somehow after Dan explained himself, his own father came to the conclusion that the whole website was somewhat constructive.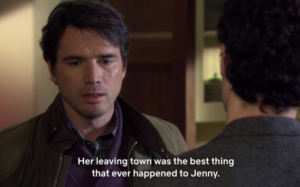 Dan would almost blame the society for fuelling this behaviour, while Joe would believe he was doing bad things for the right reasons. So it seems both characters lack a sense of true accountability for their actions.
Penn Badgley, (actor of both roles) actually alluded to all this in a cast interview with HuffPost's Cole Delbyck, which confirmed my suspicions that I'm not the only one who has this theory.
"Is this the real Dan?" Delbyck asked Penn, referring to Joe from You. To which Penn responded: "Maybe it is."
"I think there are interesting dots to be connected between the kind of series' we've been on," he also admitted in reference to himself playing Dan in Gossip Girl, and the also present Shay Mitchell who played Peach in You and Emily in Pretty Little Liars.
"It was essentially sociopathic behaviour," added Penn. "What it ends up being is a meta-progression of Dan Humphrey in a way that at once makes me widely uncomfortable and also right at home." And jokingly, television writer and producer Sera Gamble said: "From now on I'm gonna call everything a meta-progression of Dan Humphrey… Everything I write for the rest of the show."
So obviously they differ in severity, but whether it's by using data to expose and track people's thoughts and moves, or murdering people and rationalising it, Dan and Joe both exercise manipulation, pathological lying and deception… Which are ALL sociopathic tendencies.
AND, if you're still not convinced that Dan and Joe are actually quite similar, try re-watching Gossip Girl with this new lens. If you still think Dan Humphrey is just an ordinary, innocent guy, then let us know. We'd be surprised if you do.