The Irishman finally released on Netflix on the 27th of November and I set aside an unprecedented three and a half hours to sit on my bum and watch the lengthy Netflix exclusive. Ladies and gentlemen, I can confidently say that our generation has finally found its Godfather. If you don't know what I mean, then I'll explain.
The Godfather has gone down in cinematic history as one of the most important and significant films to ever be made. Whenever the discussion of best films ever made is brought up, The Godfather is mentioned. Millennials can now brag to their children and grandchildren in 50 years time that "they don't make movies like they used to – If you want to see a real movie, watch The Irishman". Yes, the movie has been out for less than a week, and yes the consensus is still open.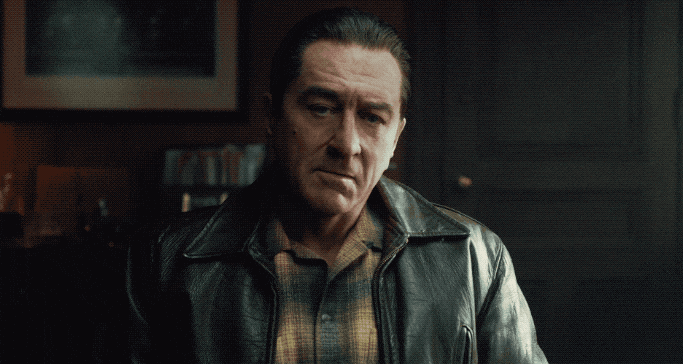 However, in the words of the rapper/poet Jay Z, "men lie, women lie, numbers don't". Numbers certainly do not lie. The Irishman respectively scored 8.6/10 on IMBD, 96% on Rotten Tomatoes and 94% on Metacritic. Obviously reviews are subjective and they're not the final say on whether or not a movie is liked or good. However, these reviews have already placed The Irishman as one of the best reviewed films of the year, as well as 'all-time'. 
Martin Scorsese through his amazing skills as a director gives beautiful storytelling. You can watch 100 movies in 2019 and think they are all well-directed films, but nothing quite compares to Scorsese's art. From the tracking shots to the lengthy single shots following central characters down hallways and corridors, Scorsese is truly a master of his craft. The script is another masterpiece.
Writer Steven Zaillian perfectly adapts Charles Brandt's I Heard You Paint Houses to give viewers the perfect combination between drama and glimpses of dark comedy. Nevertheless, the direction and writing cannot hold a candle to the three Academy Award winning actors who could possibly scoop up additional Oscars; Robert Deniro, Joe Pesci and Al Pacino. Deniro effortlessly plays Frank 'The Irishman' Sheeran, the lead of the film, while Pesci comes out of self imposed retirement to play Russell Bufalino. Al Pacino plays Jimmy Hoffa.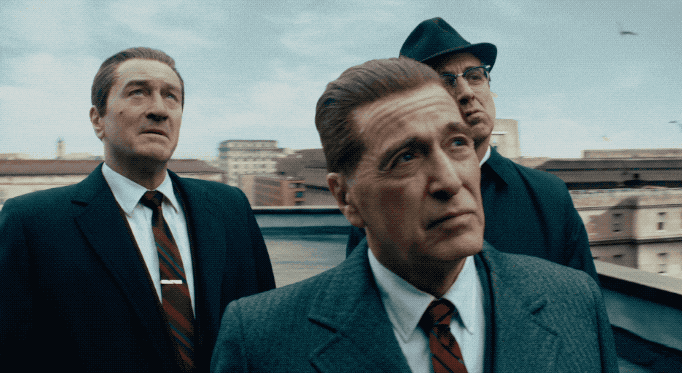 Here are three reasons to watch The Irishman:
Warning: contains spoilers!
Martin Scorsese's Direction
Scorcese has long been considered one of the world's most acclaimed film directors. From films like Taxi Driver, Raging Bull and Goodfellas, Scorcese has always had a signature style with his direction. Whether it is breaking the fourth wall and talking directly to the camera in films such as Wolf Of Wall Street, or lengthy continuous tracking shots used in basically every Scorcese film – particularly Goodfellas.
Scorcese takes a scene and makes it a short film in its own right. Everything is important. From the way a character walks to the way a character emphasises words. Scorcese has a love for continuity which most directors forget. A prime example is Deniro's character Frank Sheeran throughout the film struggling to make eye contact with anybody who is in power. Instead, his eyes and head wonder constantly throughout the film. It is only when he is in charge of a situation where he is confident and strong in his demeanour.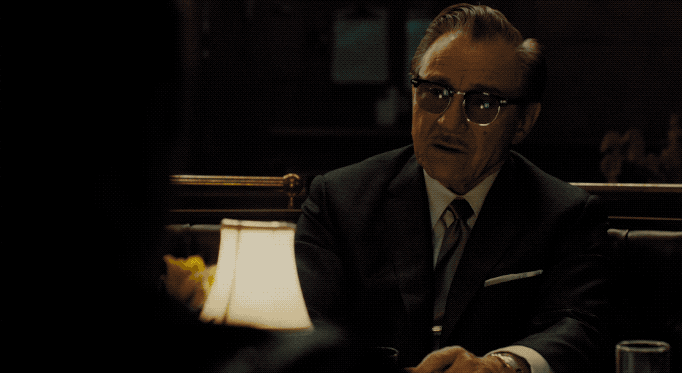 Another example of Scorsese's masterful direction is his use of camera techniques. Pesci is given these magnificent close ups because his character Russell Bufalino is a man of short stature who has a stone cold facial expression which remains the same when he talks about killing someone, complimenting someone or even showing love for someone. Deniro, on the other hand, is given close ups of his face for a different reason. Deniro's character Frank Sheeran is constantly feeling conflicted with what he has to do to make money for his family, and who he has to kill to keep the bosses happy. Deniro's close ups are different to Pesci's because Deniro's story is in his fac, for instance his tired eyes from not sleeping at night because his daughter hates him, to the thought of one day having to kill his friends to please people who just see death as a a part of business. 
Steven Zaillian's Script
What is outstanding direction without an outstanding script? Not a Scorcese film, that's for sure. The return of Scorsese is a clear example of cinema which gets both direction and the script correct.
The Irishman uses storytelling techniques such as flashbacks and cleverly introduces a flashback within that flashback in a way which doesn't confuse the audience, like Inception (lol). Throughout the film, scenes switch from one of three periods in history for Frank Sheeran: The year of his death where he is discussing his years as a mafia goon, the period he was actually a mafia goon, and finally his life prior to the mafia. Eventually all three flashbacks perfectly weave into one story.
Zaillian's script does something most movies don't. Within these three flashbacks, the deaths of various men are mentioned in a fourth wall breaking moment which reads as a title card highlighting how the men died and what year. Usually the cause of death was a very public execution. The script chooses not to visualise the blood and gore but instead highlight dialogue which paints a picture of the man who is set to die sometime in the future and unfortunately makes the viewer think, "woah, okay that guy is annoying. I'm glad I know he dies now. He kind of deserves it".
The fact that Zaillian's script and dialogue are far more intriguing than a visual image of someone being killed is a testament to the scriptwriter and his craft. I genuinely wanted to hear more and more from the person who would later die, and was hoping the scene would not switch to their untimely murder. Thank God the scene never switched. 
The Acting Performances Of Deniro, Pesci & Pacino
Between the three iconic actors they have a total of four Oscars. Deniro has two: Best Supporting Actor for The Godfather Part 2 and Best Actor for Raging Bull. Pesci won Best Supporting Actor for Goodfellas and Pacino won Best Actor for Scent Of A Woman. There are only very few films where every single leading actor has an Academy Award. Deniro has shared the screen with Pesci for Raging Bull, Goodfellas and Casino, while Pesci has never acted alongside Pacino. However, the film Heat saw Pacino and Deniro work together for the first time in history. Nevertheless, the chemistry between the three actors is as if they have worked together for their whole careers. 
Deniro gives a performance worthy of an Oscar for Best Actor. However, he probably won't win because as we know, that's going to Joaquin Phoenix. Check out my Joker article to remember why. Either way, he will be nominated. Deniro's performance is mesmorising and full of emotion.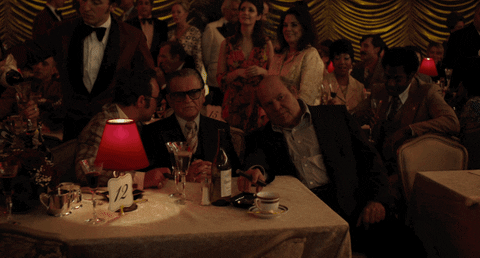 Pesci gives a similar performance to Goodfellas, but he's not the same murderous maniac. He plays a cool, calm and collected individual who only speaks in short truncated sentences, which can be some of the most chilling lines spoken within the film. One line in particular is said with such quiet intensity that it almost made me cry in appreciation for Pesci's performance. 
Finally – my favourite actor of all time – Al Pacino. This is a role I'm used to for Pacino. In The Irishman, he perfectly acts out Jimmy Hoffa's descent into madness as he becomes insubordinate and paranoid. This is a role worthy of all the praise. Having to wait a grand total of 50 minutes before his character was even shown on screen, then having the final half hour of once again no Pacino did hurt me, because I love Pacino. Nevertheless, this film is a true story and I cannot expect history to be changed to please me. 
The Irishman is a film for the ages. Before you scroll away on Netflix, please consider viewing at least the trailer of The Irishman. This film has been Scorcese's passion project for longer than most of us have been alive. The least you can do is sit for three and a half hours and witness a moment you may forever appreciate.