So you've just spent almost $100 on a Groovin' the Moo ticket for a bit of regional musical magic, and you'll be damned if you're paying $13 for a half-strength bev.
So you hit up the self-serve at Coles to buy a suspiciously large amount of yogurt pouches and some home-brand strapping tape to get past festival security with some $8 Aldi wine. It's probably one of the most stress-inducing, time consuming aspects of going to a festival (outside of taking a token group selfie).
Unless you've been living under some kind of commercial radio rock, you'll know that Groovin' the Moo is a music festival that focuses on bringing a bit of excitement to regional kids' lives, hosting shows in Bunbury, Bendigo, Canberra, Maitland, Wayville and Townsville. It's something to look forward to outside of a B and S ball.
My question is: why is there such inconsistency in security? It seems that how thorough security checks are varies significantly depending on festival locations as well as time of arrival.
Obviously, the laws surrounding search warrants and "reasonable suspicion" vary state to state. This makes it difficult for security at location to be entirely identical in their inspection processes. For NSW punters, you can check your rights during security searches here.
During a pre-noon game of Kings Cup at my brother's Canberra unit before the recent Canberra GTM, a friend got a call from her sister to say that not only was the line to get in huge, it was moving super slowly. 15-year-old Taylor* told us security were apparently lifting up shirts and patting people down: a surprise to me, who in my past four years of attending Canberra GTM, has always just walked through security like it was nobody's business.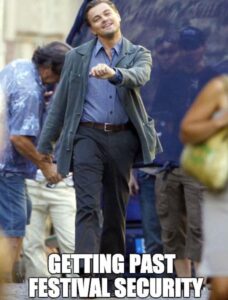 I got in contact with a few people that had attended GTM across Australia. Two sisters, Caitlin and Shae* from rural NSW, were thoroughly searched upon arrival at Canberra.
They arrived at 1 p.m. and were told by a female security guard that she was going to conduct a search.
The security guard patted them down, the girls reporting that the guard excessively groped their breasts, pushing them to each side and trying to find anything they might be hiding. When the security guard found nothing, they were ushered through to present their tickets as if nothing had happened.
"I felt awkward and uncomfortable that a stranger was groping my breasts, especially since there was no reason or suspicion that I was even hiding anything."

"It's like they think because it's another female doing it that girls won't feel violated."
Up north at the Townsville leg of the tour, 20-year-old Kiarn* was not searched at all when she arrived at 12:30pm.
"I had alcohol tucked in my clothes, but security was like invisible in the over 18's line. We just walked right through without being checked at all."
So why is there no consistency state-to-state? You would think the aim of security at festivals would be roughly the same nationwide, therefore the means by which they conduct searches should be similar.
However, from speaking to festival-goers I've found out that it's not just a matter of location. The time you turn up to the gates seem to affect how thoroughly you get searched. My group and I didn't arrive until almost 3pm and there was a bit of stress as to how quickly we would get in with all the patting and shirt-lifting.
There would have been hell to pay if I missed this banger by The Smith Street Band:
The line only had about twenty people spread throughout the various entrances, meaning it took us only a few minutes to get through. When I whipped my backpack off for a search, the security guy just shook his head and waved me through. Next thing I knew, I was on the other side of the fence with my wrist band on and not a second glance from the festival security.
So, what do you think? Is festival security too thorough or too lenient? Have you ever felt violated by an unwarranted security search? And why are people so keen to smuggle their alcohol in from outside? My guess is they're all poor uni students who spend too much money on food.
Triple J's Hack have also done some investigative reporting into what you should do when faced with police searches inside music festivals as well as outside of the actual festival grounds. They spoke to two lawyers who answered all your questions regarding festival security.
It's a tough one to figure out, so for now all I can say is: stay safe, spread love and have fun at any and all of the festivals you attend.
Or there's always this trick:
They snuck into a music festival posed as security lmao 😂 pic.twitter.com/qWNPQEeP4K

— Hilarious (@ComedyPics) October 18, 2016
*Names have been changed to protect privacy