We are down to the final eight survivors of Paradise. Four couples remain and everything still hangs up in the air. This episode we got some great insight into why the couples like each other and a lot of face eating. Like a lot of face eating.
With tomorrow's penultimate commitment ceremony looming over the heads of our lovebirds, the pressure is on to sort out what the heck is going on!
Starting the night off with Keira and Jarrod, we are exposed to a 360-degree view of them pashing on a sand bank that they have no way of getting off. Is this some test producers? Are they attempting to create a Survivor like challenge? Are you gonna tell them what they're playing for?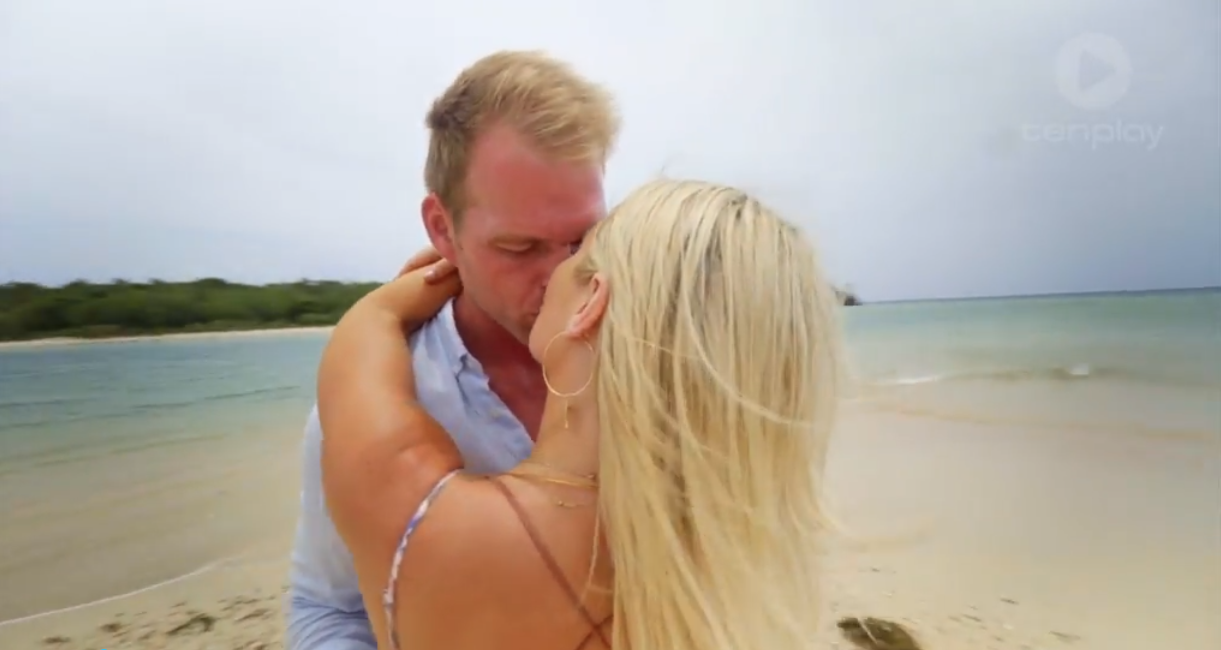 All jokes aside, these two are probably the best match for each other. Both are desperate, stage nine clingers, and get sunburnt way too easily. However, their chemistry is undoubtedly there as is seen with their pash rash and not so subtle touching that has us cringing.
They end up being rescued from their small little deserted island and the people who saved them supply them with pool toys for the vast expansive ocean. It's a little concerning to see them in the water where they are most likely surrounded by thousands of sharks. Oh well, fuck it for love.
Next up, we see Grant and Ali completely loved up and smitten with each other. The only pitfall is that the bike that they're using for their date doesn't connect Australia to America so they're not sure if this relationship is going to last. With Grant being based in Los Angeles and Ali living in Australia's L.A ghetto equivalent, Adelaide, our American friend is making it clear he won't be gracing our shores anytime soon. Also, we can clearly see that they don't even need to pedal for this thing to work. Trickery and deceit.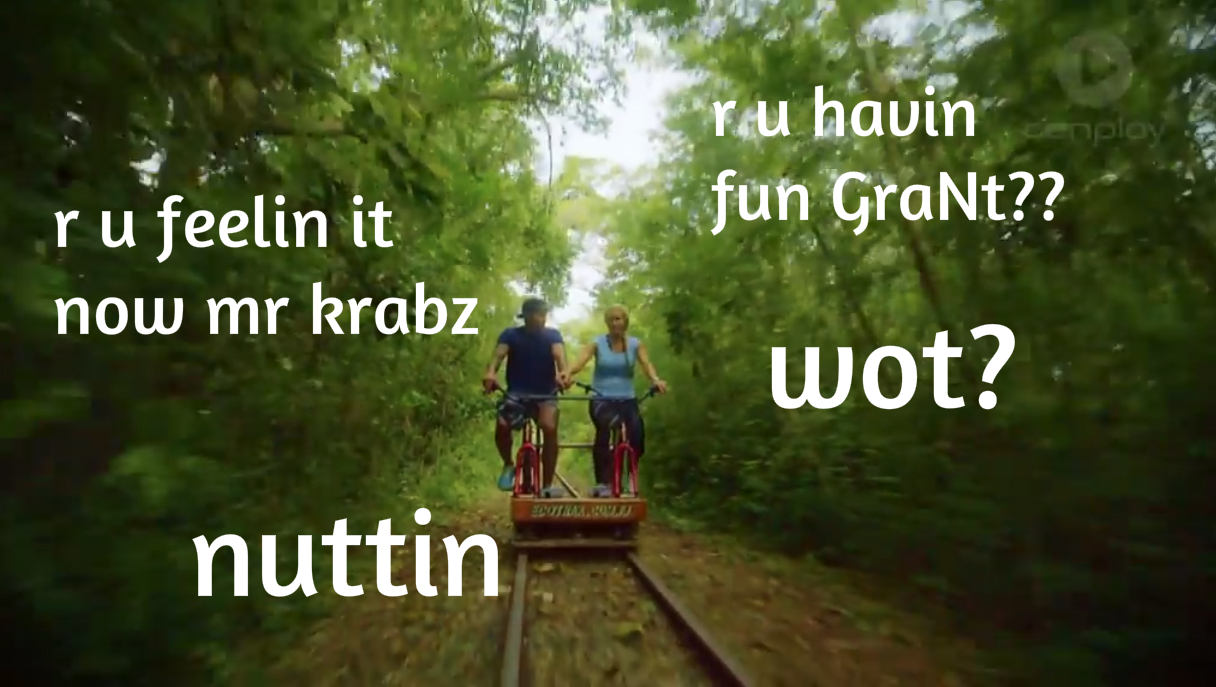 Their date is fun and they end up chatting to a few Fijian kids about where they can find a good burger place and end up giving them leys for the ride home. Once their tandem bike ride is complete, Grant assures Ali that he will support her through the move and whatever else life throws at her. Where are these generous men at? I can barely get a text back. At least she won't be taken for granted.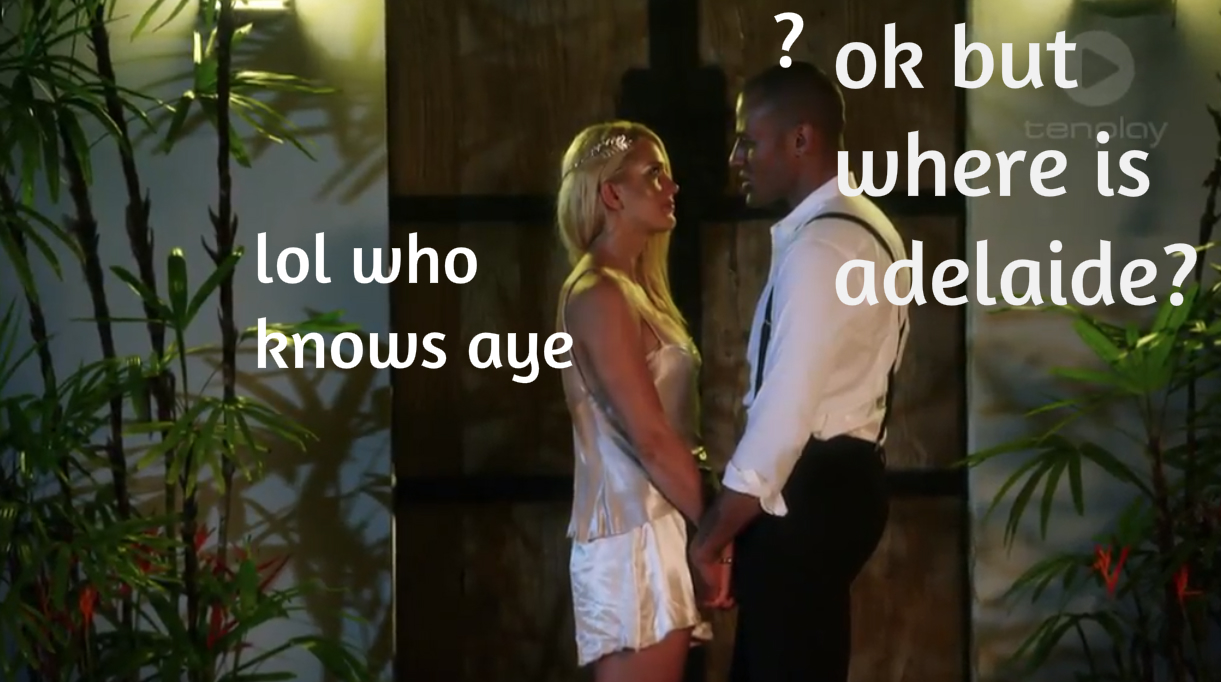 She replies to his plea with a simple "I'm more than ready" to move halfway across the bloody world. These people have known each other for figuratively three weeks. I am more than concerned that these people have their lives together, while I sit at home eating ice cream having no clue what I'm going to be doing in an hour's time.
Tara and Sam are up next. These two are our absolute favs. The comedy couple, the dynamic duo, the Uncle Sam to Propaganda, a perfect match some would say. It's all accompanied with flashbacks to Tara mentioning Sam's perceived dickish behavior on his previous season with her flipping to liking every part of him (even his grotty 'frullet' head).
They eventually go on a cooking date, which is kind of ironic since neither of them have stirred the pot in Paradise nor cook. After cooking, they divulge and vent their feelings for each other, which involves lots of pashing exchanges, awkward life conversations and many "I love you" moments which has us tearing up inside. This couple is the most legit thing ever and we oh so hope that it lasts because WHO DOESN'T LIKE SARA or TAM.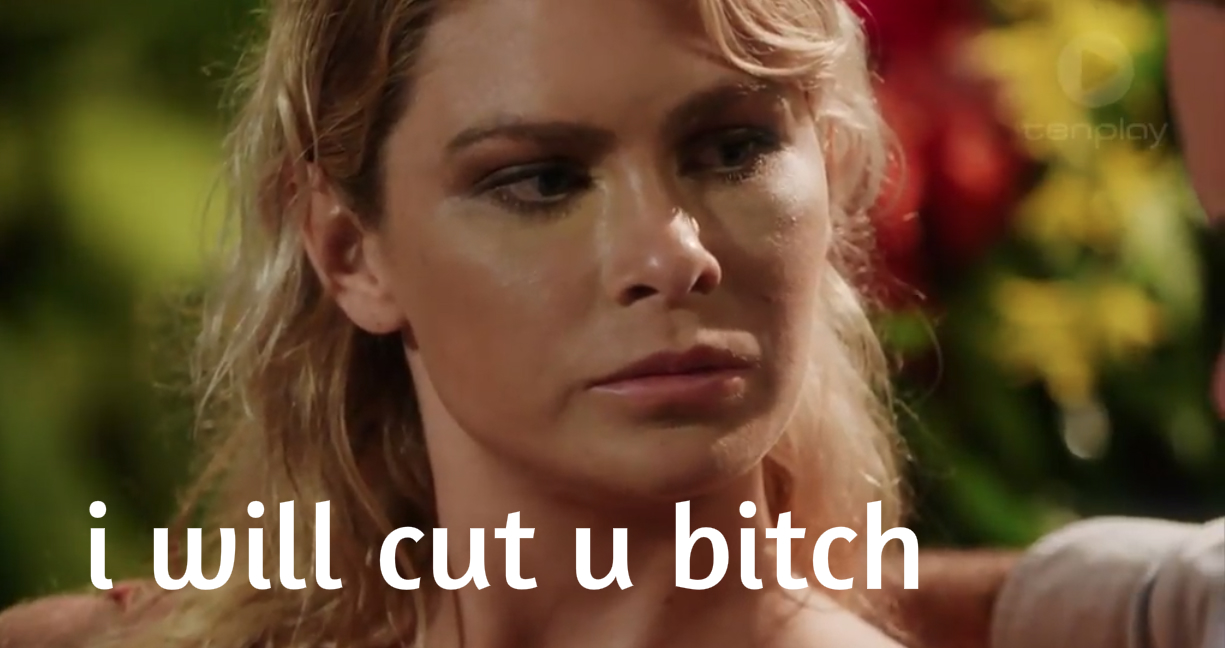 Last but not least, Jakey the Snakey and Bisexual Megan have a chat about commitment. Ah. Hm. No.
Florence is turning over in her Bachelor in Paradise grave as the pair begin to discuss monogamy and if Jake is going to remain loyal to her. Hun, he's a snakey, don't believe him please.
That's it for this recap! Tomorrow night's episode of Bachelor in Paradise is the finale so tune in at 7:30pm on Channel Ten for the last night we get to see love, drama and non-stop pashin!