It's been about five days since Harry Potter: A Hogwarts Mystery was​ released on IOS and Android. The highly anticipated app was announced all the way back in February. With the opportunity to play as a Hogwarts student, it is the perfect opportunity for Harry Potter fans to live out their dreams of being real witches and wizards.
There is a story to unravel through playing the game. There are plenty of friends and enemies to be made as well as learning opportunities along the way. And funnily enough, there is even a little mystery to unravel. It should be pure, simple fun.
But it's not.
And, many, many Harry Potter fans are ​angry​ as a result.
It's all largely due to a small issue called ​energy. ​In order to complete actions in the game you need to use this energy. By completing the actions you progress through the story. If you don't complete the actions, then you simply can't continue the story. The first time this becomes an issue for many users is when the main character gets trapped in a room with Devil's Snare. There you are trying to fend off the plant when all of a sudden you're hit with this image: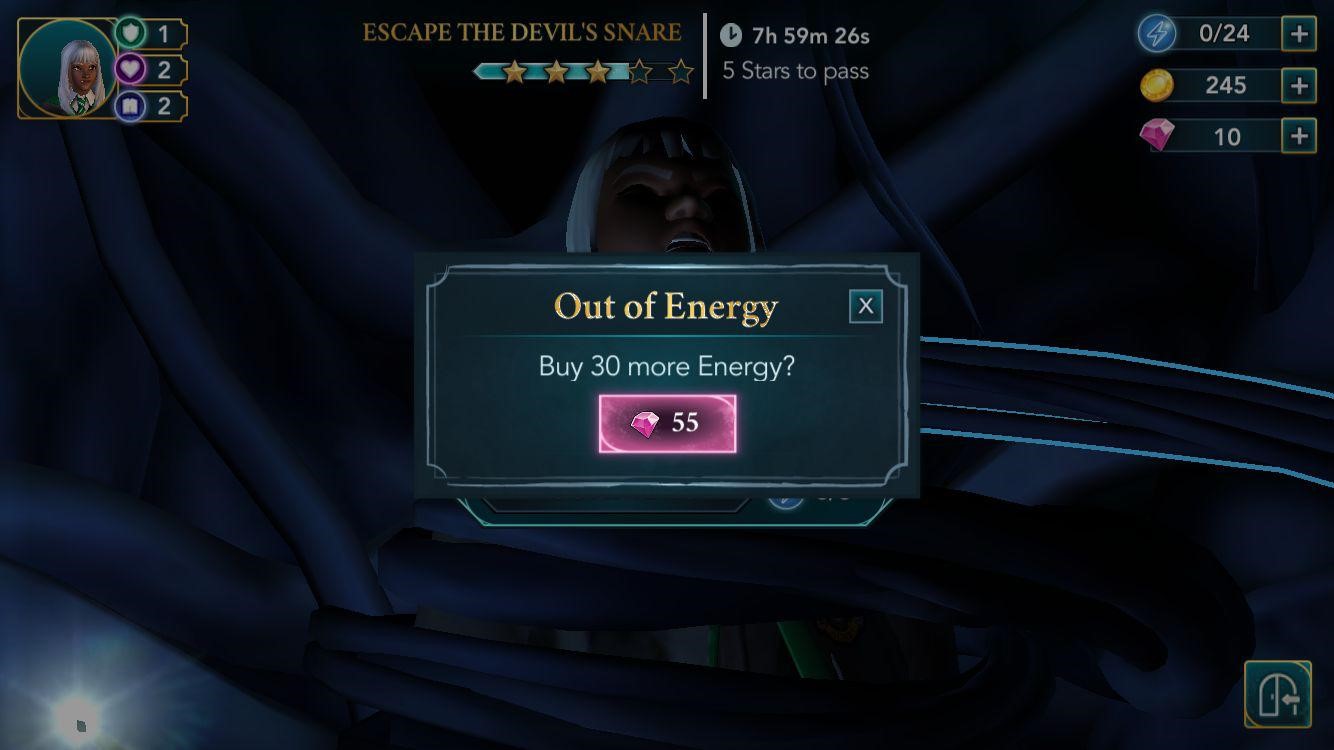 Microtransactions. The bane of every game lover. For makers of apps it's a genius way to generate money, when it's done right. Many games use microtransactions. By charging gamers for premium content (for things like weapons, outfits and characters) producers are able to make games more accessible while also being able to generate revenue.
Pokemon Go does this well. Users are able to buy items like incubators, poke balls and storage upgrades to make their gaming experience smoother. None of this really inhibits gamers from playing Pokemon Go.
Unfortunately, this is not the case with Harry Potter: A Hogwarts Mystery. Basically, you either have to wait or pay to continue the story (it takes a whole four minutes to regenerate one point of energy). As you might imagine, this is frustrating for a lot of gamers.
I am a:

⚪woman

⚪man

⚫Harry Potter: Hogwarts Mystery Player

Looking for:

⚪woman

⚪man

⚫energy

— ✨karen✨ (@poptartskaren) April 27, 2018
Barely 10 minutes into the Harry Potter mobile game and I've hit a roadblock that forces you to either let the clock run out (took 15+ minutes) or cough up money to progress the game. Can't say I'm surprised, but dissapointed. #HogwartsMystery pic.twitter.com/pIGx58P9R9

— jena (@bibliofilth) April 25, 2018
I played Harry Potter #HogwartsMystery for 45 min. Got annoyed because I couldn't use my real name, then I was asked to buy "energy" when my character was trapped & being strangled by a plant. To live, I must spend $. I deleted the app.

— Phoebe Johnson (@p_ho_e_be) April 26, 2018
For a game with so much potential, it is annoying it had to turn out like this. Much like the others above, I have been sorely tempted to delete the game.
It is an issue which could be easily fixed by allowing players to complete tasks simultaneously and giving players more ways to generate energy. (Let's be frank, one energy point in four minutes is madness).
Harry Potter: A Hogwarts Mystery is a game that should be and could be great. The graphics are excellent. The music is fitting. Any Harry Potter fan is sure to appreciate visiting Diagon Alley, exploring Hogwarts and interacting with the Professors. It's a game with so much potential. But it falls flat on its face thanks to its money-grabbing antics. If you're looking to live out your own Hogwarts adventure, this app is not the way to do it.