Spring is well and truly in the air, bringing with it sunny days, warm evenings, and the perfect excuse to update your wardrobe (and sort out your hay fever!). When choosing the new items that will make up our spring staples, it's important to keep in mind the impact our purchasing decisions have on the environment. The fashion industry is the second-largest polluter in the world, affecting our waterways, landfill, and air quality. Purchasing from sustainable brands that value the environment doesn't mean compromising on style and chicness. Brands are becoming aware of the importance of sustainability, ethics, and transparency to consumers. Now you can find gorgeous, luxury items which have minimal impact on the environment. Here are 5 eco-friendly items to add to your wardrobe this spring:
The 'Vintage Clutch' by Willow Bay Australia
Willow Bay Australia have designed an adorable, vintage-inspired clutch that will be a staple this spring, and for many seasons to come. Its classic design is perfect for dressier occasions, such as spring soirées and weddings. The best part is that the clutch is designed from high quality, vegan leather. Most animal leathers, as well as being cruel and unsustainable, are tanned using chrome. This chemical is harmful to the environment as it can pollute waterways, air, and soil. The gorgeous design of the Vintage Clutch is eco-friendly without compromising on style, and available in blush pink, white, and grey.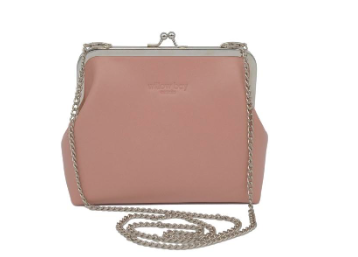 Vintage Clutch in blush pink via Willow Bay Australia
'Clean Silk' by Everlane
When you think luxury, you think silk. Slipping on a sustainable silk camisole or shirt will keep you looking sophisticated through spring, and keep your conscience clean. Everlane is a popular brand that is transparent with consumers about the sourcing of their materials, conditions of their factories, and pricing. Everlane's silk is called 'clean' because they eliminate a number of harmful dyes and treatments whose outputs can harm the environment, as well as the workers who handle them. Sustainability is taken into account at every step of the process, and by 2025 they aim for their silk to be dyed and washed with 100% recycled water and 100% renewable energy. Everlane are a company truly committed to re-defining your spring staples as sustainable luxury. Explore their range of gorgeous 'clean silk' here.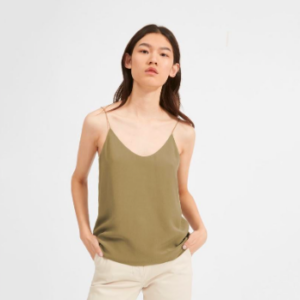 The Clean Silk Cami via Everlane
Dainty Jewellery from Catbird
Brooklyn-based brand Catbird designs gorgeous, 14k gold fine jewellery. Many of their delicate charms, chains, and earrings are created from recycled gold and diamonds; taking apart pre-loved items and re-purposing them into beautiful new jewellery. The Catbird Foundation donates one per cent of every sale to various charities that benefit the community or the environment, such as the Citizens' Climate Lobby. Catbird's collection of adorable gold and silver charms in the shape of strawberries, butterflies, and shells are perfect for spring!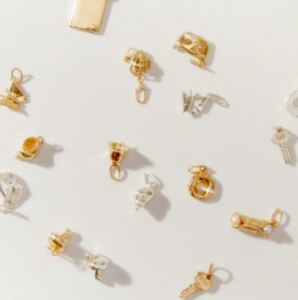 Charms via Catbird
Sneakers from Veja 
Step into spring with sustainable sneakers from Veja. As the weather warms up it's the perfect opportunity to get out more, so you'll need a great pair of shoes to take you on your adventures. There are many different styles of Veja sneakers made from varying materials. Veja uses anything from upcycled bottles, recycled cotton, corn waste, and biodegradable rubber. They are fully transparent about how and where their materials are sourced, and their relationship with the local community in these areas. Veja's vegan sneakers are a great sustainable item that will reduce your carbon footprint this spring.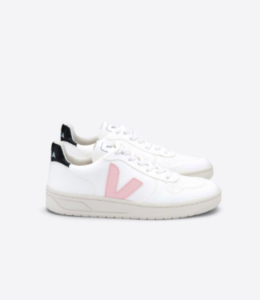 V-10 Vegan White Petale via Veja
Swimwear from Reformation
Reformation is that cool-girl brand all over your Instagram in summer, known for its pretty silhouettes and sustainability. Reformation's line of swimwear embody a minimalist aesthetic that will see them become key pieces of your swimwear collection over spring and summer. The swimwear is designed from econyl, a synthetic fabric made from waste such as fishing nets, fabric off-cuts, carpet scraps, and industrial plastics. Repurposing these products saves them from ending up in our waterways and landfill. Reformation also indicates on their product pages how much water, carbon dioxide, and waste has been saved with the production of each piece. When you take a dip in the ocean this spring in your Reformation swimmers, remember it's saving the marine life from plastics which may have otherwise ended up there!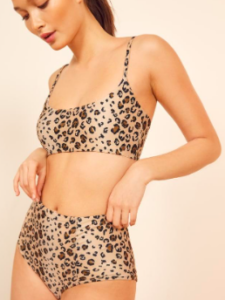 Malibu Bikini Top via Reformation
These five items will become the staple pieces of building a luxury, sustainable wardrobe this spring – covering your bag, clothing, jewellery, shoe, and swimwear essentials! Let us know in the comments how you'll be making eco-friendly updates to your wardrobe this spring.