The Red Badge of Courage, Red River, That Time of the Month, Shark Week, Period. We all have our unique euphemisms to refer to menstruation. Luckily for us, periods have become less taboo to talk about, and as they should, it's opening a dialogue for girls to feel comfortable in their bodies from a young age. 
It's time women turn around the narrative and take back pride in our bodies, viva la vulva. 
With this in mind, may we introduce to you to the Peach Pack, co-founded by 22-year old best friends, Sage Mellet (sister of Aussie popstar Troye Sivan) and Alyssa Carp. These inspiring young women are responsible for the creative little Peach Pack, a curated subscription pack handling all your menstrual hygiene needs with ease.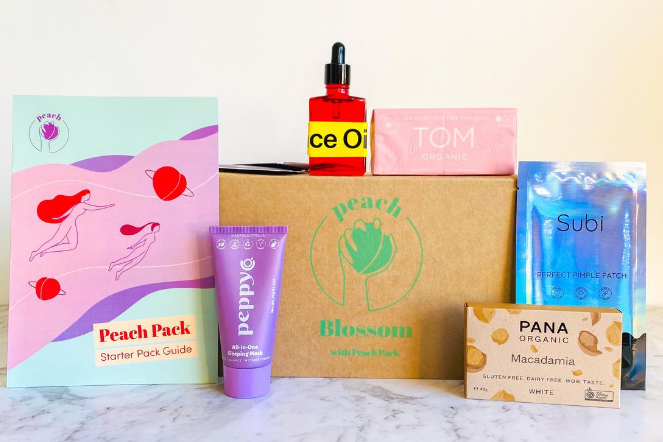 Each box is customizable with your preference of tampons and pads that are always natural, organic and environmentally friendly.  The subscription includes monthly self-love products that will make your time of the month that extra bit special and the best part is they deliver straight to your door, right before your period, every month so you don't have to worry about running to the shops with toilet paper wadded up in your undies. Need another reason to jump on the Peach Pack bandwagon? With every pack purchased, a portion of proceeds is donated to those who don't have access to menstrual products.  
These innovative women have just launched The Blossom Pack in Australia and it's here to break the stigma and taboo around menstruation, all while educating and empowering young Aussies along the way. Sage and Alyssa told Chattr, "This pack was born out of what we wished we had when we first got our periods. As women who live and breathe this reality, we knew exactly what we'd want to feature in this pack. The Starter guide in the Blossom Pack is there as a reference for young girls who may feel a bit unsure and nervous for their first monthly cycle, plus all the chocolate and skincare is a bonus to help combat those fluctuating hormones!" 
The Blossom Pack is the ultimate curated self-care pack to handle all of your menstrual hygiene needs with ease. It packages sanitary products and self-care items into a nifty eco-friendly box. Unlike the Peach Pack, the Blossom Pack is a one-off purchase for first-timers who can also add in the Starter Pack Guide to their delivery, which is a booklet that explores periods and tackles a range of menstrual-related questions.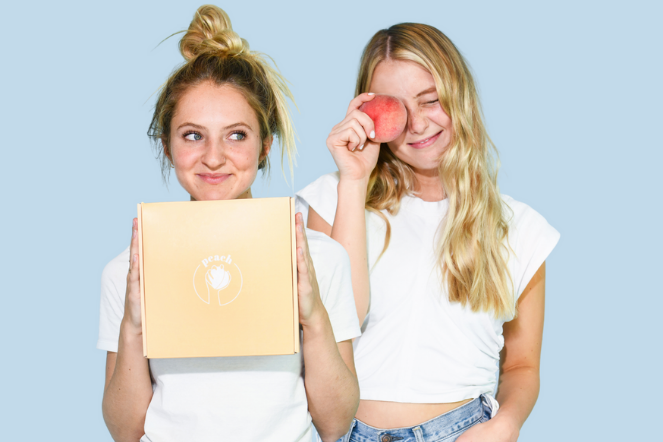 Q: What inspired you to make the packs?
A: The Blossom pack is tailored towards that younger teen, who feels somewhat overwhelmed and panicked when they first get their periods. After launching Peach Pack a few years ago, we always reminisced how amazing it would have been to have a curated Period Pack when we were young. One which not only gave you access to the necessary period products but also enabled you to try out some self-care products. In light of this, we often received many inquiries on Instagram from mothers wanting to gift the pack to their daughters for their first periods. This is what sparked the idea for the Blossom Pack, as we realised there was a huge void in the market! A curated period pack for 'period first-timers'! 
Q: Is there an option for women who use menstrual cups and do not want pads or tampons in their pack?
A: This is something we'd love to offer customers down the track! We offer the inclusion of the Bonds Bloody Comfy Undies in the Blossom Pack, which serves as an excellent alternative for girls who may not like pads or tampons. It's so important for young girls to be able to try out various products when they initially get their period, to find out what best suits their bodies. That's why it's still important for us to include organic pads and tampons, but we would love to expand this to include the menstrual cup as well!
Q: What can girls expect to receive in The Blossom Pack?
A:
– TOM Organic period products
– Delicious PANA Chocolate
– A PMS Tea by Your Tea
– Fluff Cosmetics' Facial Oil
– Referral card to the Bloom App
– PeppyCo Face Mask
– Subi Pimple Patch
– The Starter Pack Guide (if chosen)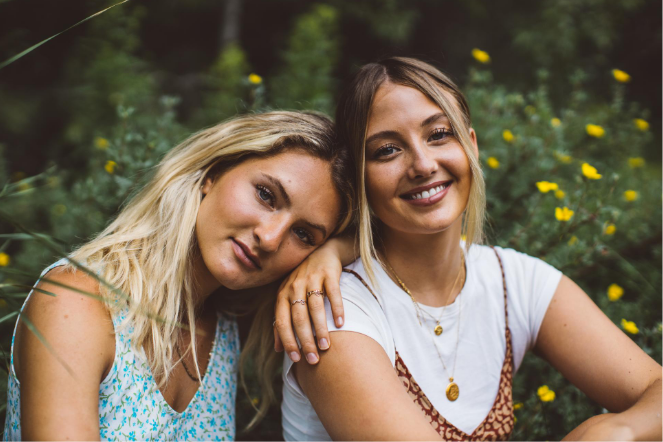 Self-professed 'impassioned feminists', the girls wanted to change the way that people were relating to their periods, and they wanted to do their part to change that reality.
They achieve this by igniting a conversation, creating a community and raising awareness. Sage and Alyssa invite you to embark on this journey with them and build the Peach Pack community together.