'Tis the season where bottomless brunches are very quickly swapped out for social occasions that involve TV, comfort food and oversized trackies. Of course, all of the aforementioned must be paired with a tasty tipple and we're about to tell you why rum should sit at the top of that list. 
Cinnamon, clove, ginger and vanilla are only a few key flavours to expect in that first drop of spiced rum. If that doesn't scream hug in a mug, I don't know what does. The amateur cocktail connoisseur may be sitting there thinking 'well, what on earth can I combine with spiced rum?'. Here's how you can take a couple of the classics and reinvent them to suit the wintery months ahead. 
A black mojito is one way to refresh those taste buds. Remove the white rum and wrap your lips around a spicier blend with the darker spirit instead. For all the ladies who love luxury (ie. all of us), or are feeling that wee bit rumantic, we can confirm that an espresso martini a la rum is a very subtle way to up your at-home cocktail game. Simply substitute for the vodka and Bob's your uncle.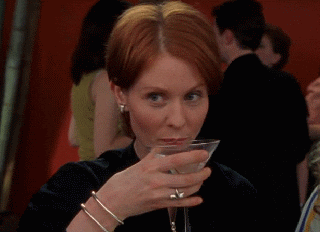 Did you know rum can be served warm as well? Yes, like mulled wine, but with a bit more of a kick. Combine 30ml of The Kraken Black Spiced Rum with 90ml of warm apple cider, garnish with a cinnamon stick and you'll have yourself what some like to call The Squid Bite. 
What's that? You're hungry too? Let us guide you. Spiced rum is most classically paired with decadent desserts like chocolate mud cakes and gooey puddings (cue drooling). 
For those days where life gets the best of you and convenience is all you crave, Kraken & Dry and Kraken & Cola are the perfect premium premixes to lie waiting in your fridge. 
Kraken & Dry goes down nicely next to a plate piled with slow-cooked beef or pork, something refreshing to cut through the meaty mouthfuls. If that's not your vibe, a Kraken & Cola with burgers and fries are also on the menu (the Uber Eats menu). 
Timeless flavour combos and tasty tipples… you can thank us later.