Elliot Maginot, the young Montréal musician, is honest, talented, contemplative and enigmatic. Four years ago his song writing began, and during what he describes as a 'hermit period', he created a new identity through his music; "I'm a totally different person than I was before".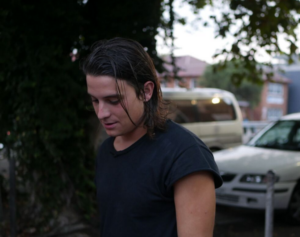 Outside Rad Bar & Café, Wollongong, we escaped the summer humidity, bantering with a few drinks. He's quite well adjusted to the Australian climate given it's his first time touring here.
"I've been to the beach basically every single day – I'm staying in Cronulla at the moment and there's a beach very close. But I went surfing and just busted my shoulder so it's going to be hard playing my guitar."
Despite his injury, Maginot gave a captivating performance. Inside Rad Bar, a soft arrangement of neon lights covered Elliot at the forefront: spectators were transfixed like moths to a flame. With one guitar and a variety of effects pedals, he performed songs from his first full length album, Young/Old/Everything.In.Between. The relaxing, emotional and meditative album grapples with poignant themes of identity, and relationships, layered with emotive and haunting melodies.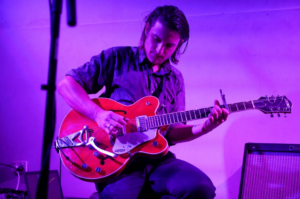 "It's the first album so there's a lot of older songs on it, some were written a while ago … it was written in three years, in three different frames of mind. It's basically the best stuff of everything I've done so far."
Originally born Gabriel Helie-Harvey, he fashioned a separate artistic identity for his creative persona, thus Elliot Maginot was born. The pseudonym references the Maginot Line, created as a line of defence between Germany and France during World War II, an interesting reference to war and history. For Elliot, the creative process of song writing makes him more confident and strong, as he channels and expresses his emotions.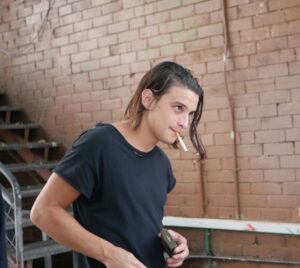 "I'm not scared anymore … of life in general … people, getting my feelings hurt. I was never an outgoing person and this just forced me to be more upfront, bolder and daring. The main theme of the album allowed me to break free from the struggles of dealing with new lifestyles and adventures. It's very challenging but very rewarding: it makes you grow as a person."
Through the album, Maginot plays with layered vocals and alternative instrumentals which demonstrate his passion for dreamy and nostalgic music, particularly for the 60s folks singers who inspired him, such as Bob Dylan and Joni Mitchell.
A particularly emotive track, Le Siecle Bruyant is sung in French, Maginot's mother tongue. The song literally translates to 'The loud century', depicting his personal experience at the 2012 student strikes in Montréal.
"I wrote the song three years ago when there was a major strike among the student union. It got pretty violent and the police got involved … bad, shitty things happened. The government wanted to cut grants for students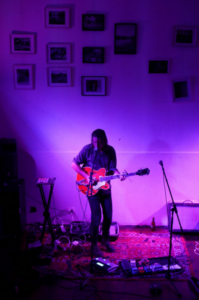 and the students rightfully went to the streets to protest … and it was very peaceful in the beginning. It lasted maybe a month and it was mostly in Montréal but there were protests everyday across the province of Quebec."
Other tracks on the album channel human emotions of survival, pain and conflict, and although the themes may be challenging and sad, Elliot uses his music to rouse emotions that we may be too often afraid to do, so that we can be strong in loneliness and sadness.
In his future plans for 2016, Elliot will continue writing material for his second album. "I don't know when I'll release it, maybe late 2016 early 2017, I'm still writing – I'll keep touring throughout Europe, Canada, Quebec, and hopefully be back in Australia!"
Elliot's debut album Young/Old/Everything.in.Between is available on iTunes and Spotify. Stay up to date with his latest news and tour dates at his website and on Facebook